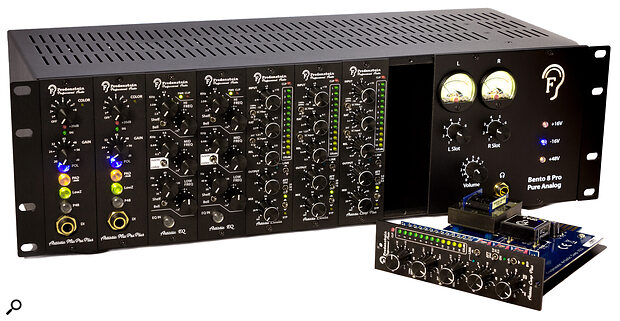 This refreshed range boasts new features and improved specs — but the same great value for money.
Fredenstein have developed a good reputation for affordable, high‑quality products, particularly through their Artistic line of 500‑series modules. I reviewed the original Artist Pre and Artist Compressor modules around five years ago, but they've subsequently both been updated and enhanced, as denoted by the new 'Plus' suffix. To assist in my review, I was also supplied with pairs of the Artistic EQ and Artistic Leveller modules, effectively combining to create a stereo 'producer channel', and it was all housed in the company's latest Bento 8 Pro rack.
The Bento 8 Pro rack is a solidly engineered 3U rack with eight module slots. It features an internal linear power supply which is capable of delivering a pretty generous 500mA per slot, and the PSU's front panel includes a trio of LEDs to indicate the presence of the ±16 and +48 V rails. There are also some simple monitoring facilities, which I'll return to shortly. Extensive magnetic shielding is employed around the mains transformer in the PSU section to minimise the risk of mains hum induction into nearby modules, and I couldn't detect any difference in the hum or noise floor whether I inserted preamp modules in slot 1 or slot 8, which is good news.
Unusually, the rack ears have four bolt holes, instead of the standard two, and it's is a welcome feature given that the rack weighs 6kg when empty. The rear panel carries the usual IEC mains inlet with an integrated on‑off switch and fuse‑holder, but the unit only accepts a single (factory‑set) mains voltage. A ground‑lift switch is provided to separate the audio ground from the chassis/mains earth. All audio connections are via XLRs, but 'daisy‑chain' toggle switches are provided to link each module's output directly to the adjacent module's input (simultaneously disabling its input XLR). Further switches connect the side‑chain terminals of adjacent modules, allowing dynamics processors to be linked in up to four separate stereo pairs, or larger multichannel groups (of contiguous modules).
I mentioned in passing the monitoring facility, which comprises a pair of rotary switches to select the modules feeding the left and right channels of a quarter‑inch stereo headphone socket, as well as a pair of round VU meters. In this way, the outputs of selected modules can be monitored...
You are reading one of the locked Subscriber-only articles from our latest 5 issues.
You've read 20% of this article for free, so to continue reading...
Buy & Download this Single Article in PDF format

£1.00 GBP

$1.49 USD


For less than the price of a coffee, buy now and immediately download to your computer or smartphone.

Buy & Download the Full Issue PDF
Our 'full SOS magazine' for smartphone/tablet/computer. More info...