Software Synthesizer [Mac]
Can GForce capture the character of the legendary Oberheim 8‑Voice in software?
Back in 2003, the GForce Oddity was the first 'modelled' soft synth I reviewed. In addition to a sound that was closer to the original ARP than I had expected, things such as the ability to run multiple instances, velocity and aftertouch sensitivity, MIDI automation and, of course, the lack of crackly faders, meant that I was impressed. The following year, the ImpOSCar arrived, followed by the Minimonsta before GForce turned their attention toward the Oberheim SEM and its polyphonic progeny, the FVS 4‑Voice and EVS 8‑Voice. But this was when fate intervened because, during development, Tom Oberheim re‑released the SEM in hardware form. So the chaps at GForce transferred their attention to other projects, which left the field clear for Arturia to release SEM V. This included a system by which you could apply offsets to a user‑defined selection of parameters, thus imitating some of the flexibility of the originals but, while this introduced a degree of poly‑timbrality, it wasn't the same as a colony of independent SEMs. Then, three years ago, Tom Oberheim discontinued production of his SEMs, so GForce decided to resurrect their project and develop a truer emulation of the 8‑Voice.
Here are some demo sounds from GForce:
I don't propose to describe the sound generation capabilities of the SEM here because there's a wide range of resources elsewhere if you want to pursue this further. But the differences that lie between an original SEM and the virtual SEMs in the OB‑E are important. For example, the EXT (external signal) modulation option in each of VCO1, VCO2 and the VCF has been replaced with a VCO3 option, which tells us that there's a third oscillator per voice lurking somewhere. Likewise, a VCO3 Wave/Noise knob has replaced the Ext#1/Ext#2 knob in the mixer. In the filter section, the mode knob of the original has been replaced by the LP/BR/HP knob and BP switch of the 21st‑century SEM reissues, and an LFO Sync switch has replaced the VCA On/Ext switch. Underneath these, there are now eight additional items in each SEM. If you've ever tried to program an 8‑Voice you're going to love the first two of these because they allow you to Copy the settings in any given SEM and Paste them into any other. Next to these, Zoom allows you to see and edit the front and rear of any given SEM simultaneously, while Lock, Solo and Mute do as you would expect. There's also a red lamp that lights up when an SEM is in use, and a triangular button at the bottom right that switches between its front and rear panels.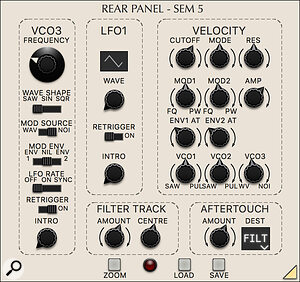 The rear panel introduces all manner of new facilities: an extra VCO, more extensive controls for the main LFO, filter tracking and sophisticated performance capabilities.There are five sections on the rear panel, none of which existed on the original SEM. Starting with the detailed controls for LFO1, this now offers six waveforms, an amplitude ramp (called Intro) and a key retriggering option. But if this is called LFO1, where are the implied LFO2, LFO3... and so on? The answer lies in part in VCO3, which adds noise and a sine wave to the waveforms offered on the front panel, but loses the variable pulse wave in favour of a fixed square wave. It can perform as either an audio frequency oscillator or as an additional LFO and, in either range, it offers two outputs; one directed to the mixer, and the other to the modulation inputs of VCO1, VCO2 and the VCF. These don't have to carry the same signal, so you can use its pink noise generator as an audio signal and one of the cyclic waveforms as a modulator, and vice‑versa. Since you can sweep the frequency of VCO3 using ENV1 or ENV2, some interesting modulation and FM effects can be obtained. Key triggering and sync of the LFO mode are provided, as is Delay, which is another ramp from zero to full amplitude.
Filter tracking is another new feature, but a much larger section deals with MIDI velocity; with no fewer than 11 knobs controlling 16 destinations this places a huge degree of control under your fingers. Finally, there are five bipolar destinations for aftertouch. You can step through the destinations and programme the amount of modulation for each, whereupon all five (brightness, loudness, modulation rate, and the VCO1 and VCO2 pitch/PW modulation amounts) can be controlled simultaneously.
Two new buttons are also found on the rear panel: Load (or SEM Load when zoomed) and Save (or SEM Save when zoomed). These allow you to save and recall...
You are reading one of the locked Subscriber-only articles from our latest 5 issues.
You've read 20% of this article for free, so to continue reading...
Buy & Download this Single Article in PDF format

£1.00 GBP

$1.49 USD


For less than the price of a coffee, buy now and immediately download to your computer or smartphone.

Buy & Download the Full Issue PDF
Our 'full SOS magazine' for smartphone/tablet/computer. More info...