Amp & Effects Modelling Software
We check out IK's latest refresh of their popular amp and effects modelling suite.
It is hard to believe that IK's AmpliTube has been with us for almost two decades. When released, it was one of the first guitar/bass amp and effects‑modelling plug‑ins that aimed to emulate the entire recording chain. Of course, AmpliTube has evolved considerably since then, to take advantage of better algorithms and increases in computing power and to add more models and functionality. The most recent version, announced at the end of 2020, is AmpliTube 5, and I was very keen to find out what more it had to offer.
As with previous versions, AmpliTube 5 can be used as a standalone desktop app or as a plug‑in. There's also an iOS version in the pipeline. There are more models here than before, and users of the flagship Max version now have access to over 400 modelled pieces of gear: in addition to the studio rack gear, much of which is derived from IK's T‑RackS 5 mastering software but optimised for guitar, there are two new pedals, five new amps, 19 new effects racks and two new room emulations. The range of presets, which are arranged by genre, is also huge and varied. (I was mildly disappointed to find no category specifically for ambient sounds but there are plenty of tools there to roll your own.)
Existing AmpliTube users will notice that the whole look has been refreshed too, with a revamped GUI sporting more realistic gear icons and panels, a searchable graphical gear browser, and a new‑look routing section. Presets can be added to a Favourites menu, for rapid access, and legacy presets from v4 can also be used (though note that the improvements to the models may make them sound slightly different).
AmpliTube 5 supports all the common Mac/Windows formats for DAW plug‑ins, and there are four versions at differing prices. At the top of the range is the all‑you‑can‑eat AmpliTube 5 MAX, which offers full access to all current official artist and brand packs and the full range of gear models. The free AmpliTube 5 Custom Shop enables users to dip a toe in the water. Users of any non‑Max version can audition and purchase add‑ons from IK's revamped Custom Shop.
The standalone version of AmpliTube 5 is in most respects the same as the plug‑in version, except that it also includes a looper that's capable of two simultaneous loop tracks and unrestricted layering, plus a simple but very practical eight‑track DAW. The standalone version also features a high‑visibility presets selection system making it very friendly for live performance. IK's Stomp I/O interface/controller is the neatest option for controlling the looper and the other live functions, but other MIDI controllers may also do the job.
New stomp models include AmpLess, which is inspired by the Tech21 SansAmp, and VariDiode+, which is based on MXR's Distortion+ but has interchangeable diode types. The new amps emulate models by PRS, Friedman, Bognor, Diezel and Aguiler, while 13 of the rack effects are from T‑Racks. Others include cassette tape emulation, FM modulation, formant and phaser filters and auto‑panning. The new rooms are Subway and Bathroom. All the legacy gear benefits not only from refreshed graphics but also a newly optimised gain structure and, very importantly, a more sophisticated approach to power amp/speaker interaction — so even 'old friends' should sound better.
The virtual mic(s) can be moved on three axes, and the sound at each position relative to the speaker/cab is very accurate, thanks to the use of a mic robot (shown below) during the impulse response recording sessions.
IK have also developed something they call VIR technology, the aim of which is to deliver an authentic‑sounding speaker cabinet‑microphone relationship. VIR allows the user to adjust the mic distance, off‑axis placement and height. It involved IK creating 600 separate IRs for each speaker, each one captured at a different mic position. To ensure excellent accuracy and repeatability, the engineers used a robotic mic‑positioning system at the measurement stage — because the alternative fudge of simulating mic distance and position relative to the speaker using delay and EQ just doesn't get you close enough to the complexities of real life.
Why is that? Well, a loudspeaker's axial response varies at different frequencies, and may include lobing effects so it's not a smooth parameter change. Also, the way the sound reflecting from the floor combines with the direct sound from the speaker and with bleed from other speakers at any given mic position is quite complex. All 100 cabinets have been re‑measured using this new method, so the cabinet section is essentially all new, but users can still import third‑party IRs if they wish.
The GUI is resizeable, and IK have made the drag‑and‑drop gear‑selection process much more intuitive. The routing is also more versatile. The new 'wet‑dry‑wet' configurations, for example, allow the mixer's 'DI' signal to be tapped from any point in the signal chain, so new series and parallel routing choices are possible. Effects models may be dragged directly into the signal chain from the gear browser, and unwanted effects can simply be dragged off the screen to remove them. There's also a new mixer window, for combining the various signal streams. It's all very quick and easy to use, and if you've used competing products such as Line 6's Helix Native or NI's Guitar Rig, you probably won't need to consult the manual to get your head around the basics.
The lower section of the GUI shows the routing, with icons representing the various amps, pedals, rack effects and cabinets, and above this is a magnified view of the currently selected item. Routing icons allow the user to choose from one, two or three amp setups (plus the option of two separate single amplifier chains for stereo use in the standalone version), with up to 57 effects running simultaneously. In the case of pedals, there's a view showing multiple pedals, arranged in order on a nicely rendered wooden floor, but individual pedals can also be targeted for adjustment via their Edit button.
Pedals and effects can be inserted before an amplifier, be placed in the amplifier effects loop, be placed after the speaker or used as mixer inserts to treat the output of the mixer. Pedals and rack effects can go in any order and can be dragged around to rearrange them (though the tuner is always at the start of the chain). And in multi‑amp setups, pedals can be placed before or after the split point.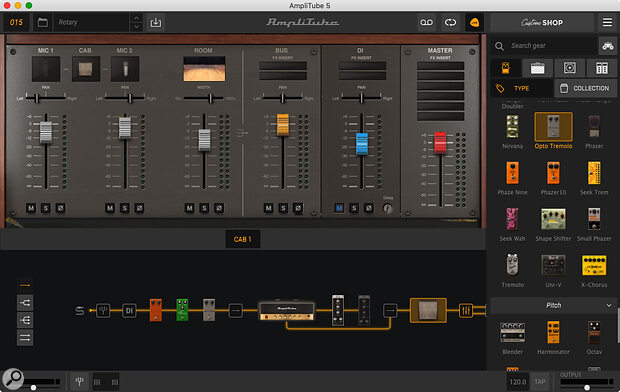 Each virtual cab's mic and DI signals (taken from anywhere in the chain) can be balanced with a room sound, and the cabinet bus, DI and master bus channels can be processed using IK's vast range of bundled effects.
At the end of the signal chain is the mixer view, in which the various cab mics can be mixed with the Room ambience, Bus FX Insert and/or DI FX Insert signals. There's further master processing available for treating the entire mix too. Each mixer source has Mute, Solo and Polarity buttons as well as a level fader and a horizontal fader. The last is generally used for panning but switches to controlling the stereo width of some effects, such as the rotary speaker emulation. Tabs at the bottom of the mixer select which of the three cabs is being adjusted — a better option in my view than attempting to cram multiple faders for all three cabs in a single window.
To the right, the gear‑selection browser's tabs allow you to see pedals, amps, speakers or rack gear, and there are further tabs for selecting the speaker type, mic type and room. Each cabinet can have two microphones, and selecting the VIR view shows an outline of part of the speaker cabinet with the mic position on a grid in front of one of the speakers. By dragging a 'puck', the mic distance, height and offset from the driver axis can be selected. Because of the new approach to capturing IRs, you can, for example, opt to mic the upper or lower speakers in a 4x12 cabinet, and will hear the correct floor reflections and bleed from other speakers for each placement. (There are some tools here to modify any third‑party IRs to a useful extent, but they can't deliver the same authentic positional adjustment as the included ones.)
While the multitrack DAW in the standalone version may not be enough to overthrow your main DAW, it's certainly convenient.
The eight‑track DAW that's in the standalone version won't threaten the established DAWs, but it is useful enough and has the advantage of being very intuitive. In many ways it resembles a simplified version of Apple's GarageBand (but without MIDI tracks) and it take only minutes to master the basics. Each audio‑only track shows a waveform display and in the track header there are level and pan faders, and buttons for record, mute and solo. AmpliTube 5 can be activated or deactivated for each track. There's no VST plug‑in support, but that's not a big issue, since there are enough effects and processors built in to AmpliTube 5 to handle just about any eventuality. Audio files can be dragged and dropped into the DAW, which is a handy way of importing drum grooves or play‑along tracks. (You can even drag in Apple loops, though these will remain at their original tempo.)
On the far left of the DAW window is a more detailed inspector‑type view of the selected track, and this includes EQ. The editing tools are basic but you can split and move audio, and trim sections at either end. There's also a snap‑to‑grid facility for positioning sections when working to a click. This might be a simple DAW but back in my early recording days, when all I had was a four‑track open‑reel machine and a DIY passive mixer, I would have eaten my own head for something with these capabilities!
The new looper has reassuringly chunky graphics, with buttons to select Record/ Overdub/ Play or Record/ Play/ Overdub modes as well as large red record or green play symbols and basic transport controls for stopping, going to the start or going to the end. It's designed to be intuitive in operation — and IK have succeeded in that — but it definitely requires a hardware controller to make using it a practicality in a live situation. The metronome, which also includes a beat counter, can be adjusted in volume and set to any tempo while the Global section to the right controls Volume, Playback and Stop mode with a choice of 'Stop at End' or 'Sudden Stop'.
To make best use of the looper functionality, you'll need a hardware controller.
The free version of AmpliTube 5 CS is a good way to get a feel for how the program works. It comes with a very limited choice of gear; typically there are only a couple of pieces from each section, you can have only a single amplifier chain, and there's no VIR technology involved in the mic positioning. Even so, you can coax some good‑sounding results out of it. Both the plug‑in and standalone versions are included and you still get the eight‑track DAW in the standalone version, but an upgrade is required before you can access the looper. All the gear and features of the higher‑tier models are displayed, but stray beyond what's included and you'll encounter a padlock icon or a message informing you of the need to upgrade to access certain features.
IK have added a lot of new features and content for MAX users. I also applaud the wide range of amplifiers covering not only all the obvious suspects but also some lesser‑known and boutique offerings, plus 'lunchbox' models such as the Orange Tiny Terror. Also worthy of mention is the useful range of bass amplifiers and speakers, tools for improving acoustic guitar sounds and a large, accurate tuner that has the option of muting the guitar while tuning. An advanced tuner mode displays the tracked pitch, providing useful information when recording fretless instruments.
But quality and ease of use are more important concerns than quantity for most users today. So how does it all sound, how is it to use, and how does it feel in terms of touch responsiveness when playing through it?
The way the amps interact with the speakers is also much improved, with the whole experience feeling more natural.
Overall operation is very intuitive, you'll probably miss some hidden delights unless you read through the manual at least once. There's definitely a sonic improvement relative to previous versions, and that must surely be down to the new multi‑IR VIR speaker miking system, which both sounds better and offers more flexibility than in previous versions; you can even change drivers within any of the 12‑inch cabinets. From a playing feel perspective, the way the amps interact with the speakers is also much improved, with the whole experience feeling more natural.
The pedalboard view.
IK have long been up with the best when it comes to modelling effects, and most of what's offered here is impressively convincing. An exception is that I couldn't find a pitch‑shifter amongst the stompboxes that responded smoothly when playing chords; they all sounded fine on single‑note lines but got a bit grumbly when used polyphonically. However, there is a dedicated shimmer reverb in the Studio FX Rack section that sounds suitably smooth. There's enough in that section to cover most essential EQ, dynamics, reverb and saturation needs too, even for processing non‑guitar sounds. There's also a slow attack module and at least one delay that includes a 'reverse' option, so if you want to set up your own dreamy string‑pad sounds by combing slow attack with shimmer, reverse delay and compression, all the necessary tools are present. The rotary speaker emulation is extremely good and also worthy of note are the stepped filters and formant filters — they should appeal to those who want to move beyond the traditional rock sounds.
DAW automation is supported, of course. With a chain being able to host so many items, each with multiple parameters, it wouldn't be practical to automate all of them. So IK's approach is to allow up to 16 parameters to be managed via the DAW Automation Pane. Any effects' tempo/bpm settings are saved with the preset.
As with just about every amp‑modelling package I've tried, it has to be said that the presets are a bit of a mixed bag and you really need to tweak them to get them sounding good with your own instrument. Still, there are plenty of good starting points, and making your own adjustments is extremely easy. I found that, once suitably tweaked, the setups gave a natural playing feel and most responded to picking or volume control dynamics in broadly the same way as would the gear being modelled. Even the heavily overdriven examples retain good note definition, while clean sounds come over as nicely lively rather than being too 'clinical'. Importantly, those crunch sounds that straddle the region between clean and dirty respond in a way that feels natural, and there's no excessive grit or fizz to the sound — unless you dial it in intentionally!
Though AmpliTube 5's Max version isn't inexpensive, it does represent good value for money — not only does it enable you to recreate a wide repertoire of guitar and bass sounds, but if you bypass the amp and speaker elements of the chain, you can use its vast suite of effects and processors in other mixing roles too. The improvements over the previous version are genuinely worthwhile; the overall look and feel is significantly better than before, the VIR technology is a real step up and the whole workflow is more intuitive. And if your budget doesn't stretch that far, the lower‑tier versions still have a lot to offer.
Given the combination of the sonic quality and the number of options in terms of amps and effects, the nearest competitor for AmpliTube 5 is probably Line 6's Helix Native, though NI's Guitar Rig is also a great playground for those who are into both conventional and more experimental sounds. Positive Grid's Bias FX is also excellent, but because guitar sound is such a personal thing, I wouldn't want to put my hand on heart and say that any one of these is better than the other: it all depends on your interpretation of the perfect guitar sound. Do also check out Celestion's SpeakerMix Pro, with which you might coax better results from your existing amp‑modelling plug‑ins.
Pros
Highly realistic amp and FX modelling.
Sophisticated approach to microphone positioning.
Available in four versions to meet any budget.
Cons
The MAX version represents a serious investment.
Summary
AmpliTube 5 MAX is an impressive package for both studio and live use. Though MAX is quite costly, there are four versions starting with the free AmpliTube 5 CS and there's also the ability to buy only the extras you need via IK's Custom Shop.
Information
AmpliTube 5 CS: free. AmpliTube 5 SE €149.99. AmpliTube 5 €299.99. AmpliTube 5 MAX €599.99. Prices include VAT. Upgrade and crossgrade prices also available — check the AmpliTube website for details.
AmpliTube 5 CS: free. AmpliTube 5 SE $149.99. AmpliTube 5 $299.99. AmpliTube 5 MAX $599.99. Upgrade and crossgrade prices also available — check IK's website for details.