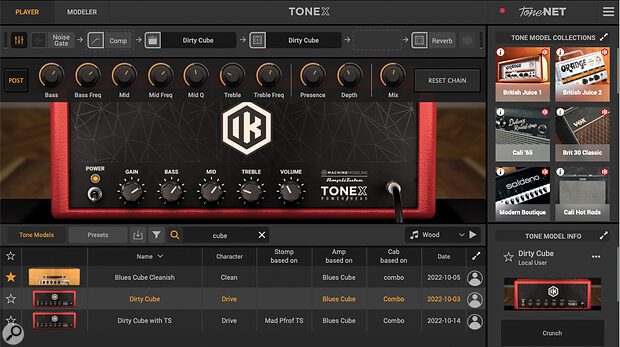 Tonex lets you capture and share the sound of your guitar amps, pedals and miking setups.
The concept of modelling specific amplifier and mic setups by analysing test signals passed through them is not a new one: products such as Kemper's hardware Profiling Amp range and Neural DSP's software Quad Cortex, for example, have done that for a while. But IK Multimedia have long been active in the amp‑modelling game, and they've now developed their own software‑based profiling approach, which integrates with their existing AmpliTube 5 environment. Tonex is available for both Mac (including M1) and Windows machines, though Mac users will need a machine that runs Big Sur or later to host it (folk like me still hanging onto their decade‑old 'cheesegrater' Mac Pros won't be able to run it). For this review, my tests were done on an M1 Mac Mini running Big Sur.
Tonex can run stand‑alone or as a plug‑in, and within AmpliTube 5 it's available alongside the software's existing content, which means you can add AmpliTube's modelled effects to your own Tone Models. It's is a two‑part system, comprising the Modeler, which is used to capture the Tone Models, and the Player, from where the Tone Models can be used, tweaked and also uploaded to ToneNET (www.tone.net) for the benefit of other users. There is also a Tonex app for iOS that can make use of Tone Models on mobile devices. Connection to ToneNET is made from within the program, or it can be accessed via a web browser.
Tonex comes in a number of forms including a free CS version that includes 20 ready‑made Tone Models and 20 user Tone Models, but doesn't include the Modeler. Tonex SE comes bundled with an AXE I/O interface, along with 200 models, or you can opt for Tonex Capture (essentially Tonex SE plus the Tonex Capture hardware), or the all‑you‑can‑eat Tonex Max, which includes 1000 Tone Models. The supplied Tone Models include many of the same amplifiers that you might find in AmpliTube, the difference being that these have all been captured from real amps using the Tonex process as opposed to being the more traditional models hosted by AmpliTube.
The software walks you through setting things up, including focusing the machine‑learning process on the sort of setup you're trying to capture, as well as providing a helpful routing diagram.
The approach to capturing and reproducing your sound is underpinned by machine learning, and Tonex aims to capture the sound of any amp or cabinet, either miked or direct from the amplifier output, the latter option enabling the user to team their amp with different AmpliTube cabinet emulations, of course. For the capture process, you can run Tonex with a simple two‑in, two‑out audio interface, though the routing may be easier if your interface has four or more outputs; I used my PreSonus Studio 192 interface for the review tests. IK's AXE I/O would be a good option too, and has the benefit of a dedicated Amp Out, while the company's optional Tonex Capture box makes the task even easier: it connects to the output of your usual audio interface to act as a re‑amping box, so as to feed the test signals into the guitar amp at the right level and impedance, and its return stage is designed to be inserted between the amp and its speaker cabinet so as to capture the amplifier output (but not the speaker) at a suitable level for recording, without changing the way the amp and speaker interact. (Note that Tonex Capture isn't a load box, so a speaker or dummy load still needs to be connected in this scenario.)
If you prefer to capture the whole amp/speaker chain, using your favourite cabinet mic and miking position, you can do that too. The process can also capture the sound of some types of effects pedal, though not all. For example, fuzz, distortion, overdrive and EQ can be captured as Tone Models, either individually or as part of a longer signal chain including the amp, but time‑variant effects such as echo, reverb, granular weirdness, expansion and modulation can't be replicated. (Once in the software domain, of course, there are plenty of other plug‑ins you can turn to for that sort of thing.)
The manual states that the process isn't suited to modelling compressors, but since there's inherently compression in the sound of guitar amps (for example power‑supply sag) I asked the developers how Tonex deals with that, and it seems the situation is more nuanced than the manual suggests: "Although we say that Tonex can't model compressors, that's because it can't model every compressor. Tonex can model compression within a limited time frame, so power supply sag and fast compressors are usually well captured." And apparently it's not just the amp's characteristics that they've managed to capture either: "This can be heard in some Tone Models that were captured through a fast 1176 compressor and is especially evident for some of the fuzzy Tone Models that seem to 'pump' with strong input signals."
You are reading one of the locked Subscribers-only articles from our latest 5 issues.
You've read 30% of this article for free, so to continue reading...
✅ Log in - if you have a Subscription you bought from SOS.
Buy & Download this Single Article in PDF format

£1.00 GBP

$1.49 USD


For less than the price of a coffee, buy now and immediately download to your computer or smartphone.

Buy & Download the FULL ISSUE PDF
Our 'full SOS magazine' for smartphone/tablet/computer. More info...

RECORDING TECHNOLOGY: Basics & Beyond
Claim your FREE 170-page digital publication
from the makers of Sound On Sound — CLICK HERE