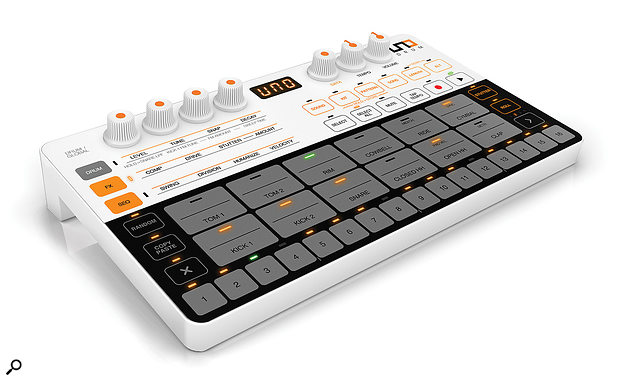 IK follow up their popular UNO Synth with a drum machine cast from the same mould...
IK Multimedia's follow-up to the UNO Synth is, sensibly enough, the UNO Drum: a hybrid analogue and sample-based drum machine. It shares the UNO Synth's portable form factor, with a touch-based control panel and a row of knobs on a small, lightweight wedge. It is defiantly old school in sonic character, but has mod cons like patch memory, USB and plug-in control.
Taking the UNO Drum out of its box I was struck by how light and compact it is. I said the UNO Synth was the most backpackable of synths; well you'd barely notice if you stuck one of these in with it. The box also has MIDI jack to DIN adaptors, a micro-USB cable for power and connectivity, and, rather generously, a four-pack of AAs if you want to go cable-free.
A single mini-jack output carries the mono mix, and there's an input for merging another device like, say, an UNO Synth. Plugging in my headphones I was met with a steady hiss that seems to be an UNO family trait. This doesn't track the volume setting, so the noise floor is lower if you can drive the outputs hard into a mixer, but it's pronounced and distracting even at fairly loud headphone levels. The USB interference that plagued the UNO Synth didn't seem to be as bad here.
The UNO Drum's rear panel hosts mini-jack connections for MIDI I/O and audio I/O.
The UNO Drum has 12 drum channels, split across two rows of six touch pads. Each of the first (bottom) six channels can be switched between a fully analogue drum synth voice and PCM sample playback. The remaining six always play samples. The channels are named and dedicated to specific drum types, and have appropriate synth types and samples. There are five sound presets per channel, with slot 1 being the analogue voice on the hybrid tracks.
Most sounds...
You are reading one of the locked Subscriber-only articles from our latest 5 issues.
You've read 20% of this article for free, so to continue reading...
Buy & Download this single article in PDF format

£1.00 GBP

$1.49 USD


For less than the price of a coffee, buy now and immediately download to your computer or smartphone.

Buy & Download the Full Issue PDF
Our 'replica SOS magazine' for smartphone/tablet/desktop. More info...