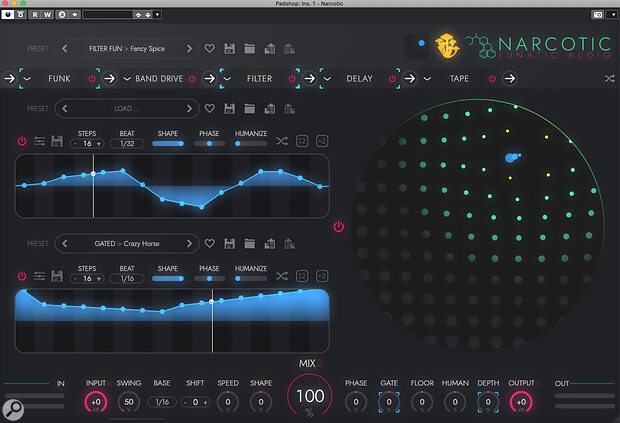 With its intoxicating amount of modulation options, this creative effects plug‑in could become rather addictive!
Having first tested the waters of the plug‑in market with their free Retro Pong (a bonkers but cool plug‑in that allows you to play Pong in your DAW!), Lunatic Audio have now delivered their first major paid‑for product. Called Narcotic, it's a VST, AU and AAX multi‑effects plug‑in for Windows (7 or later) and Mac OS (10.8 or later), and it offers a generous dollop of sound‑design creativity, while still managing to retain both the cool and bonkers nature of Retro Pong (albeit a different sort of bonkers!). It also runs as a standalone app, which could be useful in a live performance context.
Built around a multi‑effects engine that boasts more modulation options than I care to count, Narcotic is in a similar ballpark to plug‑ins such as Output's Movement, Sugar Bytes' Turnado or Effectrix and UJAM's Finisher Dynamo. As with those plug‑ins, you can use Narcotic to do conventional and subtle effect treatments but its primary design intention is most definitely at the more creative end of the processing spectrum. In particular, it's intended to inject a sense of movement into the sound you feed into it.
As shown in the main screenshot, underneath the topmost control strip (where you can access the global preset system and the Shroom Magic button — more on that later), you can configure a signal chain of up to six effects from the 32 types available. These include some conventional effect types such as Reverb, Delay, Widener and various modulation types but, amongst those, there are also some less obvious types such as Steroids, Multiverse and Toxins. The list also includes various EQ/filter‑style options, Stutter, Glitch and Lo‑Fi, all of which are prime candidates for creating interesting electronica sounds out of even the most static synth pad. Only one instance of a specific effect type can be included in the signal chain but, even so, it's easy to see that you can go from simple and subtle to complex and... well, not so subtle.
Narcotic's generous menu of 32 different effect types.By default, the middle portion of the UI shows a large X/Y pad and a pair of step sequencers that can be used to modulate the X and Y axes. There is a well‑stocked set of presets for these step sequencers and you can load a different preset for each one. As described in more detail below, you can use individual parameters from any of the six effects to modulate the X and Y motion too; any number of parameters can be linked to either axis.
As well as being able to switch the sequencers off (there is also a global power button for the X/Y pad), the sequencers offer individual controls for step count and beat division as well as sliders to adjust Shape (smooths between the steps), Phase (offsets the start of the sequence), and Humanise (adds some timing randomisation). There are also options to halve/double the length of the sequence and to randomise the steps.
At the base of the UI is the Global Controls bar. As well as the wet/dry Mix control, and Input and Output level controls, there are a number of global controls whose influence is superimposed upon all the step sequencers associated with the individual parameters in each effects block.
Once you've selected an effect type for a particular slot, clicking on its name toggles the central portion of the display to show the controls for that effect....
You are reading one of the locked Subscriber-only articles from our latest 5 issues.
You've read some of this article for free, so to continue reading...
Log in - if you have a Subscription you bought from SOS.

Buy & Download this Single Article in PDF format

£1.00 GBP

$1.49 USD


For less than the price of a coffee, buy now and immediately download to your computer or smartphone.

Buy & Download the Full Issue PDF
Our 'full SOS magazine' for smartphone/tablet/computer. More info...

RECORDING TECHNOLOGY: Basics & Beyond
Claim your FREE 170-page digital publication
from the makers of Sound On Sound — CLICK HERE