Roland Disc Lab CDX1: Multitrack CD Audio Workstation
Roland's innovative new audio workstation is the first multitracker to use a CD‑RW disc in place of a hard disk, and offers a one‑stop production station with multitrack recording, phrase sampling, and CD mastering.
When you first look at it, you might easily imagine that Roland's Disc Lab CDX1 is just another eight‑track recorder, for there is little to immediately reveal what else it is capable of. Reading the introduction in the manual doesn't clarify matters much either, but the gratifyingly clear, step‑by‑step tutorials towards the end of the manual more than make up for this, and having read through them, I feel a little more comfortable in trying to describe the machine.
The Disc Lab CDX1 provides a unique approach to the multitrack workstation, insofar as it uses relatively inexpensive high‑speed CD‑RW discs for its storage medium, rather than a hard drive or SmartMedia cards. Note that only high‑speed CD‑RW discs are usable in the machine — regular CD‑RWs will be rejected at the formatting stage. Like other Boss/Roland recorders, the user can choose from three levels of data compression to extend the recording time, at the cost of reduced audio quality, but the best quality mode is pretty much indistinguishable from regular uncompressed audio and still provides adequate recording time.
Disc Lab CDX1 also uses internal RAM memory for sampling, mastering and some recording operations, though this is conventional DIMM memory, which is currently quite cheap. As supplied, the machine comes with 32Mb of memory fitted, but it would be a good idea to upgrade this to its maximum of 128Mb for serious use, as any material being mastered has to be recorded to RAM.
Another reason more memory is a good idea is that, in addition to an eight‑track CD‑RW recorder, there are also eight sample playback pads, which can be loaded up from audio CDs or from WAV files on CDs. Disc Lab CDX1 can also sample directly via its audio inputs, but one caveat I must mention early on is that the audio polyphony of the unit limits it to producing eight mono or four stereo sounds at any one time, whether these sounds are triggered from pads or played from the multitrack recorder. To help redress the balance, there is an internal sequencer that can be used to play back the samples stored on the pads, so once you've got these firing on all cylinders, you can bounce them down to a stereo audio track to free up polyphony or to make more sample pads available.
Once your audio tracks have been recorded and any sampled parts transferred to an audio track, the song can be mixed to the internal RAM (after first clearing out the sample pad memories), then burned in track‑at‑once mode to a CD‑R disc. Anything stored in the internal RAM is lost when the unit is powered down, so samples stored in pads may also be backed up to the same CD‑RW disc as used for audio recording. The Disc Lab CDX1 also includes two sets of hardware effects, one for inserting into the record signal path and one for send/return use, plus there are several preset‑based software mastering tools that can be applied to finished mixes, prior to CD burning, which provide a number of multi‑band compression and EQ options optimised for different types of material.
Other applications include the playback of audio CDs and the ability to record live audio inputs and sample pads directly to a CD‑R disc.
Disc Lab CDX1 comes in a neat but purposeful looking package with a smoky translucent perspex outer shell and a silver control panel with large buttons and clear legending. A slide‑out CD drawer is located at the front right of the machine and above it are status LEDs for CD‑RW, CD‑R, Audio CD and Busy, with an Eject button for unmounting and ejecting the CD. New CD‑RWs must be formatted prior to use, via the Utility menu.
All the connectors are on the rear panel and include MIDI In and Out/Thru (the unit may be used as an MTC source for sync purposes), a footswitch jack, S/PDIF ins and outs on both coaxial and optical connectors, stereo line outs on phonos, stereo line ins on phonos, a guitar input jack and a pair of mic inputs on both jacks and XLRs. Power comes from a dedicated, high‑current 12V power supply unit and there's a good old‑fashioned earth terminal on the back of the case for grounding the unit to other parts of your system where necessary. The headphone jack is also on the rear panel, and has its own front‑panel level control.
The inputs and recording controls are quite similar to those developed for the Boss BR8 and BR532 (reviewed in SOS May 2000 and October 2001 respectively), with three separate Sens controls for setting the gains of the three analogue inputs: Mic 1, Mic 2/Guitar/Bass and Line L/R. The S/PDIF digital input source has no controls other than a selector button and there's no phantom power for the XLR mic inputs. Source select buttons are used to choose the analogue or digital source being recorded, and it is possible to press the Mic 1 and Mic 2/Guitar/Bass buttons simultaneously to record both sources together onto separate tracks. Two tracks is the maximum that can be recorded simultaneously.
The Effects are separated into a COSM Insert Effects section, with On/Off and Patch buttons, and a Loop Effects section, with buttons for Reverb or Delay accompanied by a control for the FX Return level. A record level control resides to the left of the Insert Effects panel.
The centre of the front panel offers chunky, illuminated tape‑style transport control, which also includes A/B looping and location marking buttons. An audio Scrub mode, using the Time/Value data wheel, can be accessed via the Preview Scrub, To and From buttons beneath the data wheel, and a further row of buttons controls automatic punching in and out. In this respect, the multitrack recording capabilities are very similar to those on other recent Roland and Boss recorders, and Scrub is useful when fine‑tuning audio edit locations.
The bottom left quarter of the front panel houses the eight faders of the Audio Tracks mixer with separate track record buttons used to arm the track being recorded. The track status LEDs change colour to let you know whether the track is armed for recording, set for playback or muted. When a song is playing back, amber LEDs beneath the data wheel bezel flash to simulate a rotating motion.
At the top of the panel is a fairly small backlit LCD screen that provides level meters, information display, parameter access and a large time location display — there are no hardware meters at all. Below the LCD window are further buttons relating to Track Edit (mixer channel facilities such as panning and EQ), the Rhythm Guide section (where a choice of preset drum patterns may be chained together to use as a guide or metronome track), Display and Utility, as well as the essential Undo/Redo button.
The top right of the machine groups together the audio CD player and recorder functions, including access to the bounce and mixdown modes, with other buttons accessing the Mastering Tools and Master Track editing functions. Directly above the Time/Value wheel are four cursor buttons plus the No/Exit and Yes/Enter buttons, used in parameter selection and editing. Enter confirms an action while Exit cancels the entry or returns you to the last screen. A separate Master fader controls the main stereo mix level.
A complete section in the centre of the panel is dedicated to the sample playback pads, with two large buttons for accessing the Clipboard and Hold functions. When Hold is active, samples will continue playing, even when the trigger button has been released, while Clipboard is used when copying the contents of one sample pad to another.
Three buttons access the pad recording functions, with three more dedicated to pad sequencing and, memory permitting, up to 64 banks of pads may be stored at any one time and accessed via the Pad Banks button. A separate fader controls the overall sampler playback level and a record status button with integral tricolour LED shows when a pad sequence is being recorded or played back.
Track pan positions are adjusted on screen, where value changes are made using the Time/Value wheel, and a similar system is used to adjust the two‑band sweep EQ provided for every track. The left/right cursor buttons are used to move between the eight tracks.
The Rhythm Guide section provides a choice of drum machine‑style patterns which can be changed during the course of a song using the tempo map, which, as its name implies, can also introduce tempo changes throughout a song. Working to the tempo map means editing can be done in beats and bars rather than absolute time, which is much easier from a musical point of view. On other Boss machines offering this facility, there's been a way to record the rhythm part into the mix if required, though I didn't discover a means of doing so with the Disc Lab.
The CDX1 not only uses its CD‑RW drive for recording and playing back multitrack audio. It also uses it to import audio from CDs and CD‑ROMs, as well as for mastering finished tracks to CD‑R.
The manual starts out by saying, "the Disc Lab CDX1 is designed to be operated as easily as a cassette‑type tape recorder". While few tape recorders require a manual the size of the CDX1's (more than 200 pages), the operating system of the Disc Lab CDX1 is pretty well thought out and largely intuitive. That said, it does have some frustrating operational quirks. For example, the machine has up to eight audio tracks and up to four stereo sample pad sequence tracks, but if you want to play back audio and sequenced samples at the same time, there are limitations. Specifically, if you play back stereo sequence track A, you can't monitor audio tracks 1 and 2 at the same time, and similarly, if you play back sequence track B, you can't hear audio tracks 3 and 4 and so on. Completed sequence tracks can be bounced to audio tracks using the Bounce function, but, because you're bouncing to a stereo pair, only three of the four pad sequence tracks can be selected to avoid exceeding the voice polyphony limit of the machine.
Once you understand these limitations, the sample pads are easy to use, both for sampling and playing, and greatly add to the flexibility of the machine, especially when the sample sequencer is used. Note, however, that you can only set the pad sequencer's quantise function for recording — you can't experiment with quantising after recording.
Icons are used wherever possible to make the user interface more welcoming, with a lot of the operating system philosophy borrowed from the VS series of recorders, and even without looking in the manual you can usually find the function you need fairly quickly. For example, I discovered a guitar tuner lurking in the Utilities menu, whereas it often has a button of its own on the front panel of other similar products.
Using the Disc Lab CDX1 as a straight multitrack recorder is not so very different to using a digital tape recorder, and the best of the three compression modes yields excellent results based on 24‑bit, 44.1kHz sampling.
While the machine may be straightforward, some aspects are slower than you might expect if you're used to hard disk recorders. For example, there is a significant delay while the CD‑RW first mounts, and when you come to locate to zero (or some other point in the song) after recording, the machine enters a locate mode that takes several seconds — comparable more with a digital tape recorder than with a hard disk multitracker. Once you've made a recording and hit the Yes button to confirm that you want to keep what you just recorded, there's another wait of several seconds while the CD‑RW is updated. All this can be frustrating when you're impatient to get creative, but it's the price you have to pay for using cheap CD‑RW discs as a storage medium.
With an unexpanded memory, it's possible to get around five minutes of sampling in high‑quality mode, which goes up to 43 minutes when the full 128Mb is fitted. There's some disparity here, as the front of the manual claims 32Mb of memory is fitted, yet the spec section suggests only 15Mb is available for sampling, so my guess is that the operating system uses some of the RAM for track recording prior to transferring it to CD‑RW. While the basic amount of memory may be fine for sampling, it may well fall short of what's needed for mastering, so given the current cheap cost of DIMM, an upgrade is definitely a good idea. Note, however, that adding new memory means that the integral 32Mb of memory is no longer accessible — fitting a 128Mb DIMM gives you 128Mb total, not 160Mb. In the most heavily compressed mode, the sampling time is roughly doubled, but I wouldn't recommend using this mode for anything other than jotting down musical ideas.
Some of the insert effects are really very nice, and having built‑in guitar modelling makes it very easy to produce guitar‑based demos or even masters with little or no extra equipment. The loop effects are clean and simple, though the reverb is somewhat fluttery when compared with Roland's more up‑market units. In context, and used in sensible amounts, it works well enough on vocals, but the artefacts can show up on percussive sounds, especially if you try to combine a bright room reverb with a longer‑than‑usual decay time.
The mastering effects, which combine multi‑band compression with EQ, are basically presets, so it's down to picking which one works best for the track. I tried a few and found them to be very usable. You can hear the mixed track played back from RAM via the mastering effects before burning a CD‑R. When you're happy, your mix is burned in track‑at‑once mode, so you can keep adding mixes to the CD‑R until it is full, after which it must be finalised before you can play it on a commercial CD player.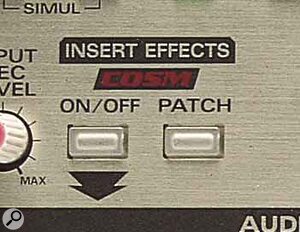 The CDX1 has no less than three effects sections — Insert Effects, Loop Effects and Mastering Tools — allowing it to meet the demands of recording, mixing and mastering.im3
While the Disc Lab CDX1 does cost rather more in the UK than a hard disk eight‑tracker (and some 16‑trackers, in fact), and is slower in some aspects of its use than a hard disk‑based machine, it has the very real advantage of using low‑cost, removable CD‑RW media, which is a big plus point for those working on a lot of projects. The ability to use the machine as a CD recorder, a CD player and a mastering machine should not be overlooked when thinking about cost either, as most other digital multitrackers leave it up to you to provide a mastering recorder.
Having the sample pads is a useful (though by no means unique) addition, though the limitation on polyphony seems unnecessarily frugal. I particularly appreciate the way samples can be loaded from inexpensive WAV library discs as well as lifted from audio CDs or recorded live, and there are numerous useful sample and sequence editing modes.
Guitar players will appreciate the COSM amp‑modelling section of the insert effects and, considering how many features are packed into this machine, it's actually pretty easy to use. Whether it is right for you comes down to the trade‑off between low‑cost media and a slower operating system — it will also depend on whether or not you already have some form of mastering recorder. If you need a one‑box solution that will take you all the way from basic idea to finished master, whilst offering good recording quality, then the Disc Lab CDX1 could be a good choice.
The effects included within the Disc Lab CDX1 are designated Insert Effects, Loop Effects and Mastering Tools. The Insert Effects are used to process a signal while recording, so that the input is recorded along with its effects, and there's a whole variety of single and combination effects that go beyond the usual delay, modulation and compression offerings to include ring modulation, voice transforming, lo‑fi emulation and a large selection of COSM guitar and bass amp‑modelling programs. There are also dual processes for when recording vocals and guitar at the same time, and these are set up so that one channel is processed via a vocal effect while the other offers some kind of guitar amp model or other guitar treatment.
The Loop Effects work on individual effect sends for the eight tracks, plus a global send for the sample pads and another for the rhythm section. In contrast to the quite refined Insert Effects, the Loop Effects have relatively few user parameters, with the reverb having only Room or Hall settings with adjustment over Reverb Time and Tone. The same arrangement is provided for the delay option, which also includes doubling and chorus effects. As well as being able to add these effects to the tracks, sample pads and rhythm, they can also be applied to a live input, which is useful in situations where you want to record a live performance, perhaps augmented by a few samples, directly to CD‑R.
The Mastering Tools are not a substitute for a Finalizer, but do provide a number of multi‑band compression/EQ settings tailored for the main musical styles, from dance to orchestral. Essentially, you pick one, set the input level and then listen to the results to see if you're happy with the outcome before burning your master CD‑R. There are no obscure parameters to adjust, so all you need is a good ear to pick the best treatment. As ever, the treatment with the most appropriate name isn't necessarily the one that will produce the best results...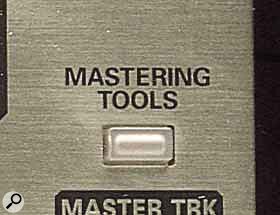 The eight sample pads can each be loaded with different samples and then saved as a bank. Up to 64 banks of pads can be accessed within the machine, but, in practice, unless the samples are very short, there's unlikely to be enough memory to store this many, even with the full 128Mb fitted. Because sample data is lost from the RAM when the power is switched off, samples can be backed up to and loaded from CD‑RW.
Pad banks may be named, and the sounds themselves may be recorded as audio or imported from audio CDs or WAV CD‑ROMs. Audio recording may be instigated manually or it can be triggered by the input signal, with a choice of eight level threshold settings. To avoid losing the start of a sound when level triggering, a pre‑trigger time can be entered. Samples may be either mono or stereo, but, in the polyphony stakes, a stereo sample counts as two voices. Samples may also be resampled from one pad to another, and if the memory gets full, there is an optimise routine to purge from RAM any sections of the samples that aren't used within the current song.
The samples play back monophonically and at a fixed pitch, and may be triggered directly by pushing the pad buttons or by recording a real‑time or step sequence of up to four tracks with the option of several quantise settings. Individual pad sequence tracks may be erased, edited or over‑recorded and some more sophisticated functions are available, such as the ability to split the contents of one pad to several separate samples or to reverse the play order of sample data.
As with hardware samplers, there are different trigger modes to govern how samples play back, namely Gate (where playback occurs only while the pad is held down), Drum (where the entire sample plays to the end regardless of how long the pad is held) and Trigger (where hitting the pad once starts the sound and hitting it again stops the sound). A crossfade mode is available that allows the sound of one triggered sample to blend seamlessly into the next, but for some reason, in this mode, the results may only be recorded to a CD‑R.
Where rhythm loops are being used, there's the facility to trim the start and end points to get the timing right and, of course, a sample pad sequence can be recorded to an audio track when it's finished, in order to free up polyphony and to allow the samples to be included in a master stereo mix.
Pros
Extremely versatile, including CD‑R master recorder and sample pad sequencer.
Multitrack recording to low‑cost CD‑RW.
Effects section includes COSM guitar amp modelling and multi‑band mastering tools.
Cons
Use of CD‑RW means that some operations are quite slow.
Limited polyphony restricts the way samples and audio tracks can be combined.
As expensive in the UK as some 16‑track hard disk recorders.
Summary
The Disc Lab CDX1 is a combination of enticing features and frustrating trade‑offs. Its main strengths lie in its use of low‑cost CD‑RW media and the availability of mixing and mastering to CD‑R.