Synthesizer Sound Expansion Cards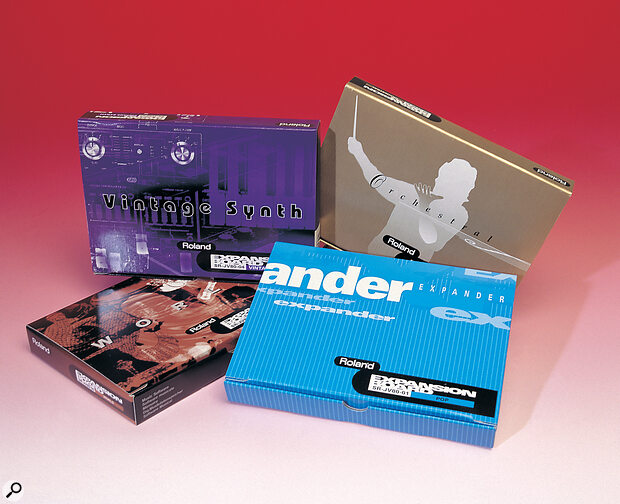 Paul White risks serious wear and tear to his patch‑selection finger by trying out the whole set of Roland JV‑series Expansion Cards.
Roland's JV1080 and 2080 really do deserve the title of modern synthesizer classics, not because they offer anything radically new in the way of sound generation, but rather because their sonic repertoire can be augmented by plug‑in cards that contain not just new patches, but also new waveforms. These new waveforms may be combined with the existing internal ROM waveforms, or with those from from other cards, to produce new user patches. It helps inspire confidence that the same cards may be used to expand the not only the JV1080 and 2080, but also the XP80, 60 and 50, the JV1000, 880, 90 and 80, and the JD990. It's also envisaged that the same card format will be used in a number of future Roland products.
While the synthesizers themselves have been reviewed in SOS (see 'Roland Report' box), little coverage has been given to the cards, though in many ways these define the capabilities of the machines they're used in. Currently there are 11 cards in the series, each providing new patches based on new waveforms, as well as, in some cases, additional drum kits. The memory capacity of each card is up to 8Mb, but since the waveform data is compressed (as it is in virtually all modern digital synths), this equates to up to 16Mb of linear sample ROM.
I reviewed a full set of expansion cards in a Roland JV2080, which can hold up to eight at once. Some patches include reverse waveform playback, which is converted to forward playback on the JD990.
The Pop card is an ideal starting point for anyone who doesn't want to commit to any of the more specialised expander cards. It offers 224 waveforms and 145 patches, with good examples of all the 'bread and butter' sounds required for most pop arrangement work, including a nice acoustic grand piano, electric pianos, clavs and organs. There's nothing like the choice offered by the more exotic cards, but what's there is extremely good: several acoustic and electric basses, numerous guitars, a set of core orchestral sounds and some extremely musical brass and sax samples. The collection is finished off by a handful of ethnic‑type patches and a generous selection of synth lead and pad sounds. This card is highly recommended if you can afford only one or two expansion cards.
I'm no John Williams, but I was seriously impressed by this collection of orchestral sounds. Indeed, few of the sample CD‑ROMs I've heard have bettered it. The string ensembles and solo strings run to 86 patches, covering a number of playing styles, and they all sound wonderful. Some samples you hear sound great in isolation but don't sit properly in an orchestral mix. These, by contrast, are close to perfect. It's the same with the brass and woodwind — everything sounds rich and expansive (or should that be expensive?) And it's all there: harps, hits, classical guitar, flute, timpani — the whole shooting match, right up to wind chimes and sleigh bells. Virtually all the 174 waveforms and 225 patches are pure magic. Unless you never use orchestral sounds, to hear this card is to need to possess it!
The World set is good for rounding out your collection of unusual percussion or adding ethnic instruments to your repertoire.
How can you fill a whole card with pianos? Roland's answer is to group together a variety of nice‑sounding acoustic instruments, including a stereo grand, and combine them with all the famous electric pianos, the occasional clav, and piano/synth hybrids. Overall, the sample quality is amazing given the limited memory space. The keygroups and loops are well disguised, and the subjective quality of the acoustic pianos is superb. If you write mainly for the piano, this board gives you plenty of scope, though if piano isn't your main instrument, you may be better off picking one of the other cards that includes a more limited piano selection.
I've owned a Roland Vintage expander module for some time now, so I knew pretty much what to expect here. Unfortunately you don't get the superb electronic drum kits from the module, but the patches are broadly similar and are based on a number of classic synths by different manufacturers, not just Roland. Many different analogue synths are featured on this 255‑waveform, 255‑patch card, from Wasps to Prophets and Moogs — plus, of course, Roland classics such as the Jupiter 8 and TB303. Numerous digital synths are also featured, providing wave‑sequencing patches, LA and FM sounds. No vintage collection would be complete without the Mellotron and here we're treated to a number of sounds, including choir, strings and flute. To finish off, there are a few techno patches and atmospheric pads, as well as the monitor‑shattering Earthquake. If you like variety in your nostalgia, this is a card to check out.
I'm a sucker for ethnic sounds, so this is the first card I bought for my own machine, and it really does manage to cover a lot of ground, both geographically and sonically, with its 255 waveforms, 255 patches and one rhythm set. Around half the patches are percussion/bell‑gong sounds, including thumb pianos and kalimbas, gamelans and African drums. Flutes and pipes are also here in force, though I was disappointed by the rather obvious loops and/or inherent vibrato evident in some samples — notably the shakuhachi and the basic flute. The flute on the orchestral card is much better. However, there are lots of usable and nice‑sounding samples, ranging from sitar and tambura to rainsticks and didgeridoos. A few more obviously 'synthy' sounds creep in, but on the whole this is a useful and nicely recorded selection of sounds from all corners of the planet. A must if you write new age music or beds for nature documentaries.
The Super Sound Set is another of those cards that provides a selection of sound types, rather than being tightly focused. Pianos and organs feature fairly heavily in the complement of 255 waveforms and 255 patches, and there are literally dozens of plucked instruments, from lutes and banjos to blues guitar and National steel guitar. There's also a fair selection of orchestral sounds, solo fiddles, harpsichords, and a whole raft of synth voices, as well as eight complete drum sets. As a guitar player, I thought there were too many guitar patches (I lost count at 40) but perhaps I'm biased. In general, the sounds are both good and varied, so if you want a bit of everything to expand your basic synth, this is a valid alternative to the Pop and Session cards, especially if your musical tastes are eclectic.
More than half of this collection is given over to electric organs, including numerous Hammond B3 examples with various overdrive and drawbar settings. To my ears (which were around in the '60s!) these sound great, and the mod‑wheel rotary speed change is also suitably churny and swirly. After the organ section, which also takes in Farfisas, Vox Continentals and so on, come more electric pianos, clavs, numerous synth sounds, and a good selection of Mellotron samples — you can almost hear the tapes sliding against their gunge‑covered drive rollers! This is a good selection of 255 patches and the same number of waveforms, and is described well by its title, but for me the Hammond patches are the real gems.
This is another 'bit of everything' card, perhaps best suited to the user who doesn't quite know what the demands of the next job will be. A nice selection of acoustic pianos and orchestral sounds soon gives way to textural synth pads, wind instruments, a generous selection of accordions (for the German market, perhaps?) and a useful section of acoustic and electric guitar patches. The second part of the card comprises mainly synth sounds, including some distinctive dance clichés and some dynamic pads. To sum up, this is a very varied, generally good‑sounding collection, with eight more drum kits as a bonus on top of the 206 waveforms and 255 patches.
The Pop card is an ideal starting point for anyone who doesn't want to commit to any of the more specialised expander cards.
The first thing to make clear is that we're talking about real bass and real drums, not drum & bass breakbeats! Around half of this collection is made up of bass guitar multisamples from the likes of Marcus Miller, Abraham Laboriel (Senior and Junior), John Patitucci and Bob Wilson. There's a huge variety, from hard and funky to steamy fretless, with the odd acoustic bass and bass harmonic set thrown in, after which it's the turn of the drums. Eight complete rhythm kits are offered, as well as a number of partial kits that can be layered with other patches to form new combinations. Everything from rock to ballad is covered, but there's not much for the techno/house composer — that genre has a card all to itself. As a collection of bass guitar and acoustic drum sounds (241 waveforms and 204 patches), this card is up there with the best.
This card provides pretty much what you'd expect — tortured synths, cheesy pianos and organs, TB bass sounds and stacky stabs — not to mention a whole bunch of hard‑hitting synth leads, squizzy pads and analogue mayhem. Tucked away within the total of 255 waveforms and 266 patches are ring modulator sounds, filter sweeps, guitar effects, FM synths and the odd loop (which you can sync to MIDI clock). If you get bored with that little lot, you also get eight new techno‑flavoured drum kits to play with.
In addition to the usual hip‑hop fare spread over 255 waveforms and 256 patches, this card provides 40 complete rhythm or phrase loops, mainly of the 'boom, cha, b'boom boom cha' variety, but all very authentically arranged and processed. You also get one or two human beatbox loops, of the Bobby McFerrin type, that actually work really well. Of course, there's the inevitable embarrassing yell of 'Yo', 'Pumpin', or something equally inane, for the benefit of those unable to say such words themselves! Synth sounds are provided in spades, as are processed guitar and drum sounds and, as with the previous card, there are eight more drum kits to abuse. If you like that kind of thing, you'll love this kind of thing.
The most recent synth in the expandable range, the JV2080, can host up to eight expansion cards.
Considering the limited memory of a ROM card compared to that of a sample CD‑ROM, these expander cards, some of which feel to me as though they may have had something to do with those behind Spectrasonics' sample CDs, make a creditable attempt at bridging the gap between a traditional synth and a sampler. They are relatively expensive considering the minimal hardware involved, but, as with a sample CD‑ROM, you're really paying for the sounds, not the piece of plastic they come on. Only a few of the sounds are actually disappointing, specifically some of the flute samples with their looped vibrato (this is not a problem on the Orchestral card, however). Other than that, my only real criticism is the amount of sound‑type duplication — though not duplication of the sounds themselves — across the Pop, Session and Super Sound Set cards.
The Pop card is an ideal first card for those working mainly on pop and rock, while Session and Super Sound Set provide useful tools for those with a slightly wider musical brief. I can't really fault the Orchestral card at all, and the World set is good for rounding out your collection of unusual percussion or adding ethnic instruments to your repertoire. If your bass player has just left (or, worse still, announced that he's written a song he wants the band to do!), the Bass and Drums card is supremely flexible. My next buy will probably be the excellent Orchestral card, though anyone into dance music would do well to listen to the Hip‑Hop and Techno collections, as the sounds provided are pretty much on the ball.
The JV synths and their relations were reviewed in SOS in the following issues:
JD990: June 1993
JV1080: December 1994
JV2080: April 1997
JV1000: July 1993
JV880: March 1993
JV90: March 1994
JV80: April 1992
XP80: May 1996
XP50: June 1995
Pros
Greatly extends the sound capability of the JV‑series synths.
Waves from different cards can be combined to create new patches.
Cons
Expensive. The hardware manufacturing cost is low, and the amount of material you get is an order of magnitude less than you can get on a sample CD‑ROM for less money. Sales would be far healthier if the RRP were a more realistic £99.
Summary
A very convenient and easy‑to‑install means of adding more sounds to your JV‑series synth, but at the price you have to choose your cards very carefully.