Is Roland's SPD‑SX Pro the best percussion pad you can buy?
I'm a long‑time user of the Roland SPD sample pad range, having owned the original SPD‑S and, more recently, the SPD‑SX, which I also reviewed in SOS October 2012. Ten years on from the launch of the latter, Roland have released the SPD‑SX Pro — "the ultimate sampling pad for the most demanding gigs".
Looking at the feature list, it's clear to me that Roland have been listening to user feedback, and also keeping an eye on the competition, as the new device bears more than a passing resemblance to the Alesis Strike MultiPad, which I reviewed in 2019. Featuring 32GB of sample memory, a large 4.3‑inch LCD screen, more trigger inputs and audio outputs than its predecessor, customisable pad LEDs and a host of new 'under the hood' additions and enhancements (including over 1500 new sounds and samples), the new SPD‑SX Pro carries a hefty price tag of a fraction under £900$1200. The SPD‑SX Pro isn't a replacement for the SPD‑SX, and both products (plus the SPD‑SX SE) will sit side by side in the Roland catalogue, potentially addressing the needs of different users. What we're here to find out is whether this Pro variant lives up to Roland's claim that it's the "ultimate sampling pad".
The physical dimensions of the Pro, and its pad sizes, are more or less identical to those of the SPD‑SX, but Roland have given the control section of the unit more front‑panel real‑estate by removing the plastic surround that runs between the older unit's pads and control section. This helps to accommodate the new 4.3‑inch colour LCD and facilitates a more spacious layout for the knobs and buttons. Although the pad sizes are identical, the pads themselves have had an upgrade in terms of sensitivity and crosstalk reduction (and, of course, their LEDs), with the top‑row 'shoulder pads', in particular, benefiting from a revised sensor structure and physical redesign. Slightly slimmer, the shoulder pads now sit higher than those on the SPD‑SX, which should make them easier to play when the unit is mounted at an angle. I've never had an issue with the shoulder pads on the SPD‑SX, but that may be because I tend to use them more for enabling clicks or backing tracks than for anything requiring subtle dynamics.
A new data‑entry wheel augments the +/‑ keys, which makes adjustment of parameters on the fly (during a live performance, for example) a lot quicker and easier, and beneath the LCD display are six soft keys, which again enable quick access to more parameters and functions. The Control 1 and Control 2 knobs from the SPD‑SX have been replaced by a single Master Effect knob, and two continuous encoders have been added. These are dedicated to pad volume and pad pitch (although they can also be assigned to transient attack and release via a simple button press, and can also be configured to control the effects).
To the right of the LCD, the All Sound Off button enables you to quickly silence the output from all the pads. I have this button assigned to a footswitch, so I can instantly stop playback of any loops or tracks if timing or arrangements go awry in a live performance. The Pad Check button lets you to audition a pad via headphones only, and with the SPD‑SX I often used this feature at a gig to remind myself which sound was assigned to which pad without the audience hearing. The functionality of this feature has also been greatly enhanced on the SPD‑SX Pro, allowing you to manually select pads using the data‑entry knob and fast‑forward or rewind through samples to exact points, to preview specific elements in backing tracks or long loops. However, with the huge amount of information already offered by the large LCD and coloured pad LEDs, I can see me never needing the Pad Check button again.
The SPD‑SX Pro measures 360 x 330 x 93mm and weighs in at a reassuring 3kg.
Incidentally, all buttons are now backlit (again, a godsend for live use), and they have a slightly more 'clicky' response to those on the SPD‑SX, making button presses feel a little more positive when you're making selections or adjusting parameters.
The rear of the unit takes the opposite approach to the front, in that more is squeezed into the same space. There are now four dual‑trigger inputs, which can accommodate eight single‑zone pads or triggers. Left and right Main outputs are augmented by four direct outputs plus a headphone socket. This makes a potential eight individual outputs that can each be sent a different signal from any of the pads. The left and right stereo inputs (used for analogue sampling) on the SPD‑SX have been replaced by a single stereo jack socket, and the gain knob used to adjust the input level now reads Max and Min, rather than Mic and Line, at its two extremes. The footswitch socket, which can be assigned to a number of functions, from triggering sounds to starting and stopping click tracks, now sits alongside a much‑requested hi‑hat control and expression pedal socket. Connecting a hi‑hat pedal (such as the Roland FD‑8 or FD‑9) enables control of open and closed hi‑hat sounds assigned to a pad or trigger, which makes the SPD‑SX Pro capable of replacing a regular drum module. An expression pedal connected to this socket allows real‑time control of parameters such as effect intensity or reverb time.
In addition to the regular MIDI in and out sockets, the SPD‑SX Pro features two USB ports: one for a flash drive, to load and save audio data and settings; and a second for connection to a computer, allowing audio and MIDI playback to and from your DAW. With the Roland driver installed, the SPD‑SX Pro sends eight channels of discrete audio via USB to your computer and can receive 12 channels. If you were using the new SPD‑SX Pro app to manage samples and settings, you would also connect via this USB port.
The rear panel enjoys two USB ports, MIDI I/O, a line input, four dual‑trigger inputs, four direct outputs, stereo outputs and a headphone port.
The final new addition to the rear panel is the on/off switch. Moved from the front panel, the switch is now a simple latching affair rather than the press button on the SPD‑SX. Although this is, perhaps, a less convenient location for the switch, the unit will 'auto‑power' when plugged in to the mains if the switch is left in the on position, so there is no real need to access the switch. Power is provided by the usual AC adaptor, whose cables appear a little thinner and less sturdy than on my SPD‑SX. I appreciate that there are a number of reasons why an adaptor is preferred by manufacturers, but on a 'Pro' unit, where it would seem that keeping costs low should not be the primary concern, a more robust and ubiquitous IEC mains socket might have been a nice addition. The same could be said about choosing not to use XLR connectors on the main outputs.
Out of the box, the SPD‑SX Pro doesn't look radically different from the SPD‑SX. It's only when you plug in and switch on that the big reveal happens. The new 4.3‑inch LCD bursts into action and the LEDs that surround the pads show their full range of animation with a kaleidoscopic display of colours. It's at this point that the resemblance to the Alesis Strike MultiPad becomes apparent, which is no bad thing. I thought the MultiPad included some excellent features, and it's clearly made Roland up their game.
The SPD‑SX Pro's large screen puts all the information you need front and centre.
The larger LCD allows a lot of information to be shown on screen, with the default 'Kit' display showing the name of the sample assigned to each of the nine pads, and its playback status (loop, loop progress, one shot, and so on) and layer configuration, as well as the kit name. The last can now be up to 16 characters long, and a subheading/memo of up to 64 characters with bpm and effects settings is also clearly visible. A tap on the right arrow key brings up a similar layout showing trigger input and footswitch assignments. The combination of the additional information on the display and the presence of the pad LEDs takes the guesswork out of using the SPD‑SX Pro live. From a personal point of view, I found it incredibly useful.
Although it's primarily designed as a sample playback unit, the SPD‑SX Pro comes pre‑loaded with 1550 fantastic‑sounding samples — everything from acoustic and electronic drum sounds through to loops, synth hits and effects, many of which were included in the TM‑6 Pro and uniquely recorded for Roland at Real World and Rockfield studios. The SPD‑SX Pro doubles the number of kit locations available in the SPD‑SX from 100 to 200, with the first 43 kit presets using many of these samples to show off the unit's capabilities to great effect. Lo‑fi, hip‑hop, grime and house kits sit side by side with Acoustic kits, classic drum machines, and world and orchestral percussion setups, with many of the kits utilising loops, layered samples and multi‑effects. The kits load very fast, with almost no delay, which is invaluable in a live situation, and effects with long delays (such as reverbs) are not cut short when you switch kits. All samples can now be tagged, categorised and filtered, which makes finding what you're looking for very quick and easy.
Editing and configuring the SPD‑SX Pro couldn't be easier — the large LCD, again, offers a huge amount of information.
The Menu page.
Hitting the Menu button brings up a screen with six categories across the top; Kit Edit1, Kit Edit2, Wave, System, Copy and Backup. Selecting any of these categories then displays each sub‑menu category with a very clear graphic that can be navigated and selected via the arrow keys. No more squinting at tiny text and navigating complex menu structures!
The LCD really comes into its own during editing, presenting a large amount of information in one go and, in many cases, in an easy‑to‑understand graphical form. Users will probably spend most of their time in the Pad Edit menu, where you can assign and edit samples, set the playback type (Alt, One Shot or Loop), alter volume and pitch, and so on. The SPD‑SX Pro allows you to assign two samples (layers A & B) to any one pad, with their parameters both visible simultaneously on the edit screen. Not only can you easily adjust the level, pan and EQ of each sample, you can also mix them in different ways using Layer Types and Fade Points. A fantastic 3D graphic helps you see how the two samples will interact with each other, making it easy to create realistic drum and percussion sounds that change the harder you hit the pad, or interesting electronic morphing effects.
Further sound‑creation options can be explored using the four multi‑effects processors, which can be assigned independently to any of the pads; for example, pad 1 could be assigned to a reverb using MFX1, pad 2 could be assigned to a delay using MFX2, and so on. There is also a Master Effect that can be applied to the kit globally, and the effects can be routed to their own individual outputs if required. The SPD‑SX Pro also features a side‑chain compressor, which is ideal for creating the pumping effects used in many dance music productions. Any combination of pads can be routed through the compressor and any other pad can be used as the side‑chain control. For example, imagine a selection of loops that are routed through the compressor, with a kick drum assigned as the control signal. Each time you play the kick pad, the loops duck and pump, depending on how you've set the compressor.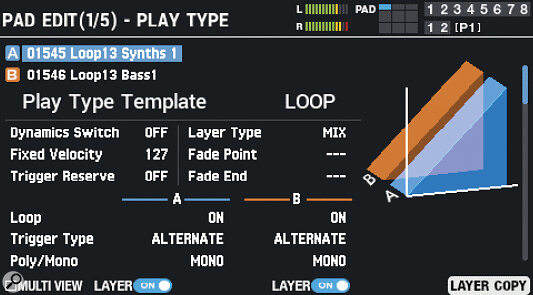 The Pad Edit page.
The main advantage of the SPD‑SX units over other percussion pads in the Roland range is their ability to import user samples. These can include anything from drum hits and loops to vocal phrases and full backing tracks. Samples can be imported in several different ways: via a USB memory stick; recorded in real time via USB from a computer or through the analogue input socket; or via drag and drop using the dedicated software editor.
A generous 32GB of onboard memory means that the SPD‑SX Pro holds nearly 44 hours of 48kHz/16‑bit stereo audio. Regardless of their original format (WAV, MP3 or AIFF), sample rate (44.1 or 48kHz) or bit depth (16‑ or 24‑bit), the SPD-SX automatically converts them to its native 48kHz/16‑bit internal format, which does mean that imports aren't always instant but saves time pre‑converting files. The comprehensive file‑management features enable you to rename, renumber and tag samples with up to 127 different users tags, which makes searching for anything (assuming you tag it first!) an absolute breeze. You'll never lose a sample again. The large LCD screen, once again, proves its worth by facilitating a very usable wave‑edit window, where samples can be accurately trimmed, truncated, normalised and even reversed.
The software editor Roland provided for use with the SPD‑SX is, if I'm being generous, dreadful! I tried using it a few times and almost immediately gave up and invested in the third‑party editor available online. At €39, this was a very worthwhile investment. The new SPD‑SX Pro app has been developed by Roland from the ground up, using feedback and user requests as the basis for its functionality, making it a very comprehensive and useful tool. Every function and feature on the SPD‑SX Pro is accessible, and although navigating and editing on the large LCD is both easy and enjoyable, some functions, such as the kit output routing and effects matrix, are a little easier to understand with the software editor. All changes made on the software are updated in real time so there's no need to wait for an age to save everything or unplug the USB connection to audition samples on the unit itself.
The SPD‑SX Pro app gives you access to all the SPD‑SX Pro's features and functions.
There's so much to talk about in the SPD‑SX Pro that I could go on for pages and pages, and I can't mention everything. However, something I really must mention are the enhanced click features. The SPD‑SX is a go‑to live tool for many drummers, and playing to backing tracks and to a click have become the norm for a lot of them. The SPD‑SX Pro includes a set of extremely useful new click options for the live player, which make the job a lot easier.
In the Click menu, you can set a tempo (20‑260 bpm) and the number of beats per measure (1‑9). Different levels (1‑127) can be set for Accent, Quarter, Eighth, 16th and Triplet click values, which gives you the option to play in many different time signatures. There are several choices for the click sound, including wood block, cabasa, beep and agogo, or you can assign any wave sample stored in the SPD‑SX Pro as your click (doing the last removes the ability to add an accent to the downbeat, however, as every click value uses the same sample). A very useful ability is to import your own wave file as a click track. Using this method, you can incorporate tempo changes, time‑signature changes and even cues into your playing.
Regardless of which click option you choose, there are a number of ways you can control it, aside from the Start/Stop button on the front panel. You can also use a pad or footswitch to start and stop the click, with a clever option to retrigger the click each time. This means that if you start a loop slightly out of time, the click will retrigger on the downbeat again, to ensure perfect sync. In addition, you can set a pad to 'Trigger Reserve', which means that, regardless of when you play the pad, you won't hear the sound assigned to it until the next click downbeat. This is ideal for ensuring that a loop comes in perfectly in time even if you trigger it slightly early.
I've barely scratched the surface of what the SPD‑SX Pro has to offer in this review, but it's very clear to me that Roland have taken on board years of feedback from users, as well as making design choices based on the way hybrid drumming has changed over the decade since the SDP‑SX was released. Simple things like dedicated knobs for the most accessed parameters of Pad Volume and Pitch are excellent additions, and the pad LEDs were something of a genius touch on the Alesis Strike MultiPad, so to see a similar idea on the SPD‑SX Pro is great. In addition to making navigation and editing a breeze, I like the large LCD's ability to give so much extra information during a live performance.
The SPD‑SX Pro is packed with highly innovative and useful features and ticks many boxes on my SPD‑SX wish list... plus many more that I hadn't even considered. The expanded Pad Link, Pad Sequence and click features alone are going to enhance my live playing no end, but add the enhanced sensitivity of the pads, expanded input and output options, huge internal storage (with all the new sounds!) and hi‑hat pedal connectivity and you really do have an almost perfect package.
This instrument lays its cards on the table with its 'Pro' tag — and very much lives up to it.
Not everyone is going to need all the features the SPD‑SX Pro has to offer, so it's worth bearing in mind that it will be sold alongside the SPD‑SX, which may prove to be a better alternative in some cases. £900$1200 is a hefty price tag for any piece of kit, but this instrument lays its cards on the table with its 'Pro' tag — and very much lives up to it.
Roland are at pains to point out that the SPD‑SX Pro can do everything the SPD‑SX can do (and, of course, more). While for many people the new features of the Pro will answer their prayers, there's one omission that might be a deal breaker for some SPD‑SX users looking to upgrade.
The Tempo Sync feature of the SPD‑SX is a neat trick that time‑stretches samples to match the bpm of a kit. For example, you can create a loop or backing track at 120 bpm and import it into a kit whose bpm is also set to 120. When you play the click and trigger the loop, everything plays in sync... as you would expect. But imagine you're in a rehearsal situation and the artist wants to increase the tempo of the track by three or four bpm. With the Tempo Sync feature enabled, as you change the bpm of the kit, the loop time‑stretches to fit. I have used this feature on occasion to notch a loop up by a few bpm, and I know of drummers who use tap tempo and get the loop to conform, so I can see that it could be a serious omission for some users, especially as it's suggested that the SPD‑SX Pro includes all of the SDP‑SX's features. I would imagine the justification is that the majority of users will predetermine the tempo of a backing track or loop prior to loading it into the SPD-SX Pro.
The great Pad Sequence feature on the SPD‑SX Pro enables you to create a sequence of up to 16 steps, using any of the samples in the currently selected kit, and then play that sequence back, in order, by hitting a single pad. For example, you may have open, closed and slap conga samples assigned to pads 1, 2 and 3. You can create an eight‑step sequence of pad 1, pad  , pad 2, pad 2, pad 3, pad 1, pad 3, pad 2 and assign this to an empty pad — let's say pad 8. Each time you hit pad 8, it advances through the sequence step by step, enabling you to play complex patterns by only hitting a single pad. This can work for percussive sequences, melodic phrases, or even loops and whole sections of backing track. You can even assign a pad or footswitch to reset the sequence to play from the start.
The Pad Link feature was introduced on the SPD‑SX and enabled you to trigger two pads simultaneously by only hitting one of the pads. A typical use would be to make a backing track on pad 1 and a click track on pad 2 play together in perfect sync. This facility has been greatly expanded in the SPD‑SX Pro, to allow any pad to trigger any number of other pads. From a practical point of view, you could split out a backing track into individual stems and assign each to a pad: bass part on pad 1, keys on pad 2, backing vocals on pad 3, and so on. With each pad assigned to the same Pad Link Group, striking a single pad will play all the parts simultaneously and in sync, with the huge advantage of being able to assign each part to a direct out or change the respective level, EQ or effects of each part independently. This effectively gives you all the advantages of multitrack playback from your SPD‑SX Pro!
Mute Groups work in a similar (but perhaps more creative) way, in that you can group any number of pads together that mute other pads when struck. For example, you could assign different loops to each pad, and configure the Mute Group so that you can switch between loops by striking different pads.
Pros
Large display.
Huge storage.
Improved pad sensitivity.
Pad LEDs.
Enhanced click and Pad Link features.
Cons
Expensive.
Wall‑wart PSU.
No XLR main outputs.
Audio time‑stretch feature has gone AWOL.
Summary
Quite possibly the most complete and well‑thought‑out percussion pad currently on the market.
Information