Kontakt 2 Sample Library
Supplied on four DVDs for use exclusively with Native Instruments' Kontakt 2 soft sampler, Flying Hand Percussion comprises a meticulously multisampled library of hand percussion hits, plus a further selection of heavily processed percussion sounds. Most of the sounds are from acoustic instruments, both real and improvised, but a few come from what the creators describe as "exotic electronic percussion". The company behind Flying Hand Percussion is Sonivox, and as mark of individuality, the CDs come in an ornate hexagonal box that would look more at home on the table of a Chinese restaurant.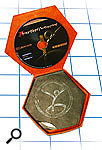 To date this is the only hand percussion library I've tried that has been sampled to the same depth as, for example, the conventional drums of BFD or DFH (FXpansion have a new percussion expansion pack for BFD that I have yet to explore though, so watch this space!). The instruments are recorded using multiple mic positions and are all stored as 24-bit, 44.1kHz samples with up to 20 dynamic layers per note. There are also up to four different versions of each articulation, with separate samples for the right- and left-hand hits. Some of the drums have up to three different miking setups from which to choose, adding up to around 40,000 samples, with individual sample sets varying in size from under 100 megabytes to almost a gigabyte. It comes as no surprise that Flying Hand Percussion takes up a 16GB chunk of hard-drive real estate — and while this makes for a great instrument, ideally I'd prefer to have the option of loading a lighter version (a facility offered by, for example, BFD) to save on hard drive space.
One innovation that claims to improve the realism of the performance is Legato Drumming, a pseudo-intelligent system that responds to the intensity and tempo of your playing to automatically create tonal variations or other nuances in keeping with the way a real performance might sound. On some of the drums, this puts very plausible hand scrapes between the hits, according to the way you play. The instruments are keymapped for ease of use and there are also custom keymaps to match the Zendrum MIDI Controller. Further ambience can be added using the included special edition of PSP Audioware's Nitro Filterbank plug-in, and the necessary impulse responses are included. Unfortunately, I could only find a VST version of this plug-in on the installation disc, so I was unable to try it in Logic.
But enough about the technical stuff — you want to know what the instruments are and, more importantly, how they sound. Well, to start with, there are four anklungs (Asian bamboo instruments that rattle in a nicely evocative way), followed by a couple of boomwhackers and some nice frame drums. There's a great set of djembe hits that respond beautifully to playing intensity, the tabla-like naal, and a maple ashiko. Asia and Africa are particularly well represented, but there's also a smattering of Latin percussion. We have Piru claves, a five-gallon jug, a suspended bass drum and udu-like clay drums. These are followed by the Indian kanjira drum, a good assortment of shakers made from plastic, wood and bamboo, a few nice bell trees and bell sticks, and some wonderfully creepy tam-tams.
More familiar are the timbales, congas, bongos and cowbells, as well as a couple of triangles, but oddly enough there are no tablas, Turkish darbuka (though the ashiko could pass for one), talking drums or North American Indian drums, so although the sounds are wonderfully responsive and recorded to the highest standard, this can't be considered a complete ethnic hand percussion library. Space was found, however, for the Mutants collection of what are described as cinematic sounds, which are created using processing or repitching, and there's also the Morphosis menu, which blends processed acoustic sounds with electronics to produce some obviously unnatural effects. Some of the ensembles are really well put together, and are a gift for anyone working in the area of soundtracks for film or TV.
All the instruments presented here are sampled in great detail and, on the whole, the package works beautifully. There's more variation than you could wish for and, where appropriate, the sounds change with velocity, so that the performance really comes alive as you tap the keys or hit your drum pads. I'm a real sucker for ethnic percussion, so I really appreciated this library, especially the clay drums and djembe. Nice as the sound is that results from the many velocity layers, however, I would ideally have liked the option of a lighter version that would conserve hard drive space at the expense of a few hit options. While the library makes good use of the functionality of Kontakt 2, it feels a little restrictive that you cannot use a version of the library with any other sampler. On the other hand, I really can't argue with the results! Paul White
Kontakt 2 sample library £145 including VAT.
Time + Space +44 (0)1837 55200
www.timespace.comwww.sonivoxmi.com
WAV/REX2/Audio 2 CD-ROM set
Davide Carbone's Drum & Bass Masterclass follows the format of other titles in the Loopmasters 'Origin' series. The bulk of the material is provided as Acid ised WAV and REX2 loops, while some instrument patches for the NNXT, Halion, Kontakt, EXS24 and SFZ software samplers are also supplied. In total, the CD-ROM contains some nearly 600MB of sample data, and a separate audio CD is also included for auditioning purposes.
The samples themselves are organised into musical groups, rather than construction kits. As might be expected given the musical genre, over half the material is taken up by the Drums and Bass folders respectively. Over 100 drum loops are provided, all of which were recorded at original tempos of 165bpm or faster. There is some really good — and suitably manic — stuff here. The loops include one-, two-, four- and eight-bar examples, and the longer patterns offer some great variations. The sounds themselves are all right on the money for this style and, thankfully, there is also a good collection of single hits based on the same sounds. These can easily be used to create your own loops, and the included sampler patches (I looked at those for Halion) include plenty of ready-made kits for just this purpose. Given how good some of the loops are, the only down side is that there are not more of them.
The 50-plus bass loops are also right on target for this musical style. They therefore include examples that are quite musical and others that contain more spiky playing, the latter creating some interesting rhythmic tension when set against the drum loops. Again, the sampler patches provide a suitable means of adding your own variations based on the same sounds.
The remainder of the material is divided into four folders covering pads, keyboards, musical loops and various FX and hits. The dozen or so pads provide some nice (almost mellow) beds, and many feature filter-based processing. There are some more extreme filter-swept sounds within the Vox-FX-Hits-Swells folder, which also includes some useful hits and synth-based processed FX sounds — great for adding a little ornamentation to a composition. However, the highlights are within the keys and musical loops groups. These are all musical phrases, melodic and chord-based, and created from a range of keyboard or synth sources (plus a small number of brass phrases — think Grooverider's 'Time and Space'). Despite also being recorded at high tempos, many of these are actually quite mellow (with a half-time feel) and, when set alongside the high-energy drum and bass loops, they can turn the manic rhythm section into something much more laid-back — a very effective combination.
As with other titles in the Loopmasters 'Origin' series, this title strikes a decent balance between the amount of content and the sub-£40 price tag. The Masterclass is perhaps not revolutionary in terms of the musical genre but, for drum & bass producers, there are plenty of ideas here that would get the creativity moving. John Walden
Acid ised WAV and REX2 loops, with instrument patches for NNXT, Halion, Kontakt, EXS24 and SFZ £39.95 including VAT.
Time + Space+44 (0)1837 55200
www.timespace.com
www.loopmasters.com
Acid ised WAV/REX2/Stylus RMX DVD-ROM
One look at the artwork for Zero-G's Kocktail Kollection will tell you that this is not your usual sample library. I spent a happy, if somewhat bizarre, couple of hours experimenting with the 1.3GB of Acid ised WAV files using Acid Pro 6. The sub-title for the collection is 'Fabulous Lounge Library' and Zero-G suggest that it is intended to offer an authentic slice of late '50s and early '60s 'lounge' music. They're also keen to point out that the contents include huge dollops of cheesy sounds, created with instruments and effects processing that is true to the era, albeit recorded in pristine 24-bit digital audio.
The material is organised into a number of sections. A folder containing 20 construction-kit sub-folders forms the bulk of the material (approximately 1GB). The structure of each kit is interesting, in that the many of them include related loops to create more than one musical section. For example, the Astro Lounge Mixes kit — which is a melting pot of cheesy organ, tribal hip-hop rhythms and the odd vocal hit — contains five different subsets of loops and, while each subset might only be based on single drum, bass and organ loops, the subsets can easily be chained together to form a complete musical piece. The kits are an eclectic mix of light jazz (for example, Multi Guitar Swing), party music lifted from '60s London (such as Flutes and Swingers), clichéd Latin pieces (Ala Brazil Mixes) and comedy music (the glorious Welk Lounge!), along with the odd Trip-Hop influence thrown in for good measure. Weird, certainly cheesy, but also quite wonderful, in a tacky sort of way.
Aside from the construction kits, the rest of the library consists of various groups of loops along with some one-shot samples. For example, there are sub-folders titled '70s Sequencer Synth Lines' and 'Vintage Cheesy Lix'. The former sound like bleeps and bloops from one of those 'tennis' computer games that you used to plug into a black and white TV set many years ago, while the latter sounds like the members of ELP while they were still in nappies. There are also various sub-folders of rhythmic loops, some of which are fairly straight drum loops, while others are more quirky and feature non-standard instrumentation (for example, the wonderful 'Adrenalinn 2fers' folder, which features a combination of Adrenalinn II and guitar). Throw in the various folders of hits, vocal samples and other assorted weirdness and Kocktail Kollection certainly provides plenty of raw ammunition.
Given the musical nature of the material, I would guess that Kocktail Kollection will attract quite a specialist audience. Most obviously, I could see this library appealing to media composers who have to cover a wide range of musical bases at the drop of a hat. It might also have something to offer for hip-hop producers who have a sense of humour in their music. Scary though it might sound, this is also the material of the novelty record, and at one point, I somehow found myself imagining Peter Kay singing over one of the construction hits. While it might be of minority interest, Kocktail Kollection is extremely well done and hugely entertaining, and if you need some retro kitsch in your musical arsenal, then this is a very good place to start. John Walden
Acid ised WAV/REX2/Stylus RMX DVD-ROM £59.95 including VAT.
Time + Space +44 (0)1837 55200
www.timespace.comwww.zero-g.co.uk