Active Ribbon Microphones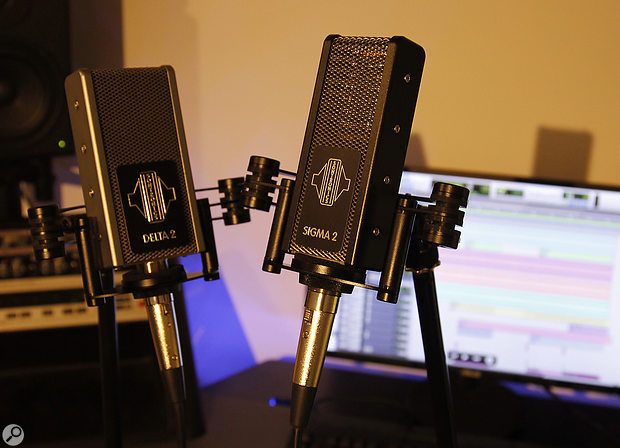 The Sontronics range of phantom‑powered ribbon mics have just been given a major overhaul. We put them to work in a real-world recording session.
British microphone company Sontronics have been steadily building an excellent reputation, and their products have always gone down well in Sound On Sound reviews over the years. A large part of this reputation is down to their range of ribbon mics, and for this review, we were sent revised versions of their popular Sigma and Delta models. I'll look into each mic individually in more detail shortly, but it's worth discussing the new features that are common to both mics. Style‑wise, the mics look slightly different from the earlier versions: as far as I can tell, the main difference is that the side panels have been squared off for a more minimal, vintage effect, which looks great. Both mics have the same 1.8-micron ribbon element — that is unchanged from the originals — but the mics' internal electronics have undergone a complete overhaul. The mics themselves are now hand-made in the UK, as are the custom‑wound transformers, which are manufactured just a mile from Sontronics' headquarters in Dorset. With both mics being active, and therefore requiring 48V phantom power, this upgrading of the electronics is significant; of particular note is the inclusion of radio-frequency interference filters, which Sontronics say are not found in any other ribbon mic.
Other changes include a new shockmount, a very substantial ABS flightcase for both the mic and mount, and enhanced protection for the microphone's ribbon element courtesy of an internal pop‑type screen positioned behind the grille. Sontronics explain that this has been carefully judged to provide extra protection and prolong the life of the ribbon element, while allowing enough air to pass through that the sound is unaffected. It should be noted, though, that although both mics are hardier than many ribbons, the usual caution shouldn't be abandoned and, in particular, protecting the mics from sudden wind blasts is always recommended.
It was way back in 2007 that Paul White looked at the original Sigma mic (www.soundonsound.com/reviews/sontronics-sigma), and at the time, it was quite unusual for a ribbon mic to be phantom-powered. It is a significant feature as it means the mics have an on‑board preamp that gives a much higher output than a traditional ribbon design. Consequently, your preamp doesn't have to work nearly as hard, which can reduce chance of noise being introduced when recording quieter sources.
As mentioned earlier, the mic and its shockmount are both housed in the same substantial case, which, although perhaps a bit on the large side for a single microphone, should provide more than enough protection for even the most mobile of users. Engineers who do a lot of setting up and packing down, however, might be less impressed with the microphone's shockmount, as I found it quite time-consuming to get in place. I do like the fact that the mount's design completely exposes the side of the mic, allowing for close placement, and once in place the new latch system works great for changing the angle of the microphone. However, actually attaching the mount is fiddly, and although the manual cautions against turning the mic itself to get it in place, the design seems to encourage you to do just that.
Though quite different-sounding, both mics worked well on a wide range of sources, including acoustic guitar, electric guitar and drum kit.Photo: Neil RogersThe first source I tried the Sigma 2 on was a strummed acoustic guitar. Acoustic guitars can be a tricky assignment for a ribbon mic, as the pronounced proximity effect you get from a figure‑8 polar response means it's easy to get quite a 'boomy' sound. The way to counter this is to position the mic further back from the instrument, but this can introduce noise if you have to turn your preamp gain up significantly. For this recording, I only had to apply around 25dB of gain with the on‑board preamps on my Audient console, and I found it quick and easy to find a sweet spot with the Sigma 2 positioned about a foot and a half back, facing towards the guitar's fifth fret. I got a really balanced representation of the guitar that worked great for the track we were working on. Listening back to the guitar recording in isolation, there was also no unwanted noise to worry about.
Its next job was on a drum recording, and I got a chance to try it out as both a mono drum overhead and as a room mic sitting around five feet back from the drum kit. I really liked the results in both positions, and I would describe the sound as like a classic Coles 4038 but with a touch more clarity and sheen. I'm very confident that a pair of these would be superb as drum overheads in a good live room. I was similarly impressed with how it fared in front of a guitar cabinet, and I loved how I could shape the low end of the sound by changing the distance from the mic to the speaker, working with the proximity effect. I was beginning to get a real sense of the mic's character at this point, and even in front of a loud guitar amp, it captured the essence of what was in front of it in a way that seemed to nearly always work.
One of the things I find with the ribbon mics that I currently have in my collection is that I tend to really like them on one or two specific things. The thing that struck me about the Sigma 2, however, was what a great all-rounder it is. It can give that 'thumpy' Coles 4038 type sound as a drum overhead, but is also quite at home in front of a guitar cab, acoustic guitar or vocals. I also found that it took additive EQ remarkably well, so if it didn't sound quite right come mix time, it took minimal effort to make it a bit leaner or brighter. Throw in the low noise and relatively robust nature of its modern ribbon design — I've broken more than one ribbon over the years — and you have a pretty attractive package here. If you were to looking to add just one ribbon mic to your collection, then the Sigma 2 would be a very good option indeed.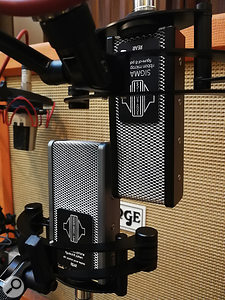 When Jack Ruston looked at the original Delta mic in 2010 (www.soundonsound.com/reviews/sontronics-delta) he was impressed to find a ribbon mic specifically developed to handle higher SPLs. Sontronics claim this new version should likewise relish sitting in front of a loud guitar cabinet, on brass instruments, and generally taking pretty much whatever is thrown at it volume‑wise (within reason). With this in mind, it has a lower sensitivity than the Sigma 2, so as to less easily drive your preamp into the red, and its internal electronics are also designed so as not to easily overload. Physically, it's a bigger mic than the Sigma 2, although with the same new minimal styling. To my ears, its voicing also seemed noticeably different. I first tried the Delta 2 on a guitar cabinet, and I was immediately impressed by the clarity with which it captured a respectably loud guitar part. I also noticed, though, that it was much leaner at the bottom end than some ribbons. It's not lacking in bass by any means, though, and considering that proximity effect I keep mentioning, it makes a great deal of sense for a mic intended to be positioned close to a source to have a small low-frequency roll-off. This was confirmed when I auditioned the two mics together on an acoustic guitar and above a drum kit. If you check out the audio examples I've produced, you should be able to hear for yourself the difference in the low end compared to the Sigma 2.
Not surprisingly, it's on a guitar amp that I found the Delta really excelled, and it seemed to capture just the right amount of detail and realism. An excellent example of this was on a recent session where I was working with a guitarist in the control room but with the cabinet in a separate room. We were auditioning a few different guitars and the Delta 2 seemed to help highlight the different options perfectly.
So, how loud can you go with this thing? Sontronics list a maximum SPL of 140dB, but I'm going to be careful not to try and answer that question definitively! I pushed it as hard as I dared during the review period in front of a blisteringly loud guitar amp and also as an external kick‑drum mic. It never sounded remotely like it was in trouble and it did, by the way, sound superb as a kick‑drum mic, capturing a beautiful low punch positioned about four inches away from the outside head of my 24-inch kick drum. There's no way I'd put a Coles 4038 or other vintage ribbon mic that close to a kick!
As with its smaller sister, I think you'd find plenty of other uses for this mic. It sounded great both above and in front of a full drum kit, with less low-end thump than you get from the Sigma 2, but plenty of that smooth ribbon sound that can be so sympathetic to loud cymbals being smashed around in a smaller room and that can sound glorious in a larger live space. I was disappointed to not have any brass players through the studio during the review period, but as I often turn to ribbon mics for these sessions, I would feel very confident putting up a Delta 2 if needed.
Having not been a user of the original versions, I've judged both these new models from Sontronics purely on their own merit. And, as you've probably gathered by now, I liked both of these microphones a great deal. I've tried a number of other 'modern' ribbon microphones in my studio and whilst I may have been impressed with how they sound, I've ultimately come to the conclusion that they don't actually sound like ribbon mics! It's that smoother, darker tone, paired with staying true to a source, that arguably makes a ribbon a ribbon. What Sontronics seem to have done is to tick those boxes while negating some of the traditional limitations, such as noise and fragility. I was impressed with the Sigma 2 especially: it sounded superb on drums and is an excellent all-round instrument microphone. The Delta 2 was also impressive, and I can see why it's found its way onto the stage as well as the studio, as it certainly seems more than tough enough to cope with the extra unpredictability of live sound.
Price‑wise, these mics are not cheap, but still sit comfortably below a lot of the classic ribbon options. This should quite rightly make them a very tempting option if you're looking a for a flexible new addition to your mic collection.
There are now a number of companies who manufacture active ribbon mics, the most obvious competitors including the Rode NTR, the AEA N8 and sE Electronics' Voodoo series.
To hear the Sigma 2 and Delta 2 for yourself, go to the accompanying Audio article at https://sosm.ag/sontronics-0519, where I've prepared a number of recordings taken with both mics on a variety of sources.
You can download a Zip file of hi‑res WAV audio examples in the righthand Media sidebar or use the link below.

sontronics-sigma-2-and-delta-2.zip
Pros
Both mics are great, true‑sounding ribbon mics.
Very versatile.
Active design reduces some noise issues on quieter sources.
Attractive retro styling.
Very substantial ABS case.
Cons
Deciding which of the two models to buy!
Attaching the mics to their shockmounts is awkward.
Summary
Both the Sigma 2 and Delta 2 are well thought-out and well-built ribbon microphones that offer an excellent combination of sound quality, durability and versatility. Both sound like classic ribbon mics, but require less gain and are harder to break. What's not to like?
information
$1099 each.
Pro Audio Distribution +1 877 223 8858