Active Ribbon Microphones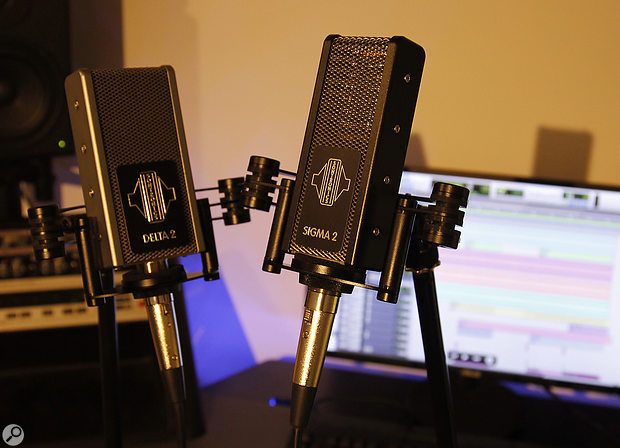 The Sontronics range of phantom‑powered ribbon mics have just been given a major overhaul. We put them to work in a real-world recording session.
British microphone company Sontronics have been steadily building an excellent reputation, and their products have always gone down well in Sound On Sound reviews over the years. A large part of this reputation is down to their range of ribbon mics, and for this review, we were sent revised versions of their popular Sigma and Delta models. I'll look into each mic individually in more detail shortly, but it's worth discussing the new features that are common to both mics. Style‑wise, the mics look slightly different from the earlier versions: as far as I can tell, the main difference is that the side panels have been squared off for a more minimal, vintage effect, which looks great. Both mics have the same 1.8-micron ribbon element — that is unchanged from the originals — but the mics' internal electronics have undergone a complete overhaul. The mics themselves are now hand-made in the UK, as are the custom‑wound transformers, which are manufactured just a mile from Sontronics' headquarters in Dorset. With both mics being active, and therefore requiring 48V phantom power, this upgrading of the electronics is significant; of particular note is the inclusion of radio-frequency interference filters, which Sontronics say are not found in any other ribbon mic.
Other changes include a new shockmount, a very substantial ABS flightcase for both the mic and mount, and enhanced protection for the microphone's ribbon element courtesy of an internal pop‑type screen positioned behind the grille. Sontronics explain that this has been carefully judged to provide extra protection and prolong the life of the ribbon element, while allowing enough air to pass through that the sound is unaffected. It should be noted, though, that although both mics are hardier than many ribbons, the usual caution shouldn't be abandoned and, in particular, protecting the mics from sudden wind blasts is always recommended.
It was way back in 2007 that Paul White looked at the original Sigma mic (www.soundonsound.com/reviews/sontronics-sigma), and at...
You are reading one of the locked Subscriber-only articles from our latest 5 issues.
You've only read 20% of this article, so to continue reading...
Option 1: Buy and download this single SOS article in Adobe PDF format
Buy this article now and immediately download the PDF file to your computer.
Single article PDFs look identical to the printed magazine layouts (but exclude advertisements).
Note: Some shorter articles don't always have a PDF version.
Option 2: Buy the Full Issue PDF **NEW**
From January 2018 edition, it is possible to buy a FULL ISSUE PDF 'replica magazine' for the cost of a handful of single PDF articles, and instantly download it. More info...
Option 3: Buy a DIGITAL subscription and open ALL web articles instantly!
It opens ALL web articles, the Tablet edition, plus Full Issue PDF download...
Or contact our Subs staff to discuss an upgrade price to add Digital access to your existing Print subscription.