Transient Designer & EQ Rangers [Mac/PC]
Two of SPL's most effective hardware studio tools are now available in native and HD plug‑in formats.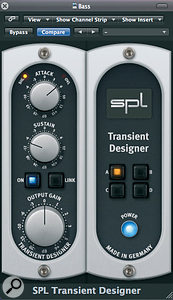 SPL have a reputation for designing quirky but effective tools for audio processing, one of the simplest and most effective being their Transient Designer. This has already been emulated in software by Universal Audio for their UAD card platform, but SPL now offer their own version that can run on Mac or PC in VST, AU and RTAS formats, or as a Pro Tools HD plug-in. SPL use the term 'Analog Code' to describe the modelling process they use to transfer the characteristics of their analogue processors to the digital world, but they say little about how this is done, other than claiming that it can "achieve results far beyond pure mathematical approaches".
Both the plug‑ins reviewed here feature the usual dialogues for saving and recalling presets, while four different settings can be created and then switched manually by means of the buttons to the right of the screen, or by means of automation during a mix. Time‑limited demos are available from the SPL web site, so you can try before you buy, providing you have an iLok key. 
The beauty of the Transient Designer is that although it is a dynamic processor somewhat like a compressor, it operates over a very wide input-level range without the need for a threshold control (it dynamically adjusts its own threshold) and has only two controls. These allow the user to independently enhance or diminish the attack and release characteristics of the source sound. Attack can be boosted or attenuated by up to 15dB, while sustain can be boosted or attenuated by up to 24dB.
The results, however, are not related to the knob count, and you can use the Transient Designer to add punch to drums and shorten excessive reverb or ring, or, conversely, to extend the sustain of the drums while at the same time pulling up the room sound. Shortening the Release helps clean up spill without recourse to a gate, and if you want a traditional kick drum to sound more 'basketball', you simply apply some negative attack. A Link button forces the left and right channels of a stereo instance of the plug‑in to track together, to prevent image shifts.
It really is that simple, yet the hardware Transient Designer has to be one of my favourite studio tools for use on drums, and this digital version works to all intents and purposes like the analogue box from which it was modelled.
EQ Rangers is a suite of three plug‑ins based on the passive EQ modules used in the SPL Rack Pack series. Visually, each plug‑in looks like a reversed eight‑band graphic equaliser with an additional level fader, tipped on its side, and the three variants have different filter frequencies for different jobs. Bass Ranger offers the key frequencies for bass guitar (30Hz to 2kHz) and other bass instruments, Vox Ranger does the same for vocals (220Hz to 4kHz), and Full Ranger is more general and covers the whole audio spectrum.
A graphic cut/boost‑style EQ may not seem particularly exciting, but the smooth and musical sound of the passive filters actually makes it very appealing when you come to use it, and SPL really have gone out of their way to make things easy in the two source‑specific modes, by giving you handles on the most important frequencies to get the job done. I was sceptical when I first saw the plug‑in's basic layout but soon became a convert when I heard it in action. This EQ is really very effective at pushing or subduing the necessary frequencies in a way that keeps the sound solid and focused, and because you don't have all the controls of a parametric EQ, you get the job done quickly and effectively without getting bogged down. I was particularly impressed at how it added girth to a rather lacklustre bass sound without making the low end sound the least bit flabby, and it is also fabulous on drums. 
Both these plug‑ins demonstrate that sometimes fewer controls can lead to better results if the technology behind those controls is well thought‑out, and I'm happy to say that SPL's analogue prowess translates extremely well to the digital world, placing little burden on my Intel Mac.  
Alternatives in the EQ market are too many to mention, as the SPL approach is really another take on the graphic EQ paradigm, albeit modelling some lovely passive analogue filters, but the Transient Designer is still a very specialised thing. The Eiosis E2 Transienter and the Sonnox Transmod overlap into the same area, in some cases taking aspects of the concept further, but so far nobody else has really nailed the two‑knob simplicity and musical effectiveness of the Transient Designer.
Pros
Simple to operate.
Musical‑sounding results using intuitive controls.
Cons
Other products may offer a greater depth of control — but with sophistication comes complication.
Summary
SPL's 'keep it simple' approach has really paid off here, with two great‑sounding processors that are comparably priced to other serious native plug‑ins.
information
Transient Designer £212 (native) or £355 (HD); EQ Rangers £256/£413. Prices include VAT.
Audio Pros +44 (0)1923 693770.
Transient Designer $299 (native) or $499 (HD); EQ Rangers $359/$579.
SPL USA +1 951 272 3465.