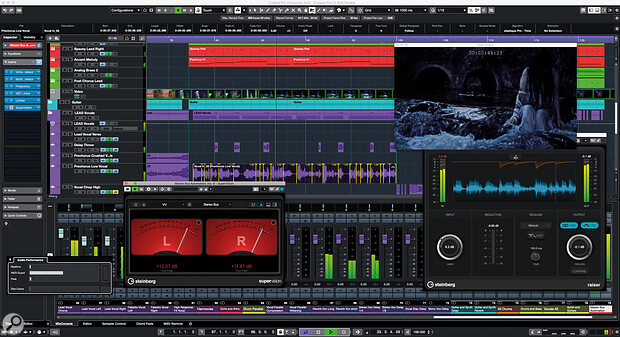 Cubase gains new features and dispenses with the dongle.
Cubase's substantial and diverse user base might have had to wait a few months beyond Steinberg's regular end‑of‑year update cycle, but version 12 is now with us. Of course, in its Pro form, Cubase has been a sophisticated, feature‑rich music production platform for many years. So what have Steinberg added to v12 to improve upon their already‑impressive flagship product and to tempt existing users, and potentially new ones, to invest?
I'll get to Cubase Pro 12's list of additions in a minute but perhaps the item that caused the most chatter online prior to launch was actually something Steinberg was taking away; licensing via a dongle. USB dongles are something that engender very mixed feelings. If you primarily work in a fixed studio space (as I do), it's perhaps not so much of an issue but, for those who are more mobile, looking after a dongle (or three) when you move between locations can be problematic.
Of course, all developers have to protect their software from piracy, but Steinberg obviously feel that that can now be done effectively without the eLicenser key. With v12, activation is linked to your host computer and you can activate on up to three different machines under a single license. This worked very smoothly for me when installing Cubase Pro 12 (although some users did report issues immediately after the launch, presumably caused by Steinberg's servers being inundated with update requests) and I was able to install and activate on both my main studio machine (under Mac OS) and on a Windows‑based laptop I occasionally use for mobile work, without any problems. For understandable pragmatic reasons, Steinberg are planning to transition their other major software titles to the new licensing system as each goes through its own update cycle. Users of WaveLab or SpectraLayers, for example, will therefore have to wait a little longer to be completely eLicenser‑free, but it is coming.
Dongle‑free licensing aside, what's new in Cubase Pro 12? Sensibly, Steinberg have adopted an evolutionary approach rather than a revolutionary one (existing workflows therefore remain intact) but, as befits a whole number upgrade, there is plenty of 'new and improved' to discuss.
The Audio Performance meter has been improved — but Cubase 12 doesn't seem to place any noticeable additional burden on your host system.For example, Apple‑based users will welcome the news that Cubase 12 has native support for Apple Silicon. That said, for those with a M1‑powered Mac, Rosetta is likely to remain a fact of life (albeit a fairly innocuous one) for a while yet as music software developers gradually embrace the chip format. It's also worth noting that, amongst the brief 'requirements' list for Cubase 12, Steinberg's website lists Mac OS Big Sur or Monterey. However, early user reports suggested plenty of folks running quite happily on older Mac OS iterations such as Catalina. For Windows‑based users, 64‑bit versions of either Windows 10 or Windows 11 are supported. Both Mac and Windows installs require 70GB of free storage space, and a minimum 8GB of RAM is suggested.
One further benefit of the new, dongle‑free licensing arrangements is that a trial version of Cubase is now possible. It was still listed as 'coming soon...' at the time of writing, but obviously will mean you can test Cubase 12 on your own hardware/OS without risk prior to making a purchase decision.
Software developments will, eventually and inevitably, leave older host systems behind. However, in use, Cubase Pro 12 felt very responsive on my now ageing 2013 iMac during the review period. Running some of my existing v11 projects under v12 created no obvious problems; if my experience is anything to go by, Cubase Pro 12 doesn't seem to place any noticable additional demands on your computer host compared to v11.
Specific new additions or improvements may have differing appeal to different users but, in scanning Steinberg's 'what's new?' list prior to actually launching Cubase Pro 12, the new Audio To MIDI Chords option particularly caught my attention. The concept is simple enough; drag any audio recording to the Chord Track and Cubase will then analyse the audio, identify the underlying chord changes within it (this takes a few seconds), and place those changes as chord events within the Chord Track.
The Audio To MIDI Chords feature requires just a simple drag and drop operation, while the Chord Assistant's new dedicated tab streamlines any subsequent finessing required after Cubase's initial chord identification.
The applications are obvious. For example, those with limited music theory might use it to analyse a full mix or instrumental backing track to get a start on unpicking the key/chords, either for educational purposes, or to assist in any later remixing, mash‑up, or top‑line additions. You might also use it to extract the chords from a piano or synth loop so you can build other musical elements around it. Personally, however, I'd use it as a workflow enhancer to get the Chord Track populated with the chords from a new idea captured as a guitar recording (my instrument of choice), before dragging those chords off to something like Toontrack's EZkeys or EZbass to flesh out the idea. Manually entering chords into the Chord Track is straightforward enough but can also be time consuming; having Cubase do this for me automatically is a very attractive prospect.
So, the concept is appealing, but does it actually work? Amazingly (well, I think it's pretty amazing given what must be going on under the hood), the answer is mostly 'yes'. Can you fool it with complex chords in a busy mix, weird chord extensions in a complex jazz piece, or bit of prog‑based strumming? Yes, you can. Might you sometimes find yourself having to go in and fine‑tune the automatic chord identification? Yes, you will.
However, even with these qualifications, the process works remarkably well. I tried it with the aforementioned guitar parts, some synth loops and some full mixes (my own and some well‑known commercial releases). As you might expect, the more straightforward the original performance, the more accurate the chord identification is likely to be but, whether perfect or not, as way of getting a first pass at the chord changes, and their entry into the Chord Track, this is a heck of a trick. In addition, even if you do find yourself needing to then finesse the results, editing chords within the Chord Track has been enhanced, with the Chord Assistant now including a new Detected tab. This gives you a prioritised list of chord alternatives that can easily be auditioned to see if they provide a better musical fit to the first choice that Cubase made on your behalf.
If your workflow doesn't make use of the Chord Track, or your ear training is good enough to work out the chordal structure of a piece of music without any assistance from software, then this feature might not be such a big deal. For everyone else (myself included), this is a super‑useful addition and it's available to Pro, Artist and Elements users.
You are reading one of the locked Subscriber-only articles from our latest 5 issues.
You've read some of this article for free, so to continue reading...
Log in - if you have a Subscription you bought from SOS.

Buy & Download this Single Article in PDF format

£1.00 GBP

$1.49 USD


For less than the price of a coffee, buy now and immediately download to your computer or smartphone.

Buy & Download the Full Issue PDF
Our 'full SOS magazine' for smartphone/tablet/computer. More info...

RECORDING TECHNOLOGY: Basics & Beyond
Claim your FREE 170-page digital publication
from the makers of Sound On Sound — CLICK HERE