Software Studio [Windows]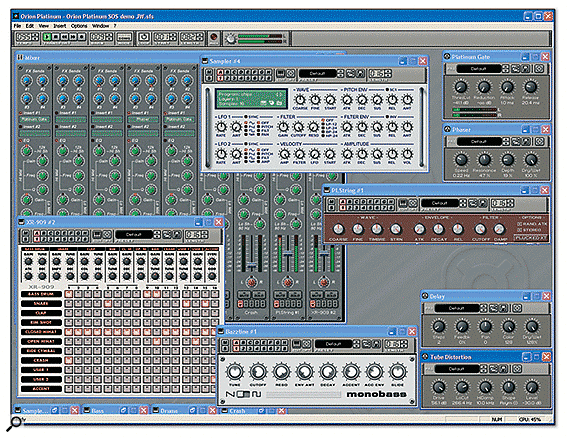 Synapse Audio's Orion is now supplied platinum-coated and, with only a modest price rise over the Pro version, is also available in a cardboard box.
SOS last looked at Orion in September 2002 when we reviewed Orion Pro v3. The overall impression was very positive: Orion Pro 3 offered an effective, Reason-like virtual software studio system, at a price that was significantly cheaper than its Propellerhead competitor. Of course, there were a few negatives. For example, support for audio tracks was very limited (as in Reason) and, because the product was only available as a download, few presets were provided for the Sampler generator module.
Synapse Audio Orion Platinum £130
pros
Good set of tools for dance music production.
Useful additional features including the Ultran synthesizer.
Boxed version is good value for money.
cons
Audio track facilities still limited.
Documentation of some features could be improved.
Very occasional stability issues on the test system.
summary
Orion Platinum offers some good additional features over the Pro version, and still provides a very useable and affordable environment for dance music production on the PC.
A new version, Orion Platinum, is now available. Amongst a number of improvements, the highlights include a new Ultran synth/sampler generator, a Master Section for the Mixer and, courtesy of being available in a cardboard box via retailers, a CD-ROM containing several hundred Megabytes of Sampler presets. A further change is in company name: Sonic Syndicate have now become Synapse Audio Software.
Of course, while Reason is the established market leader in this particular software niche, Orion Platinum also faces other credible competitors. For example, Image Line's FL Studio v4 and Cakewalk's Project5 will both be available by the time you read this. For those on a budget, however, the pricing of the three flavours of Orion — Platinum, Pro or Basic — may be an important consideration.
Orion Platinum will run under Windows 98, ME, 2000 and XP, and minimum hardware requirements are a 400MHz PII, 64MB of RAM and 100MB of hard disk space, although 800MB is required for full installation of all the Sampler presets supplied. As with all CPU-intensive software, a faster processor and more RAM is likely to result in smoother performance. Platinum supports MME, Direct X and ASIO drivers, and the majority of this review was conducted under Windows XP Pro using the ASIO drivers of the Echo Mia installed on the test system.
The boxed version of Orion Platinum includes an install CD-ROM and a useful printed Quick Start Guide, which covers installation and configuration of Platinum as well as providing a series of short, introductory tutorials aimed at new users. More detailed documentation is provided via an on-line Help system — but it would still be nice to see this also available in PDF format for those who like to print a hard copy! During installation, the user can choose to copy the 600MB of Soundfont (SF2)-format Sampler programs to the local hard disk. These address one of the criticisms made of Orion Pro 3 in my earlier review.
As the core functionality of Orion was covered in the earlier Pro review, a brief recap of the key features is all that is needed here. As can be seen from the screen shots, Orion Platinum looks rather like 'Reason without the rack'. Sound is created by a selection of Generators (see the Generation Of Power box for a brief list) including various synths, drum machines and a sampler, much as in the Pro version. While Orion Platinum provides access to both Direct X and VST plug-in instruments and effects, the application also includes a set of proprietary effects and the number has been expanded over and above those in Orion Pro. Effects can be used via one of the four send-return busses or as channel inserts, with a maximum of two inserts per channel.
Orion's piano-roll editing environment is both easy to use and well featured.
The main methods of music entry and song construction also remain little changed from Orion Pro. Sequencing is primarily pattern-based and each Generator includes 64 patterns. Pattern length and step resolution can be set on an individual basis. Well-specified piano-roll editing makes for a fairly flexible sequencing environment. Once patterns have been created, the Song Playlist is used to arrange patterns for each Generator along the timeline, all of which is very straightforward.
Top of the additions to Platinum is the new Ultran Generator. The documentation describes this as a "wave-morphing sampler/synthesizer, capable of playing multisampled waveforms like the Sampler, but with additional blending features for multiple waveforms across each other". There is no doubt that the supplied presets include some very impressive programs, including pads, sound effects and analogue-style patches, while the combination of oscillators, LFOs and envelopes provides plenty of flexibility. On the down side, the documentation doesn't do a particularly good job of explaining how this potentially powerful synth operates, so if you like to build your own sounds from first principles, expect to have to do a certain amount of head-scratching.
Ultran wave morphing sampler.
The Wavefusion Generator is essentially an updated version of the wavetable-based Wavedream Generator provided in Orion Pro, and has undergone a graphic overhaul. Again, some nice pads and lead sounds are provided amongst the presets. Improvements to the Sampler Generator are mostly under the hood, with program editing now much more comprehensive, and in contrast to Ultran, program creation/editing for the Sampler is documented quite well. The Sampler now also loads Akai S5000/S6000 formats, and its Recycle-style Groove Slicer can now deal with stereo as well as mono audio files. However, the real advance is the presets provided on the CD-ROM, which include various acoustic instruments, pads, percussion, synths and basses. While the selection is fairly modest in number, what is here demonstrates that the Sampler is a perfectly capable unit. Soundfont programs are widely available for download via the Internet, so users could easily expand this collection.
 
Test Spec
 
 

Orion Platinum v3.8.5.
Pentium 4 1.6GHz PC with 1GB RAM,
running Windows XP Pro.
Echo Mia 24, Yamaha DSP Factory
and Yamaha SW1000XG soundcards.

 
Three changes to the effects provision are worth highlighting here. The new MultiFX Control provides a means of chaining up to four effects, either in series or parallel. In the latter mode, an X-Y graphic controller allows the levels of the four effects to be blended as required. As with all the synth and effect controls within Orion, movement of this controller can be recorded for real-time mix automation, either using the mouse, an external MIDI controller or via the appropriate Event Editor. If crunchy and grungy is your thing then the new Lo-fi effect might be useful, offering as it does bit reduction and the emulation of vinyl dust, clicks and noise — great for giving a well-recorded drum loop an authentic 'aged' feel! The RotarySpeaker effect is also worth a mention, and while it offers nothing too revolutionary (sorry!), it is capable of creating both subtle and not-so-subtle movement in sounds.
The new Master Section (on the right) provides greater control on send-return effects as well as providing four sub-busses, allowing submixing of selected channels from the main Mixer (on the left).
A further major improvement in Orion Platinum is the Master Section. This now provides return channels for each of the four send-return effects and four sub-busses. Each channel in the Mixer can be routed to any combination of these sub-busses or the Master stereo output, which is useful if you want to submix various drum-based Generators and then control their overall level via the sub-buss channel in the Master Section. The documentation also suggests that multiple ASIO outputs are supported and that the sub-busses and master stereo output can be sent to different physical outputs if required. However, I couldn't actually find any way within Orion of routing a particular buss to a particular ASIO output pair, and the documentation did not detail how this might be done — oops!
Orion's sound production is achieved using a range of Generators. In brief, these are:
Ultran - New to the Platinum version, Ultran is a wave-morphing synth/sampler with four oscillators, two LFOs and three envelopes.
Tomcat - A monotimbral drum synth.
Sampler - A sampler module with multisample support, layers, two LFOs and three envelopes. Kurzweil (KRZ) and Soundfont (SF2) files are supported, and WAV and AIFF files can also be loaded.
Wasp - An FM-style synthesizer with three oscillators, two LFOs, two envelopes, six filter modes and an integrated effects unit.
Drums - A sample-based drum machine (although there is nothing to stop you using it to trigger other sample types) with 12 tracks.
Monobass - Analogue-style bass synth simple but effective.
XR909 - A combination of analogue drum synth and sample playback.
Wavefusion - This is a wavetable-based synth with three oscillators, three LFOs, three envelopes and three filter modes.
Plucked String - A basic physical modelling synth that does exactly what it says on the tin.
The new Ultran sampler/synth is capable of some excellent sounds, though the documentation could be better.
The upgrade from Pro to Platinum is more evolutionary than revolutionary, but all the key new features bring some useful options. Using Orion Platinum is not greatly different from Orion Pro; that is to say, it is pretty easy to use, and critical to this is the uncluttered way in which the pattern-based sequencing operates — there's just the right balance between features and ease of use. The same comments can be made about the Song Playlist, which is a doddle to use. The range of Generators covers all the same ground as those found in Reason, and although I think modules such as NNXT and Maelström have the edge over Orion's equivalents, there is more than enough here to keep dance-heads on a budget quite happy. The quality of the effects is also good and the various delays add plenty of creative possibilities.
Like Pro, the Platinum version of Orion does include an Audio Generator, but the functionality is still fairly limited. Essentially it allows pre-recorded audio files to be played back alongside the rest of the arrangement but, as no audio recording is possible, if you want to add more than just a few pre-recorded vocal samples, then you are going to need some other software environment to complement Orion. This said, the same is also true of Reason.
My only other complaint about Orion Platinum in use is that I experienced a small number of crashes during the review period. I couldn't isolate any one particular cause for this, and neither adjusting latency levels of my Echo Mia's ASIO drivers, nor moving over to the ASIO drivers of my Yamaha DSP Factory/SW1000XG combination in the test system didn't seem to stop this happening on occasion. This certainly was not a major concern and, as a demo version of Orion can be downloaded (admittedly as a 15MB file!), it is possible to test it fully on your system before flexing your plastic.
It is impossible not to make a direct comparison between Orion Platinum and Propellerhead's Reason. Labelling Orion Platinum as 'Reason on a budget' is very tempting and is probably not that far from the mark. This should not, however, be seen as a criticism. Reason is an excellent music production environment and, in Orion Platinum, Synapse Audio have struck an interesting balance, producing an application that is not that far removed from Reason in function, but has a considerably lower price.
If money was not an issue, yes, I'd go with Reason: in its particular niche, it is the industry standard and, with an ever-increasing range of Refills available, it is capable of working in a diverse range of musical styles well outside the dance genres for which it has become so popular. However, whether money is an issue or not, Orion is a credible alternative to Reason and potential purchasers should certainly give the demo version a thorough test drive before making a decision. Some may well prefer the stripped-down working environment offered by Orion. Reason, FL Studio, Project5 or Orion Platinum? A tough call, but better to have that choice than not!
As this review was going to press, Synapse Audio Software announced details of OrionPlatinum 4 and it should be available by the time you read this. The Wasp synth has undergone some cosmetic and functional changes including LFO delays, variable velocity amounts and keyboard tracking. A new effect, the HarmonicResonator, has also been added. Other new features include parameter readouts on all controls, and MIDI export of song files is now possible. As well as some routine bug-fixes, both the PlateReverb and Ultraverb are also a little less CPU-hungry. Version 4 will be a free download for registered users, and full details are available from both the Synapse Audio and Dark Horse web sites.