App Works: Making Music On The Move
Audio Interface
Tascam's iU2 is a portable audio interface for iOS, as well as PCs or Macs via its USB connection. It's incredibly compact, but squeezes two phantom‑powered balanced inputs (mic or line level), a high‑impedance instrument input, MIDI I/O, a 3.5mm headphone socket, stereo RCA outputs and an S/PDIF output into its tiny chassis. The left‑hand input can be also be switched to a dedicated 'guitar' mode, so singer‑guitarists and those using the iU2 for creating guitar-based demos will be equally happy. Also handy for demo creation is the inclusion of direct monitoring, the level of which is controlled using a knob on the front of the unit.
The build quality of the iU2 is good, and all of the knobs on the face of the unit are sturdy enough at the price point. The input‑level knobs are particularly nicely designed, being almost flush with the surface. The iOS dock cable itself stashes away neatly inside the body of the iU2, which goes some way towards making up for the need to carry TRS to XLR adaptor cables to connect mics to the balanced inputs and 3.5mm to DIN cables for MIDI devices. These are necessary because the body of the unit is too slim to fit in on‑board XLR connectivity. Happily, a pair of each type of adaptor cable is supplied in the box.
The inputs themselves sound decent enough, and I was able to make a nice recording using the Multitrack DAW app, as well as practicing my guitar playing using Sonoma Wireworks' GuitarTone app. Plugging mics into the front of the iU2 using the TRS adaptors works well, although phantom power is only available if you connect the iU2 via USB to your computer, as an iOS device alone cannot provide enough power for this feature.
The digital‑to‑analogue conversion in the iU2 itself is noticeably better than that of iOS devices, with a much fuller and more extended bass and a little less upper‑mid rasp than the iPhone and iPad DACs. The high‑frequency detail is also a little more relaxed, but still very much there, while the overall detail emphasis is on the mid-range. In all, the claimed sonic improvements over the iOS devices' own DACs are upheld.
I tested the S/PDIF output in my studio, playing the same lossless files through an iPad 3 and iU2, as well as an M‑Audio FW2626 connected to a PC for comparison. All were monitored through a Benchmark DAC1 and PMC-designed Digidesign RM2s. The dock output appears to provide a bit‑perfect audio stream, identical to the ASIO stream from the PC. Those looking for a bit‑perfect solution for turning an iOS dock output into an S/PDIF output, look no further! The iU2 is one of the most reasonably priced dock‑to‑DAC devices that you'll find.
The iOS operating system itself seems to display similar quirks with every dock‑connector based interface I've used so far: occasional issues with using Wi‑Fi and multitasking while working with an audio device, which means that using a lot of apps at once can produce pops and drop-outs. A quirk of the iU2 in particular relates to USB power. If you're intending to connect USB power, you'll need to do this after you've connected the dock cable to the iOS device, otherwise it won't recognise the device properly, and is likely to think the iU2 is just a charger.
As iOS interfaces go, the iU2 is the most simple and complete I've yet used. There are a few quirks, mostly relating to iOS in general, but other than that, it's a solid device. As far as additions go, it'd be nice to see an S/PDIF input for the connection of external A-D converters and digital sources. I also feel that, if this is practical in design terms, it would be sensible to make the device a centimetre deeper, to accommodate full‑size XLR and MIDI I/O. Although it would be larger, it would also be more convenient to use than it is with the current arrangement using adaptor cables.
Although the market for iOS audio interfaces is fast becoming competitive, the Tascam iU2 stands out as simple, feature‑filled and affordable. JG Harding
Tactile Synthesizer For iOS & Android
Reactable is a revolutionary piece of hardware: a digital modular synthesizer in the form of a circular table, with coloured blocks representing its modules. But such innovation doesn't come cheap, nor is it especially portable, which is where its incarnation for iOS and Android, Reactable Mobile, comes in.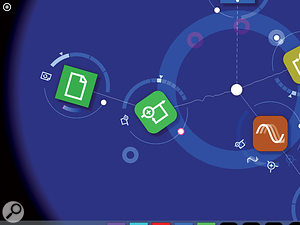 A zoomed‑in view of some of Reactable's modules.Starting with an empty table, you first drag in some modules from the storage area. There are four categories to choose from: Generators (oscillators, loop players, and so on); Effects and Filters; Controllers (LFO, sequencers, and so on); and, finally, Global Controllers such as master volume and tonality (key/mode). Once you've dragged in a Generator, it is immediately connected to the output, and subsequent modules connect automatically, by proximity. Double‑tap any of them and a control panel pops up to reveal the deeper options. In the case of an oscillator, there's a built‑in ADSR envelope, and alongside the familiar waveforms is a free-form drawing area where user waves can be created. Loop player modules can contains up to four different sample loops (imported from iTunes or from the clipboard), while sequencer modules host 16 quickly accessible sequences, which can be either simple monophonic basslines, drum parts or complex polyphonic patterns.
A deeper view into a Reactable sequencer module.Being circular, the original table's shape doesn't translate perfectly to the screen of an iPad (which was my testing platform). Some space is wasted, and the objects seem rather small. Fortunately, when you zoom in the interaction becomes more natural and you can better adapt to the available performance gestures. These include temporarily cutting connections between modules and parameter adjustment by single‑finger tweaking or object rotation. Although there isn't a large range of modules, and there are finite numbers of each, you get a good initial selection, with some brilliant extras, such as the Accelerometer that translates iPad movements into control information.
Complete performances, including gestures, object rotation, and so on, can be captured for later playback. Better still, you can record a performance as an audio file to be used in further tables, ad infinitum. With that kind of power, it's surprising that the app arrives with such uninspiring examples but, fortunately, there's a built‑in link to Reactable's work‑sharing community, where you get a much clearer impression of what it can do.
As it stands, Reactable Mobile lacks a few refinements, such as a finished manual and MIDI! I also experienced occasional crashes and flaky graphics, but I'm assured that fixes are in the pipeline. For now, the fewer simultaneous other apps you run at the same time, the better.
Ultimately, this is a refreshingly novel approach to modular synthesis — and terrific fun, too! Paul Nagle