EZdrummer/Superior Drummer & EZbass Expansions
Gospel EZX combines versatile classy drum sounds and very useful additional percussion...
We look at the Gospel according to Toontrack.
Toontrack seem to be fond of their month‑long events where all their new releases fall into a particular musical genre. Following on from a recent 'Metal month', March 2021 has been a 'Gospel month'. While some might consider Gospel a niche musical style, lots of other musical genres have either evolved from, or been influenced by, traditional Gospel. It's therefore easy to understand the rationale behind Toontrack's latest musical target as those working in Soul, Funk, Fusion, R'n'B, Hip‑Hop, Pop and the lighter shades of Rock could undoubtedly find something of interest within the Gospel‑themed content.
Within the month of Gospel there are MIDI pattern packs for EZdrummer/Superior Drummer, EZbass and EZkeys, providing the user with extensive collections of drum, bass and piano performances that they could use with whatever Toontrack soundsets they currently own. Toontrack's MIDI groove content is always right on the money, so these will undoubtedly be worth adding to your collection. However, perhaps the month's higher‑profile releases — and the focus of the current review — are the new Gospel EZX and Gospel EBX, providing users with new drum and bass sounds.
Toontrack's track record is impressive when it comes to collaborating with some serious expertise to ensure they capture the genuine sounds and performances of a specific genre. For the Gospel EZX drum expansion, the core team consisted of drummer Calvin Rodgers (whose playing credits include Aretha Franklin, the Isley Brothers and Dionne Warwick) and seven‑time Grammy‑winning engineer/producer Danny Duncan. The stellar Studio A in Paragon Studios Nashville — with an equally stellar collection of mics, preamps, outboard and SSL console — provided the location to sample the sounds of multiple drum kits (including a heavily damped kit) and a range of MIDI groove performances by Calvin.
Gospel obviously has a long history and, as with other musical genres with a similar lifespan, drum sounds have evolved over the years. The EZX reflects that. A modern Pearl kit, a '60s Pearl kit, a Rogers '60s kit and a Leedy '40s kit provided the core of the sounds but additional snares, kicks, cymbals and percussion are also included. The result is a collection of presets within the EZX that span more ambient sounds with plenty of room found on Gospel recordings from the '40s/'50s, through to a tighter tone typical of the '60s (generally very dry) and on to a classy, punchy and polished tone more commonly used today (and with subtle use of room ambience). The collection includes some great‑sounding snares, tuned a little higher for some extra snap, that are typical of more recent Gospel styles.
Don't let the Gospel title fool you, though; these are great‑sounding drum samples by any standards and the breadth of 'roominess' provided by the presets would allow you to find something here to slot into a very wide range of musical styles.
Don't let the Gospel title fool you, though; these are great‑sounding drum samples by any standards and the breadth of 'roominess' provided by the presets would allow you to find something here to slot into a very wide range of musical styles. The damped kit (try the 'Taped' preset!) is perhaps less obviously versatile but it is a truly intriguing sound with noticeably reduced ringing on all of the drums. It sounds cool 'as is' but would, I suspect, make a great candidate for some more creative and experimental processing.
Given Gospel's origins as a call‑and‑response vocal format, its original rhythms would not have been provided by a drum kit but by hand (and foot!) percussion. Thankfully, the production team have catered for that also; the EZX includes some excellent hand claps, foot stomps, finger snaps, shakers and tambourines. Very usefully, the preset menu system allows you to add/remove the full suite of percussion sounds from any of the other presets as required.
The grooves supplied with the Gospel EBX fully exploit the articulations available within EZbass.So, the sounds themselves are great, but don't forget the included MIDI grooves. For non‑drumming songwriters, Toontrack's groove content is just as important as the sounds themselves and there is some great material here, spanning a range of original tempos, with both straight and swung feels. There are also separate percussion‑only grooves. These can be used independently or layered with the drum grooves. And if you like what's included with the EZX, you can expand your pattern options further with the Gospel Grooves MIDI pack that's available as an additional purchase.
Bass tones in modern Gospel span a wide range of sounds but there is undoubtedly a preference for class over thrash and fingers over picks. That's reflected in the Gospel EBZ and, again, the starting point is some high‑end equipment; in this case, a Michael Tobias Design (MTD) AG5 bass. This is the signature model of Andrew Gouché, one of the most highly respected Gospel bass players around and with an A‑list set of credits; his signature bass is therefore a perfect choice for Toontrack to use as a sample source for the library.
The presets are organised into two groups — bridge position and neck position — based on the position of the fingering hand. The same suite of presets is provided in both cases but, obviously, the tonality is different, with the bridge position providing a somewhat brighter and more present sound, while the neck position produces a warmer, rounder, sound.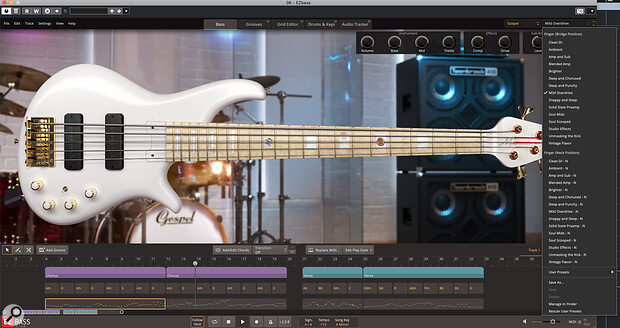 ...while Gospel EBX provides a deeply sampled and very polished electric bass sound with presets suitable for a huge range of musical contexts.
You can, of course, customise any of the presets using the various tonal‑shaping macro controls offered within the EZbass UI or use the multi‑output option to feed the DI, amp and sub‑bass signals from EZbass to individual channels within your host DAW. That said, within each position, the presets themselves offer plenty of variety, from a super‑clean DI, through clean amp tones, solid‑state preamp options, mild (very mild) overdrive and into vintage flavours. And they sound fabulous, with the bridge presets in particular offering some beautifully clear and articulate sounds with plenty of punch.
Whether it's true Gospel, or a related Funk or Fusion style, the bass is often allowed the freedom to do more than holding a root‑based eighth‑note rhythm. The supplied MIDI grooves reflect that and there are some truly funky performance patterns. The grooves also exploit the full range of note articulations supported within EZbass including alternate fingering, ghost notes, harmonics, percussive notes, tapping, slaps, pops, slides and legato (hammer on/off). Not only does the Gospel EBX sound great but, rather too easily, EZbass is capable of delivering a performance that even some experienced bass players might find a bit intimidating.
Gospel EZX and Gospel EBX can make for a heck of a rhythm section.
I suspect there will be significant interest in these two sound expansions from what is a substantial community of Gospel and Worship musicians. Some of Toontrack's other genre‑based EZX offerings, while spot‑on for their target genre, might not be everyone's idea of a go‑to sound (the Death Metal EZX, for example). However, I don't think that applies to the Gospel EZX or EBX. No, I'm not sure you will hear these samples on many hard‑rock or metal productions, but they certainly would work well beyond Gospel, including funk, fusion, hip‑hop, R'n'B, pop and perhaps even into some jazz.
As a pairing, whether it's for creating backing tracks for solo live performers, or for songwriters and producers recording high‑quality drum/bass parts for your latest project, Gospel EZX and Gospel EBX can make for a heck of a rhythm section. These are excellent additions to both virtual instruments from a company that seems totally on top of their game.
Pros
Both drums and bass sound fabulous.
Excellent collection of style‑based MIDI grooves.
Cons
Likely to sound better than your drummer...
...and your bass player.
Summary
The Gospel EZX and EBX both sound fabulous and, while there is 'Gospel' in the titles, these sounds could undoubtedly grace a wide range of musical styles.
Information
£58.99 each including VAT.