They're tiny, they're convenient, and they look great... but are they any good for musicians?
It's just a few years since the only viable budget options for portable digital recording were DAT and Minidisc. For me, both offered more frustration than satisfaction, but since the launch of M-Audio's Microtrack (see SOS March 2006) there's been a steady flow of solid-state products offering 'CD-quality' or better. The options are now plentiful, with manufacturers including Zoom, Edirol, Korg, Olympus, Tascam and Marantz all making products that offer a degree of convenience and immediacy I could only dream of three years ago. Until the launch of the Pocketrak 2G last year, Yamaha were conspicuous by their absence from that list, but they can now boast two products: the Pocketrack 2G that I mentioned above and the new Pocketrak CX, which complements, rather than replaces, the 2G.
At just under 12cm long, by less than 3.5cm wide and a tiny bit over 1cm deep, the Pocketrak 2G was easily the smallest of the handheld recorders that I'd have considered using for music applications when it was launched, and it remains so: we've reviewed 'pocket' recorders before, but this is the first that could really fit in your pocket: more than one of us at SOS Towers have put this in our pocket before spending half an hour trying to remember where it was!
Its diminutive size and USB connectivity certainly make it a convenient model for 'scratchpad' recording applications: journalists conducting interviews; songwriters looking to capture ideas quickly; or perhaps those looking to do 'bootleg' recordings (although I do have some mild concerns about the last of these, which I'll come on to). It would be nice if this convenience came at no cost — but you rarely get something for nothing, and I'd have been surprised to see no compromises: the art of designing miniature devices lies in achieving the right balance between quality, quantity of functions and convenience.
The Pocketrak 2G ships with a leatherette mobile-phone style carry-case, which leaves space for the mics, the screen and the controls, as well providing a means of fastening the device to your belt or a tripod. A mic-stand adaptor is included too, and you get a copy of Steinberg's Cubase AI software.
Other than the size, the first thing that struck me about the 2G was the elegant simplicity of its interface. There's a high-contrast, black-on-amber screen, which displays very clearly all the information you need to see pertaining to volume, recording levels, battery life, file information and so on, without having to scroll through the various menus. There are very simple, discreet push-buttons that give you direct access to the commonly used functions, such as delete, record/pause and stop on the front; and play, forward, rewind, folder navigation and volume on the right-hand side. The forward and rewind buttons double up as mic sensitivity controls while recording (or record-enabled), and the stop switch can be held down to access submenus. A slide switch on the rear allows you to 'hold' the controls so that you don't do anything you'll come to regret!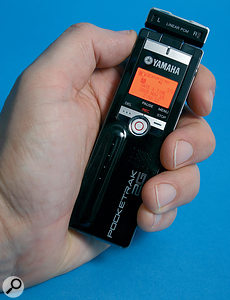 Pocketrak by name and nature... The Yamaha 2G is probably the smallest CD-quality recorder available.
As well as the on-board mics (of which more in a moment), there's an external mic/line mini-jack input, which supplies plug-in power for electret mics but not phantom power: if you want to connect a 'professional' mic, you'll need to get one that's battery-powered or use an external source of phantom power.
The built-in speaker on the front panel doesn't offer great quality here — think along the lines of teenagers playing music on their mobile phones — but provides a useful means of auditioning recorded material. There's a mini-jack headphone output on the left-hand side panel that did a decent job of driving my Audio Technica ATHM50 headphones, and which doubles up as a stereo line-level output. But if you want to do more critical listening, the obvious answer is to transfer the files to your DAW via the slide-out male USB plug at the bottom of the 2G. This enables you to connect directly to a Mac or Windows PC without the need for a separate USB cable. My one criticism here is that although the battery life of the 2G is considerable, it still requires USB bus-power to work with a computer — so it won't work with some USB hubs. This is a shame, as often the powered ports are in less accessible places: for example, the keyboard USB port on an iMac resulted in a low-power warning, so you'd have to connect to one of the ports on the rear. For easy interfacing with a laptop, though, it's still very convenient, and a USB extension cable is included, which makes it much like using any other USB device.
The maximum recording quality is 16-bit/44.1kHz. It's perfectly possible to get good recordings at this resolution, but it would have been nice to see 24-bit recording, which would offer greater headroom and avoid the need for a painstaking process of setting recording levels. I assume that this is one of the compromises made to enable the miniaturisation. As it is, you just have to take more care when setting your recording levels.
Recording is to the 2GB internal Flash memory, which gives you about three hours and eight minutes of recording time in the stereo 16-bit/44.1kHz PCM mode (for the lowest quality MP3 you get well over 100 hours). The AAA Eneloop battery gives you about 19 hours of recording.
I was puzzled by the lack of information in the manual about the on-board pair of mics. Yamaha were able to confirm that they are omni devices, which left me a little confused, because the 2G includes a neat tilting mic section at the top of the unit. Yamaha say that this is to avoid noises from the surface on which it the device is placed. However, there's nothing to isolate the mics from that surface, so I can only assume that it moves the omni capsules far enough away from the surface to prevent them acting like boundary mics.
The neat USB connector on the 2G means you can connect to a computer without the need for a cable.
This is one of the easiest recorders I've had the pleasure to use: the display and controls are intuitive and uncomplicated; setting the recording level is usually very easy, helped by the inclusion of a peak LED above the display screen; and recording is as simple as pressing the record button twice.
I used the 2G to record a number of sources, including spoken word, acoustic guitar and live gigs, as well as testing the line-level input by playing in a synth part. I found it excellent for recording interviews, and the battery-life will mean that it should hold similar appeal for students wanting to record lectures. The acoustic guitar recordings were usable, although I wouldn't really want to record a lead part in this way, and the omni pattern meant careful placement was required. Line-level recordings were fine — so you could easily use this to capture a stereo recording from a mixing desk, for example. However, I found gig recording a little tedious. Although the bright screen was useful in the dark, it was rather difficult to find the record-level controls. I'd done my best to set levels, but the opening song clipped terribly and it took a while to set an appropriate level: the extra headroom of a 24-bit system might have made a difference here. That said, once you get to know the unit, it becomes much easier to operate this function.
The slightly larger Pocketrak CX (still small compared with the competition) is a different proposition. A pair of cardioid condenser mics is located on the top panel of the device, arranged in an X/Y configuration. The mics are protected by a robust metal frame that's built into the casing. The recording quality, again, is limited to 16-bit, but with a sample rate of 48kHz: the same words of caution apply as for the 2G, but the CX should still be capable of perfectly good recordings.
Working down the front panel, the display is the same gaudy-but-useful black on amber. It's a larger screen than that of the 2G, and Yamaha have chosen to use the space for larger text, rather than to cram in too much information. The only addition I noticed in the default view was an icon to indicate that there's a suitable micro SD card inserted. Beneath the screen are buttons for Record/Pause, Stop (which doubles up as Escape in other modes) and Play.
On the left-hand panel is a mini-jack headphone output, an ALC (auto level control) on-off slide switch, and another to set mic sensitivity to 'high' or 'low'. On the right is a mini-jack mic/line input offering plug-in power, and push-buttons for power, folder selection, 'List' (effectively a file browser), 'Edit' (to split files or add fades) and delete. Further down is a flip-open panel concealing a USB connector and the tiny slot that hosts the even tinier supplied 2GB micro SD card. On the rear are a hold slide-switch, an audition speaker (slightly larger than on the 2G), a battery compartment and a screw thread for camera-tripod mounting. Also included are a pair of earbuds, a protective cloth bag, a USB cable, a foam windshield and a mic-stand adaptor. As with the 2G, you also get a copy of Cubase AI. Not lavish, but a well thought-out collection of accessories. Like the 2G, the Pocketrak CX comes with its Eneloop battery ready-charged, and the 2GB card offers the same recording capacity. The battery gives 22 hours of recording at 16-bit/44.1kHz and 54 hours in 64kbps MP3 mode, with the actual time depending on various settings.
Both recorders (the CX is pictured here) feature a built-in speaker allowing you to quickly check the recording and navigate tracks. They also provide a hold switch to prevent accidental recording and battery drain.
The Pocketrak CX is every bit as simple to use as its smaller sibling. It boots in a couple of seconds, and recording can be as simple as inserting the micro SD card, hitting the record button to record-enable, at which stage you can set the recording level, and pressing the button again to start recording.
There's plenty for the tweakers, too, and navigating the various submenus is very straightforward. Pressing and holding the menu/enter button brings up a root menu offering three submenus, Rec Menu, Play Menu and Common Menu, each of which offers a number of options. Pressing enter opens the submenus; pressing stop/escape goes back one menu level; and pressing and holding enter takes you back to the main screen. The Rec Menu gives access to the recording mode (where you set the recording format — PCM at 48/44.1kHz or MP3 at 320, 192, 128, 64, or 32kbps); the built in limiter; the high-pass filter; the stereo widener; the VAS (voice activated system); and the auto-divide function. It's also here that you select the recording source (the on-board mics or input jack) and can set the self timer to delay recording by five or 10 seconds, to give you time to get back to your performance position.
The Play Menu gives similar access to the playback functions, including a repeat facility and a useful 'phrase play' function, which allows you to play back the first five, 10 or 15 seconds of each file. There's a basic digital five‑band graphic EQ, too, with filters at 150Hz, 500Hz, 1kHz, 4kHz and 12kHz. You can use presets, namely flat, bass1, bass2, pop (a HF lift), rock (a smile with a little low‑end lift), jazz (presence at about 4kHz); or set a custom EQ by pressing and holding the '-' key to edit the first band using the '+' and '-' keys, before scrolling between bands using the fast-forward and rewind buttons.
Lastly, the Common menu gives access to basic system information, LED settings, recycle (trash) bin and folder management, and so on.
Most recording and playback functions on the Pocketrak CX are accessed via the simple controls on the front panel, but discreet, well-placed push-buttons and slide switches on the sides give direct access to other functions.
Yamaha recommend that the mic sensitivity slide switch on the left-hand panel is set to low sensitivity to capture musical performances, and the review model was set to this by default. Further adjusting the sensitivity with the 'fast forward' and 'rewind' arrow buttons was a process that I found easier than on the 2G model, because it is much easier to feel what you're doing without having to look at the buttons.
The on-screen meters indicate the recording level and whether the signal is clipping (when, helpfully, the word 'PEAK' flashes up). The manual recommends that you set the level as high as possible without clipping, which is presumably because this is a 16-bit recording system. Yamaha also recommend using the peak limiter — a useful addition, but again something that you'd hope not to have to rely on in a 24-bit system.
But that's enough moaning: let's judge the CX on the quality of the results. I tried recording singing, spoken word and acoustic guitar using the in-built mics and got surprisingly good results. Just like all these devices, there's a bit of handling noise when you try to record with the CX in your hand, but there was much less than I'd have expected — partly, I suspect, because the size enables you to get a firm, steady grip. When the CX was put on a stand, I didn't notice any major problems with vibration.
On acoustic guitar, with everything on the default settings, I got a good, clean recording with plenty of focus. Switching in the stereo widener, the recording sounded, well, wider. I'm not sure when I'd use this but it could be useful — for example, when you know you're going to want a sound to be subordinate in a mix, leaving more space in the centre.
The limiter proved to be serviceable, but you really do need to work on those level settings so that it only takes care of the odd peaks — anything more and it is easy to get into undesirable pumping.
With the mic set to high sensitivity, there was much more background noise, but of course it was easier to pick up fainter or more distant sounds. I wouldn't recommend using this setting for music, but it helps make the CX a good all-round recorder. So, too, does the ability to transfer audio files from the computer to the CX (the same applies to the 2G), because it means that you effectively have a 2GB MP3 player. I know many similar devices offer this, but because the Pocketraks are so much smaller they could realistically remove the need for a separate iPod or other MP3 player, while still giving you a serious recording option — and for the budget‑minded, this could be a serious factor when considering the price. In fact, it could begin to look like something of a bargain...
There's no denying the broad appeal of both the Pocketrak models — they look great, they're easy to use, and are a very practical means of getting your musical ideas down. The size, too, is a real talking point — particularly in the case of the 2G.
Without using external mics, the Pocketrak 2G wouldn't be my first choice for 'serious' music recordings — by which I mean capturing musical performances that you want to manipulate later in your DAW — but I don't think that's it's intended market. It can certainly give you a clean recording, though, and I'd definitely see a place for it complementing other equipment. It provides a good means of capturing samples 'on the hoof', and the available recording time means you could easily use it to collect wild tracks on location. On live music, for quieter performances, you'll get a decent representation of what you hear in the room, but on loud sources such as a rock gig in a small venue, it's quite difficult to set levels without missing some of the performance, which is a pity.
The Pocketrak CX, on the other hand, is a great device that has been designed much more with recording musicians in mind. Although it shares the 16-bit limitation of the 2G, the design makes it much easier to set appropriate recording levels. It also offers a good-quality stereo recording, with an option to 'widen' the recording, as well as uber-long recording time. The bundled extras are also very useful, particularly the mic‑stand/tripod mounting. Other than the lack of 24-bit recording and of an XLR adaptor for more professional microphones, this model is very much up there with the competition — and you have to consider that it is much more portable too. I also think it is fairly priced. In fact, if I didn't already own a portable recorder, this one would be high on my list of candidates.  
There are now quite a few solid-state recorders by the manufacturers named in the main text of this article. No others are as small as this, but if size isn't important it may be worth checking out models such as the Zoom H2 and H4 which supply phantom power over XLR connectors — giving you access to better microphones — and offer 24-bit recording. See Recorders list
Both of Yamaha's Pocketrack recorders come with a ready-charged rechargeable 'Eneloop' battery. Essentially this is a long-life, AA-sized NiMH battery. The technology was introduced in 2005, the main benefit being that the battery has a long shelf-life and is less prone to losing charge over time than other designs. In combination with the low power-consumption of Yamaha's recorders, these batteries seem to last forever. In fact, Yamaha say that you can record over 21 hours of stereo 16-bit/44.1kHz audio (or 44 hours of MP3) on one set of batteries. In fact, you're more limited by the capacity of the SD card on to which you're recording, in that audio file sizes can only be a maximum of 2GB... but that's hardly a limitation, is it?
Pros
Fast boot time.
Idiot-proof simplicity.
Very long battery life.
Small, but with clear displays.
Stereo widener on CX.
Also work as MP3 players.
2GB media comes as standard.
Cons
Limited to 16-bit resolution.
An XLR adaptor would have been nice.
Summary
The 16-bit recording limitation and lack of XLR adaptor aside, the Pocketrack CX is one of the most convenient portable stereo recorders around — and while there are better quality recorders out there, this is certainly one of the best that genuinely fits in your pocket. The 2G is even smaller, and is a great all-round recorder, though it is arguably less ideal for music recording.
information
Pocketrak 2G £283; Pocketrak CX £342. Prices include VAT.
Yamaha Music UK +44 (0)1908 366700.
Pocketrak 2G $450; Pocketrak CX $600.
Yamaha +1 714 522 9011.