Acidized WAV/REX2/Apple Loops/ AIFF/Stylus RMX
Is it just me, or are 'Bollywood' sample libraries taking over the world? Hot on the heels of Philtre Labs' Bollywood Elements (SOS June 2009) comes Zero‑G's Indian Dance Classics, which contains 1.7GB of samples (about 750 loops) that were recorded on location in India and are presented as 24‑bit, 44.1kHz stereo files. The emphasis is entirely on rhythms, so this library has more in common with Philtre Labs' earlier Bollywood Grooves (SOS March 2008), but the two libraries are organised differently.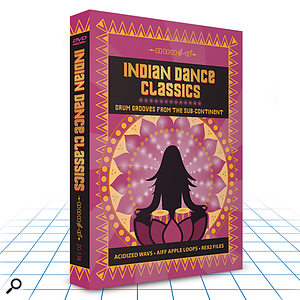 Philtre Labs' offering is arranged into categories based on drum types, but with Indian Dance Classics the loops are organised into folders, which each contain one of 13 main dance or rhythmic styles. These styles are supplemented by additional 'miscellaneous' and 'rhythm vocals' folders, the latter containing a small but interesting collection of vocalised rhythmic loops. The familiar styles like Bhangra, Manipuri or Andhranatyam are here, as well as less familiar (at least to me!) ones such as Kathakali, Kuchipudi or Dhandiyan. I suspect you'd need to be a fairly serious student of traditional Indian dance culture to understand how these different styles originated, but even to the uninitiated, a quick browse reveals a tremendous range of feels and sonic textures. So although the 'Classics' of the title might suggest that these loops are only likely to suit traditional Indian music or a Bollywood film song, I think there's also plenty that could appeal to more experimental contemporary dance producers. For example, I could imagine some of the Andhranatyam loops working in modern hip‑hop or R&B, whereas loops from the Goa Dance and Bombay Fusion categories could certainly add a bit of spice to modern dance-pop track.
The loops are all ensemble performances, and within each style the loops are organised into intros, main rhythms, fills, variations and endings. This makes it very easy to piece together a complete rhythm track, with all the necessary variation to keep things interesting. The recording seems to be of a very high standard: the sounds are crisp and full, and most of the loops seem to have a very nice element of ambience. All in all, everything is presented in a fashion that means you able simply to chain together the loops you need, and have authentic Indian‑flavoured rhythms in an instant.
So, in summary, there's really very little for you not to like about Indian Dance Classics. The loops sound great and, while this musical style might not be on everyone's sample shopping list, at this price, it also represents very good value for money. Top‑notch! John Walden
£59.95 including VAT.
Time + Space +44 (0)1837 55200.
$65.18.
Time + Space +44 (0)1837 55200.