Producers: Japan • Steve Nye
David Sylvian, with co-producer Steve Nye.Photo: Steve Jansen
Japan keyboard player Richard Barbieri tells the story of their most haunting hit.
One of the most stark, graceful and eerie singles ever to reach the Top 10 in the UK, 'Ghosts' by Japan made number five in the British singles charts in the spring of 1982. It was to be the biggest hit for the London quartet, who were to split later the same year, bafflingly when they seemed to have finally reached their peak after years of commercial and creative struggles.
Best‑known for exploring the gap between the early‑'70s proto glam of Roxy Music and the burgeoning New Romantic bands of the early '80s who they inspired, Japan — singer/multi‑instrumentalist David Sylvian, bassist Mick Karn, drummer Steve Jansen and keyboardist Richard Barbieri — were a restless and ever‑evolving outfit.
Having started out as a Bowie‑ and New York Dolls‑influenced pop rock band in 1974, they shifted with 1979's Quiet Life album into making an artful synth pop, the blueprint of which would be carefully traced by Duran Duran two years later. By 1981, however, Japan had changed again, immersing themselves in world and avant‑garde music for their masterpiece album Tin Drum, which featured 'Ghosts'.
"We weren't really listening to our contemporaries at the time," says Barbieri today. "So, we weren't going out partying that much, we weren't listening to Gary Numan or the Human League. We weren't that informed by what was going on then.
"We were listening to a lot of world music, classical music, avant‑garde music. David might be listening to Frank Sinatra. Mick would be listening to Turkish pop music. I think they had an influence. You can hear that in Tin Drum. It's kind of electronic world music."
Indeed, Tin Drum sounded unlike any other album that had come before, built on Jansen's angular and precise acoustic/electronic rhythms and Karn's tangential bass lines. Barbieri and Sylvian meanwhile did hours of intensive synth programming, using mainly the Sequential Circuits Prophet‑5 and Oberheim OB‑X, to create the exotic and complex sounds that further shaped the record's unique character.
"We were all self‑taught," says Barbieri. "I didn't have any musical theory, so I didn't have any reference points for how things should develop. It's another language to me I don't really understand. So, I was coming at it from a different angle. Steve Jansen was placing beats where you just didn't normally place beats. Steve had this kind of sound designer way of looking at it. Mick obviously was from somewhere else. I think probably David was the stabilising force. He had a handle on how to construct a song and an arrangement and use what we were doing in a way that made it work."
Barbieri stresses as well that Tin Drum co‑producer Steve Nye, who had previously worked with Roxy Music, Penguin Café Orchestra and Frank Zappa, was a great and creatively liberating collaborator in the studio.
"He was probably into weirder music than even we'd ever experienced. He wasn't holding us back in any way or suggesting, 'Hang on, we really need to emphasise the chords here or the song part here', as maybe a more conventional producer might. So, that took us even further. It all just conspired I think just to create this thing that didn't sound like anything else."
As the keyboard player in Japan since 1975, a year after the band's formation in Catford, South London, Richard Barbieri initially adopted a very Roxy Music‑inspired setup involving a Wurlitzer EP200 electric piano, a Micromoog and an ARP Solina string synth.
"The Micromoog was the first synth I started messing around on," he remembers. "Until I'd got that it was pretty hopeless, really, the whole keyboard thing. I just didn't connect with the keys at all. But as soon as I got synths, then it changed, and the controls kind of were more important than the keys. I could make a simple couple of notes do something interesting because of programming."
By the time of the group's second album, Obscure Alternatives in 1978, he'd dived in and bought a Roland System 700. "That was a major purchase, I guess, from Argent's in Denmark Street. I can't remember what it cost. I mean, it's not the whole system. It's just this semi‑modular hardwired on its own, but it's quite rare. I saw one up for sale recently at £22,000. But I don't think I'd want to sell it. It's very special and I still use it on everything."
Richard Barbieri with his Roland System 700 synth.Photo: Steve Jansen
Barbieri says that while the fast‑developing world of analogue synths in the late '70s was exciting, there was none of the reverence we now hold for these landmark pieces of equipment. "It was constantly changing and there was no kind of love attached to the equipment," he insists. "Because it was just the technology of the day. It was just a piece of gear that allowed you to do something. They were treated quite badly, put in the corner. It's not like now where we kind of fetishise over everything and we really want to keep them pristine."
The first great change in Japan's sound came with their atmospheric, dancefloor‑orientated single of 1979, 'Life In Tokyo', co‑produced by David Sylvian and Giorgio Moroder, the latter then riding high as the creator of the electronic disco sound.
"It was suggested by the record label and the idea was just to give over the production to him," Barbieri remembers. "To go to his studio in LA and just experience how he made records. It was very slick. He had a drum loop on a reel‑to‑reel just going at 120 bpm or whatever it was and he used that for most tracks.
"But in this case, he saw that Steve Jansen was precision tight with his playing and so we didn't use that. His assistant Harold Faltermeyer played a lot of it manually using delays with a big Moog system. I overlaid some stuff but really it was kind of understood that this wasn't about the group doing anything really."
'Life In Tokyo' wasn't a hit upon its initial release (though it reached the Top 30 when it was re‑released in 1982). But it did influence the sequencer‑driven sound of Japan's subsequent Quiet Life album, particularly its title track single. "I did go out and get an Oberheim eight‑step Mini Sequencer," Barbieri recalls, "and that kind of informed a lot of my work on Quiet Life. There's a lot of sequencer‑driven parts. It was perfect with the System 700. They talked together perfectly, which was an achievement in those days with any gear really.
"Then by Quiet Life I was also more into hiring stuff. So, still using the System 700 and the Micromoog, but hiring in like a Polymoog or using Mellotrons, using [ARP] Omnis. A little bit of everything. I think it's quite organic‑sounding considering there's a lot of electronics in there. I mean, you can definitely place it in that time, but I think it had kind of a more lush feel. Especially since we were using orchestras as well. It's quite sophisticated‑sounding."
As soon as I got synths, then it changed, and the controls kind of were more important than the keys. I could make a simple couple of notes do something interesting because of programming.
Japan's co‑producer on both Quiet Life and its 1980 successor Gentlemen Take Polaroids was John Punter, a veteran of sessions with Roxy Music. "We were very into Roxy Music, as was probably evident," says Barbieri. "They were quite a big influence and you tend to look at people who've worked with people you like. He was also part of the studio staff at Air Studios in Oxford Street, where we were recording. We just hit it off really. He's a great character and he was perfect for those two albums. I think that was really the happiest time I've ever spent in the recording studio, especially the Quiet Life album."
But ahead of Tin Drum, recorded in various studios including Air, Odyssey and Regents Park in London and The Manor residential in Oxfordshire, Japan were looking to experiment with a different sound palette — one involving less guitars, leading to the amiable departure of their guitarist Rob Dean. The album's opening track, 'The Art Of Parties' was in fact recorded twice, once with John Punter for a single released in May '81 and subsequently with Steve Nye for the Tin Drum version.
"I think after Polaroids we were looking for a change and that 'Art Of Parties' that we did with John Punter was kind of the bit in‑between," Barbieri says. "I don't think John Punter would've been the right person for Tin Drum. Just as I don't think Steve Nye would've been the right person for Quiet Life or Polaroids.
Mick Karn, David Sylvian and Steve Nye, Air Studios, 1981.Photo: Steve Jansen
"John Punter was like having John Cleese in the studio," he adds with a laugh. "Steve Nye was the opposite. Very quiet. You'd think he might be moody, but he wasn't necessarily moody. It was just quite internal with Steve Nye. He didn't say too much. A lot of it was just done on kind of looks and subtle gestures.
"Steve was also very patient. There was a lot of programming going on with David and myself with the synths in the studio. Which probably would've driven a lot of engineers crazy. But he was very patient and he also further processed the sounds, which was something very different. Because in those days, engineers just liked guitars and drums. That was their territory and they could set up all the mics, they could experiment with amps. And of course, if someone walked in with a synthesizer and a couple of leads, their hearts sank. It was like, 'Oh, what am I going to do with this?'"
Within the band, Sylvian and Barbieri divided up the synth duties roughly equally, with the former concentrating mainly on the Prophet‑5 and the latter on the OB‑X. "The way the tracks were arranged in the rehearsal rooms, things fell into these pockets of space," says Barbieri. "One of us would do a riff and the other would answer with something else.
"Obviously with Mick's bass and the way Steve arranged the drums, there were pockets of space everywhere, and it was a case of making this quite minimal sound but using the space well. So, I think that carried on into the studio. It'd be David on the Prophet‑5 and me on the OB‑X, just programming and kind of reacting to each other's sounds."
At the time, of course, polyphonic synthesizers in which you could store patches were a marvel. "The OB‑X is similar to the Prophet — programmable, polyphonic, had a kind of Poly Mod section," Barbieri points out. "The Oberheim had a slightly thicker sound, but we could make them sound similar. David might come over and try something on my keyboard or I might go and try something on the Prophet‑5. But generally, we stuck to our own. Amazing that you could store these sounds as well. That was a revelation."
Back in 1981, Richard Barbieri and David Sylvian went further than most in the deep programming of these synths. "We were trying to create these sort of world music instruments, these acoustic instruments, but programmed on the Prophet and the OB‑X," says Barbieri. "Obviously you couldn't get an accurate simulation but getting near to it on the synthesizer produces something quite interesting.
"Then 50 percent of it is down to how you play it," he adds. "That is so important. I could give you or anybody a set of my sounds and you'd load it up and then you'd start playing and you'd be thinking, 'This isn't doing anything.' Because some sounds were only meant to be played over six keys on the keyboard. It only works at that point. Some sounds are meant to be played with a sort of action (laughs). Even though there was no velocity, you could do things that would make the keys react in a certain way.
"It was almost like you had velocity. So, if you were building this slowly evolving timpani sound, let's say, obviously you'd be in the low register, you'd be pushing it, and the filter would be opening, but you would actually be hearing subtleties in the sound. You could hear as if it was the beat on the drum. It was quite sort of subtle. But yeah, we took it very seriously and we did so much programming."
More experimentation was done by both into using different tunings on synth sounds, sometimes adding atonal elements and utilising the Poly Mod section to radically alter modulation. "Using the resonance to produce an overtone of an extra kind of a harmonic in there," Barbieri explains. "Both synths had Poly Mod sections and that was a major sort of breakthrough as well. Because it allowed you to produce these chimey, frequency‑modulated sounds.
Barbieri: "Both synths had Poly Mod sections and that was a major sort of breakthrough as well. Because it allowed you to produce these chimey, frequency‑modulated sounds."
"What we would do was we'd get our basic tuning on one oscillator and that's your comfort zone where everything's in tune, and you can scale it across the keyboard. Then you'd bring in the Poly Mod frequency and see how it reacted with the oscillator and you'd get these overtones. They were obviously way of out of tune. But then it was a case of taking down the comfort zone note as much as you could while still retaining some kind of tuning. That's how you got a lot of those percussive chimy sounds. That just‑about‑in‑tune sound. You can just about hear the voicings, but it's very close to a chime."
Backup for both the OB‑X and the Prophet‑5 was done with data dump onto cassette tape. Barbieri says it was surprisingly reliable. "I mean, I've been doing it up to about 10 years ago with the Prophet when I've been playing live on stage with it. But the worse the recording, the better it worked. So, if you just recorded it to a cheap cassette, loads of background noise, loads of level, it always worked well. I've tried doing it on a digital recorder and it struggles."
Beats‑wise on Tin Drum, in the pre‑MIDI era, Japan drummer Steve Jansen tended to create his own live‑played click tracks before laying down his kit parts. "That was the first time Steve was programming his own clicks, which actually he did on the Prophet," Barbieri remembers. "He programmed in the type of rhythm we wanted and the tones, which changed, so you'd have accents. It was much better for him to play along to, obviously, than just a straight metronome.
"Previously we'd used the old Roland rhythm boxes. They were fantastic to play to because there were so many accents and things going on within the rhythm. We often left it in the track, as Roxy did on a lot of tracks as well."
For the polyrhythmic 'Still Life In Mobile Homes' on Tin Drum, Jansen for the first time used a programmed LinnDrum kick pattern over which he played live snare and hi‑hats, maintaining a tight sound involving no overhead mics. In the middle section of the song, a different percussive synth sound featured as counterpoint in every bar.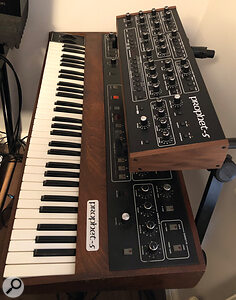 Old and new: Richard Barbieri's original Prophet‑5 and his new desktop version."That was me on the OB‑X," says Barbieri. "It took a while to program the actual drum sound itself. But once that was programmed, it was a case of Steve was playing the percussive part on it and I would be changing the controls. So that every time it played, it would be a different kind of tone. You'd do a lot of stuff in real time."
Barbieri remembers that Steve Jansen and Mick Karn would spend a lot of time in rehearsals working out the band's rhythm section arrangements. When it came to recording Tin Drum, Karn tended to be a fleeting presence, arriving in the studio to quickly nail down his parts using his Wal fretless.
"Mick would just come in and be a genius and then go off," he laughs. "He would lay things down pretty quickly, but him and Steve worked very closely together in rehearsals. You don't hear that bass and drum interaction anywhere. It's not built on the foundations of what was recognisable as a bass and drum relationship. They were playing around with it to the extent that it just became something else and amazing."
The angular rhythms on Tin Drum tracks such as 'Talking Drum', 'Cantonese Boy' and 'Sons Of Pioneers' stand out even today as unique to Japan. "That track is probably the most organic sounding on the album, I think," Barbieri says of the latter. "Lovely, kind of woozy analogue sounds. The tuning is always drifting. Lots of bends, lots of Arabic kind of scaling."
Adding to the exotic flavours, both Sylvian and Barbieri were credited with playing 'tapes' on Tin Drum. "We were using a lot of traditional world music cassettes," says Barbieri. "Sometimes it might be African chants, sometimes it might be traditional Japanese music, sometimes classical Chinese music. Sometimes I'd have a cassette running straight into the System 700, and the sequencer would be working as a gate as they played.
"David also had a cassette running into the Prophet and we set up a gating system. So, for the outro, say, of 'Talking Drum', whenever he played a key, you'd hear the voices. Of course, it was all chance as to how well it would work. But whenever you take a chance, you can come up with these fantastic accidents and these perfect things that can't be repeated."
Given how intricate Japan's music had become by this point, it was perhaps surprising that their biggest chart success was with 'Ghosts', their most skeletal track, which featured no drums or bass (Jansen played marimba; Karn didn't appear on it at all). Written solely by David Sylvian, Richard Barbieri remembers the singer's original demo of 'Ghosts' was even more minimal.
"At the very early stages it was just his voice with the bass drone. So, he had all of the chord changes, there was an arrangement, but it was so minimal. That was one of the tracks that really we just carried on arranging in the studio. It just started building up very gradually with these sounds that were quite influenced by Stockhausen. So, trying to almost take away the structure of the song, as much as we could."
Barbieri created the odd, slightly discordant synth sounds that opened 'Ghosts', using his Roland System 700. At the time, he jotted down notes trying to detail the programming he'd done. "But I can't get the same sound even with the notes," he laughs. "It's a bizarre sound and there's so much going on in it. It's just playing one note, but it's triggering off all kind of things and I've not been able to successfully recreate it to this day. That sound has become quite recognisable. You know the track's coming.
Barbieri: "David played the three plucked Prophet chords in the choruses and then I did the sustained answer chords on the OB‑X."
"David played the three plucked Prophet chords in the choruses and then I did the sustained answer chords on the OB‑X. As I say, that's how things used to work, basically. One person would do something and the other would answer with a chord structure or a melody or a hook or something. Then Steve composed that really nice marimba solo in there."
Befitting the song's title, 'Ghosts' had a haunting musical quality, which perfectly complemented David Sylvian's soul‑baring, deeply personal lyric. Unsurprisingly, perhaps, the singer insisted on recording his vocals with only himself and Steve Nye present in the studio.
"Yeah, that was always a very tense time," says Barbieri. "Steve Nye was a calming influence. I think when somebody's doing a vocal, you can't tell them, 'Oh, that was great', or 'Oh, that wasn't quite right.' Only they are gonna know. It's such a personal thing. So, it was just a case of between him and Steve Nye offering quite cautious advice that they'd come up with it. I mean, in the end David would know what he was happy with, y'know."
Where Sylvian's vocals on the previous Japan albums had made much use of the Eventide harmonizer, its effects became much more subtle on Tin Drum. "A lot of the harmonizer had gone by that time," Barbieri says. "I mean, Quiet Life and Polaroids, it's just full on, isn't it? It's like 100‑percent harmonizer, I think, and that was the sound at the time. But with Tin Drum, it was veering towards a more natural sound. In David's next three solo albums, everything was more acoustic."
Almost 40 years on, Barbieri reflects on the 1982 split of Japan, the benefit of hindsight leading him to believe that it might not have happened if they'd given themselves some time off to pause and reflect. "We were working so hard," he says. "Everything was so full on. We really should've just maybe let everybody go and do a solo album or something."
The main tensions within Japan were between David Sylvian and Mick Karn — Karn wanted to have a parallel solo career to the band; Sylvian didn't agree. Barbieri and Sylvian were meanwhile already making ambient music together by the time of the band's collapse.
"I was always closest to David as a friend and as somebody who understood what I was doing in the group," says Barbieri. "We had an understanding and a love of ambient electronic music. So, we would naturally, if we were in rehearsals, start composing things."
Barbieri went on to work — alongside Steve Jansen — on David Sylvian's subsequent Steve Nye co‑produced solo albums, Brilliant Trees (1984) and Gone To Earth (1986).
"David with 'Ghosts', he felt, 'This is it; this is the way I really want to take it forward,'" says Barbieri. "So, we were close on that level as well because we worked so closely on that track together. I don't think Mick ever particularly understood what I was doing (laughs). Sometimes you just get that in a group, y'know. I think he was always suspicious of synthesizers. He used to say that I 'played equipment, not instruments.'"
Karn sadly passed away due to cancer in 2011, but Japan had in fact fully reunited, in 1991, for the one‑off, self‑titled album made under the name Rain Tree Crow. Their idea was that changing their name gave them a fresh slate, making them a fully collaborative unit again, mainly because the album was written and improvised together in the studio.
"It was agreed we'd go in with nothing," says Barbieri. "It was really enjoyable and we found a different way of working. It's a different sound. Again, we're still using synthesizers, but Mick's style changed slightly. In fact, what was great was that more of his clarinet playing and saxophone playing came to the fore. That's a beautiful part of the album."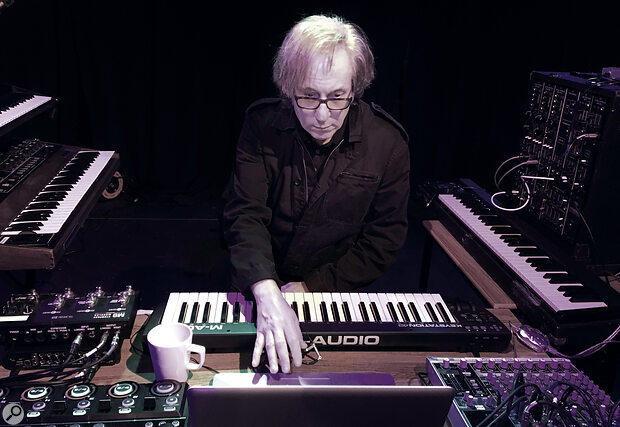 Richard Barbieri, still the proud owner of a Roland System 700 (right) today.
Richard Barbieri himself remains very busy, having played with Porcupine Tree and the Bays and maintained a solo career, with his most recent album, Under A Spell, released earlier this year. These days he's a fan of Dreadbox's range of analogue synths, including the Nyx and the Medusa, and he's recently also taken delivery of a Sequential Prophet‑5 desktop, which he says compares very well to his original keyboard that he still uses, along with his trusty Roland System 700.
"The Prophet‑5 desktop is fantastic," he enthuses. "I'm using the Access Virus to control that because it's got aftertouch. I've only had the Prophet for a week and I've been doing some sort of A/B tests and programming on it. It's amazing."
Looking back down four decades, he is clearly still proud of the creative high watermark that was Japan's Tin Drum, and particularly 'Ghosts', which he still regards as "probably the best track we ever did."
For David Sylvian, meanwhile, 'Ghosts' remains the track that guided his subsequent solo career. "Writing 'Ghosts' was a turning point for me," he recalled recently on his website. "So much of what we created in Japan was built on artifice. With that song, I'd felt I'd had the breakthrough I was looking for. In the coming years I'd forget all about notions of vulnerability, opening up the material to a greater emotional intensity. I knew I had to find my own voice..."