The abandoned Soviet mining village of Pyramiden provided Efterklang with a unique recording venue — and the constant threat of being eaten by polar bears.
Rasmus Stolberg: "Rasmus and Mads on top of an eight-metre-high empty fuel tank. The fuel tanks had amazing reverb, and what was even more amazing was that the eight tanks all had different tones when we hit them on these small chimneys on top of them."
The idea of recording albums in interesting location settings is nothing new. The Rolling Stones holed up in the basement of Nellcôte mansion in the south of France for Exile On Main Street, while U2 tracked No Line On The Horizon in the open-air courtyard of a riad in Fez, Morocco, and Congolese band Staff Benda Bilili recorded on a laptop in the grounds of Kinshasa zoo. But for their fourth full-length album, Piramida, with its moodily magnificent echoes of Talk Talk, Tindersticks and late-period Roxy Music, Efterklang took the notion one step further, transporting themselves to an utterly remote environment in order to create a series of beguiling field recordings.
The roots of this unusual and ambitious project began in 2010, when a director contacted the Copenhagen-formed, Berlin-based trio with a view to shooting a video with them in the ghost town of Pyramiden, on the island of Spitsbergen in the Svalbard archipelago in northern Norway, on the edge of the North Pole. A Russian coal-mining settlement once populated by more than 1000 people, it was abandoned seemingly overnight and in mysterious circumstances in January 1998.
"It's an unanswered question," says bassist Rasmus Stolberg. "The main reason, I think, is because it was not profitable. But the reason for being up there might not ever have been to get coal. It might have been geopolitical. But they had some accidents — they had a fire in the mines, they had a plane crash up there which killed some of their technical staff, and that led to the closure of it."
Whatever the reasons behind the abandoning of Pyramiden, their awareness of the settlement planted a seed inside the minds of the members of Efterklang. "Pictures from the place started haunting us," says singer Casper Clausen. "We had the idea of using this location as a starting point for the album: going there and taking not only sounds, but inspiration and pictures and whatever we could collect from the place, and let that be the beginning of the record."
This was to be easier said than done, however. Pyramiden is still owned by Russian state-controlled company Arktikugol, and so Efterklang had to seek permission to plan a trip there. Progress was painfully slow until a TV producer planning to make a film about modern ruins was told by the Russian company's director that a rock group were also interested in visiting the deserted settlement. The director subsequently contacted the band, with a view to them making the journey together.
And so it was with some trepidation — and a film crew in tow — that the three members of Efterklang made the long journey, flying to Spitsbergen and travelling for several hours by small boat, before landing in the ghostly environment of Pyramiden. "I think the idea of us going up there was not really thought through in terms of what it takes and how you do that kind of stuff," laughs Clausen. "We're not really wildlife people."
"It was really surreal," says programmer and multi-instrumentalist Mads Brauer. "First of all, it feels like a place that is not really made for humans. The nature is so rough. There's no life at all. Nothing grows. Then there's this weird atmosphere. It seems like they left in a rush. It's not like they cleaned everything up or anything. They just took their most valuable stuff and then they left on the boat."
Compounding the band's unease, the mining company had organised for one of the three armed Russian guards who live at Pyramiden (keeping it open for a modest tourist trade) to accompany the band, since there was a danger of them being attacked by polar bears. But even though a British teenage boy had been mauled and killed by a bear on Spitsbergen only the week before the band's arrival, the Russian's attitude was worryingly laissez-faire. "He was supposed to be our guard, but he wasn't too much into it," notes Brauer. "He was like, 'I've been here for four months now, I've never seen a polar bear or anything, you're safe here.'"
"Of course, we laughed and shook our heads at that, because that's just stupid logic," says Stolberg. "But after four days, we forgot about our fear and felt totally relaxed and we took risks that maybe we shouldn't have."
Once settled in Pyramiden, the band set about making their field recordings, capturing aural atmospheres and improvising with found objects. With them they took two digital recorders, the Sound Devices 744T four-track and 788T 12-track, using them in conjunction with a pair of Schoeps CCM MS microphones and a second pairing comprising a DPA 4061 and a Sennheiser 421. Unaware of exactly what their living conditions would be like at the makeshift hotel at Pyramiden, Brauer took along a laptop and a pair of small Genelec speakers so that the trio could play back or edit the field recordings each evening of the nine-day trip. In the event, however, it turned out that they were sleeping in shipping containers housing bunk beds, which made for a painfully tight squeeze. "You couldn't even sit up in your bed," says Brauer. "There was really no way to even set up the smallest editing station."
Before leaving for Pyramiden, the group had made the decision not to write or prepare parts, leaving them to improvise in the alien environment. "We had some ideas of maybe trying to prepare a whole song from sounds from a certain house or something," Clausen says, "but we chose not to compose anything before. Everything was done as an experiment."
"We went up there with an open sheet, really," adds Brauer. "We didn't want to have any fixed ideas and be disappointed somehow. We just walked around and tried to come up with ideas."
As such, the rhythmic introduction to 'Dreams Today' is the sound of Casper Clausen running down one of the many wooden walkways that link the buildings in Pyramiden.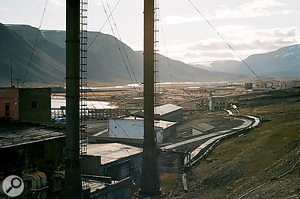 The entire settlement of Pyramiden was abandoned suddenly in 1998, in mysterious circumstances. Rasmus: "A photo with the power plant in the foreground and the rest of the settlement in the background. A thousand people used to live here." The rhythm track to the song 'Dreams Today' is based on a recording of Casper Clausen running along one of the long wooden walkways. To keep him in time, he had a metronome app from his iPhone playing a click in his headphones. "You have to imagine that in winter there's metres of snow up there, so you couldn't walk on the ground," says Brauer. "So the whole settlement was connected with these wooden walkways that were falling apart, but had this great wooden resonance in them. Casper came up with the idea of doing a run and then afterwards have that as a base foundation of a track."
"These paths that I'm running on are sort of the veins of the settlement," Clausen points out. "It's where the pipes and the hot water and everything used to run. At some point, once you're investigating a place with your ears, you can't help noticing the sound you make when you're walking. The idea was to then find a nice running sample."
Rasmus: "This is the mine buildings. The mountain is the Pyramid Mountain which gave name to the settlement. The top of it behind the clouds looks like a pyramid."Coming across a 10-metre-square club house built from empty, cemented-together beer bottles, the team began playing percussion rhythms on it. "But because they were all in cement, actually there wasn't that much interesting sound coming out," admits Stolberg.
Although all of Pyramiden's buildings were in a state of decay, only one — the family accommodation block formerly nicknamed the Mad House because of the constant noise of children that used to emanate from it — could be described as derelict. The Russian guards allowed the band and film crew to visit it only once, before nailing up its doors and denying them further access. "I think they just basically thought that these pictures were not so good to show to the rest of the world," reckons Clausen. "They've tried to turn the place into some kind of tourist attraction, but at the same time there's certain things they don't want to show. That was like seeing a picture from a horror movie or a nightmare. You walk into this house and the first thing that you notice is this immense smell of death, basically — every room was completely green, moulded and disgusting. The structure on every level was very dangerous and you could fall through it."
Rasmus: "An abandoned playground in front of what was called Mad House, as this is were families with kids lived. Today the Mad House is overtaken by kittiwake birds."
These days the building has been taken over by giant flocks of kittiwake gulls, with a nest visible in each of its windows. "They are actually like the ghosts of the whole album, because they were the only life up there," Brauer points out. "And you couldn't really control them when they were making sounds and there was a lot of them. So they're hidden on a lot of the recordings. Everything we recorded there would have a little of the kittiwakes in the background."
One building that Efterklang fully explored during their time in Pyramiden was its grandly-named Cultural Palace, originally built for the entertainment of its inhabitants, complete with music room, gym, football field and 400-capacity concert hall. In the palace's music room, the trio found glass lamps on a shelf, which they then laid on scarves and struck with mallets to create ad hoc tuned percussion parts that ended up in the song 'Told To Be Fine'. "The funny thing was that there were four or five identical ones, but they all had a different sound," Clausen says. "I guess you would never find an Ikea lamp that would make a sound like that."
On the walls of the music room were, as Clausen puts it, "photos of Russian workers jamming out". The only evidence that musicians had ever been there, however, was an array of old drums with busted heads. "We took the drums and brought them into the gym and then started playing around with them. So the song 'Told To Be Fine' is the closest we came to this idea of using the sounds from one house for a whole song."
The centrepiece of the concert hall was a Russian-built Red October grand piano that was originally one of the main attractions of Pyramiden for Efterklang, since it is the northernmost piano in the world.
Rasmus: "This is Mads playing the world's northernmost grand piano. We read about its existence after hearing about the ghost town of Pyramiden, and it was a big reason for why we just had to travel to Pyramiden. We have used it throughout the album, but not in obvious grand piano ways. It was in very bad shape, but we made good use of it." "Russian piano player went up there to play a Rachmaninoff piece on the piano," says Clausen. "But he was very disappointed by the shape of it. You can't play a Rachmaninoff piece on it, that's for sure. It's completely out of tune. For us, it was more trying to create small sounds and use it as a kind of prepared piano. We put our fingers on the strings or hit them, that kind of thing. But I mean, it's extraordinary, sitting at a piano like that, in this Cultural Palace, in the dark, running around with flashlights."
"It was pitch black," Brauer stresses. "It was really surreal to be in there working for hours and sampling the piano. We would lose sense of time and place. It was like, 'Where exactly are we?' We were walking around with these gloves on, 'cause it was around zero degrees all the time. And then I discovered that when you touched the strings halfway with the gloves on, it actually had a really nice resonating sound. It kind of changes your perception of the pitch. So I actually found a few chords and with those, it doesn't sound like an out-of-tune piano."
Efterklang created one track with the piano as its main feature, but it didn't make the cut for the album. Elsewhere, Brauer used a sample of the piano to create a strange, organ-like patch. "I took one note and looped that in a sampler," he says. "But because they're crossfade loops, you have this organ where every note has this slightly different rhythmic pulse to it. That's used a lot on the track called 'Sedna'."
Elsewhere, the trio found a former power plant that they describe as being like "a playground".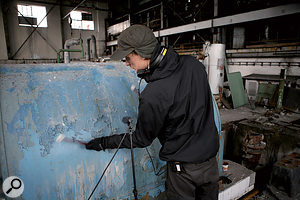 Rasmus: "Casper in the power plant. A playground. Dead quiet and just full of possibilities. This transformer box had a muted marimba-ish cardboard sound, and different spots on it provided different tones. We used it for a song that did not make it to the album." Their discoveries there included a transformer box that sounded like a marimba when hit with mallets, which was used in both 'The Ghost' and 'Black Summer'. "The power plant was standing quite far from the other houses," says Brauer. "It was a massive, massive room, so everything had this very dense reverb. The transformers surprised us. You have to realise when you walk around for nine days in a place like that, there's so much steel and metal. After a few days, everything starts to sound the same. Then once you hit something that really surprises you, you get really excited. It's so funny when something sounds so different from what it looks like."
"When you hit it in different places, it had distinct notes that were very short and staccato," says Clausen. "But because it was standing in this power plant, this huge room, it had a large reverb. A lot of those instruments, the nice thing about them was that they had certain notes or they had certain natures that you just had to deal with. You were just investigating, thinking, I like that sound, and then you'd have a click in your ear and just start playing."
Footage on the group's web site also shows them climbing into an empty fuel tank and recording improvised vocals in the semi-darkness. "It reminded me of when you walk into a cathedral or a large room and you immediately feel like singing or clapping," says Clausen. "It had this immensely long reverb, maybe 15 seconds, so when you sing in this tank, you sing in a different way."
Having sung inside the large fuel tanks, the trio climbed on top of them and discovered little chimney valves that they struck with beaters, effectively turning the tanks into enormous metal drums. "I guess these valves let air out of the tanks when they were full," reasons Brauer. "But they had a certain pitch, sounding a little like a vibraphone. Then of course they're resonating throughout the whole tank. So if you imagine a nice little ding sound from a vibraphone but with a 14-second crazy tail on it."
Rasmus: "This plant was left like everything else in 1998 and still has it leaves on. Because of the tough climate, things decay very slowly here. There are no bugs and low temperatures. We recorded the sound of these leaves."
After nine days in which they captured over 1000 field recordings, Efterklang returned to Berlin. Back home, however, when discussing the trip with their colleague Francesco Donadella, the engineer/mixer made a few pertinent afterthought suggestions that the band members now admit have turned into their only regrets about the expedition. "He said, 'Why didn't you take a piano tuner to tune the piano?'" laughs Brauer. "And, 'Why didn't you try a bow on the bottles?' And, 'Why didn't you take a portable speaker to make acoustic samples of the reverbs?' That might be my largest regret. There's no power up there. But I would have loved to have had one small battery-operated speaker so we could have done some convolutions of all of the rooms."
Work on Piramida (the album taking its title from the direct Russian-English translation of the settlement's name) continued in Efterklang's writing and production space in north Berlin in September 2011. The potentially daunting task of sifting through the many hours of recordings was given to Mads Brauer. Luckily, the programmer had a method in mind. "I wanted to avoid spending too much time just organising sounds," he explains, "because we had so much material that it would take months. So instead, day-by-day, I would think of a sound that I remembered had excited me at the time. Then I would go in, chop that up and edit it and make a sample bank of it, and immediately just start playing around with it, sending out a little sketch to the others."
Clausen, in another part of Berlin, and Stolberg, who still lives in the band's native Copenhagen, would receive these aural sketches via email from Brauer. The former would then begin to write melodies and lyrics. "I would maybe take small parts of it and loop it and start singing things on top."
Once these sketches started to resemble songs, the trio gathered together to flesh them out in their writing studio, adding keyboard and bass parts. While Brauer sometimes used Ableton Live to chop up and manipulate the field recordings, most of the tracking was done in Logic. And as much as the programmer enjoys working with his Kontakt sampler in Logic, he admits that he still likes the sonic qualities of his 12-bit Emu Emax sampler. "It's really great to record the sound into that, edit it on the tiny little screen and save it to the floppy disk," Brauer enthuses. "It's a nice contrast to something like Kontakt sampler. The main synth sounds on 'Monument' and 'Apples' were made on the Emax from a sample of one note of the grand piano up there."
When it came to recording Efterklang's distinctive rolling basslines, Rasmus Stolberg DI'ed his Fender Mustang '86 short-scale bass, Fender Precision or G&L Climax through either a Thermionic Culture Rooster or Manley Slam! preamp. "I did a lot on the Precision because there was a lot of drop-D tuning and for that, the short-scale Mustang bass doesn't really work. Then, of course, when you plug in directly, it's nice to know that maybe down the line a guy like Francesco will re-amp it. The G&L Climax is the secret weapon of the really deep bass sounds."
At this point, with Francesco Donadella overseeing proceedings, the sessions for Piramida moved to various locations, the team recording drums with Tindersticks's Earl Harvin at LowSwing in Berlin, piano with their friend Nils Frahm at the musician's home studio and Clausen's vocals (recorded by Martyn Heyne) at Lichte Studio.
Drum-wise, Donadella preferred a minimalist mic setup, the sound created mainly with a Neumann U47 overhead and Bang & Olufsen ribbon mic for the snare, recorded through LowSwing's Neve 5316 console directly into Pro Tools, where the results of the group's Logic sessions had been transferred. "When you have a drummer like Earl Harvin," notes Donadella, "you don't have to do that much with mics. That's why mainly I chose a U47. I already had a nice balance just out of that microphone."
Piramida was mixed by Francesco Donadella.
Mixing commenced in April 2012 at Donadella's newly built Vox-Ton Studio in Berlin, centred around a 1972 Cadac G-Series desk and boasting various Fairchild, UA, Lexicon and Eventide toys. For Piramida, the mixer relied heavily on tape delays created using his Studer A80Rs and reverb from his EMT 140 plate. He admits that, given the epic nature of the songs — most with close to 200 tracks — the mixing of the album presented various challenges. "I was trying to push it back to the more minimalistic approach," Donadella says. "But with Efterklang, of course, it's part of their sound that there's a lot of elements going on. So basically my task was to make this record sound not like 200 tracks running."
Clausen says Brauer was instrumental, during the mixing sessions, in conveying the wider sonic picture to Donadella. "In a song like 'The Living Layer', for instance," says the singer, "the whole ending could be mixed in various ways, with all the sounds coming in and out. It's like sculpture, in a way. So you really need a guy like Mads to sit around and say, 'This sound overtakes this sound.'"
Ultimately, as much as Piramida is rooted in a great concept, it remains a toweringly impressive album in its own right, even if the listener doesn't know anything about its sonic beginnings in a former Soviet ghost town. "That was very important for us," says Mads Brauer. "The music has to work, even though you don't know the story. Then when you know the story, you might find another layer."
"We wanted to make an album that was special and moved us and hopefully also future listeners," adds Rasmus Stolberg. "For a long time we were even debating if we should call the album Piramida, because it maybe put too much focus on that trip. Our ambition was that the album worked in its own way without its back story. But of course we're happy to see that our trip and all that work going up there paid off creatively."
In looking towards future recordings now, post-Piramida, Efterklang admit that it might be difficult for them to approach an album in an entirely conventional way. As such, more expeditions may well be in the offing. "It would be very hard for us to start the next album and just write random songs," concludes Casper Clausen. "The idea of starting with a theme or certain sound sources is a great way for us to be able to root the process. We'll definitely use the idea of a trip as a starting point again."  
Perhaps Efterklang's favourite makeshift instrument of the entire Pyramiden trip was a rusty cylindrical tank they named Miss Piggy, which was covered in temptingly playable spikes. Its slightly eerie, high-pitched, marimba-like tones provide the first sound the listener hears in 'Hollow Mountain', the slow-building opening track of Piramida.
"The tank was on a sledge so it could be pulled through the snow," says Rasmus Stolberg. "I don't know what they used to have in there, but it was insulated, so around this metal tank, they had put rockwool. Then, to keep that rockwool in place, some blacksmith had welded all these 10cm spikes onto the tank. After years of decay, the insulation is gone. But all those spikes were sticking out and they were just perfect for hitting with drumsticks. There's also a tiny chimney on this tank, so water had come inside it and we got this really watery reverb from inside. Then each spike had its own little unique tone. That was really an incredible discovery. It's the very first 20 seconds of the album. What you hear there, that's played live on that thing. The sound has, of course, been processed, but not heavily."
When recording the tanks, the team would place the DPA 4061 inside to capture its ambience, while directing the Sennheiser 421 at the external sound source, in this case the spikes. "The sound you hear is just balancing those two sources," says Stolberg. "Something like that is an instrument that you have no idea you could find. It just comes as a complete surprise, and suddenly you get inspired and feel music coming out of a thing like that."
For Casper Clausen's studio vocals, various mics were tried and tested to achieve the specific desired results. "We had way too many microphones and we had the ability to try out pretty much everything," laughs the singer. In the past, he has preferred to simply use a Shure Beta 58, but this time around, Clausen also used a Neumann CMV 563 'bottle' mic with the M7 capsule and a Coles 4038 ribbon.
"I'd never really connected to a microphone, but with the Coles, I could definitely feel that it was more natural for me," he says. "You have a song like 'Hollow Mountain' where we were looking for a more superior vocal sound, like Frank Sinatra or Scott Walker, and in that case the 'bottle' worked perfectly. But when we were working on songs like 'Apples' or 'Monument', the Coles sounded like it was blending in more with the music. With my home setup, I worked with my old dusty Beta microphone for certain songs, because I know the nature of the mic and I'm not necessarily after a nice sound."
Subsequent sessions that helped build up the monumental production of Piramida involved string parts played by Peter Broderick, choral parts by South Denmark's Girls Choir (recorded at the music school in Sonderborg) and brass parts — two trumpets, trombone, baritone sax, tenor sax and French horn — performed by members of the wonderfully named Andromeda Mega Express Orchestra.