Session Notes: The Practical Craft of Recording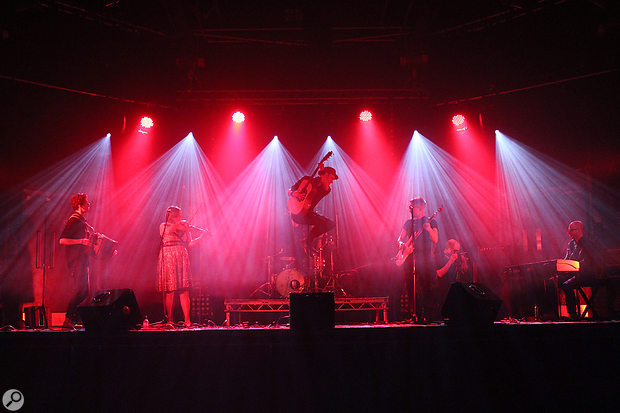 Glymjack, going for a dramatic ending to their 'show' — a crowd‑free gig recorded at The Junction in Cambridge.
To showcase the band to promoters and festival bookers, singer‑songwriter Greg McDonald wanted to film an 'as live' main‑stage performance by the full band line‑up.
Singer‑songwriter Greg McDonald has been a willing guinea pig for several SOS articles in the past, and even featured on the cover back in July 2012, helping me to try out different techniques for miking a singing guitarist. It's fair to say that we probably owed him a favour, and nearly seven years later the opportunity arose.
Greg's latest project is Glymjack, a folk band that scales to fit different scenarios. The idea is that small promoters can book Greg on his own, or as a duo with fiddle player Gemma Gayner, while for bigger gigs the band can be expanded to include any or all of melodeon player Saul Bailey, bassist Dickon Collinson, pianist Art Toper and drummer Evan Carson.
To showcase the band to promoters and festival bookers, Greg wanted to film an 'as live' main‑stage performance by the full line‑up. My role was to handle live sound, recording and mixing. Film‑maker Henry Williams had been hired to take care of the video work, and with Luke Webb providing a suitably stadium‑tastic light show, this would to all intents and purposes be a live gig without an audience.
Greg had arranged...
You are reading one of the locked subscriber-only articles from our latest 5 issues.
You've only read 10% of this article, so to continue reading...
Option 1: Buy and download this single SOS article in Adobe PDF format
Buy this article now and immediately download the PDF file to your computer.
Single article PDFs look identical to the printed magazine layouts (but exclude advertisements).
Note: Some shorter articles don't always have a PDF version.
Option 2: Buy the Full Issue PDF **NEW**
From the January 2018 edition onwards, it is possible to buy a Full Issue PDF 'replica magazine' (with adverts) for the price of a handful of single PDF articles, and instantly download it. More info...
Option 3: Buy a Digital subscription from our shopstore
A Digital sub can be bought from our online Shop

Store

and used immediately, or contact our Subs staff to discuss an upgrade price to add Digital access to your existing Print subscription.