Secrets Of The Mix Engineers
Romil Hemnani, Brockhampton's main engineer, in the control room at Abbey Road Studio 3.
Hip‑hop collective Brockhampton abandoned their home studios for Abbey Road — and left with a number one album.
One of the biggest surprises of 2018 has been the meteoric rise of self‑declared 'boy band' Brockhampton. The group's first three albums Saturation, Saturation II and Saturation III were all released in 2017, each album charting higher than its predecessor, and this year's Iridescence reached the top spot in the USA.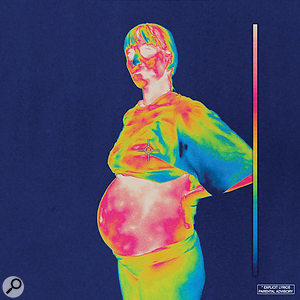 Brockhampton's ability to make albums very quickly is quite a feat, given that they have no fewer than 14 members. Along with leader Kevin Abstract (real name Ian Simpson), these include four vocalists, two vocalist/producers and three producers, plus a graphic designer, web designer, photographer and manager — all of whom have to agree on everything. Other than being youngish and all‑male, Brockhampton are the antithesis of the traditional manufactured boy band, taking complete control of writing, engineering, mixing, production and running their careers.
Stylistically, the band's output spans hardcore hip‑hop, soulful R&B, grime and EDM, with members coming from the US, the Caribbean and Northern Ireland. The group as a whole originated in Texas, yet they are currently based in California.
Iridescence was written, recorded and mixed over the course of two and a half weeks at Abbey Road Studios in London. Band member Joba, aka Russell Boring, is credited with mixing 14 of the album's 15 tracks, but Abbey Road engineers Matt Mysko and Andy Maxwell also played important roles, as did Brockhampton's main engineer Romil Hemnani.
Brockhampton's first three albums were DIY affairs, recorded in homes and their own studio, which raises the question why the entire company decided to head to Abbey Road for the making of Iridescence — a big investment, especially for such a large group.
"We wanted to open our minds, make a record in a new environment, and also a legendary place, and to experience London," explains Joba. "I look at it as investing in ourselves, which is something that we have never had problems with. I personally have spent my life savings over and over and over again, on pieces of gear I should not have bought, because in reality I should have gotten some healthy food! Instead I would buy a preamp; but it kept me going and inspired me. However, working in Abbey Road did not really alter our creative process. It was more about the space and a new experience. Music is...
You are reading one of the locked subscriber-only articles from our latest 5 issues.
You've only read 10% of this article, so to continue reading...
Option 1: Buy and download this single SOS article in Adobe PDF format
Buy this article now and immediately download the PDF file to your computer.
Single article PDFs look identical to the printed magazine layouts (but exclude advertisements).
Note: Some shorter articles don't always have a PDF version.
Option 2: Buy the Full Issue PDF **NEW**
From the January 2018 edition onwards, it is possible to buy a Full Issue PDF 'replica magazine' (with adverts) for the price of a handful of single PDF articles, and instantly download it. More info...
Option 3: Buy a Digital subscription from our shopstore
A Digital sub can be bought from our online Shop

Store

and used immediately, or contact our Subs staff to discuss an upgrade price to add Digital access to your existing Print subscription.