Secrets Of The Mix Engineers: Joba • Romil Hemnani • Matt Mysko • Andy Maxwell
Romil Hemnani, Brockhampton's main engineer, in the control room at Abbey Road Studio 3.
Hip‑hop collective Brockhampton abandoned their home studios for Abbey Road — and left with a number one album.
One of the biggest surprises of 2018 has been the meteoric rise of self‑declared 'boy band' Brockhampton. The group's first three albums Saturation, Saturation II and Saturation III were all released in 2017, each album charting higher than its predecessor, and this year's Iridescence reached the top spot in the USA.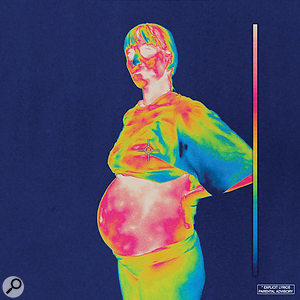 Brockhampton's ability to make albums very quickly is quite a feat, given that they have no fewer than 14 members. Along with leader Kevin Abstract (real name Ian Simpson), these include four vocalists, two vocalist/producers and three producers, plus a graphic designer, web designer, photographer and manager — all of whom have to agree on everything. Other than being youngish and all‑male, Brockhampton are the antithesis of the traditional manufactured boy band, taking complete control of writing, engineering, mixing, production and running their careers.
Stylistically, the band's output spans hardcore hip‑hop, soulful R&B, grime and EDM, with members coming from the US, the Caribbean and Northern Ireland. The group as a whole originated in Texas, yet they are currently based in California.
Iridescence was written, recorded and mixed over the course of two and a half weeks at Abbey Road Studios in London. Band member Joba, aka Russell Boring, is credited with mixing 14 of the album's 15 tracks, but Abbey Road engineers Matt Mysko and Andy Maxwell also played important roles, as did Brockhampton's main engineer Romil Hemnani.
Brockhampton's first three albums were DIY affairs, recorded in homes and their own studio, which raises the question why the entire company decided to head to Abbey Road for the making of Iridescence — a big investment, especially for such a large group.
"We wanted to open our minds, make a record in a new environment, and also a legendary place, and to experience London," explains Joba. "I look at it as investing in ourselves, which is something that we have never had problems with. I personally have spent my life savings over and over and over again, on pieces of gear I should not have bought, because in reality I should have gotten some healthy food! Instead I would buy a preamp; but it kept me going and inspired me. However, working in Abbey Road did not really alter our creative process. It was more about the space and a new experience. Music is life, and we live by it, and the studio was a great place to continue exploring that and we loved it."
"We made our first records mostly in my bedroom," adds Hemnani, "and this got us to a point where we got a crazy record deal. When we looked at our touring schedule earlier this year, we saw that we ended the tour in the UK, so we decided to go to Abbey Road. As Russell says, it's to make music in a new environment and see what that pulls out of us. And when you have the opportunity to work in one of the most historic studios in the world, why not go there? We might not get the opportunity the next time. Who knows? So we spent about 10 days in Studio 3 for the creation and recording process, and a week in The Penthouse for the mixing process."
As Andy Maxwell recalls, Brockhampton were determined to make the most of their time at the studio. "These guys were working around the clock, so while they spent two and a half weeks at Abbey Road, they did about a month's work! Sometimes they did not sleep at all, it seemed."
"There were days we'd go on until 6am, and I was like, 'Guys, I need to go home!'" says Matt Mysko, "and when I came back eight hours later they would still be there!"
"Yes, it was a crazy process," agrees Joba. "Sometimes we'd just get some rest on the rugs on the studio floor, or the very comfy sofas in the mastering suite. Nothing ever slowed down!"
The writing process was massively parallel, with multitudes of workstations being set up in every nook and cranny in Studio 3. "Our main beatmakers are Romil, Jabari Manwa, Kiko Merley and myself," explains Joba. "When we're writing, everyone will have their own workstation/studio, with a computer, an interface, sometimes some outboard gear and monitors. We used Studio 3's piano and vocal booths and so on, turning it into three or four working studios. Everyone works in Ableton, and the foundations of each song are usually laid by one of the producers, after which the session gets passed around, and we all continue building and contributing. Everything that we do is eventually funnelled to the central workstation, which is controlled by Romil. He works on the files, and does a lot of vocal recordings, until the sessions are ready for me to mix."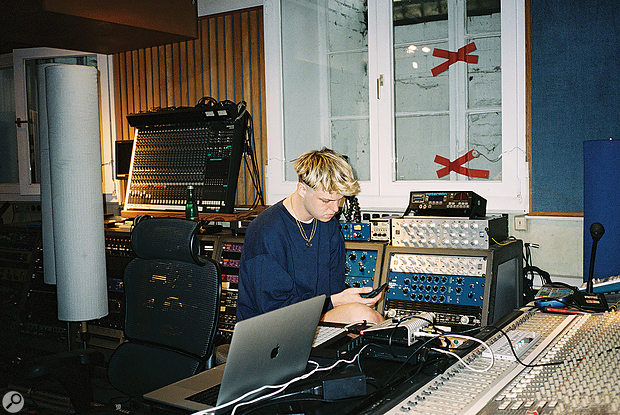 Joba at one of the workstations the band set up throughout Studio 3, allowing all their beatmakers to work simultaneously.
"One rule is that everything is always plugged in and switched on," elaborates Hemnani, "so there's always a mic that's hot and there always are half a dozen synthesizers on, so as soon as someone has an idea, they can record it immediately. It's like creating a playground, where people can be creative and efficient at the same time. If something happens in the main space, you can go off to your own space to work on it, or remain in the main room and work on it there. Or you start something in your own space and then bring it to the main space.
Romil Hemnani at work with his Ableton Push controller. The entire band use Live for the music creation process, with finished songs exported to Pro Tools for mixing."We all use Ableton because it fits our workflow. It's incredibly free‑flowing and flexible. When you work with computers you normally are always looking at a screen, and you start thinking about music in visual terms, rather than sonically. You're looking at a grid and think about numbers, rather than that you feel the music. We find that when you use Ableton, you don't have to look at the screen as much. For similar reasons we also like to use hardware synths a lot of the time. We like Moog synths, and at Abbey Road we had synths like the Moog Voyager, Model D, Sub Phatty, and also a Mellotron, and a Prophet, and the Ableton Push 2. I don't play piano, I play the computer and the Ableton Push!"
"I am always drawn to anything with knobs on it," Joba says, "and particularly Moogs. I like to look at a machine as an extension of myself, and almost like a wild beast that's hard to tame. I like to set it to self‑oscillate and do its own thing, so the machine is roaring and you control it the best you can, and you make sense of what it does in the context of the track that's playing behind you. Somehow it's just different when you can touch things physically. Things are a bit more urgent when you can see them in front of you, and you press keys. This rather than having to load up a DAW, find a plug‑in, scroll through your sounds, and on. Hardware synths are also much more conducive to experimentation."