Secrets Of The Mix Engineers: Mark Ralph
Mark Ralph with the SSL console that forms the centrepiece of his Club Ralph studio.Photo: Tom Fuller
In a world where almost everyone is mixing 'in the box', Mark Ralph and Clean Bandit have gone the other way.
A wave of UK artists are achieving global success by combining American urban, R&B, trap and rap influences with a British pop sensibility and more traditional musical styles. The likes of Jax Jones, Hot Chip, Years & Years, Rudimental, Jess Glynne and Clean Bandit all tend to work with a mixture of electronic programming and 'real' instruments — and they all work with British producer and mix engineer Mark Ralph.
Ralph was the 2016 winner in the Producer of the Year category at the UK A&R Awards in London, and is one of the hottest UK producers of the moment. He's built his entire career on mixing things up, starting out in 1993 by filling in for Nile Rodgers on a Sister Sledge remake of their 1978 hit 'We Are Family'. Ralph went on to become a successful session guitarist, working with everyone from Natalie Imbruglia to Tom Jones, and also managed to get himself signed as an artist. After being dropped by his label in 1998, he worked for a while at a London equipment hire company, Tickle Music Hire, and during this century got increasingly involved in writing and production. He eventually got signed again, and had his last stab at being an artist in 2009, as one third of the synth-pop band Filthy Dukes.
"When I came out of that," recalls Ralph, "I said, 'No more being an artist, let's just concentrate on producing people and on learning how to mix.' It takes time to get good at anything, and I think everything I have ever done has been of use in terms of experience. When I worked at the hire company, I thought it was the end of my music career, but actually, I learned how each piece of equipment worked and how to install it and it taught me many studio skills. Also, getting signed to a label is the most elated feeling you will ever have, and getting dropped again is the most horrible feeling, the lowest of the low. But it helped me to take the rough with the smooth, and to manage the rollercoaster ride that is a career in the music industry. I've had 26 years of excitement and disappointment, and while I may be riding a wave at the moment, I know that in five years' time it may be different. So I don't get overly affected any more about either the highs or the lows."
Ralph's decision to focus on production and mixing has paid off in spectacular fashion. In addition to the above-mentioned names, he has also worked with everyone from Franz Ferdinand to Jessie Ware to Take That, with his credits including writing, engineering, mixing and production. He's also built his own studio, twice, and currently has a multi-room facility close to Queen's Park in London, called Club Ralph.
Sleeve artwork for 'Solo' single."My niche has always been to combine organic sounds with electronic music," says Ralph. "I have been in lots of bands, and written songs in traditional ways. I was in a rock band, played Latin music, soul and funk and disco. But I don't have a fascination for purely organic music, and never have done. For music to prick my interest, it has always had to have a synthetic element, mixed in with organic sounds. That point between the organic and the electronic is very fluid. Franz Ferdinand are very organic, but they also like synths and drum machines, Hot Chip was somewhere in the middle, Hot Natured more on the electronic side."
Clean Bandit epitomise Ralph's hybrid musical approach, and since their breakthrough hit 'Mozart's House' in 2013, the band have enjoyed a string of major hit singles, including 'Rather Be' (2014), 'Rockabye' (2016), 'Symphony' (2017) and 'Solo' (2018). The first two came from the band's debut album New Eyes (2014), while the last three are from their second album, which at the time of writing is slated for a November release this year. Clean Bandit's main writer and producer, Jack Patterson, also has his writing room at Club Ralph.
Quite a few producers and mixers work in a hybrid analogue/digital environment, but Mark Ralph is actively swimming against the tide: he used to be all-digital, but went back to using a desk and outboard again.
"I was completely in the box from 2002 to 2007," explains Ralph. "Then my friend David M Allen, who produced the Cure and Depeche Mode and so on, asked me whether I wanted to go halves on a desk, because he'd found this desk made by Conny Plank in the '70s. We brought it to London, had it restored, and I worked for seven years on that desk. I had great fun with it, made two Hot Chip albums on it, a Franz Ferdinand album, and the album with Filthy Dukes, and much more. This was in a different studio. Four years ago I took on the building that I am in now, and it already had the SSL in it, so I thought it was fair enough for Dave to get full-time use of the Conny Plank desk, while I took on the SSL.
"Some of the tracks on the Filthy Dukes album were mixed by Steve Fitzmaurice [whose mixes for Sam Smith were featured in SOS September 2014], and I sat in on some of his mix sessions. I really liked his technique, and I copied it, which he found amusing. He was mixing on the desk, then stemming into Pro Tools, and then bringing that mix up again on eight faders in a summing mixer, with stereo drums, stereo bass, stereo instruments and stereo vocals. So he has analogue and digital phases. I thought I should do the same thing.
"The way I have worked since is that I am in the box when I'm co-writing with people, like everyone else does, because the writing stage is not a sonically critical part of the process. I just use the desk as a stereo monitor. When it comes to the point where analogue separation makes a difference, like with recording and mixing, I split things out over the desk's 48 channels. When mixing, I get the mix up to about 70 percent, using desk EQ and compression and analogue outboard to shape the sound. When it's time to start the automation, I transfer all 48 channels back into the same Pro Tools session, get rid of the tracks I don't use, and finalise the mix inside the box, with the four groups coming back up on the desk again."
Mark Ralph's hybrid approach has obvious disadvantages compared with the flexibility and total recall available to anyone working wholly 'in the box'. So what are the benefits?
"First of all, when you're recording, the beauty of a console is that you can really shape things in detail before you press Record. It's an old style of working that I think is still very important. It stops you recording stuff you don't really need, or that's flawed. You shape stuff the way you want it to sound before you even press Record, and this stops you from having to use tons of digital processing to fix things after recording them. The time you spend shaping your sounds at the beginning stage is time you don't have to spend later on correcting stuff.
"Secondly, you're not pumping everything out of just two channels. Instead, every principal part has its own channel on the desk, so you can hear each part separately, or summed in the analogue world. And I find the clarity and separation of summing through the mix bus section of the desk much better than summing in digital. Digital technology has become very good, and most people do work in the box now, and that's fair enough. But I find it easier to make judgements in analogue at an early stage, when you need to make important decisions.
"If you pull something up in the box at an early stage, when things are not yet well-treated or well-separated, it can be hard to judge. I've done that for years, but the moment I began splitting things out over a desk again, it gave me 10 to 20 percent more clarity and separation. In analogue, electronic signals are summed in the real world, as opposed to a computer deciding by algorithm what the relationships between different sounds should be. People argue that software is so good now, and that it emulates the real world perfectly, but having worked with both analogue and digital for years, I find there are things that digital does wonderfully, and things that it can't do as well as analogue. So I like the complementary nature of using both."
The live area is home to more desirable keyboard instruments, including a Hammond organ and Rhodes electric piano.Finally, says Ralph, a third advantage is that "working on a desk and with outboard gives me a hands-on feel, which I much prefer. I'm not a DJ, but I often compare working on a desk with the way a DJ does a gig. You're in a physical contact environment, where you're using your hands to feel your way into what you are creating. You're bouncing along while you have physical control of the movements you're making. In a similar way, during the first part of a mix I am just hitting buttons and pushing faders very intuitively and spontaneously, being a little bit carefree, and also being quite physical. That in itself does not necessarily make things sound better, but you arrive at your end product through a different process. Compare it to the difference between working with hardware synths and soft synths. When you're working with the former you use your two hands and you're pressing buttons and it's a performance. When I have bands in the studio, multiple people can play multiple pieces of hardware at the same time. Everyone can get involved. That is impossible when it's just one guy working in the box."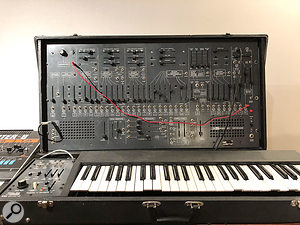 Vintage keyboards at Club Ralph: clockwise from top left, ARP 2600, Roland Jupiter 8, Minimoog and Wurlitzer EP200.
True to his word, Ralph has stacks of hardware synths and drum machines in his studio, including classics like the ARP 2600, Roland Jupiter 8, SH101, TR808 and JX8P, Korg Minipops, MonoPoly and MS20, Linn LM2, Moog Voyager and Minimoog, Solina String Ensemble, Yamaha DX7, Oberheim DMX and more. His control room also contains a large amount of outboard including units from Neve, EMT, Tube-Tech, Eventide, AMS, Yamaha, Urei, Valley People, Empirical Labs, Manley, Roland and Lexicon.
This rack of classic keyboards and drum machines includes (from top, left to right): Roland Juno 60 and Korg Minipops; Roland JX-8P and TR-808; Korg MonoPoly and Linn LM2; Moog Voyager and Korg MS20; Solina String Ensemble and Oberheim DMX; and the immortal Yamaha DX7."The biggest piece of outboard is the desk," stresses Ralph, "which gives me separation and clarity at a critical point in the beginning, when things are in their rawest state, and I need to make certain decisions. I also make extensive use of the EQ and compression on my SSL desk.
Mark Ralph's favourite 'in the box' equaliser is the software version of the GML 8200, two of which occupy pride of place in this Club Ralph rack. Also visible are TLA and Tube-Tech compressors, Lexicon PCM70 reverb, SSL X-Logic rack, Eventide Omnipressor compressor and Groove Tubes Trio guitar preamp."In addition, there's my outboard. I find that outboard compressors behave in certain ways that I can't get from software compressors. Of course, there are also things that in-the-box compressors can do that hardware compressors can't, the major benefit of software being that you can automate all parameters. But my outboard compressors are my go-tos on specific things, like the Neve 33611 on lead vocals, the Tube-Tech LCA-2B on piano and guitars, Distressors on bass, as it adds a little distortion, Manley Vari-Mu on backing vocals and on strings, and my Valley People 610 on drums in parallel."
With Clean Bandit often writing in Jack Patterson's room downstairs, it's easy for Ralph to occasionally drop in to see what the band is up to. "But I have never co-written a Clean Bandit song," the producer notes. "When they write it's usually Jack and Grace [Chatto] in a room with one or two other writers, and writing with more than four people in a room becomes unmanageable. So they tend to come to me once they have the song written. Usually there are a whole bunch of ideas there, sometimes nearly finished, sometimes it is more of a bare-bones situation, but it normally does not yet sound like a record. Jack will have his project in Ableton, and we'll transfer everything to Pro Tools, and will then work on finishing the production and the mix. Jack plays saxophone and keyboards, I play guitar, Grace plays 'cello and Luke [Patterson] plays drums, so we complement each other. For the new album we recorded many of Grace's 'cello parts in my live room, and Jack enjoys recording strings at RAK, and also likes to record his piano parts there.
"There are a whole range of guest artists on the new album, some of them very well known, some less so. Sometimes a featured artist that Clean Bandit collaborates with co-writes the song in the room with them, but more often they send over a demo to the featured artist. The demo will have a guide vocal by one of the songwriters, and we then may change the song again following input from the featured artist. A song is never finished until it's finished. I don't have any qualms about making changes right until the end. The vocal chops on the demo often are not repeatable by the featured artist, so they tend to remain, and the vocal chops singer gets a credit as a backing vocalist. But nine out of 10 times the featured vocals are done at a stage when I am already involved.
"For example, for the new album we remotely recorded one song with a Mexican singer, who happened to be in Madrid. We used Skype for this. She was in a studio, and the engineer connected the output of the desk to the inputs of Skype. There also was a talkback mic in the room there, and the engineer had a plug-in called Mutomatic, which automatically switched to talkback the moment he pressed stop. We could see the singer on the screen and talk to her as if she was in the room, while they were listening to a mic we had plugged into our laptop. Because we were going capital city to capital city there was a good Internet connection, and we could hear full quality audio via our monitors, without any delay. It worked seamlessly. For the track 'Solo' we also recorded Demi Lovato remotely, using FaceTime for communication. She was out in the sticks near Nashville and Jack and Grace had to coach her via a really bad connection, which was very challenging, but that also worked out in the end.
"On 'Solo' we were thinking of all the different styles that we could throw in, so we have reggae and dancehall, American pop vocals and Indian-influenced Bollywood strings. On the drum side there also were some trap influences. The 808 and the really fast hi-hat patterns that are typical of trap are on the whole of the new Clean Bandit album. We did a lot of experimentation with the strings on 'Solo'. There's a combination of lush-sounding strings, which were recorded at RAK, Grace's 'cello, which was recorded in my room, and some more strings that were recorded downstairs in Jack's studio. We stylised some of the strings to make them sound like Bollywood strings, and also as if they were sampled.
"When you sample strings from a record and you cut the audio, you often cut the reverb tails, which makes it sound unnatural. In trying to recreate that, we added some reverb to the strings, bounced that, and then when we chopped the audio, to get these unnatural stops in the reverb. Those are the kinds of things that make something feel triggered, even though the strings were actually recorded live. We also put these strings in NI Kontakt and automated pitch-bend to get them to naturally swoop up. The idea was to get the strings to sound similar to the strings in 'Toxic' by Britney Spears.
"It is difficult to make classical music instruments sound exciting these days, so we kind of harked back to an era of rudimentary sampling techniques, trying to copy the imperfections of an approach that gives you a rough edge that you don't have in pristinely recorded strings. Character is being ironed out of records at the moment, because everything is tuned and so on, but real instruments add colour and dynamics to electronic records, which is why we're keen on using them. Jack also created a sampled guitar part in 'Solo' using the AmpleSound plug-in, which gives you a pseudo-realistic acoustic guitar. There's something fascinating about an intentionally fake guitar, but in this case what you hear is a combination of the AmpleSound guitar and a live guitar. We mixed that into a hybrid that we found interesting."
The mix of 'Solo' is credited to Ralph, Clean Bandit's Grace Chatto and Jack Patterson, with an engineering credit for Ralph's engineer Tom AD Fuller. Ralph was the main man at the controls. The hardware stage of his mixing process, as described above, ended with Fuller exporting the analogue mix to Pro Tools.
In the case of 'Solo' the Pro Tools mix session ballooned to 80 tracks, consisting of 13 tracks of drums (red), two tracks of bass (light blue), two tracks of guitar (light purple), eight tracks of synths and instrument samples (green and purple), six tracks of Bollywood strings (dark purple), 14 tracks of strings (dark blue), three strings group tracks, including one string reverb record track, eight tracks of vocal chops (green), 10 tracks of Demi Lovato lead vocals, including two lead vocal group tracks, two backing vocal tracks (pink), three auxiliary effect tracks (purple), the aforementioned four group tracks that go to the desk (drums, bass, instruments, vocals, in light blue) and a mix print track.
To give you an overview, this Pro Tools screen shows the entire mix session for 'Solo'.
Ralph's emphasis on working 'out of the box' means only a few tracks have extensive plug-in processing: mainly, the bass, Bollywood strings and lead vocal tracks. There also are very few sends in the session, and only Demi Lovato's lead vocal tracks have sends to the three aux effect tracks: reverbs from Audio Ease's Altiverb and Valhalla DSP's Valhalla Room, plus delay from SoundToys' Echoboy.
Perhaps Mark Ralph's most-used plug-in is the Massenburg Design Works equaliser. "The Massenburg EQ is my favourite in-the-box EQ. It is an imitation of the Massenburg 8200 EQ, which I have two of in my rack. It sounds very musical and natural to me, and it's very quick to use. The general technique to identify a frequency you want to notch out is to narrow the Q down to a minimum, boost the gain to maximum, and sweep along the frequencies until you find the one that bothers you. It's how I do it on the desk. But with the MDW you literally hit one of the five buttons, and it automatically does everything for you to allow you to find that frequency."
Real 'Bollywood'-style strings were given a synthetic quality using Valhalla's VintageVerb, SoundToys' Little AlterBoy and CableGuys' ShaperBox.The increased track count at the mix came about partly because single parts were split across multiple tracks to receive different processing. "I split the acoustic guitars over two tracks, because the intro and middle eight guitars needed very different treatments. The latter has the Valhalla Room for some extra ambience. The main treatments on some of the Bollywood strings come from the Valhalla VintageVerb, the SoundToys Little AlterBoy and the Cableguys ShaperBox. We could have asked the string players to do those pitch slides, but because we wanted things to sound slightly synthesized we used a combination of pitch-bend automation in NI Kontakt, when we resampled them, and Little Alterboy to do this. Instead of going smoothly between notes, it bends up to the notes, and this plug-in is really good for automated pitch shifts like that.
"ShaperBox is VST-only, so I use the Blue Cat PatchWork to get it to work with AAX in Pro Tools. I used the VolumeShaper in ShaperBox, which allows me to create a side-chaining effect without using a trigger. You can draw in the exact curve you want. KickStarter is made by the same company, and also works great, but ShaperBox is more versatile, as it doesn't only give you volume shaping, but also MIDI shaping, pan shaping and so on.
The Intro Strings group employed the XLN Audio RC20 Retro Color plug-in to produce "a very nice, natural-sounding array of analogue-type processing"."The Intro Strings group has the XLN Audio RC20 Retro Color, which is a little find of Jack's. That plug-in gives you a very nice, natural-sounding array of analogue-type processing. It has noise for general crackle on the track, and you can use it for several different types of overdrive. The overdrive can be very subtle. I used some wobble and distortion on the strings, and I also used RC20 distortion all the way through on Demi's vocals. It made all the vocals sound like they are slightly overcooked and slightly up and down in pitch a little bit, as though they were coming off a record that wasn't being played back very reliably. The RC20 also has a very nice reverb."
On the subject of vocals, Demi Lovato's vocal tracks are marked 'AT', obviously meaning that they're tuned with Antares' Auto-Tune. Ralph: "I like that plug-in because of how natural it sounds in graphic mode. Because Auto-Tune's default page is Auto, people assume that Melodyne is the one where you can draw everything in, and that Auto-Tune just automatically detects. But Auto-Tune has had graphic mode from the very beginning. For me, if I want to tune in a subtle and transparent way where you can't tell that it's tuned, Auto-Tune is the best. The down side with AT is that it can be quite glitchy, and it is also prone to CPU overload, but the end result is to my ear much more natural than when using Melodyne. When I listen to the latter, I always feel that there is a synthesized note added in. Obviously, Auto-Tune can't do polyphonic audio, so if a guitar or piano note in a chord is out of tune I correct that with Melodyne.
Demi Lovato's vocals were made to sound more gritty using Avid's Smack! compressor and the XLN RC-20 saturation plug-in."We also have Avid's Smack! on Demi's lead vocal. Normally the Waves CL76 is a go-to in-the-box compressor for me, but Smack still gets me an effect that's most like an outboard compressor. It is really good at detecting pops, and de-essing in a very light way. When I have the vocal on the desk, it will go through my outboard compressor, and sometimes also desk compression. I will err on the side of caution because I know that it will be irreversible by the time I go in the box. When I am in the box and want to hear the vocals really right up front, I will put on Smack! on a more extreme setting, in this case an attack of 5.9 and a ratio of 6:1. The main lead vocal tracks have sends to the two reverb and delay aux tracks lower down the session, where you can see that I completely cut the reverbs and delay in a couple of places, which is a DJ trick: filtering a whole mix in and out.
"ShaperBox is VST-only, so I use the Blue Cat PatchWork to get it to work with AAX in Pro Tools. I used the VolumeShaper in ShaperBox, which allows me to create a side-chaining effect without using a trigger. You can draw in the exact curve you want.""All Demi's chorus vocals are sent to the 'Demi Chorus Chops Group' track, on which I have the Waves Greg Wells VoiceCentric. Jack and I were wondering what to do to add some excitement to Demi's vocals, so we put the Greg Wells plug-in on, and found that it made it sound quite good. So whenever we felt a little unexcited during this mix session, we just reached for the GW plug-in and it made everything sound nice. We used the Greg Wells MixCentric on one of the Bollywood strings tracks. Demi's chorus group vocals also were treated with the ShaperBox. The mix is set to 37 percent, and it is just to add a little bounce to the vocals. When done in a subtle way, side-chaining on vocals really makes them feel as if they have a little bit more rhythm."
"As I mentioned earlier, at the bottom of the session are the drums, bass, instruments, and vocals subgroups, and these come up on channels 1-8 on the desk, where I can make further group level and group left/right balance adjustments. You can also see a small adjustment in the level of the vocal group in Pro Tools, where I raise them slightly towards the end. When the mix is completely finished, and I want to print the mix, I go to the SSL computer, with the old green screen and which is still saving mixes on floppies, and I save a total recall session of the desk with the eight faders used. That also stores the VCA 8 settings, which control the amount of SSL mix bus compression. When I print the final mix, I have every single channel muted, apart from channels 1 to 8 of course. I make sure to have no inserts, and no channel EQ or compression on the subgroup channels. It's also really important to not only mute all of the 40 unused channels at this stage, but also to send them all to the back bus of the Quad channel output on the SSL, because we discovered that otherwise each unused channel bleeds a tiny bit of noise onto the mix bus, even when muted.
"I print back into the main session. At the bottom of the session is the mix print track, which is marked '4.2'. In the old days, recalls would take two hours on an SSL so you didn't do them too often. But today there are endless requests for changes. By the time you have done all those minute changes, you can sometimes end up with more than 50 mix versions. If I look at a mix track, and it says 'mix 42' it starts looking really depressing to me. So I tend to go into decimal places, which is nicer for me to look at! So mix 4.2 is quite reassuring: we did it in four mixes. But in actual fact it was 42 times of going backwards and forwards and doing tiny little things."
The latter, obviously, is one of many strategies Ralph uses to humanise the digital world and the ways of working that it invites, just like mixing things up with analogue and musically with tons of different genres and sounds. The spice and variety that's the result of his way of working continues to take the world by storm…   
An unusual use for Valhalla's VintageVerb: Mark Ralph employed it on the bass.
"Yes, there is reverb on the bass!" says Mark Ralph. "Jack [Patterson] and I decided to add a short 0.3s plate from the Valhalla VintageVerb. It's on an aux track next to the bass track, and there's a send to that aux track, which is automated. There are some places in the track where it's just bass and drums, and adding some ambience to the bass in those places can work really well. This technique is used a lot in dance music. If it's done sparingly, reverb can add a little bit of depth and character to bass, without messing with the bottom end. The other thing you can do, although I did not do it in this track, is roll off the bottom end on the reverb return."
One reason why Mark Ralph evolved his hybrid approach to mixing is to take advantage of the mix bus compressor on his SSL console. "For me, it is a magic button. Many people use the digital equivalent — for example, there's one in Logic called Glue. Glue is a good way of describing what the SSL mix bus compressor does. When I am working, I like hearing things from the word go with the SSL mix bus compressor on. I always use the same setting: maximum ratio, medium release and attack — two clicks down from the minimum on each — and the threshold is also set to maximum, so it doesn't actually do any compression until you push the signal going in. The compressor itself is not a recallable aspect of the total recall, so everything on the desk is sent to VCA channel 8, which I use to push the compressor. It is like my input gain, and I never push it beyond about 3dB of gain reduction on the bus compressor.
"From years of experience, whenever I've mixed things on an SSL without having the compressor in as I mix and then putting it in at the end of the mix, there are always unintended consequences. It always destroys transients, and there's pumping, and so on. Whereas, when I mix with the SSL bus compressor in from the first moment, there are no surprises at the end. Everything is the way I want it. One of the great things that has drawn people to using SSL desks over the years is first of all the headroom that you get, meaning that you can drive it right into the red without hearing any noticeable distortion, and second the SSL bus compressor at the end of the chain, which is quite flattering to your sound and gives you more excitement and impact.
"So when I have completed the mix up to around 70 percent, and I am ready to print stems into Pro Tools, my engineer, Tom Fuller, takes out the bus compression and he then prints the stems. Otherwise we would get mix bus compression on every single stem. When the mix is in the computer, and all tracks are sent to the four auxiliary tracks at the bottom of the session, which come back up on the desk on channels 1 to 8, all set to unity, we put the mix bus compressor back in. What I hear should be identical to what I had when I had the mix spread out over the desk. We tested this, and it always is."
Received wisdom in the pop world is that the ideal song length is about 3:30, and Clean Bandit's 'Solo' is 3:42 long. However, as Mark Ralph opines, the question of song length is a fraught one for any modern producer. "The standard length of a pop song became three and a half minutes because that suited vinyl. When the 12-inch became popular, dance mixes lasted anywhere up to 10 minutes, because that is what you could fit on a 12-inch. Most people are aware of these restrictions, but not many people know about Spotify's rules, and their implications for music.
"For example, one Spotify rule is that if your song is not listened to for at least 30 seconds, you don't get paid. This is known as the skip rate. So you have to capture people for 30 seconds or more, or you don't earn! That has given rise to the very short intros that we are currently seeing, because musicians are being incentivised to try to capture people's attention for at least 30 seconds. At the other end, Spotify will also not pay anybody who makes a piece of music that is less than 90 seconds. So if your music is 89 seconds in length, you won't earn a penny, even if you are streamed 1 billion times.
"When I am making songs now, I follow certain criteria that I know work. I know that the short intro is going to help with the streaming skip rate, so I don't do long intros when I want to have a big Spotify hit. I also don't bother with long outros because they will cause fewer replays of the track. And if it is a pop song, the format will be very standardised. There'll be a beginning intro motif, a verse, a pre-chorus (which used to be called a bridge), a chorus plus post chorus, and then you go through the whole 32-bar cycle again, with each section being eight bars long. After that there's a diversion, some people call it the middle eight, so you take it somewhere else just to give a bit of respite, and finally there's another chorus.
"Every time I make a song I try to find a slightly different twist on this formula, at the very least not to get bored by always doing the same thing again. But already now, if you give a record company an eight-bar intro they go: 'Oh, the intro is too long, and it is too energetic at the beginning. That is not what works on Spotify! We want just a nice little stripped-down beginning with hardly anything in it, perhaps four bars, perhaps even two bars, and then we want the vocals to start, because we don't want people to skip.
"One way of preventing people skipping is to write a song that keeps you waiting for something. A good example is Gotye's 'Somebody That I Used To Know' which is a genius bit of songwriting and production. In general, by the time I get to the middle eight of a song, I don't want to hear the same thing again, I want to hear the same plus plus plus, and really end on a crescendo. I often do that in the music that I make, and it's done in 'Solo'. The coda at the end has the chorus over chords that haven't been used under the chorus previously in the song, so it's something you have not heard before, but it also does not go off on a complete tangent that confuses the listener. What is interesting, is that there has been a trend against doing that kind of thing. If you listen to some Drake records, for example, you are not getting much more in the last minute of the song than in the first minute. But it still works, and it still keeps the attention span, and this approach has become immensely popular.
"The other thing that informed our thinking was that the role of the album has changed. Instead of being the starting point of a campaign, or the central point of a campaign, as in the past, it has become the end of the campaign. You release several singles over a period of time, and once you get to about six singles you go: 'Oh, better release an album now.' So the album becomes an afterthought, almost, which is a bit sad, because the album used to be the central focus. So what we have done on this album is make a whole extra album on top of all the singles. This is why the deluxe version has 17 tracks. You will be getting a whole body of work in addition to all the hits you're already familiar with."