Secrets Of The Mix Engineers: Jacob 'Biz' Morris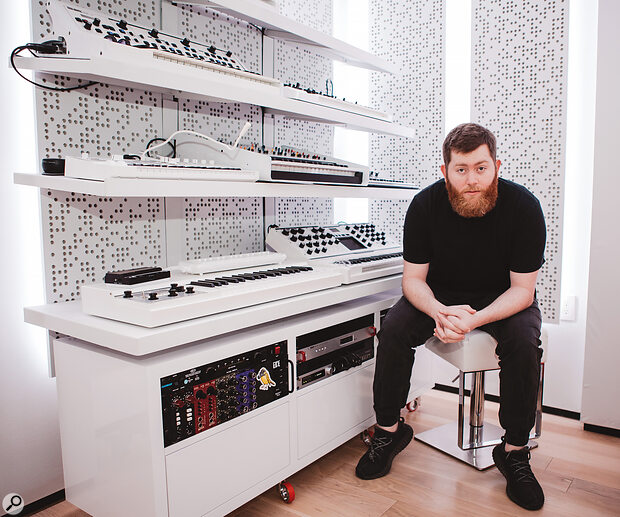 Jacob Morris. This photo was taken in the studio he helped build for artist David Crowder.
Today's TikTok‑driven music market demands authenticity, as Atlanta mixer Jacob Morris found when he mixed David Kushner's 'Daylight'.
While it's common knowledge that many new artists today break through via TikTok, few people seem to be aware of the scale of the changes the platform has brought to the music industry. For example, in 2020 alone, 70 artists that went viral on TikTok went on to sign deals with major labels.
TikTok has also greatly impacted music itself. It is the domain of short, home‑made videos, and an impromptu, amateur quality is often seen as an asset rather than a drawback. The fact that pop songs are becoming shorter and shorter is in part due to TikTok, and the question has been asked when the first 15‑second pop hit will be upon us. In addition, the amateur approach has begun to transfer to the music.
Artists now float bits of unfinished songs on TikTok to see if they get any traction, accompanied by what are called 'evergreen' pre‑saves, which allow artists to promote future music without a release date or even a song title. If and when these rough demos get traction, the imperfections of the demo often inform the end product.
American singer‑songwriter David Kushner is a case in point. Reportedly without having a music career in mind, he released the guitar song 'Miserable Man' on TikTok in January 2022. It went viral, and eventually became a major hit in many countries. The same happened, to a lesser degree, with his second single, 'Mr Forgettable'. Both songs sound like embellished guitar/vocal demos, and were created on Kushner's iPhone.
The two singles found their way onto Kushner's debut EP Footprints I Found, and by the end of 2022, he had amassed half a billion streams and close to one million followers on Spotify alone.
Earlier this year, Kushner dropped a snippet of a new demo on TikTok, and pushed it with the meme "You look happier; what happened." It went viral, and the rush was on to finish the track. Produced by Rob Kirwan, 'Daylight' was officially released on April 14th, and became Kushner's most successful release to date. By the time this article went to print, it was in its third week at number two on the UK charts, and had reached number one in several other countries.
'Daylight' makes a strong feature of its imperfections, with a piano part that has pedal sounds and other noises, and distortion on the vocal. When Atlanta mixer Jacob 'Biz' Morris received the song for mixdown last March, he initially tried to fix some of these artefacts, assuming they were mistakes.
"The second chorus gang vocals sounded really distorted. You can hear the room and the mic capsule distortion — he's really screaming in the thing. I did my best to clean it up, but received a mix note from David that said, 'No, no, let's keep it dirty.' That chorus is everything in that song, and he wanted it really dirty and vibey.
"I'm not on TikTok, so I had not heard the initial version of the song that had blown up on that, but when someone played it to me, I was like, 'Oh, now I know where he's trying to go.' It was really grungey. People had been listening to that on TikTok, so the final record had to match that. David wanted the record to fit the vibe that everyone had already heard.
"Because the song needed to be dirty, vibey and emotional, I stopped trying to clean things up, which would have taken the song too much into a pop direction. In fact, I dirtied up those vocals even more with the Soundtoys Decapitator. I also left all the extraneous noises on the piano. Once again, the rawness is what makes that song special."
Morris first started to work with Kushner earlier in 2023. "David's manager had been following me for a while, and reached out to me to do some work for another artist, and he then asked me whether I would master David's single 'Elk Grove'. David loved what I did, and when they knew 'Daylight' was coming, his manager told me they wanted me to mix the song."
It was an interesting choice, as Morris is better known for rap and pop music. He won two Grammy Awards, and was nominated while still at college, for his work with the Christian rapper Lecrae.
"I'm from Dallas, Texas, and always loved audio," remembers Morris, "and I was fascinated by how music was created. How the people behind the scenes got a good‑quality sound really interested me, and I knew from a young age that I wanted to be a recording engineer and a mixer. My mum was very supportive, and bought me gear, and by the time I was 14, I had an entire Pro Tools HD rig! I took it very serious, and went to the Conservatory of Recording Arts and Sciences (CRAS) in Phoenix."
It was while Morris was a student at the Conservatory that he had an engineering credit on Lecrae's album Rehab (2010), which was nominated for a Grammy Award for best Rock or Pop Gospel album. Morris also worked on Lecrae's Grammy‑winning Gravity album (2012), which also won a Dove Award, and there was another Grammy Award for Lecrae's single 'Messengers' (2014).
"It was kind of funny to be learning in school from teachers doing their thing while I was the one going to the Grammy Awards!" remarks Morris. "After school I initially returned to Dallas, but soon moved to Atlanta, in 2013, because of my connection with Lecrae and Reach Records. I've been working in the studios in their headquarters since then. I do a lot of work for the label, but today I'd say that 90 percent of my work is with artists from outside the label."
Morris' recent credits include David Crowder — he also collaborated with Gavin Haverstick and the artist to build Crowder's studio — as well as Social Club Misfits, Nobigdyl, Andy Mineo, Switchfoot, Lecrea, and many others. They are mostly Christian acts, something which presumably also fostered the connection with Kushner, who is vocal about his Christian faith.
Almost all Morris' work today consists of mixing and/or mastering, in both stereo and Atmos, in his room at Reach Records studios in Atlanta, with the help of several assistants, who use additional rooms. "I'm about 80 percent in the box," explains Morris, "and regularly use outboard gear. My favourite pieces of outboard at the moment are the Tube‑Tech CL‑1B [compressor] and the Neve 1073 [preamp and EQ]. If I feel a vocal is missing something, I will often send it through the Tube‑Tech and Neve, and I ran David Kushner's vocals through them. I also have a Burl converter, and I regularly route my kicks through a Drawmer MX40 gate. It can give you a tone and real punch. I also have the dbx 160 [compressor], and I had the Dangerous compressor for a while, but I just sold that.
"I love the tone outboard can give you, and I think it's a tone that you can't get in the box. I also enjoy being able to touch gear with my hands. Just using the mouse doesn't get my brain going, I don't get in that flow state. You have endless plug‑ins that have presets that you can just pick. You don't have to work at getting a tone any more. But with outboard gear you have to know how to use it to be able to get it to sound right.
"The other thing about outboard is that it forces you to make decisions. Just print it and commit. I don't even do recall sheets anymore. If something needs to be redone, I'll restart from scratch. I don't have a crazy...
You are reading one of the locked Subscribers-only articles from our latest 5 issues.
You've read 30% of this article for free, so to continue reading...
✅ Log in - if you have a Subscription you bought from SOS.
Buy & Download this Single Article in PDF format

£1.00 GBP

$1.49 USD


For less than the price of a coffee, buy now and immediately download to your computer or smartphone.

Buy & Download the FULL ISSUE PDF
Our 'full SOS magazine' for smartphone/tablet/computer. More info...

RECORDING TECHNOLOGY: Basics & Beyond
Claim your FREE 170-page digital publication
from the makers of Sound On Sound — CLICK HERE