When you make recordings designed to show off your hi-fi systems, they had better be good! It's no accident that Philip Hobbs of Linn is one of the UK's leading classical engineers and producers.
Photo: John McBride
This year marks the fortieth birthday of one of the biggest names in hi-fi. Founded in 1973 by Ivor Tiefenbrun, Linn made their name with the Sondek LP12 turntable, a design so successful it is still in production today. Innovation and research have always been central to Linn's growth, and for the last few years they have put a lot of work into developing high-quality networked digital audio systems for the home.
The rise of streaming digital media has also meant a larger role for another department of the company. Linn Records have built a formidable reputation for their catalogue of audiophile recordings of jazz and classical music under the leadership of Philip Hobbs, who over the last 25 years has divided his time between record production and R&D. "I've been in the hugely fortunate position of being allowed to leapfrog between recording and loudspeaker design. It's nice to be able to go from one thing to the other and not get jaded with either!"
The assembled Consort, with leader John Butt at the harpsichord, facing away from camera. This photo clearly shows both the central Decca Tree of Neumann M150s and the Sennheiser MKH800 Twins serving as outriggers on either side.
Hobbs arrived at Linn in the early '80s, when the label was in embryo. "In those days there were only about 22 people, and we only made half a dozen products. The defining product was the Linn Sondek, which had several critical design features that made it perform better than pretty much anything else. When we looked at the cutting lathes of the time, it seemed pretty clear that we would get an improvement in quality by applying these same ideas. So we got an old Scully lathe, completely rebuilt the bearing and made it belt-drive with a very low-noise motor. That reduced the rumble recorded on to disc enormously. Then we did some highly innovative work on FET switching for radius compensation and some rather nice power-amplifier designs to drive the cutter head.
"All of that worked very well, and the LPs we cut sounded really good. However, we had a very purist approach, and we didn't have any of the necessary tools to do commercial cutting, such as good mono-isers or compressors or EQ. So providing you gave us 18 minutes of string quartet with the 'cello in the middle, we were absolutely fine! We did cut some rock records, but it was a laborious process, as all the depth and land adjustment was done manually, so it could take seven or eight attempts to get a side that was loud enough without groove crashes. Our location made the logistics difficult, because we had to send everything to London to get it plated.
"After a while, it became clear that this wasn't going to be commercially viable, but we learned a huge amount, and a lot of the technology ended up being put to good use in the electronics of our hi-fi products. It also put us in touch with some local recording engineers, most importantly Calum Malcolm, a wonderful engineer and dear friend, who owned Castle Sound Studios. Calum sent us an early single from a band called the Blue Nile, and we got so excited by it that we paid for them to record their first two albums for us, which we released as Linn Records, distributed via Virgin.
"However, in the end they didn't work out particularly well for us from a financial point of view, and the company lost its taste for the pop market. A couple of years later, I had finished a cycle of loudspeaker development and wanted to get back into recording. Linn has always been a place where people can go where their enthusiasm leads them, so I was encouraged to set up a label based on my own natural interests in classical and jazz, and that's how the business has progressed ever since.
John Butt is Professor of Music at Glasgow University, and one of the world's leading Bach scholars."We've always been completely committed to the highest possible recording quality, so we've been recording at better-than-CD quality for many years. Then, in 2007, we decided to build a web site which would enable us to sell our original 'Studio Master' files directly to the public. This has proved hugely successful and has transformed our business. Around the same time, Linn Products launched its range of DS players, and one of the key benefits of these DS players is that they can play these Studio Master files. So there is now a far closer link between Linn Products and Linn Records than there has been for years, which is great, but we are very aware that many Linn Product customers aren't natural classical buffs. So we are starting to work with a few contemporary artists again: we've just signed an amazing young Australian singer/songwriter called Emily Barker — she wrote the theme music to Wallander — and her album will be out in June this year. We're actively on the lookout for more."
Period instruments employed on the St John Passion recording included this fine harpsichord, a close recreation of Bach's own instrument.
When we meet, Philip Hobbs is producing and engineering a recording of Bach's St John Passion by the Dunedin Consort, in Edinburgh's beautiful 17th Century Greyfriars Kirk. Under the leadership of leading Bach scholar John Butt, the goal of period reconstruction is being pursued to its logical end, with the Passion presented not in isolation, but in its proper role as part of a larger Easter ritual.
"We thought it would be interesting to try to show it in its proper historical context. People wouldn't turn up and just hear this: there would be some organ music, some hymns, and a sermon, which we won't put on the record but we will put on the web site, so that people can hear the whole thing as a shape. The actual Passion music, if you like, is just part of this bigger thing.
"At every church Bach worked at, he had to do something like this each Good Friday. Sometimes he cut and pasted what he had already done, sometimes he wrote different things, and the music around it changed every year. The version of the actual Passion setting is what we think Bach would have done in 1739, but there are lots of variants.
"For the past two days we've been doing the main Bach Passion music, and then tomorrow we start doing organ music and things with the congregation and another choir — so we've actually got, effectively, three different groups of singers, plus the soloists, plus the orchestra. And of course we won't really hear how it works until we get the thing finished, because there's no actual opportunity to perform it from one end to the other. It's an interesting project, and the total recording time is just three days!"
This photo shows some of the spot mics employed by Philip Hobbs, including two Neumann U87s — one each for the two altos and two sopranos — and a M149 used for the male solo voices (right).
For those of us who are used to modern presentations of Bach's choral works, it's surprising to discover the scale of this authentic recreation. "We've got what we think was Bach's original size of forces," says Philip. "It's quite a small orchestra: two violins per part, a single 'cello and viola, a single bass, a single bassoon on the bass line [doubling the bass], two oboes, two flutes, an organ and a harpsichord. They're playing as authentically as modern scholarship allows, so they've got a different weight and shape of bow, the strings are gut rather than steel, and there's very little vibrato. The same with the oboes and flutes: they're all exact copies of the surviving original instruments.
"For the Passion setting, there's no choir as such. There are four soloists and four 'ripienists', who join the soloists for the choruses, so for the choruses there are eight singers in total. And we're fairly sure that's what Bach had for many of his performances. Most people are still used to hearing it being done by a chorus of 100 or whatever, so it's quite a different thing, and of course it does mean that the quality of the singers is absolutely paramount. There's nowhere for them to hide, and they have to carry the entire line essentially on their own. This is particularly true for the tenor, Nicholas Mulroy, who has to tell the entire Passion story in recitative, as well as sing his arias and all the choruses: it's an extraordinarily long sing."
So important is it to protect their singers that Hobbs and Butt have chosen to tackle the various sections of the Passion in a sequence that is perhaps not ideal in other respects. "From a recording point of view it would perhaps be ideal to start with the big choruses, so you can set all your levels, and get the focus of it. But if you have the same eight singers ploughing their way through all the choruses on the first day, they'd be vocally exhausted the following day when they would be recording arias and recitatives, so we have to try and do the smaller, more delicate stuff earlier in the process."
The aim of the recording as a whole was to present an authentic performance of the St John Passion in its liturgical context. The ancillary material required a larger chorus to act as a congregation.
The period instrumentation poses its own challenges, too. "One of the interesting things about working with this sort of orchestra is that it doesn't balance in the way that you'd necessarily expect it to. You expect, with this sort of thing, that you'd have large violin sections and the winds and so forth would be colour on top — but in fact there are as many wind players as there are string players in this, so the violins have a completely different role and a completely different texture to what you would expect. You expect it to have a sort of symphonic feel, but in fact it's much more 'chamber'."
Although Hobbs and Butt plan to record the ancillary preludes using the Greyfriars Kirk's magnificent Peter Collins organ, this would overwhelm the rest of the orchestra, so the keyboard parts for the Passion are instead being doubled by "a very good modern copy of Bach's harpsichord" and a small portable pipe organ. "Tuning these things is a full-time job, because the instruments' tuning will drift with time as the temperature changes, and of course a harpsichord and an organ will drift differently. The keyboards are tuned to a modified version of fourth-comma mean tone, so none of the notes are the same as they would be in modern equal temperament. Having two people playing essentially the same continuo part on different keyboard instruments at the same time makes the problem more complicated, because you'll quite often find that although they were perfectly in tune with each other at the beginning of the session, after an hour or so a few notes may have drifted between the two keyboards. Rather than stop the session to re-tune — with the clock ticking — the normal course of action is to point out the offending notes and get the two players to avoid playing them at the same time.
Great attention was paid to tuning the period instruments. This is the small pipe organ that was used to double the harpsichord for the St John Passion.
"You do end up with some unusual problems trying to do this sort of thing. The best guess for the original pitch for this music — based on surviving instruments from the time — is 415Hz for an 'A', so that's been the pitch we're using for the main part of this recording. But of course the main Greyfriars organ is tuned at 440Hz, so John Butt has spent the last fortnight learning these really intricate chorale preludes down a semitone so that they'll fit in context! I spent about two days trying to find a technical way of doing this for him, but with organ music, pitch-changing in software while trying to keep the tempo the same just sounds dreadful."
Those who associate 'audiophile' recording with a minimalist or purist approach to stereo microphone technique might be shocked to see the forest of stands that surrounds the Consort. "There are far too many microphones here!" admits Philip with a grin. "If you were given a soprano and lute and you've got all day to set levels to a stereo pair, then nothing is more lovely — but in a project like this, where you've got three days and somebody's spent the best part of £70,000 on assembling the people, there is just not time to rely solely on moving people to get a balance. This is an extremely reverberant building, and while it is really easy to get a beautiful, mellifluous sound in here, this performance is about the visceral drama of the Passion story and it is really vital that this comes through, so sometimes some spot miking is really useful. Also, and particularly in such a reverberant space, the most important thing is that the musicians can hear each other well, and you have to have the flexibility to allow them to move where they can hear to best advantage."
As he explains, the intention is always to capture the music as accurately as possible using a single array, with spots and outriggers used mainly to accommodate the unexpected. "There are so often situations in this sort of music, with the texture changing every four or five minutes, where trying to solve a balance problem by moving people will not only take too long, but will be too disruptive to the running of the session — the musicians will then need time to adjust to their new positions. In the end, very few of these spots will be used — for instance, almost none of the close string spots will end up in the final production except, perhaps, in the choruses."
The main array Philip Hobbs is using with the Consort is a Decca Tree of Neumann TLM150 omnidirectional valve microphones. "They're very quiet, very clean. They're slightly aggressive unless they are quite high, even more so than the TLM50, but they have a real 'glow' and I keep coming back to them. For a long time, for bigger classical things, I've alternated between those and the Sennheiser MKH800s, which are completely different, but depending on the room and the context, I find they can both produce great results."
Even with the help of spot mics, Philip finds it necessary to adjust the height of his main array, depending on the dynamics of the various sections of the music. "You'd assume that the tree would be basically static on a project like this, but with the scale of the music changing radically from one movement to the next — from a solo aria with just a couple of flutes and soprano, to a full chorus — quite often you find you're having to move the tree, particularly in a room like this. The room is very live, and is not really linear: as the volume goes up, the amount of reverberation seems to build as well, so you need to find ways of taming it. You have to be really quite pragmatic, and say 'Well, this might have been what I started with, but it doesn't necessarily work for the next thing that comes along,' and build in enough flexibility to deal with it.
"John directs from the harpsichord, so it has to be in the middle, right under the tree. So it's a challenge to stop the whole project sounding like a harpsichord concerto. We take the lid off the instrument, but put a bit of board over the middle of the soundboard just to get rid of some of the immediate 'ping' of the sound, so it sounds present enough but nicely diffuse. They're quite hard to spot-mic, harpsichords. They're either too close or too far away!"
Although the Neumanns have got the central role on this job, Philip's MKH800s are earning their keep: one pair as wide flanking mics to capture ambience, and a second pair pre-rigged for later parts of the recording that will feature a larger chorus acting as 'congregation'. The MKH800 Twin is a dual-capsule mic, like all multi-pattern capacitor mics, but, unlike most, allows the output of both capsules to be recorded separately, so that the user can manipulate the polar pattern after the event. "Being able to take a couple of dB off the back capsule so that it's not quite an omni is a tremendous luxury in post-production. For instance, during the recitative sections where there's a lot of rapid text, something close to a sub-cardioid is ideal, since this greatly reduces the sound from the back of the church, while during the choral sections you can turn up the back capsule again to get a bit more bloom around the sound.
"The MKH800s are the most extraordinary 'Marmite microphone' ever. Sometimes you put them up and think 'That sounds dreadful!' and other times they're exactly right. They seem to have amazing 'reach', so you put them on an orchestra and you really don't need much else. The thing I've found quite interesting is that they do seem to work quite well as outriggers to the TLM150 tree, which you would think is absolutely counter-intuitive. They'll give you scale, but they don't get in the way. My other choice as main pair is a pair of Sanken CU100Ks, the 100kHz omni mics: they're astonishing on piano, and I'll use them on main organ for the solos here. They can sound great as an AB pair on an orchestra, with incredible detail, but they pick up too much room in here to be useful. Intriguingly, the Sankens are absolutely useless as an ambience pair, as they're incredibly distracting! They just draw your attention away, so you can't use them in that application. They don't actually sound bright, but whatever they're doing high up, they seem to get a lot more detail, and it gets in the way."
As for the spot mics, "There are four spots for the singers. Because the vocal group is so small, it's nice to be able to have a mic per part. The are two [Neumann] U87s for the soprano and alto, and two [Neumann] M149s for tenor and bass. The tenor's M149 ends up as the main solo spot, and for the recitatives, the two main roles are on the 149s." Most of the instrumental spot mics are Schoeps MK21 or MK41s, with a couple of DPA 4011s and a Neumann TLM170 on the double-bass.
All of Philip's mics run into remote-controlled mic preamps and A-D converters, which are connected to the impromptu control room by a single MADI cable. "We've got 16 channels of DAD AX24 running optically through to a Sequoia DAW, and we're recording at 192kHz.
"The DAD is a lovely design. The converters themselves are fantastic, but the mic amp is brilliant: it's amazing how the simplest ideas are missed. Somebody at DAD worked out that the input voltage onto an A-D chip is about half a Volt, which is not that much more than comes out of a microphone. So, essentially, rather than doing what we've traditionally done, which is to take a microphone signal, put it in a mic amp to apply 40dB of gain to get it up to line level, take it out of one box and into another box, and drop it by about 30dB to get it into the A-D converter — they've got rid of all of that, so the mic-amp stage in these DAD boxes is only applying about 12dB of gain to the input signal. The amount of gain you're adding and the length of the signal path are vastly smaller than you would normally have. In this line of work, you're very rarely looking for colour: you're looking for as much clarity and as much openness as you can get, and I've not found anything that sounds like these.
"It's also great to be able to save and recall all the gain settings instantly. I'll have to reconstruct this setup in two months' time to record some of the recitatives for this project, so it's pretty important that they match. We'll have to map the mic heights and positions by hand, but at least the gains will be right immediately, and that greatly reduces the uncertainty when we're auditioning back and forth between today's recording and the one we'll make in two months, to check that the mic positions are identical."
Digital audio transmission and talkback are all handled by a pair of Mayah MAD4 MADI controllers. "It's basically a DirectOut 'Producer.com', but Mayah very briefly thought that they might have a go at selling it, and I bought the two that they sold, and then they gave up on it! It's the most extraordinarily useful box. You get two MADI ports back and forth, two phone lines, analogue out for talkback, snoop mic in, and a headphone output. So I've got one of these at either end, and it runs all the comms for the RS422 for the DADs as well. So it's quite elegant in terms of setup: it's just one optical cable."
Philip records to a PC running Magix's Sequoia: "It sounds clean and it's very easy to operate. The mixer works well, and one of the major advantages is that you can get a session up and running very fast."
The only outboard employed on the session is a Bricasti reverb, which is new to Philip's setup. "I tend not to use much artificial reverb on sessions, but I'm just playing with it to see if it's any use. It's a very good reverb, actually. There's not really been time here to experiment with it in detail, but it's nice to have, and I'm recording a bit of it just to see whether it's useful at the mix. It's just basically the vocal spot mics that we've been sending to it, it sometimes makes them sit a bit better. In such a big space as this, it's not always necessary, but it depends on the voice and the texture. In post-production, if we need to use anything, we'll either use the Bricasti or the Sonnox Oxford Reverb, which I think is fabulous."
Once the session is under way, it quickly becomes apparent how much skill and experience is involved in this sort of classical production. Philip, his assistant Robert Cammidge, and German language expert Margarethe Macpherson are all following the score bar-by-bar, making notes. They can't afford to keep the musicians waiting while they listen back to takes, so judgements as to what is good enough and what needs to be retaken have to be made on the fly. "If there's a skill in this work at all, it's being able to communicate what needs to be done back to the musicians quickly and efficiently. There's never, ever time to go back and listen to something again. You have to be able to do it there and then. If you can't give them an answer as soon as the light goes off, you've missed the point."
It's a skill that requires a separate control room with reasonable isolation from the recording area, so that they can listen on monitor speakers. "I find working in headphones really hard for this sort of thing. I find my sense of pitch is different on headphones."
The makeshift 'control room', with Philip Hobbs' own prototype Linn monitor speakers at rear.
In the Greyfriars Kirk, the only available space is a small room at one end of the church. It's oddly shaped, dark and cold, with less than perfect acoustics, but Philip is used to far worse. "This is not an ideal control room, as you can imagine, but it's pretty typical of where we end up doing this sort of work. Even in major concert halls, it's quite unusual to have a proper, dedicated sound room with any degree of treatment. I do quite a lot of work in the Usher Hall, and they're very helpful there, but the only useful control space has mirrors down both sides of a long, rectangular room!"
With impressive efficiency and tact worthy of a diplomat ("You end up with 105 different euphemisms for 'flat'!"), Philip coaxes the singers through the material on schedule, and even in the cramped and boxy 'control room', it's obvious that we are hearing a very fine recording of some exceptional musicians. Just before we went to press, the disc was named CD of the Month by both Gramophone and the BBC Music magazine. Until time travel is invented, it is perhaps the closest we can yet come to experiencing the genius of JS Bach in its original context. And thanks to the wonders of hi-fi, it can be enjoyed all year round, not only at Easter!   
As you'd expect of a loudspeaker designer, Philip Hobbs monitors on a pair of speakers he designed himself. However, these are not hi-fi speakers but reference monitors, relics of a short-lived attempt by Linn to move into the studio market. "We built some prototype professional monitors using the same technology that we used for our high-end active hi-fi loudspeakers, and there are three or four pairs still in active use — Tchad Blake still has a pair, and for the last Peter Gabriel album, they were on the blower to see if they could borrow another pair. We also dabbled with an A-D converter in the middle '80s."
Further studio-oriented products have not been forthcoming, sadly, and Philip says that the main reason for this is that it would require Linn to enter a different world of product support. "It's a completely different support and sales structure to hi-fi. In professional audio, people expect a virtually instantaneous response."
Even if they end up not being needed, one of the benefits of spot mics in a multitrack recording context is that they enable balance questions to be deferred to the mix stage. As Philip Hobbs explains, this can help to defuse tensions on the session.
"It makes such a difference, being able to record to multitrack. I'm old enough to be of that generation of classical engineers where for the first 10 years most things were done to DAT, or at least to some other form of stereo, like Genex. And it's such a liberation to be able to reflect on things after the event. It also takes the heat out of a lot of situations, particularly where you've got soloists and an orchestra. We have delightful soloists on this project, and they're very much part of a consort arrangement, so there are no great egos involved anywhere — but sometimes, people come in, and if their first reaction is 'I'm not loud enough' or, very occasionally, 'I'm too loud', it can be very difficult to get them to focus on anything else. The fact that you can instantly adjust or preferably move the discussion to after the session is hugely beneficial."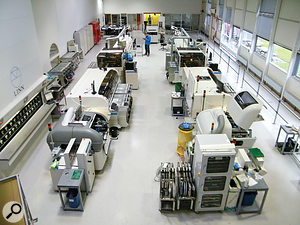 Linn's factory is located in a beautiful setting in the hills above Glasgow, and is an impressive showcase for hi-tech manufacturing. There's even a fully automated warehousing and shipping system, complete with robot forklifts trundling about the factory floor!