Cockos Reaper Tips & Techniques
Before your test plug-in, insert this JS: Channel Polarity Control plug-in and then change its Polarity Mode to 'Invert Both' as shown here.
Why not use Reaper to find out what difference your 'character' plug-ins are really making?
Ever since I first reviewed version one of Reaper, way back in SOS June 2007, this DAW's versatility has continued to surprise me. Recently, I was struggling to optimise the settings of a soft clipper plug-in in an attempt to remove the spiky attack transients from a bass line without adversely impacting on the overall character of the bass sound. It occurred to me that it would be useful if the clipper would let me hear what audio was being removed, rather than what was left. Such a 'delta' function in most noise-reduction plug-ins allows you to hear/preview/monitor what you're removing and it's really useful! With that in mind, I wondered if there was a way to do the same with my clipper in Reaper, and it turns out that there is...
In this article I'll tell you how you can do it, making use of Reaper's ability to add extra audio channels to an existing track, and using some of the bundled Jesusonic plug-ins. I'll also explain how to use the same technique to perform other useful tasks in your project, such as isolating the 'mojo' from analogue-style plug-ins (so you can understand precisely what they're adding), exploring the phase differences between different types of EQ plug-in, and hearing just how much each element of a complex effects chain modifies audio passing through it, so you can tweak each stage to perfection.
To preview how a plug-in changes the incoming audio, you subtract its input signal from its output signal to leave you with the difference between the two. And the easiest way I've found to do that is to create a 'source bypass' tool for your plug-in (the 'Device Under Test', or 'DUT', as it's known in engineering circles). This involves three steps.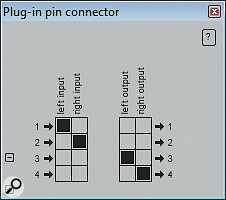 The routing of the Polarity Control should be increased to four channels, and then modified as shown here to send the inverted input signal to channels 3+4.First, instantiate a 'JS: Channel Polarity Control' plug-in in the slot before your DUT and change its Polarity Mode from the default 'Normal' to 'Invert Both' — this just inverts the polarity of the incoming signal. Then, click on this polarity-inverter plug-in's routing box (labelled '2 in 2 out' by default) to open its 'Plug-in pin connector' window. Click on the '+' at the bottom left to increase the channel count of this Reaper track (and thus the plug-in) from two to four. Click to remove the two output connections to channels 1+2, and to create outputs to channels 3+4 (see screenshot).
Finally, insert a 'JS: 8x Stereo to 1s Stereo Mixer' plug-in immediately after your DUT, to mix the polarity-inverted input signal on channels 3+4 with the DUT output signal on channels 1+2. When the polarity inverter is active, you'll hear the difference, and when it's bypassed, you'll only hear the signal as processed by the DUT.
If, like me, you're likely to require this Jesusonic duo often, right-click on the name of either plug-in in Reaper's 'Track Insert FX strip, select the 'Show FX chain' option, right-click on one of the displayed effects in your chain and select the 'FX chains/Select all FX as chain' option. Then you can quickly load in your pre-configured chain at any time by selecting the 'Add FX chain' option in the usual 'Add FX' dialogue box. Wanting to make my on-screen labelling even clearer, I used Reaper's 'Rename FX option' to change the names of the two Jesusonic plug-ins to 'DELTA PRE' and 'DELTA POST' before saving the FX Chain, so it's obvious what function the pair is performing each time you load them.
Once you have your 'before and after' plug-ins in place, you can double-check that everything's correct by bypassing the plug-in under test (shift-click on its name, or if its GUI is visible, just untick the box at top-right). Since you're then mixing the input signal and its polarity-inverted version (which cancel out completely) you should hear complete silence, and the level meters should read '-inf'.
With your DUT plug-in back in circuit, check to see if you need to tweak its output level to achieve the best 'null', preferably using the input/output level controls in the DUT, but if it doesn't have one you can tweak the Level 1+2 slider in the 'JS: 8s Stereo to 1s Stereo' plug-in (hold down the Ctrl/Cmd key if you need finer control). Many plug-ins won't need any null tweaking, but some do increase the output level slightly by default, presumably to make them seem more impressive than they are (louder always sounds better, right?). So this is your chance to perform level-matched A/B testing.
Delta Nulling. If your test plug-in boosts output level to sound more 'impressive' just tweak this Level 1+2 fader until you get the best null.
Once you've achieved the best null, you can shift-click the 'JS: Channel Polarity' plug-in ('DELTA PRE') to bypass the entire delta effects chain at any time. When this is out of the way, you can still shift-click the DUT plug-in to hear its in/out effect, now in the full confidence that there are no level changes skewing your perception.
Many plug-ins won't need any null tweaking, but some increase the output level slightly by default to make them seem more impressive than they are.
Although I initially set up my Reaper delta effects chain so I could hear just the information being removed by my soft clipper, you can use it to add a delta-preview function to any plug-in. For instance, I've found it really useful when adjusting gates, because it allows you to hear only the low-level material such as background hum/hiss that won't pass through the gate; if you hear the wanted signal, your settings are too aggressive.
It's also the perfect tool for investigating the effects of any 'mojo' plug-ins, such as those that emulate tape, preamps, transformers or other console-related modelling. Once you've achieved the best level-matching it can be surprising just how little some plug-ins actually change the audio, even if they're faithfully modelling the hardware circuitry. Their euphonic effects also tend to be very level-sensitive, so hearing only the difference signal can greatly help you adjust the various mojo parameters to achieve the sound you're after. If you've not been able to hear any difference previously, it may simply be because you're not driving them hard enough. With transformers, you should ideally hear just low-order bass-end harmonics being added (perhaps just second and third harmonics below 100Hz), while with preamps both the frequency response and harmonic structure could well be altered.
When listening to your minimised difference signal, don't get distracted if it sounds distorted, since this may be exactly the desired effect. After all, 'mojo' is often all about euphonic distortion — get your ears attuned to the difference, and then switch the channel polarity plug-in out of circuit so you hear the DUT output by itself. By switching the DUT in and out, you should be able to hear the change in context, and be better able to judge whether it's audible in your project, or if it adds too little or too much.
As a result of this test, I've retired various mojo plug-ins because they're ineffective for my styles of music — some are just too subtle, while others are way over the top, and only those that offer an easily controllable range between the two extremes remain. (Note, though, that some mojo plug-ins are designed to be added en masse to your mix for a more cumulative effect, and if the individual delta is tiny it may be intentional!)
Delta previews are also a handy way to hear exactly what EQs and filters are doing. Why automatically slap a 30Hz infrasonic filter onto your tracks (as so many people do) when you can instead hear how much low end you're actually removing — or, indeed, whether you need to remove any low end at all? With linear-phase EQs, the frequency content you're changing will be easy to hear, whereas with minimum-phase EQs the delta signal will reveal that the effects occur over a wider frequency range than you might suspect, due to the phase changes created across the spectrum.
But you'll probably also find delta signals most revealing when using them to examine compressors; you can hear how they alter the envelope of your sound as you change the parameters.
Another application of this trick is to create a send from anywhere in your plug-in chain. Normally, Reaper offers send options of 'Post-Fader (Post-Pan)', 'Pre-Fader (Post-FX)', and 'Pre-FX'. To tap the signal from elsewhere in the chain, insert 'JS: Channel Polarity Control' (this time in 'Normal' Mode) at the desired 'tap' point, increase the channel count from 2 to 4, and send the Polarity Control output to channels 3/4 as before.
Create a 'Pre-Fader (Post-FX)' send from this track to your destination track in the usual way (click the track's Routing button or drag from the track's send slot and drop on the destination track) and change the Audio Source from channels 1-2 to 3-4. The send will now be tapped from where you inserted the JS plug-in. Or if you prefer, you can use ReaEQ in place of the Polarity Control plug-in to do the same thing — and that will allow you to filter your send signal at source!
Effects Tap. This is suitable channel routing for a versatile Effects Tap that can be added anywhere in your plug-in chain to be sent to another track.