The Practical Craft Of Recording
Here you can see the recording layout for the main band, comprising drum kit, upright bass, piano and sax. The singers and other instrumentalists were isolated in separate rooms.Photo: Daniel Plappert
Working with a band for the first time can be exciting, but a second session provides the opportunity to deliver even better results.
Back in 2015, I wrote a short series of articles about recording, mixing, and mastering a couple of CDs by the band Spektakulatius. The tracking process was fast-moving and a lot of fun, so I was delighted when they recently asked me to get involved in creating their latest seasonal album About Christmas. Of course, one of the great advantages of repeat clients is not having to start with a blank slate at the planning stage, so in this article I'd like to focus on how I updated my recording methods with the benefit of hindsight.
The challenges were much the same as we'd faced before, in that we were building the entire tracking setup on location at a venue I'd never visited before, namely the theatre of a local music school. We had three days to record 14 songs, all in different styles with different band line-ups. The group's four instrumentalists were joined by four singers alternating lead and backing roles, often during the same song, and we wanted to acoustically isolate those vocalists so we could later comp and edit their performances freely between takes.
As before, the need for speed dictated that we record the whole band simultaneously wherever possible, so I chose to capture the four main instrumentalists (sax/clarinet, piano/keyboards, bass, and drum kit) as an ensemble on stage in the theatre auditorium, with the four singers isolated in a separate rehearsal room on the floor above. Previously, I'd brought quieter instruments such as acoustic guitar into my impromptu control room with me to record those without spill, but that had forced me to refine the control-room performer's mic positioning while monitoring over headphones, which never feels very dependable to me. So I resolved this time to find another room I could press into service as an isolation booth for those instruments. Fortunately, adjacent to the theatre's backstage area (my control room in this instance) there was a small storage room that fit the bill nicely.
On the earlier session, my hardware recorder's input restrictions had required me to repatch and submix microphone signals. Since then, though, I'd upgraded to a laptop-based DAW system which effectively doubled my input count. This meant that I could give each mic, DI, or line signal its own exclusive recording input. In the end, I had eight mics on the drum kit; bass and electric guitar DI signals; stereo mic pairs for piano, accordion, acoustic guitar/mandolin, and percussion; a stereo keyboard line signal; and mono mics for upright bass, bass amp, guitar amp, sax/clarinet, flute, and each of the four vocalists. As a result, I could switch between recording different band line-ups very quickly per song, just by choosing which inputs I armed for recording. Mind you, this approach required a lot of mics, mic stands, preamps, and cables, so it was only by pooling resources that the band and I were able to make that happen. For preamps, I'd brought an Audient ASP008 and a Mackie 1642 VLZ3 mixer, and had borrowed a further Audient ASP880, while the band had provided their own Mackie Onyx 1640, giving us ample channels to work with.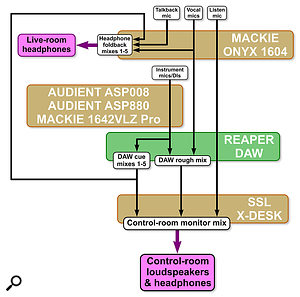 Mike generated six different monitor mixes for the session, incorporating talkback and listen mics and enabling easy auditioning of the different cue mixes from the control room.The foldback monitoring scheme built upon what we'd done before too. We'd previously got along fine with the instrumentalists sharing two mixes and the vocalists sharing another two, but now I had to add a fifth mix to serve the second isolation booth. I was happy to build cue mixes of all the instruments within the DAW, because I was fairly confident that the small latency involved wouldn't interfere with the musicians' ability to perform. With the vocals, however, I was keen to provide zero-latency analogue monitoring, because for some singers even tiny latency delays can adversely effect their pitching. So I preamplified the vocal mic signals through the Mackie Onyx, fed my DAW cue mixes through there too, and then used the analogue mixer's aux sends to feed each...
You are reading one of the locked Subscriber-only articles from our latest 5 issues.
You've read 20% of this article for free, so to continue reading...
Buy & Download this single article in PDF format

£1.00 GBP

$1.49 USD


For less than the price of a coffee, buy now and immediately download to your computer or smartphone.

Buy & Download the Full Issue PDF
Our 'replica SOS magazine' for smartphone/tablet/desktop. More info...