Christian Hellinger & Stephan Mauer
ADAM Audio's Berlin HQ incorporates state-of-the-art testing facilities which are used to ensure quality control.
How will producers hear music in years to come? As they celebrate their 20th birthday, ADAM Audio have ambitious plans for the next generation of studio monitors.
"We're not talking only about a speaker," says ADAM Audio's Christian Hellinger. "It's really a platform — with all these huge opportunities."
His colleague Stephan Mauer makes the same point: "In the end it's a platform, converting your audio signals to sound waves. In making that conversion process right and reliable, there's a lot to gain for the user."
They're talking about the value that can be added by digital signal processing. Already part of both ADAM's flagship S-series and their most affordable T-series monitors, it's something both regard as key to future development — even though some still see it as a sticking plaster to cover up a speaker's deficiencies. "That's a concern that I see a lot when talking to customers," agrees Stephan. "Some think that just because there's extensive means of correction available, we're using that to cheat, and would not care about the electro-acoustic tuning of the enclosure and the driver too much. But I can assure them that acoustics is still the strongest and the most looked-after discipline at ADAM Audio. You have to make sure the acoustic performance is right as a foundation. Then, you can look at exploiting the opportunities that DSP gives you.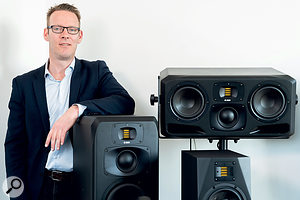 Christian Hellinger is ADAM Audio's CEO."With a small entry-level speaker or budget speaker, you have more compromise. The DSP helps finding these compromises, without adding cost per correction. If you have an analogue circuit, and find that there is, for example, an irregularity in the crossover region of one driver, where it's actually supposed to roll off smoothly, but it's still contributing too much in this certain band, you think, 'I'd love to attenuate this peak.' In the analogue electronics, you would have to add a filter circuit, which adds cost, and also your electronics design may already be finished. With the DSP, we just add another band of EQ in the firmware, and we have it done.
"Nowadays, usually drivers are the bottleneck of a speaker's performance, not the electronics. It's the drivers that can benefit from any improvement, and anything you can shave off [the cost of] the electronics while not compromising the quality, you can invest on the other end."
One application for DSP is to compensate for the inevitable variations between individual speakers. In the...
You are reading one of the locked Subscriber-only articles from our latest 5 issues.
You've read 20% of this article for free, so to continue reading...
Buy & Download this single article in PDF format

£1.00 GBP

$1.49 USD


For less than the price of a coffee, buy now and immediately download to your computer or smartphone.

Buy & Download the Full Issue PDF
Our 'replica SOS magazine' for smartphone/tablet/desktop. More info...