The Audio Engineering Society returns to in-person U.S. Convention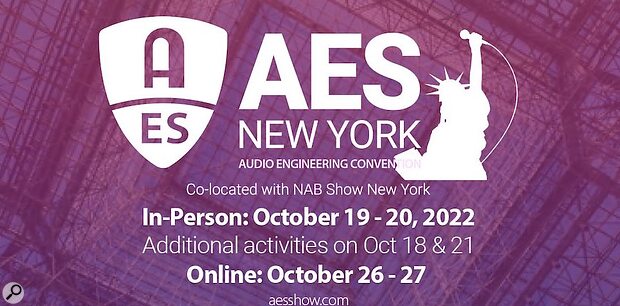 The Audio Engineering Society has announced that registration is now open for the AES New York 2022 Convention, which will be taking place at the Jacob Javits Center on October 19th - 20th 2022. Pre and post-show activities are planned on the 18th and 21st October, and the show will be followed by an online component on October 26th - 27th.
The eagerly anticipated return to the in-person AES Convention experience will feature a comprehensive selection of workshops, panels, training, demonstrations and research presentations. Student-focused sessions and inspirational events will take place as part of the AES Technical Program, as well as the exhibition floor being filled with the latest kit and offerings from the audio industry's top brands. This 153rd convention will once again be co-located with the NAB Show New York, with a shared exhibition floor offering even greater networking opportunities to the attendees of both events.
"While we've been delivering quality online events and will continue to take Convention content to a worldwide audience through an online component of the Fall Convention, there's just nothing that completely replaces gathering as a community and interacting face-to-face," says AES New York 2022 Convention Chair Jonathan Wyner. "We're hard at work putting together a program that promises to educate and inspire. We hope you'll join us this October."
Several registration options are being offered: All Access or admission to all events and sessions, in-person and online; Online Only registration for exclusive access from nearly anywhere in the world, in real-time during October 26th and 27th, and for replay through to December 31st; and a free Exhibits+ option for access to the in-person exhibition floor and related sessions.
Pricing details can be found on the AES website, including information on the discounts available for AES Members and AES Student Members.
https://aesshow.com/