Separates dialogue and background noise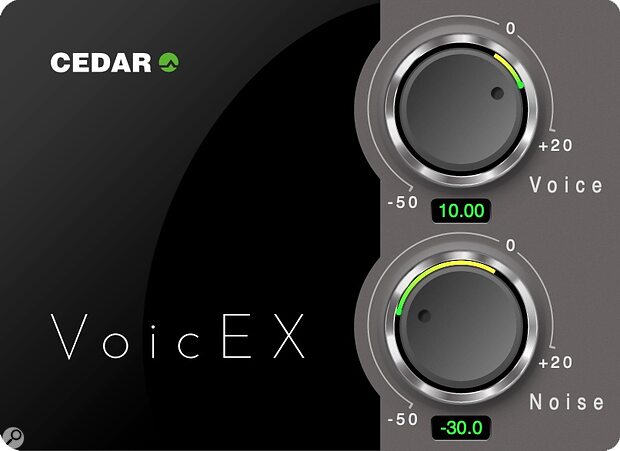 CEDAR Audio have announced that VoicEX Voice Extractor, the software that was recently added to their Cambridge processing platform, is now available as a plug-in.
VoicEX is powered by the company's AI-based DNN (deep neural network) technologies, which they began developing to improve the performance of their existing noise reduction range. Although they were sure the results would offer a noticeable improvement, they say they didn't quite realise how significant it would be, and are confident that the processor sets a new standard for real-time noise reduction.
Rather than attempting to gauge the noise level at each frequency and suppress it, the plug-in uses a neural network algorithm which has been trained to identify voices to create two separate audio streams, one containing just the voice, and the other containing everything else. The approach makes the plug-in very simple to use, with only two controls present: Voice and Noise. As you might expect, the first makes it possible to set the level of the wanted speech, and the second can be used to reduce or remove noise and excessive reverberation.
If you'd like to hear the plug-in in action, there is an audio demo available on the CEDAR Audio website.
Compatibility
CEDAR VoiceEX is supported on PCs running Windows 10 and above, and Macs running macOS 10.13 or higher. VST2.4, VST3, AU, AAX and AudioSuite plug-in versions are available. Authorisation is taken care of by PACE's iLok system, and requires a physical dongle.
Pricing & Availability
CEDAR VoicEX is available now, with pricing available through authorised dealers.
https://www.cedar-audio.com/products/voicex/voicex.shtml