New plug-in lets you manipulate audio in strange new ways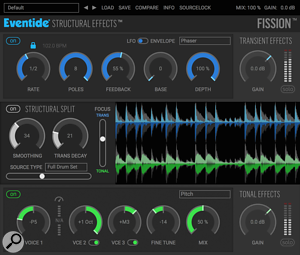 Industry veterans Eventide have released a brand new plug-in called Fission — a unique multi-effects processor designed for mixing and sound design and is being hailed as the first in a new line based around the company's Structural Effects technology. In essence, this technology is able to split the incoming audio into its tonal and transient components which can then be processed separately before being recombined. So, for example, rather than treating the whole signal with delay and reverb, you might choose to highlight the transients with a delay while treating the tonal portion with some smooth and spacious reverb. In the centre of the plug-in's GUI, there are controls to fine-tune the split, including a range of algorithms designed for different sources, and a waveform display that shows the transient portion in blue and the tonal portion in green. Above and below this central panel are controls for the separate effects, each of which can be soloed or bypassed. It's an intriguing concept and we look forward to seeing what other uses Eventide can dream up for their Structural Effects technology. 
The plug-in is out now at a discounted introductory price of $97, rising to $179 thereafter.
We had a demo at the NAMM show. Check it out here:
https://www.eventideaudio.com/products/plugins/structural-effect/fission