Offers subtle enhancement of tracks and buses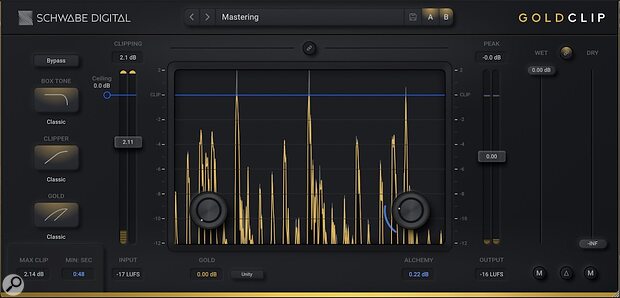 Gold Clip is the first plug-in to be developed by Grammy-nominated mixing and mastering engineer Ryan Schwabe, working under the name Schwabe Digital. Offering a combination of clipping, compression, saturation, peak contour processing and more, the versatile plug-in can be employed for mixing and mastering tasks, as well as being used as a creative effect at the production stage.
Gold Clip is divided into three main processing sections: Clipper, Gold and Alchemy. The first section has been designed to carefully emulate the effect of overloading two popular mastering converters, with Modern, Classic and Hard settings offering three differing sonic options. A Clip Ceiling parameter determines the level at which the signal begins to clip, and by default is set at 0dBFS. The value can be reduced manually, allowing the section to be used to process signals that sit at a lower level — when working on individual tracks, for example.
Gold then recreates the saturation processing of those same converters. It applies compression, although it does so by applying gain reduction during a sample-by-sample analysis of the clipped signal, a method which is said to leave peaks and transients largely untouched and offer results that don't exhibit the attack and release artefacts associated with many traditional compressors. The amount of processing applied can be controlled by a rotary dial to the left of the plug-in's central display, and Unity Gain button automatically reduces Gold Clip's output to compensate for the processing, helping to avoid users being misled by an increase in level whilst auditioning their settings.
Alchemy applies some peak contour processing to mid- and high-frequency content whilst leaving the signal below the peaks untouched. As it only treating the loudest elements of a signal, the effect is said to be very subtle, with a similar sound to the high-frequency saturation introduced by recording to analogue tape. The section's overall processing level can be adjusted using a control at the right of the central display.
A Box Tone section provides a linear phase EQ which emulates the high-frequency contour of the Modern and Classic converter models featured in the Clipper section, but will only affect signals above 1kHz. Three modes are included: Flat, Modern and Classic, although they are all extremely subtle due to the original converter design aiming to be as neutral as possible.
Gold Clip is equipped with a input and output metering which provides a visual indication of the signal level throughout the plug-in, as well as a detailed waveform display which occupies the centre of the GUI, and users are able to adjust both the input and output levels to maintain a consistent gain structure. Wet and Dry level controls are provided for instant parallel processing, both of which can be muted for auditioning purposes, and a Delta monitoring mode reverses the polarity of the output and allows users to monitor the difference signal in order to assess the impact of the processing.
Compatibility
Gold Clip is supported on PCs running Windows 10 or 11, and Macs running macOS 10.13 and higher. It offers native support for Apple Silicon processors. VST3, AU and AAX plug-in versions are available.
Pricing & Availability
Gold Clip is available now, and is being offered at an introductory price of $199 until 12 July 2023, after which the price will increase to $249.
https://www.schwabedigital.com/