Four-voice analogue synth to debut at NAMM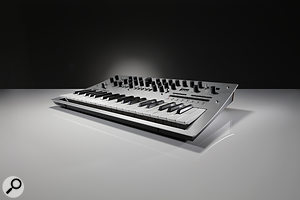 After a few leaks earlier this week, it is now being widely reported that Korg will be launching a brand new $500 analogue synthesizer going by the name of Minilogue.
This last year has seen notable mini-key synths released by both Roland and Yamaha, and it would certainly be interesting to know what Korg have made of these moves by their fellow big beasts of the synth world. After all, it was Korg who arguably laid the groundwork for the format with the phenomenally successful Microkorg way back in 2003, before demonstrating the public's appetite for portable, battery-powered fun with the Volca range. But while their rivals have been reviving some of their past glories in mini synth form, Korg seem to have been working on something new.
The Minilogue is a fully programmable four-voice polyphonic synthesizer and while it is still very compact, this is clearly a different kind of proposition. It's analogue, not digital, for a start, while the stylishly curved and sandblasted aluminium panel and wooden backplate make a very grown-up first impression. The pots are chassis-mounted for roadworthy-ness and the rubber-coated knobs aim to provide both good grip and tactile appeal. The synth's four voices can be configured in numerous ways, from mono, poly, duophonic and unison modes to a one-note-chords mode. There are two oscillators with saw, triangle and square waveforms, a resonant filter with two- and four-pole modes, two envelopes, an LFO and a built-in delay. On top of this, the Minilogue boasts a 16-step polyphonic note and motion sequencer, plus an arpeggiator. At the rear, an audio input raises the prospect of processing external audio. It sits alongside main and headphone outputs, sync and MIDI ins and outs and a USB port. One final feature is among the most interesting – a mini OLED display that, as well as showing preset and parameter information, can act as a real-time oscilloscope, giving an instant visual representation of the sound being created.
Korg are pitching the Minilogue as a synth that's easy for beginners to understand and get to grips with, but which has enough going on to keep experienced synth heads hooked. 
We will be taking a closer look at the new Minilogue synth at NAMM next week, so keep your eyes peeled for more info and sound demos.
http://www.korg.com/us/products/synthesizers/minilogue/