Fourth-gen models boast extended LF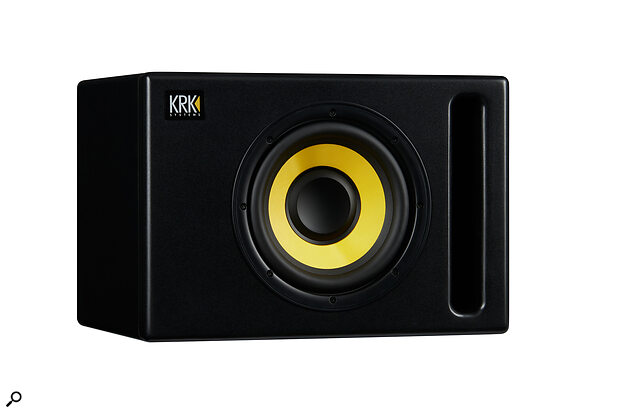 Always looking to improve their monitors, in 2019 KRK upgraded their Rokit range of nearfield monitors to 'fourth-gen' status. Today they've introduced a matching range of subwoofers, available in three different sizes. The S8.4, S10.4 and S12.4 sport 8-, 10- and 12-inch woofers, respectively, and are all powered by Class-D amps.
For this new generation of subs, KRK have moved away from the standard 'cube' format and gone for a slightly shallower but also wider cabinet. Overall cabinet volume remains the same, but the new geometry is said to increase placement flexibility. The front-facing port slots have also apparently been refined, to improved phase linearity and reduce turbulence, and their position along the edge, rather than along the bottom as on previous KRK subwoofers, also yields an extended LF response.
Four crossover frequency options (at 50, 60, 70 and 80 Hz) should make the new S-series easy to integrate into any nearfield setup, as should the polarity invert switch, while a footswitch jack, which disengages the sub and bypasses the crossover, will allow you to instantly compare standard stereo and 2.1-speaker playback.
The new KRK subs are due to become available around the middle of March, at street prices of $349, $449 and $799, for the 8-, 10- and 10-inch versions, respectively.
In other KRK monitoring news, we understand that the company plan on upgrading their closed-back KNS 8400 headphones soon too, improving not only their sound but also their build quality and comfort. Their affordable Classic range is also set to gain some new variants in the Spring — we'll bring you more news of these developments closer to the time.
https://www.krkmusic.com/