Free public music & pro audio trade show returns June 23-24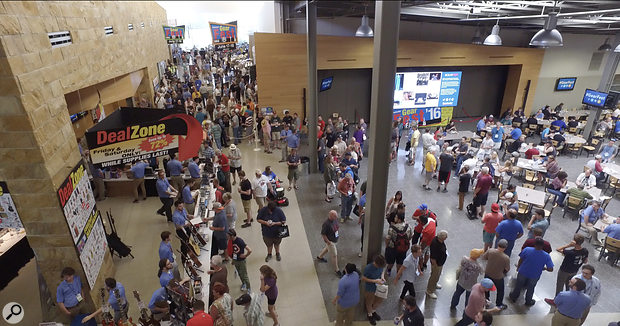 GearFest attracts huge crowds wanting to snag great music instrument and pro audio deals
Online music retail giants Sweetwater present GearFest '17, the largest music trade show open to the public in the USA. The two-day event combines a gear expo, entertainment events, a musicians' flea market, and musical demonstrations, with seminars and workshops by some huge names including Eric Johnson, Dweezil Zappa and producers Chuck Ainlay, Chris Lord-Alge and Al Schmitt.
There will be over 400 product lines on show, including the newest instruments, music technology, and audio equipment, all on display in dozens of tents and several semi-trailers. With so many manufacturers on-site, attendees can enjoy one-on-one time with master guitar luthiers, drum builders, microphone designers, acoustic engineers and many more, test drive cutting-edge audio equipment and instruments, and gain valuable technical and musical insights.
GearFest has also become synonymous with great deals, so wallets may be in for a punishing. If you're all maxed out already, there's also a huge programme of seminars and performances. 
Guitar legend Eric Johnson will be headlining Gearfest. Keeping the production contingent happy will be Sweetwater's Mitch Gallagher who is moderating a 'Producer's Panel' featuring Chuck Ainlay, Chris Lord-Alge, Al Schmitt, Fab Dupont, and Neal Cappellino. The programme also includes 'Take your Studio to the Next Level' – strategies for improving and upgrading the gear in your studio; and 'Build the Perfect Pedalboard" – how to select pedals and a pedalboard, design the layout, and assemble the pedalboard for maximum performance.
Attendees will also experience Sweetwater's own Music Store, one of the largest music instrument and audio gear stores in the Midwest, with the largest on-site inventory of any music store in the country. You can also feast your eyes and ears on the Keith Emerson Moog 81-module synth which will also be on display.
Sweetwater's recently completed outdoor pavilion will be the venue for product demonstrations over both days, with Friday's finale being a workshop/performance by Dweezil Zappa at 5 PM. A party for all attendees will follow, including a concert by Sweetwater's house band, the Sweetwater All Stars, joined by special guests.
Special GearFest features include hourly giveaway drawings for free gear totaling more than $50,000. Attendees can bring a guitar for a free restringing and setup, enjoy great food from Sweetwater's Downbeat Diner, and the Crescendo Café, featuring coffee drinks and the best ice cream and treats in the region. A generous selection of the region's most popular food trucks will also be on site.
A musicians' flea market, where used equipment can be bought, sold, or traded is open to all. To pre-register to participate in the flea market, call (260) 432-8176.
GearFest '17 taking place Friday 23 June and Saturday 24 June from 9am to 6pm at the Sweetwater campus, 5501 US Hwy 30 W, Fort Wayne, Indiana. GearFest is free and open to the public.
The entire schedule of events is available online at: https://www.sweetwater.com/gearfest/workshops/
To speed up the registration process at the festival, you can pre-register online; visit: https://www.sweetwater.com/gearfest/register/