Saturday 10th - Sunday 11th October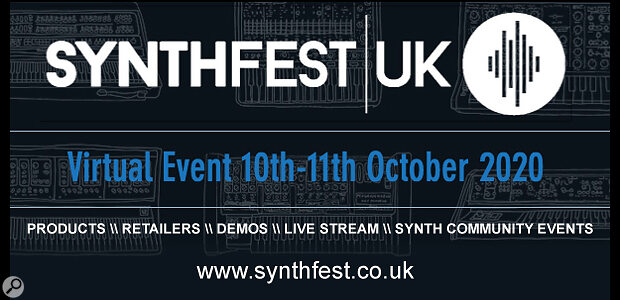 SynthFest UK 2020 - Virtual Event
The pandemic stopped the physical event taking place so we have created a Virtual Event to mark the day and we've extended it across the whole weekend!
Saturday 10th - Sunday 11th October
5 great reasons to visit the Virtual Event Portal
Manufacturer Products
Retailers
Demo Videos
LIVE Streaming Chat Show
Synth Community Fringe Events
Hours of things to explore and watch -- and gear to buy!
LIVE Stream on YouTube hosted by Jamie Morden - Sat 2pm - 10pm
Interviews - Chat - SynthFest UK Portal highlights - Music and more!
The show will be available to watch on-demand from Sunday onwards.
SFUK Virtual is a 'self-service' event where you can explore the SynthFest UK website as a 'showcase' portal linking to many destinations.
Tour the site and check out the Manufacturer Products, visit the Retailer section and click through to the many Special Offer prices. Watch the Demo videos, many being launched on the day. Visit the Synth Community Fringe Events page for a timetable of YouTube shows put together by synth enthusiasts featuring Performances, Tutorials, Chat and more.
If you have a SynthFest UK T-Shirt from previous years, why not dress the part and get into the spirit, post your photos and comments on social media. See the site for Twitter and Facebook page links and use #synthfestuk and #synthfest
The event goes live online at 10am Saturday 10th October.
The Retailers offers page closes at 10am Monday 12th October. 
SynthFest UK is a Sound On Sound event in partnership with the Sheffield Sensoria Festival.