Raft of new products from TC
The really big news from TC Electronic at NAMM was that the Danish company were in the advanced stage of talks to merge with guitar giants Gibson, with a completion date due sometime this month. It's too early to say how this will affect the product line or TC's independence at this stage, so we won't speculate further!
On the product front, TC launched two new guitar pedals, the Nova Modulator and Nova Dynamics. Nova Modulator combines all existing TC modulation effects with two brand-new effects to offer chorus, a new tri-chorus, flanger, a new through-zero flanger, phaser, tremolo, and an upgraded vibrato. Its dual-engine design allows combination effects to be configured.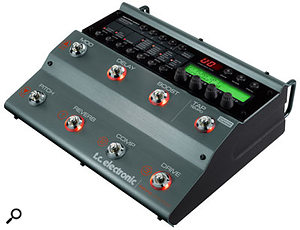 Nova Dynamics features studio and stomp compression modes (the latter of which is more aggressive), as well as a noise gate. A dry blend feature enables the user to mix in the dry signal along with the compressed signal for parallel compression effects.
Falling somewhere between the pedals and the high-end G-System, TC's new Nova System floor-based unit (left) comes with programmable analogue distortion and overdrive, augmented by TC's usual array of high-quality digital effects. Nova System incorporates six effects blocks taken from the G-System: compression, EQ, noise gate, modulation, pitch, delay and reverb, all programmable and storable in 60 user presets alongside the 30 factory presets.
The Konnekt 6 (right) joins TC Electronic's existing Firewire audio interfaces and includes a zero-latency monitoring control section, a tracking reverb and a three-mode high-resolution meter. The unit handles two simultaneous analogue inputs, one of which is an XLR input featuring TC's IMPACT mic preamp. There are two quarter-inch instrument-level inputs and two monitor outputs, as well as a stereo headphone out.
Powercore fans might be interested to know that Powercore X8 is also now shipping and features eight DSP engines, doubling up on the processing power of the original Powercore Firewire. Powercore X8 ships with 14 plug-ins as well as Powercore 3.0 system software and a $500 plug-in voucher that can be used as part payment for further effects.
At the NAMM show TC also took the opportunity to announce their Loudness Radar Meter Plug-ins for Pro Tools HD. These plug-ins display statistical information according to the ITU-R BS1770 standard to show instant loudness and loudness history. In the radar view, LM5 displays real-time loudness (LU or LFS) and true peak level. LM5D is an extended version of LM5 and includes two long-term universal descriptors: centre of gravity and consistency.

TC Electronic UK
+44 (0)800 917 8926
www.tcelectronic.com