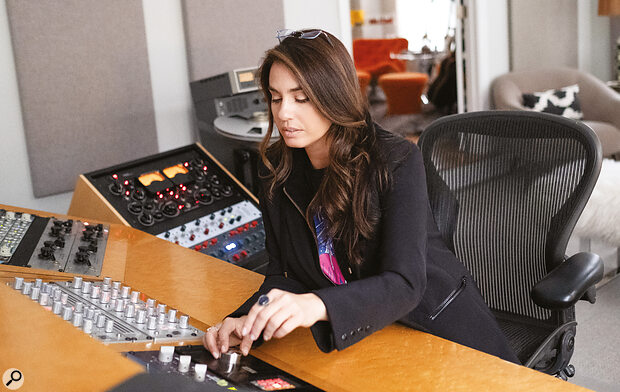 Photo: Charlie Gross
With a record three Album of the Year nominations at this year's Grammy Awards, mastering engineer Emily Lazar is at the forefront of her profession.
"I guess you could say I was born to be a mastering engineer," laughs Emily Lazar.
"I grew up in a very musical house. My mom was a guitar teacher and she taught from home, so I had that great opportunity of sitting in on all of her lessons. And then my dad was very interested in finding cool recordings and having interesting equipment. I have vivid memories of him throwing a pair of amazing headphones on me and saying, 'Oh, listen to the bass in this recording. This is cool.' Just even listening to specific instruments, I think, is a way of listening that most people don't come to until later, when they're really delving into music and finding themselves."
Like many people who work in studios, though, Lazar's first experiences of the music business came as an artist and songwriter. "I was that kind of demanding artist that all of the artists that I work with are. I never was satisfied with recordings of my band, and it never really sounded like what I thought it should sound like in my head. And so I was always looking for this way to decode the things that I was hearing inside my head into the actual finished product. And mastering was the ultimate moment for making that happen.
"I had worked as an engineer doing recording and mixing, and I had done a little bit of mastering on the side by myself. But, at that time, it was very much a mysterious dark art. You felt like you really only got the keys to the castle if you were able to understand what the signal flow was, what they were using, how it happened, how it all went down. So the things that I had done prior to actually being in a proper mastering facility were really me guessing and being creative.
"When I was getting my master's at NYU, I started working at Sony Classical. And so I had a lot of classical training with the engineers there, which was really great because no artists are pickier sticklers about their tone and their sound and making sure that they're being true to their music than classical artists. And so that was wonderful but intense training. I worked there when I was the graduate fellow at NYU and that job was my graduate internship. I was lucky to be there under the guidance of David Smith and then after that, I worked at a large NY Mastering house specifically with engineer Greg Calbi. After that, I started my own studio in downtown NY called The Lodge."
Most aspects of audio engineering have a technical and an artistic dimension. Mastering is sometimes seen as being at the technical end of this spectrum, but Emily Lazar happily uses the word 'creative' to describe her work. "If you work with a mastering engineer who's simply transferring from one medium to another, then that's what it is. Sometimes I think it requires a bit more to cross the finish line. And I think, as the technology has changed, there's certainly a lot more opportunity to be helpful when people require it. When something comes in and it's perfect, it's my favourite day ever and I am happy to transfer it from one medium to another. But I would say those favourite days are pretty rare.
Mastering is sometimes seen as being at the technical end of this spectrum, but Emily Lazar happily uses the word 'creative' to describe her work.
"Sometimes it goes both ways. For example, if I'm hearing something, I'll give someone an additional option. I'll say, 'Hey, this is your mix with me taking it to the best that I can in keeping it really close to the original, and here's where I think you could go if we did these few tweaks.'...
You are reading one of the locked Subscriber-only articles from our latest 5 issues.
You've read 20% of this article for free, so to continue reading...
Buy & Download this Single Article in PDF format

£1.00 GBP

$1.49 USD


For less than the price of a coffee, buy now and immediately download to your computer or smartphone.

Buy & Download the Full Issue PDF
Our 'full SOS magazine' for smartphone/tablet/computer. More info...