From Baroness, R. Kelly, Explosions In The Sky to St. Vincent, Swans and Xiu Xiu
In this scene from John Congleton's Elmwood Recording, Australian band Something For Kate are behind the control‑room glass.
Producer and engineer John Congleton has worked on anything and everything — the more unfamiliar, the better!
Although 2014 is still only halfway through, 37‑year old Texan engineer, producer and studio owner John Congleton has already chalked up an incredibly impressive array of album credits this year alone. And, as ever, they cover a wide range of different music genres. Versatile pop‑rock multi‑instrumentalist St. Vincent, experimental noiseniks Swans, garage indie‑rock band Cloud Nothings and avant garde troupe Xiu Xiu are just a few of the acts to have benefitted from Congleton's Midas studio touch during the past 12 months.
Since he began engineering almost 20 years ago, John has intentionally maintained a diverse clientele. There can't be many other producers whose CVs encompass Baroness, Explosions In The Sky, the Roots, Amanda Palmer, Anthony & the Johnsons, Clap Your Hands Say Yeah, Bono and R. Kelly.
"I'm a music fan, you know what I mean?" explains Congleton. "I love music, but to narrow that down to one style is sort of hellish as an idea to me. For example, I love heavy music, but I would go fucking nuts just working on that. Doing just one style of music would make me very, very unhappy, and I probably would work a lot less if that was the case. So, I constantly work on new things. Let's say two projects come to me and one of them sounds exactly like something I've done before or is heavily influenced by something I've done before, and then the other is completely out of bounds to what I've done before: I will almost always pick the thing that I'm less familiar with. I know I'm going to bring my A‑game as a guarantee. I'm going to be hyper‑vigilant because it'll be something that's a little bit mysterious to me, and I've got to figure out what it's all about. I'm going to have to listen to more music to understand the artist, and that's just super‑duper fun to me. That's what keeps me interested."
John Congleton can pinpoint the exact moment when he decided to embark on a career in the studio. As a young teenager, John was playing in a local punk rock band called Curvejob, and they'd booked some session time at a local Dallas recording facility. "I might have been 14 or 15, and we went in to record our first demo and, of course, this was back in the days when people didn't have Pro Tools in their dorm room, and making a demo tape was actually kind of a feat. We recorded with this guy, Sam McCall, who was in a band called Brutal Juice that I was a big fan of when I was a kid, and it just came instantaneously... that first time I was able to come back into the control room and hear the music being played off the multitrack. That, to me, was just this total, utter Zen moment of, like, 'Oh, this is what I want to do!' It's actually probably the only piece of magic I've ever witnessed in my life. You know, I had absolutely no idea what I really wanted to do with my life, pretty much like any typical 15‑year‑old. But that one day, everything totally changed and I walked out of there and decided that's what I was going to do and I essentially never deviated from that goal. Within two years, I was already recording bands."
The budding teenage engineer picked up some invaluable skills while interning in various Dallas studios and in the course of studying jazz composition at the University Of North Texas. "I got a job at a recording studio at the college," explains Congleton. "My first job was to make sure that people didn't steal stuff out of the studio! But the second thing I was required to do was to record a recital every week. Everybody in the music department showed up to these concerts sponsored by the school, and the idea was 'musical enrichment'. You came and heard a style of music that was possibly foreign to you, like all these different types of world music. I was essentially asked to multitrack all of those concerts for archiving. I would have 30 minutes to assess what the concert was and figure out how to record it and get a sound, all while people were filing into the concert hall. It was great, because there were so many instruments that I'd never even been in the same room with, like harpsichords and sitars, yet I was expected to record them immediately and do it flawlessly. And I had to set up really quickly, so I really got my chops down about working really fast. That's one of those things I still carry with me to this day: just get an inspiring, workable sound quickly, and get to work!"
His choice of university subject, too, was guided by his eventual goal of becoming a producer. "I don't listen to jazz any more than any other type of music," explains John. "But I was fascinated with jazz at the time, because it was something that I didn't totally understand, and the harmonic vocabulary of that music was so rich and so amazing and so complex that I knew it was something that I could learn a lot about. I guess the goal I had in my head was that I didn't ever want an excuse for not being able to communicate a musical idea. Now, somebody can hand me a sheet of music and I can read that sheet of music. I can communicate with somebody who's very intellectual, music‑wise, and I can also communicate with a punk rock band that doesn't even know the names of the strings on their guitar. That's so important in the studio. Almost nothing else matters. I just wanted to have an arsenal of tools to help me communicate with people."
After two years at university, John felt he'd had enough, so he dropped out of his course and jumped on a plane to Chicago, where he ended up learning from one of his all‑time musical heroes. "I moved to Chicago because I liked Chicago and I liked a lot of the music that was coming out of the city," explains Congleton. "And then I met Steve Albini, whose records I loved. He helped me a lot in my early days, when I was hanging around Electrical Audio [Albini's Chicago facility]. He's just such a genius when it comes to getting sounds and making a band sound like a band without getting in the way. I got a real understanding of signal flow and all the gear and phase and EQ and all those sort of things that I think a lot of younger dudes nowadays don't really know that much about. I kind of feel like I was on the last helicopter off the island or something, learning about how to make a record on tape! And I've kept all that with me to this very day. Essentially, that's still where I hang my hat and I still use those tools all the time. I might be making records that are more adventurous or more heavily manipulated than the ones Steve makes, or the kind of things I was doing back then at Electrical Audio, but I will always lean on good, old‑fashioned engineering techniques."
Steve Albini, famously, does not like to be considered a producer, and his uncompromising hands‑on approach certainly rubbed off on John Congleton. "Understanding his aesthetics and understanding how he treats the band extremely squarely was very valuable for me at such a young age," says John. "It's like he's not really steering the ship. Steve is there to do a job, and he's there to do it very respectfully. I came to producing strictly from an engineering background. A lot of people at the stage I'm at in my career would hire an engineer and have them do the engineering while they just sort of sit there and listen... but I absolutely don't do that! I've never done a record like that in my life. If you hire me to produce your record, I'm engineering it, I'm sitting at the console and I'm doing everything. I can't delineate the idea of being a producer and being an engineer, because it's always about the way it sounds. What else is it, if it isn't about the way it sounds? Being behind the board engineering keeps me in a situation where I'm there with the band. I'm equal with the band and we're doing this together. I'm moving the microphones, I'm talking to the guitar player about his guitar tone and I'm talking to them about the nuances of what they do that makes them special or different. I have, obviously, engineered projects with other producers, but they can miss a lot of the important stuff because they're just sort of somewhere else. They're missing that bond, which I think is crucial. It's all about trust."
After his key stint working at Electrical Audio, Congleton duly returned to Dallas and got a job at Irving's Dallas Sound Lab, then the biggest recording studio in Texas. It was during the two years spent at this now sadly defunct facility that John really developed his taste for mixing up musical projects. "It was a great experience being a staff engineer there, because I met so many great people and got to work on so many strange jobs that I never in a million years would have ever worked on," explains Congleton. "One day, I would come in and record Barney the dinosaur, and the next day I would be recording some metal band circa 1983. And then the very next day I'd be assisting on an R&B session. There were also people that I'm still in close contact with who heavily affected the way I make records now. I assisted Tim Kimsey on a lot of records. He's fantastic and was known as a metal engineer back in the day. He did a lot of King Diamond records and Pantera and the kind of stuff that I really had never listened to. We did a lot of records together where I was assisting him or engineering for him while he was producing, and I learned a lot of great stuff that I never would have been open to because it wasn't necessarily a style of music I was interested in. I also worked a lot with Chris Godbey, who I'm still friends with today. He's gone on to do really great things and is Timbaland's go‑to guy now."
Congleton was only 22 years old when he left Dallas Sound Lab in order to go it alone as a freelance engineer, but he didn't find his new self‑employed status easy to begin with. "Due to the economy of the studio that I was working in, I was more or less forced into going freelance, which was a little scary, but I've been freelance ever since," he explains. "It was tough‑going there for a while and I don't think I really ever got asked to legitimately produce anything until about the age of 25. It just seemed like the next chapter for me. I was like, 'Oh, maybe I can be a producer. Maybe, I can take it to the next step. Maybe this'll be interesting.' From 25 to 30, I was doing some engineering and some producing, and from 30 I've been mostly producing. I also do a lot of mixing for records now too."
Between 1998 and 2009, John Congleton's own band, the Paper Chase — in which he played guitar and sang as well as writing the majority of the group's material — released five albums. Their debut Young Bodies Heal Quickly, You Know, released in 2000, gave John a long‑awaited opportunity to really let rip experimentally in the studio. It's a very adventurous record in every sense of the word, as indeed were the Paper Chase's following four long players.
"I produced the Paper Chase only really in the capacity that I was kind of the main guy in the band and we didn't have any money and so couldn't really afford to hire a proper producer," says John. "I think I was 23 or maybe younger when we made Young Bodies Heal Quickly... and what you're hearing on that is essentially somebody who had all these ideas about things he wanted to try on recordings but couldn't do on other people's records. It was just like, 'Oh, what happens if we take the drums and do this to them?' There just wasn't a lot of experimentation that I could do back in those days [with other artists]. A lot of what I did probably weren't great ideas, but I got them out of my system at least. For me, it was like, 'I'm just going to destroy the sound as much as possible! I'm going to try everything I can that I've always wanted to try. Maybe it'll be terrible but maybe it'll be cool!'
"One of the most wildly creative records I've ever heard would be The Downward Spiral by Nine Inch Nails. On that record, I hear a bunch of dudes hanging out in the studio and just endlessly fucking with things until they found a sound that was inspiring or new or challenging to them. And I guess, in some extremely minimal dopey way, that was what I was trying to do."
Two albums that John believes represent significant milestones in his career as a producer/engineer are To Everybody by eclectic melodic Chicago outfit 90 Day Men, which came out in 2002, and 2003's The Earth Is Not A Cold Dead Place by symphonic instrumental post‑rock quartet Explosions In The Sky.
"Those records had a sound and an approach that I think a lot of people weren't doing, so they got a lot of attention, and they helped the dominoes start to fall for me as a producer," explains Congleton. "90 Day Men were a band from Chicago, who were really great, but I think they have long since been forgotten by many people. Working with Explosions In The Sky on The Earth Is Not A Cold Dead Place changed my life in some ways, because that was one of the first records I was really known for, where people flipped the record around and saw who recorded it. A lot of people started to call me after that saying, 'Come make a record with me,' so I really owe those guys a lot for letting me be a part of what really is a timeless record in my opinion. But it has very little to do with me, frankly. Those guys had been touring their songs for a year already and they came in, set up their gear all in the same room and we recorded it in two days and we mixed it on the third day. So, essentially, when you put that record on, you're hearing it exactly the way it sounded to me in the control room as they played it. I was just the guy who was lucky enough to be there and record it. Maybe you can credit me for making an environment where they felt really free to make the music as emotional as possible but... I don't know. I think they're just a great band and I was really lucky to be there."
Since then, John has worked on two further Explosions In The Sky albums: All Of A Sudden I Miss Everyone (2007) and Take Care, Take Care, Take Care (2011). Each of these records has signified a further movement away from the all‑live recording of their first collaboration. "With Take Care there certainly was much more artistry and whatnot put into the recording," says John. "They wanted to make more of a layered record but, at the end of the day, it's still pretty minimal comparatively to most things I work on. It was a big step for them artistically. I Miss Everyone was sort of an intermediate record between those two. It was essentially still recorded live, but we did more overdubs and we tried putting on more layers of distortion on certain parts. All this stuff was a big deal to them, because their music is very precious and everything is very deliberate. I learned a lot working with those guys about treating music with reverence. Nothing should be disposable and, if it is even remotely disposable, you just cast it away. Get rid of it, because it's not even worth thinking about. Every note and every sound has to be drenched in meaning. It's very important to them that everything needs to mean something."
Some of Congleton's most successful records in recent years have been those he's made with Annie Clark aka St. Vincent.Actor (2009), Strange Mercy (2011), and St. Vincent (2014) were all co‑produced or produced by John. The pair share a love of musical adventure and experimentation, regularly pushing each other's boundaries when they're in the studio together.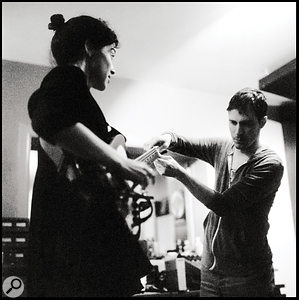 John Congleton's partnership with Annie Clark, aka St. Vincent, has been an outlet for many of his most experimental ideas.
"I'm very proud of everything that me and Annie have done," says Congleton. "She's a gem of a person and an amazing artist... and she is totally on the same page as me, in terms of wanting everything to sound different. She loves it whenever I destroy things, and a lot of that kind of stuff will end up on those records — like there are several songs on the St. Vincent record with mono drums with just one microphone, or one blend of the drums just completely manipulated. I'm very much into letting her be her, because she's amazing, and I would say that she probably extends that same courtesy to me. She's just like, 'Have fun! You listen to music every day and you're probably rarely impressed, so do something that will impress you!' We have a lot of fun making those records but, ultimately, it's got to cut the mustard for us. Not only does a song have to be great and the performance have to be great but, ultimately, the whole aesthetic has to be something that seems interesting to us, otherwise we scrap it... and we scrap many, many things."
Guitar recording is just one of many areas where John and Annie work like an experimental tag team. "We experiment with everything, and there's nothing that we won't try something weird with. Annie is a great guitar player and she gives a performance that's real easy to make sound great, but she also responds immediately to things that I do. A lot of the guitars that you hear on those records are just her sitting down with the guitar when we have no idea what she's going to play. But then I'll just start messing with some pedals. I'll just arbitrarily grab some pedals, then I'll arbitrarily plug into an amp and then I'll arbitrarily put a microphone somewhere near the amp and we just go for it. If she likes the tone, she'll respond and she'll play something. It's that symbiotic relationship."
Two other 2014 releases that reflect John Congleton's thirst for experimentation are To Be Kind by Swans and Angel Guts: Red Classroom by Xiu Xiu. "Working with Swans was a dream come true," says Congleton. "They were one of my favourite bands when I was a kid and I really enjoyed the experience. It was intense, it was taxing, it was all the things you would expect a Swans record to be but it was also super‑rewarding and I really do love it. I think it is absolutely, no bluff, hands‑down, in the top five of their best albums. What you have is two hours of the most intense, unrelenting Swans material... just absolute bombast. It's awesome because Michael Gira is a 60‑year‑old man and he's putting out music a billion times more ballsy than most 20‑year‑olds.
"I've known Jamie [Stewart, Xiu Xiu frontman] since maybe 2001 because we were on the same label together, Kill Rock Stars. It was such fun making this record with him. He sent me some very rough demos and we basically started with those, and then bulked the songs out. It was 'anything goes' all the way through, because Jamie is all about making adventurous music and he will not settle for less. That's exactly what I sign up for when I work with somebody like Xiu Xiu. So it was just no holds barred. The idea was to make an extremely unsettling record and that's just what we did. We just went for the most disturbing sounds we possibly could."
Before hanging up, we return to the theme of working fast, and I ask John how many artists he's worked with over the course of the last 12 months. So busy has he been that he has to go away and work it out. A few days later, he sends a list of over 20 names. That, ladies and gentlemen, is a truly impressive work rate. "I try to work really fast and I try not to over‑think things," he concludes. "I have no scientific method to making records. Every record is different, and I really embrace that, because it keeps me from getting bored. I have a lot of conversations with the artist beforehand. I'll ask them things like, 'What kind of record do you want to make? What kind of records do you like? What records by me do you like?' because that's always useful. 'What were you listening to when you wrote these songs? What do you want this record to feel like?' That all helps as shorthand for when we start recording. Then, I do whatever seems particularly appropriate during the sessions. I just go on my instincts and, if I'm wrong, I know I've already cultivated an environment where the artist doesn't feel nervous about saying, 'No, it's wrong. That's not what I want.' That symbiotic exchange of trust is important. I can say when something doesn't feel right, and they can say when something doesn't feel right, and then we can just figure it out together.
"Over‑thinking things is like the devil in making records, because you just drain the creativity out of it. It turns into content before you know it. It's not art any more, it's content. It's just sound without a purpose or meaning, you know, so I try to avoid that. All my favourite records sound pure, spontaneous and hungry, and they're the kind of records I want to make."
During his early freelance years, John Congleton started a studio with Chris Godbey in a Dallas house where they were both living at the time. After moving out, John put his impressive collection of vintage gear into storage until,
Elmwood Recording's Neve 53 desk was originally used for Saturday Night Live. seven years ago, the perfect opportunity arose to start another Dallas‑based recording facility. Elmwood Recording, where Congleton is still based, was born. "A friend of mine, Stuart Sikes — who I guess is most known for making that White Stripes record [White Blood Cells] and also Cat Power and Loretta Lynn — wanted to put a studio together," explains Congleton. "He had a building but he didn't have any gear, so I moved my gear in and we started a studio. Stuart decided to move to Austin a few years ago and that's when I took it over. It just made sense."
Roughly half of the records John engineers and produces now are laid down at Elmwood. "I'm really comfortable making records at my place, and it usually works out to be the most affordable way because studio overheads are basically only what I need to keep the place functional," says John. "If you come and work at this studio, you're most likely just going to be working with me because it's just a boutique studio for my projects."
Equipment‑wise, the most notable feature of John Congleton's Elmwood Recording facility is the Neve 53‑series console. "Stuart and I originally had an MCI console, and then we got rid of that and we got a Neotek console because we were both fans of Neotek, but then I decided I wanted something with more character. I had done a lot of records at a studio called Tiny Telephone [in San Francisco], which is run by John Vanderslice, who's a good friend of mine. He had a 53‑series and I worked on that console a lot and I really love the way it sounds. Compared to a [Neve] 80‑series — which is like the Rolls Royce of consoles — the 53 was one that I could actually (a) afford and (b) maintain. And so I immediately started looking for one and stumbled upon this one. It's got an interesting history. It was custom‑built for the BBC but it was never used by the BBC. It ended up being bought by NBC and it was used for Saturday Night Live in the early days, in the Belushi era. I like it because it's really silky and warm in the same way that an 80‑series is, but it's also faster‑sounding in the way that an API or a Flickinger is. It's got a bit more of that, which makes it a little bit cooler for more aggressive music and I think it's just perfect for guitars. It just works so well when it comes to adding presence to things and it distorts in such an amazing way."
Drum sounds are often a trademark or signature for producer/engineers. John Congleton has recorded his fair share of unique‑sounding rhythm tracks, though he does not have a fixed approach. "My approach absolutely depends on the band, and I make a decision once I've heard the drummer play. I used to be one of those guys who used a lot of microphones on drums but, the older I've got, the more I try to get them sounding as good as possible through as few mics as possible. I used to go back and listen to something like an old Motown record and the drums sounded better than when I was using loads of mics. It was like, 'My God, that was one microphone or two microphones at best!' I think a lot of that just has to do with the fact that you can create a problem for yourself when you use a bunch of microphones because it's now left up to you to balance the drums, whereas they really should have just been balanced by the way the guy's playing. I've just noticed that the more minimal things are, the less phasing problems you get and, usually, the more interesting the drums can sound. I've noticed that when you multitrack all the drums and you tweak each of them to sound awesome by itself, you can get something that sounds not that original a lot of times, because you're kind of micro‑managing the sound.
"The drums that I'm sort of expected to do or known to do are pretty rough, punchy drums, and so using multiple mics is necessary. Groove is really essential to me on the records I make, and so you've definitely got to have a good isolated bass drum sound. Normally, one of my go‑to things is to just listen to the bass drum and feel out what sound would be right for the music, like if I'm looking for something that's sort of old‑school like an old soul record, I might use something like an [AKG] D25, that doesn't have a ton of low end, but if I'm recording something where I want a lot of low end, I might use the Electro‑Voice N/D868, which is certainly not a popular microphone, but I really like it a lot.
"I usually use two microphones on the snare top, the batter side. I'll usually use a dark mic and a bright mic so I'm not EQ'ing the snare
drum too terribly much and making it harsh. For example, I'll use something like an Altec 175, which is a really bright microphone, and then maybe I'll use something that's darker like a Beyer M201 or maybe a Sony C37. I'll use the two and, if one has too much hi‑hat in it, I'll just lock out the darker one.
"I usually like large‑diaphragm condensers for toms and I normally just put one microphone on them. I usually prefer to close‑mic cymbals, as opposed to putting microphones really far away and trying to get a stereo picture of the drums. A lot of times, I just like to have definition on the cymbals, and then use those microphones extremely sparingly.
"With room mics, I prefer to have omnidirectional microphones for a highly diffused sound. You never know what's going to sound good, and there's not really a science to it. You could take the microphones and make them like an equilateral triangle from the bass drum and make sure that the phasing is perfect — and a lot of times you can do that and it's fine, but it might not be that interesting. Usually what I'll do, if I want a nice room sound, is I'll do something like that and then throw up some sort of mono microphone that I have no idea what it'll sound like — just some random microphone, like even a piece‑of‑shit microphone — and just see what happens.
"Another thing I'll do — because I'm constantly looking for something that sounds different that will make my ears prick up — I'll just take the whole mix of the drums and do something ridiculous to it. That could be anything. That can be putting it through a piece‑of‑shit Fender Champ in a closet somewhere and putting a mic in to see what it sounds like, or taking it all and blasting it through a water jug or something. That's essentially how a lot of the drum ideas that you hear on my records come about, and I jokingly call it the 'X factor'. It can sometimes happen just using one bizarre mono microphone. A lot of that stuff ends up on record, especially with someone like St. Vincent."