As regular readers of Sound On Sound might know, one of my Christmas rituals involves dismantling my studio, pruning away anything I haven't used in a while and then putting it all back together again. This year turned out to be the most savage pruning yet, but several days were added to the job when I decided to move all my software from an ancient Mac Pro tower to a slightly less ancient Mac Pro tower. That did give me an incentive to update everything, but the amount of time eaten up by such a venture can be significant. Software protected by an iLok, a Waves stick or a UAD card is easy, but all those things with separate computer-based authorisations are a real pain to deal with once you've built up a large plug-in collection.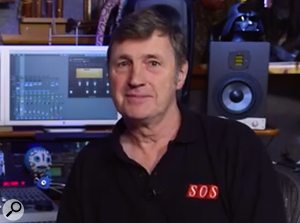 Paul White in his studio, before the revamp.So, on to the pruning. I decided to move all the gear to a single rack to minimise wiring and then made up short interconnecting signal, MIDI and mains cables to keep the back of the rack as tangle-free as possible. My ageing Mac Cinema displays were getting rather dim, so out they went to be replaced by a couple of Dell 24-inch monitors, and as my last remaining DAW controller kept dropping out, I evicted that too and replaced it with a PreSonus FaderPort, kindly loaned by SOS columnist Paul Farrer.
I also realised that I hadn't needed recently to use any of my four rather nice external mic preamps that were taking up desk space; the preamps built into my PreSonus and UA interfaces had done the job perfectly well over the past year, so off they all went to take their places in the cupboard of eternal darkness along with the big DAW controller.
I even took down my second pair of monitor speakers and moved them to my office mini-studio — I rarely used them, and when I did they didn't really tell me anything useful. The problem with multiple monitors is that they still reflect the same room issues, so unless you have a real 'grot box' for secondary monitoring, you're probably just as well having one pair of really good monitors and then double-checking on headphones before taking copies into the car or playing them on the home hi-fi.
The end result was lots of empty desk space, but rather than evict the old Mac Pro, I networked it to the newer one via Ethernet so that I could ferret about in there and copy over any important files that I might have forgotten. I really don't miss anything that I got rid of and the newly uncluttered desk feels really welcoming, so I'm rather looking forward to working in there. Of course, this will present a problem next Christmas, as I'm not sure what is left that I can get rid of next time around...