Andrew VanWyngarden & Ben Goldwasser: Recording Congratulations
MGMT could have followed up their smash hit debut album with more of the same. Instead, they headed straight into left field, with help from a legend of British psychedelia.
MGMT's Ben Goldwasser (left) and Andrew VanWyngarden at work in the Malibu house in which Congratulations was mostly recorded.
As follow‑ups to million‑selling albums go, few in recent times have been quite as startling and extreme as Congratulations, the second long‑player from American duo MGMT. Where their 2008 debut Oracular Spectacular was a sales‑hoovering work of psychedelically enhanced electronic pop, attracting famous fans as diverse as Jay‑Z and Paul McCartney, Congratulations is a different beast altogether. Largely abandoning the pair's pop overtones in favour of their psychedelic leanings, its nine songs take their inspiration from '60s US garage groups and late '80s warped British indie, not least Rugby's Spacemen 3, whose Pete Kember, aka Sonic Boom, co‑produced the album.
Understandably, however, in their effort to pull away from their pop success, MGMT — Andrew VanWyngarden and Ben Goldwasser — managed to trouble the execs at their record label, Sony Music, who were originally baffled by the duo's new direction.
"I think they went along with it because there wasn't much of an alternative," Goldwasser reasons, sipping a pint of Carlsberg in the bar of London's Landmark Hotel. "We came to them and it was like, 'Uh, we've only got nine songs and we want to mix this album and put it out.'"
"That was something we learned from the first time around," VanWyngarden continues. "We don't want to go into the studio with, like, 20 songs, because then they'll just strongly suggest that we use the poppiest songs. So it was like, 'Yeah we have nine songs. It's actually exactly 43 minutes.' Because the album's required to be, as defined in our contract, 40 minutes long."
In consciously kicking against the notion of creating Oracular Spectacular Part 2, MGMT risked alienating a large part of their audience. To date, however, that doesn't seem to have happened. Surprisingly, perhaps, for such a frenetic, leftfield, if still very melodic album, Congratulations debuted at number two in the US Billboard chart.
"Yeah, it's doing pretty good," grins a bashful, if clearly vindicated VanWyngarden. "For what it is, I guess."
Preliminary sessions for Congratulations found Goldwasser and VanWyngarden in rather humble surroundings, occupying a small rented house in High Falls, upstate New York, with sub‑zero temperatures in the middle of winter 2009, eating junk food and huddling around a log‑burning stove in an effort to keep warm. Not surprisingly, both were soon laid low with hellish 'flu.
"We both got really sick while we were up there, we were bedridden," laughs VanWyngarden. "We were convinced that we actually got swine flu. We probably should've gone to the doctor."
"I really haven't been that sick since I was, like, six years old," Goldwasser adds.
Nevertheless, this 10‑week stint in the snow proved productive, yielding the first four key songs for Congratulations: rattling psych opener 'It's Working', the closing title track, the strident '60s pop of 'Flash Delirium' and the 12‑minute song suite 'Siberian Breaks'.
"We got some good writing done," says VanWyngarden. "The first day we got there, the verse chord progression of 'It's Working' kind of popped into my head, and the next couple of days we worked on it. We did it really quickly, 'cause at that point we had some insane idea that we were gonna make the album in a month and put it out in Spring. Then the next song we did was 'Congratulations', and that one really stayed. We did a demo of it and really liked the way it sounded, and then spent the whole year in various studios recording parts over it and re‑recording stuff. Then in the end we really just kept the original tracks that we did and put new vocals on, 'cause it just had the right feel."
Having travelled up to High Falls with a flight case full of preamps and compressors put together for the duo by their friend and engineer Billy Bennett, MGMT were pleased to discover that their original scratch Pro Tools recordings could be considered for the finished product.
"The whole signal chain was nice — an old Neumann U47 microphone going into nice preamps — so everything we did there, we could take with us somewhere else," says Goldwasser. "We used mostly a ribbon mic on small guitar amps. The two of us are slowly learning about this stuff as we go along. We understand what all the stuff does, but we're not super‑experienced with gear. Y'know, 'This kind of mic is appropriate for this kind of situation,' and so on.
"But we know what we like, and that was really the first time that we were actually just left alone with nice studio gear and we had to work it ourselves. We'd call Billy with a stupid question every once in a while. But it was really fun for us and we got good results out of it. It was just that first experience of, like, 'All right, here we have a drum kit set up in a room and we have to mike it up and get it to sound good.' We were playing around with things for a while. Or realising, y'know, that it's the wrong mic picking up what we're trying to hear."
Their inexperience, meanwhile, led to the odd comedy moment, as a grinning VanWyngarden recalls. "We were using the 47 as an overhead on the drums, and it was attached to a boom stand. Then we wanted to use it on vocals and we couldn't get it off of the clip. So we just hauled it over and it was like eight feet high, so I had to stand on a stool to sing all the vocals..."
For the Malibu sessions, MGMT brought along their touring band, with the aim of capturing performances that had a live feel. At the rear, left, is the Elka transistor organ that features heavily on the album.
From the beginning, the duo were determined to make the basic tracks of Congratulations sound more like a live band, as opposed to the programmed feel of most of Oracular Spectacular. "When we were demoing the first album we had a really minimal, crappy setup," says Goldwasser. "Like an M Box that wasn't working very well and had a lot of weird bleed. So every now and then, we'd be recording the bass track and everything else would bleed in even though it was DI'ed. We had to mic the drums with this Radio Shack mic on the kick and an SM57 on the snare. Then, in the end, on parts of 'Weekend Wars' and 'The Youth' on the record, some of the drum tracks were actually just that, run through preamps."
This time around, when writing Congratulations, the duo soon began to tire of the limitations and relatively hard living conditions of their High Falls environment.
"We were up there in the woods eating really crappy food for two and a half months and it was just like, 'What are we doing?'" laughs VanWyngarden. "One night we were eating chicken fingers and it was like, 'Wait a second? We can go anywhere we want. Why are we in upstate New York in January?' So we went to the beach."
Relocating to Malibu, California, in Spring 2009, MGMT were expanded to a five‑piece with their touring band, who they planned on using in their recordings for the first time, and joined by co‑producer Pete Kember (see box). This time, however, their surroundings were a touch more luxurious. Goldwasser and VanWyngarden argue about whether you might describe the location for the majority of the recording as "a villa" or "a mansion".
"The living room had really high ceilings that went all the way up to second floor," says the former. "Just a nice big room for setting up a bunch of stuff. Before that, we went and visited a lot of nice studios in Malibu, like Shangri‑La [designed in the early '70s for Bob Dylan and The Band]."
"But I think it's almost like we would feel a bit stifled by the pressures of being in a really fancy studio with a really professional engineer," says the latter. "The pressure of, like, 'We're using this studio, we need to write something right now.' Whereas at this house, we could just sit in the backyard and be like, 'Yeah, we'll write something later. Or today, maybe.'"
As well as the Elka organ, Pete Kember's EMS Synthi A (rear) also helped to define the sound of Congratulations.
Despite the apparent luxury of their surroundings, however, one shot featured in the booklet of Congratulations reveals the recording setup to have still been relatively ad hoc, with blankets pegged up against the living room windows to cut down reflections.
"We rented a lot of nice equipment but didn't really know what we were doing still," admits VanWyngarden. "Billy was just trying out various techniques that he'd read about on the Internet. Like building a six‑foot kick‑drum tunnel of rugs."
"Also, Pete has a lot of experience recording in ad hoc situations," adds Goldwasser. "So much of especially the early Spacemen 3 records weren't necessarily recorded in the best room on the best equipment. But he knew how to make it sound good, and they're some of the best‑sounding recordings, despite not being recorded in million‑dollar studios. One of his favourite things for recording horns was to put up a plate of glass and play against it and record the reflections."
VanWyngarden rolls his eyes at the memory. "James [Richardson, guitar/sax] would be recording horns at four in the morning in the hallway next to my bedroom as I was trying to sleep."
Although the intention had been to capture the band performances live, it didn't quite work out that way. "Really, we were going for that sound," Goldwasser says. "But the problem with the room was, especially for the bass, it was just too boomy, and we couldn't ever figure out a way to put everything in the room and have barriers up so that we could isolate the bass. There was just so much boominess in the overall sound when we tried to record live. So we kind of sketched a lot of things out live with all of us playing in the room. Then we'd be listening back to live takes of things and trying to recreate some of the best moments from them. We ended up mostly recording everything in isolation."
Ask the pair if the tracking process was generally smooth or sticky and they laugh in unison. "It was sticky!" offers Goldwasser with a smile. "'It's Working' we re‑recorded twice. It went through a lot of changes and moments where we just didn't know what to think of it."
The most complex track on the album, the 12‑minute, multi‑movement 'Siberian Breaks', actually proved to be one of the easiest to record. "That was pretty much fully formed from the beginning," says Goldwasser. "We ended up editing some stuff. We did some splices, just because for some of the transitions, we wanted weird tape‑collage sound effects. So we would cut it up and move some things around."
Meanwhile, the highly idiosyncratic sound of 'Congratulations' was being created using an array of new musical toys discovered by the band. Chief amongst these was the Elka Panther organ that features throughout. "We found it on Craigslist in LA and got it for about $400," says Goldwasser. "It needed a little work on it. The vibrato knob's broken but everything else works great. I got really obsessed with transistor organ sounds early on in the recording process. For me it was the most psychedelic sound of the moment. I just love how jarring it is and how cartoony it is. It's this weird reddish orange colour and it's set up differently from some of the other organs. For each register, there's different stops that have a different tone. But then it has a volume knob for the whole stop, so you can set up a tone on one and then you can mix it. It's really musical and you can get so many tones from it really easily."
Elsewhere, on 'Brian Eno', MGMT's breakneck garage rock tribute to the lauded musician/producer, both VanWyngarden and guitarist James Richardson make use of the largely forgotten Casio Digital Guitar. "It's basically the same sounds as one of those cheap Casio keyboards, but you play it like a guitar," Goldwasser explains.
"James bought that late in the process," says VanWyngarden. "We were playing it through a [Fender] Super Reverb amp, and it's a unique sound that people haven't really used that much. We used the 'Clav' sound and it was really thick through a guitar amp. It's pretty responsive. The strings are plastic and pretty loose. It's kind of hard to figure out how to play but it's pretty cool."
Pete Kember's main contributions to MGMT's arsenal of instruments included the Suzuki Omnichord ("He uses this weird stuttery tremolo effect for transitions," says Goldwasser) and his custom Sonic Starstreamer pedal, which featured on many Spacemen 3 recordings. "His friend made it for him in the '80s," says VanWyngarden. "You know those Vox guitars that would have the tremolo and fuzz and envelope built in? It's those effects set into a pedal. In the Spacemen 3 song 'How Does It Feel', the aw‑aw‑aw, that's all that pedal. So we got to play with this holy pedal."
Kember's aforementioned EMS Synthi A was also much in use. "We ended up using it for the screaming sound on 'Lady Dada's Nightmare'," says Goldwasser. "That was just me staying up on the last night that we were recording in Malibu, right before we packed everything up. I was just making the weirdest noises. He's had some work done on it, a couple of the kind of common modifications. It has a soft sync built in, so you can get the type of oscillator sync sounds the Cars used all the time. But it's like it gets halfway there but it needs to catch up with itself, and sometimes it does and sometimes it doesn't, so it does this kind of throaty thing that sounds like a voice. So that's what that screaming thing is, this weird function of the soft sync."
"We used it as a guitar pedal a couple of times," adds VanWyngarden. "We had some wild late‑night jam sessions. I had it one time with a Gretsch guitar with a Bigsby on it going through the Synthi and it just sounded like a dive‑bomber. I was just doing it for hours, over and over."
And so, as Kember and MGMT packed up the Malibu house after a two‑month stint, they were able to look back on sessions that had been both entertaining and productive, if emotionally fraught at times.
"There were tons of disagreements," Goldwasser admits. "But overall it was really positive."
From here, MGMT returned to their adopted Brooklyn home and settled into a summer of overdubs at their friend Matt Boynton's facility, Vacation Island Recording. Impressed by the studio, the duo asked him if he could replicate the setup for them in their own space. In October, the pair's studio, Blanker Unsinn, was completed, just in time for the final recording work to be done on Congratulations.
"It's in a large basement that we built a smaller box in," Goldwasser explains. "We built a room inside a room to soundproof it so the neighbours wouldn't hear anything. He kind of built a miniature version of his studio. He took an acoustics class, and he knows a lot about proportions of rooms. We didn't have a desk, we just run things straight into Pro Tools. We just recently picked up a Neve Kelso console so I think in the future we're gonna use that for recording drums. But other than that, we're not planning on getting a big desk in there, because the control room's fine, but it's not completely ideal for mixing a record."
Two final songs for Congratulations were tracked at Blanker Unsinn: 'Brian Eno' and dreampop ballad 'Someone's Missing'. "We had a rough idea for 'Brian Eno'," says Goldwasser, "and Andrew had recorded a demo for 'Someone's Missing' that was just instrumental and pretty different from the recording on the album. So we did those two songs there. We did 'Brian Eno' as a live take with four of us. It was one of the first times we even played through the whole thing."
Decamping to Dave Fridmann's Tarbox Road studio in upstate New York in November and December, MGMT set about the task of mixing Congratulations. Before they could start, however, VanWyngarden had to complete his lyrics and record his final vocal takes.
"I was in this closet space with egg crate all over the walls, so it was super‑dry. I was trying to leave some vocal tracks on this album that weren't double‑tracked for the whole song, because we fell into that with the last album. 'Song For Dan Treacy' has a lot of single‑track vocals and 'Someone's Missing', I guess, doesn't. There wasn't one way that worked every time. We liked trying different stuff. For 'It's Working', we tried singing to a slowed‑down version of the song, pitched a little slower, just to get the vocal sound higher and more cartoony."
MGMT settled into a very definite modus operandi in working with Fridmann this time around. "I think we learned from the last album that there's nothing to be gained from breathing down his neck," says Goldwasser. "We'd be in there going, 'Can you move this a little bit?' And by the end we're kind of not using him to his full potential.
"So this time we just left him alone for a few hours, or however long it took, and he'd come back with something, and then we'd breathe down his neck. He'd decide that there was some problem with how something sounded and it wasn't something that we ever heard. I remember for 'Dan Treacy', we came back and we were like, 'This bass sounds all distorted, did you do something to the bass?' And he was like, 'Nah, I didn't do anything to the bass!' And we were like, 'No, man, we know you did something to the bass.' And it turned out he ran it through this Ashly graphic EQ that was all fucked up. Sometimes he even just alternates, like up, down, up, down all the way across the thing, and then he just blasts it [he laughs]. And he'd done that to the bass. It sounded cool, though we ended up playing around with it a little bit. It was something we'd just never have thought to do."
A two‑week mix session with Fridmann and the duo proved fruitful. But returning a few weeks later with Kember in tow, the team recalled and tweaked almost all of the tracks once again.
"The first mix of 'I Found A Whistle', none of us were really that happy with it, and we went back a second time and reworked it and it really transformed into something a lot better," Goldwasser remembers. "So then we ended up recalling just about everything we'd done. Not doing drastically different mixes, but just fixing a couple of things. Dave likes to work in two‑week sections, so we did that, then had some time to sit down and analyse it and we had a much better idea of how to approach the whole thing."
Ultimately, you get the feeling that MGMT are far more comfortable with Congratulations than its more poppy predecessor. Colourful and unpredictable, as encapsulated by the cartoon surfing figure depicted on its cover, it opens up a playful future for the band.
"Yeah," Goldwasser nods. "We compare the album to a Scooby Doo cartoon or something. We were having so much fun making noises that it was kind of cartoony in a way. For us, that's a positive thing."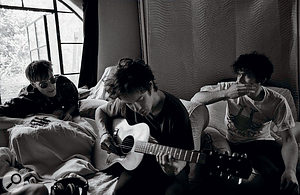 Spacemen 3 devotees MGMT had been introduced to Pete 'Sonic Boom' Kember during a "debauched" week in London in February 2009, and he ended up coming to Malibu with them to produce the album. "We weren't even gonna work with a producer," says Goldwasser. "We were just gonna do the whole thing ourselves and have Billy [Bennett] engineer it and then take it to [Oracular Spectacular producer] Dave Fridmann. That was the plan.
"Then we met Pete and some of the other guys who used to play in Spacemen 3 and it was just like, all of a sudden, our minds were just blown. We were kind of surrounded by our musical heroes. So we ended up emailing Pete and sending him demos of 'It's Working' and 'Congratulations'. He was giving us pointers or saying it reminded him of this or that. And then we asked him if he would work with us because it just seemed too good to pass up, if we had that opportunity."
Brought in as much for his production experience as his talent for steering the proceedings into unexpected waters, his arrival instantly enlivened the sessions. "He makes the party really flow," Goldwasser laughs. "When he first arrived, he opened up one of his suitcase synthesizers, the [EMS] Synthi A, and started making weird sounds. All of us were just crowded round this synth."
The centrepiece of the equipment that MGMT shipped into the house in Malibu was a 32‑channel Toft ATB console. "But we didn't end up taking any of the rough mix sounds off of it, which was really dumb," laments Goldwasser. "That's the biggest regret I have is: we were so involved in getting material to take to the mixing session that we didn't end up capturing a lot of the sounds that we had going on that we were listening to there. Like, we had an EMT 250 reverb and we got all these crazy sounds from it and did a lot of rough mixes just listening back with scratch vocals with nonsense lyrics. It sounded really cool, but those sounds didn't really get onto the album.
"The Toft made it really good for listening back as we were recording, because it was so hands‑on and musical, just to be able to tell if what we were getting was anything good. Even if the mixes themselves were pretty straightforward and things weren't really compressed, everything was there and you could tell if it was good."
Kember, in particular, managed to coax some highly unusual sounds out of the EMT 250 digital reverb — only one example of which survives on the finished album, partway through 'Siberian Breaks'. In the album credits, it is jokingly referred to as the "first documented use of the EMT 250 reverb 'glitch'".
"He figured out that it's the sound that it makes when you change a bunch of settings at once," explains Goldwasser. "It's not a smooth transition. You do all this stuff and then you press the button and there's this kind of Looney Tunes sound that it makes where it all catches up and goes 'boing'."
"He'd just be sitting there with a cigarette in his mouth and sunglasses on," laughs VanWyngarden, "making it go 'Kkccco!'"
"So we'd be trying to record a part or listen to rough mixes or whatever," Goldwasser continues, "and all of a sudden we hear Pete making this sound. We're like, 'Pete, can you just chill out with that for just a second?'"