Five Decades In The Studio
Ray Davies at the SSL G‑series desk in Konk's mix room.Photo: Richard Ecclestone
Legendary songwriter and Kinks frontman Ray Davies got his first taste of recording in 1964, and he's never looked back.
As you amble along the streets of Crouch End in North London, you could be forgiven for walking right past the unassuming entrance to Konk Studios, set up by the Kinks over 35 years ago and still going strong. The small blue neon Konk sign, as vividly depicted on the front cover of the Kooks' Konk LP (but, alas, switched off on the day we visit) is the only indicator signposting the sprawling 6500 square-foot studio complex inside.
Other than the odd foray to the States, Ray Davies has rarely recorded anywhere else since the Kinks purchased Konk in the early '70s. One of Davies' most recent projects, last year's The Kinks Choral Collection, is a rare exception. It features Davies singing a selection of Kinks classics, backed by both his own group and the 65‑piece Crouch End Festival Chorus. While the majority of the backing tracks were recorded at Konk, the choir was laid down in AIR's Studio 1. Ray not only donned the producer's hat, he also co‑arranged the tracks with David Temple and Steve Markwick. Re‑examining the arrangements was an enjoyable exercise for Davies and, in certain cases, he feels he managed to reinvent some of the original sounds and textures using the human voice.
Konk's main control room is built around a vintage Neve 8082 desk."I wanted to try 'You Really Got Me' a bit different," Ray explains. "It follows the route map we do live, but I wanted something different to bring in. 'You Really Got Me' was described, when it came out, as being a Gregorian chant with a backbeat, so I wanted to instil some of that feeling into it… but the chanting thing was something that was always there. And if you listen to the original record of 'All Day And All Of The Night', it has atonal sort of notes that hit a cluster of notes — even in the original recordings, it's there! The really ambitious one was 'See My Friends', because that was based on a kind of a chant and a riff with feedback, and somehow it really works a capella and it still retains a lot of the overtones. That's really a special thing you can get with choirs that you can't really get with backing vocals. They sing really precisely and dynamically, and that's another interesting thing to think about.
"You don't normally think about that in studios when you're recording nowadays, in what I call newer generation recording. There's kind of a lack of regard for the actual. There's a reason a choir and an orchestra are set up the way they're set up, because the high notes travel faster than the low notes — whereas, in the studio, people say, 'Oh, you want it louder? Just turn it up!' and you lose dynamic perspective, to a degree. It made me re-evaluate a lot of the natural dynamics of organised choral music, a degree of acknowledgement of what traditional values were — sonic rules. I guess it's the realities of what things sound like."
There is no shortage of quality outboard at Konk.
Ray Davies still vividly remembers stepping inside a professional recording studio for the very first time, after the Kinks had signed with the Pye label back in 1964.
"One of my first memories is thinking, 'Will it sound as good as it does live?'" he recalls. "I think that was always my fear, because it was strange. We were fans of lots of early R&B, but a lot of pop music had a lot of echo on it and we just didn't want that! Another early remembrance of studios that amazed me was that it was the first time I'd ever done double‑tracking properly. We did it with the 'B' side of our first single. I had sung the lead, and then it came to double‑tracking, and for some reason I didn't consider myself to be lead vocalist, but I got the job because my voice tracked better. Dave [Ray's brother and lead guitarist] said, 'Your voice really responds to tracking, you know,' and we'd never done it before. I really got fascinated by layering sounds and tracking and I learnt how to do that very quickly. We had no idea what we'd sound like in the studio but, at home, I did home recordings. We had a Grundig stereo and we had a great ribbon microphone and we got great sounds on it. We were quite sure what we wanted, but it was an unknown step going into a studio — particularly somewhere like Pye!"
After the Kinks' first two 1964 singles for Pye — 'Long Tall Sally' and 'You Still Want Me' bombed — the pressure was on to nail live favourite 'You Really Got Me' and give the group a much‑needed first hit. The future number one was originally recorded at Pye, but the band refused to let the resulting 'echoey' version be released, instead insisting they be allowed to re‑record the track at IBC Studios in Portland Place. One of the big problems at the Pye studios had been Dave Davies' use of his distorted 'Little Green' amplifier with its infamously shredded speaker cone. At Pye, Davies' guitar sound was cleaned up, while at IBC, the engineer Bob Auger used it to his advantage.
"'You Really Got Me' had a certain sound because we knew what we wanted," says Ray Davies. "I remember my brother playing the opening chords to it in the old Pye studios, and the assistant engineer ran out holding his ears because he'd never heard anything so loud! He turned out to be quite a famous engineer too! It was just the power, in those days, of the 'green amp' plugged into a Vox, and maybe we had two Vox AC30s put together. It was a lot of noise in those days!"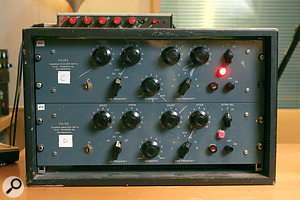 The Kinks' first four UK albums and many singles released 1964 through to 1966 were mostly credited solely to American producer Shel Talmy, who was also behind some of the Who's early output, including 'My Generation'. (Shel recounted his version of the events behind 'You Really Got Me' in a Classic Tracks article in September 2009, on‑line at /sos/sep09/articles/classictracks_0909.htm). According to Ray Davies, the Kinks' relationship with Talmy in these early years was, for the most part, one of fairly mutual respect.
"We listened to him until we heard the aborted version of 'You Really Got Me'," says Ray. "I said, 'No, this is not what I want it to sound like! This is all too smooth — it's got to sound this way!' After we made that point with that song to Shel, he listened to us more, and he became more of an ally in the studio, rather than someone who was like a boss telling you what to do. He was very, very respectful of what we wanted but he was not one for wasting time, you know — 'Get it first take, yeah, it's all right!' 'Isn't there a mistake on that, Shel?' And he'd say, 'Yeah, but no‑one's gonna notice!' In those days, producers/A&R men were like superior to the bands they produced, but we soon corrected that! Anyone producing the Kinks had to be an ally!"
The Kinks' fifth UK album, 1966's Something Else By The Kinks, was the first 'co‑produced' by both Ray Davies and Shel Talmy, and while 'Waterloo Sunset' has often been cited as the first Kinks single to be solely produced by Davies, he claims this was not, in fact, the case. "[Waterloo Sunset] was the first thing I was credited as producing, but I did a lot of stuff before that. But I think the deal was Shel had to get the credit whether he did it or not. I did 'Dead End Street', Shel did 'Sunny Afternoon' with me, but by then, you see, it was such a good team that he would listen to the way I wanted it. I think the real falling out came over 'Dead End Street', which I didn't like at all. We waited 'til the session finished, waited until he left and then went in and re‑recorded it, and that became the one that went out!"
Clients who still want to record to tape are well catered for at Konk with Studer and Otari multitracks.
While Ray Davies naturally learned a lot from working with Shel Talmy, the most important influences on him — both prior to and during the time he started self‑producing his own records — were the engineers at Pye.
"My idea of production was not as clear as Shel's," explains Davies. "I think there was a sort of clarity in a lot of his recordings, whereas I liked to bring in things like sounding off‑mic sometimes, or double‑miking, so it sounded like an old jazz sound rather than a clean pop sound, and that was the difference. But I'd like to think that I learned the quality control from Shel — in other words, saying 'We could keep doing it but it's not gonna get any better!', things like that.
"I had good engineers: Bob Auger, Alan Mackenzie, Alan O'Duffy, Ray Prickett, all employees at Pye, all really good solid studio guys. I learnt a lot from those people. They had to know their sonics, those guys. It was a new music and they were using a lot of old equipment that had probably been used by the BBC, and there was a BBC kind of feeling about the rules still, but the Kinks came in and broke the rules. I remember the first time — I think it was the first time — there was feedback on a record, on 'I Need You'. It was a mistake, but as I was doing the count‑in, Dave's guitar went off. Bob Auger was engineering it, and this man with all his experience just knew what to do and that was the take. It was a combination of new, young musicians like the Kinks coming through with radical ideas, and then very knowledgeable, experienced people who knew how to record it. There's a real debt owed to a lot of those engineers working with us."
Ray Davies is the first to admit he's not particularly technically minded when it comes to record production. "Mic placement is a personal thing, and I guess instinctively I know what I want," he explains, "but scientifically I'm not aware of what's happening. I know what sounds right, but I think instinctively. Sometimes the rule book has to go out of the window, but there's that saying: 'You gotta know the rules before you break them!'"
The first Kinks album to be solely credited as a Ray Davies production is probably their best loved nowadays, despite having sold very few copies on its 1968 release: The Kinks Are The Village Green Preservation Society. In the late '60s, a quintessentially English album celebrating traditional country life was a departure from the mainstream, and this wasn't unintentional.
"Village Green was a reaction to a lot of the culture that was around at that time, because it was a very warlike culture," explains Ray. "You know, Pete was smashing up his guitars with the Who and Jimi was setting fire to his guitar. I wanted to react in a more peaceful way, and I saw that Village Green album as a sort of — not a reaction to them, because I loved those guys and they were all friends of mine — but a reaction to what was happening in the world at that time. Although the album was a relative flop, it became quite a slogan for the peace movement in America. They picked up on it because they saw it as a thing about old values and, yeah, there's some quite heavy topics in the record itself. It does err towards being retro, I suppose, in its theme, and it's certainly a reaction to what I saw as really being a violent world — the Vietnam war and the cold war was at its height. It was a very paranoid time, and I saw Village Green as a peaceful antidote."
Davies also took an unorthodox approach to the record's production, much to the bemusement of some of the Pye engineers. "I actually asked them, 'Can you turn the mic? Can someone knock the mic off to one side so the electric guitar sounds like it's not miked up properly?'" says Ray. "They didn't understand that at all, to tell you the truth, and I wouldn't if I were in their position, but I wanted guitars sounding like they're being played in another room. We're talking about the late '60s; I think you could do it now with technology — there's probably a plug‑in for it somewhere! Yeah, it's an underachieving sound, like I wasn't going for direct guitar sounds. I wanted them to be off‑mic and more like a recording environment instead of a studio. I'm still a bit like that. I still say to guys, 'Do those rough mixes for me, but don't make it sound too good! Don't sample drums and don't make it too precise!' because the things that excite me are great jazz and early rock records."
As you'd tend to expect, there can be both ups and downs when a musician and principal songwriter begins to move from being produced to being producer. "It can be difficult," explains Ray Davies. "Like… 'Tired Of Waiting For You' is not a massively complicated song but at that time, I wasn't in the production chair. I hadn't finished the lyrics, and we did the back track and they said, 'Let's do the vocal,' and I said, 'I've got a sore throat,' so it gave me time overnight to write the lyrics! I couldn't do that kind of thing so much when I was producing, but a lot of the time, I knew a sound I wanted to get with the band, and I used to guess where the vocal should be, so I never really used to do guide vocals. And by the time we got to doing Something Else and Village Green, I was just saying to the guys, 'Just play these chords, this is the arrangement,' and I'd go in and readjust my song to fit the back track — so the song came second in many respects, but I had an idea about how I wanted to track the sounds, and then we'd just go in and do back tracks.
"Nowadays, like when I did Working Man's Café, the last record — I did it in Nashville — I'd already written all the songs when we recorded it and played them to all the musicians. I felt kind of compromised a little bit by doing that, but that's the way they work over there. Those are the two extremes, and both have their pluses and their minuses. But when I was producing and went into a really heavy production schedule, like when we signed to Arista, for example, we had to come up with albums very quickly and a lot of the time the band didn't know what the song was gonna be — I just gave them a bunch of chords to put down!"
The last record the Kinks recorded at Pye was 1969's Arthur Or The Decline And Fall Of The British Empire. It was time to move on. And Morgan Studios in Willesden, North London, ticked all of Ray's respective recording boxes.
"Arthur was as far as we could have gone at Pye," says Ray. "By then, a couple of the good engineers weren't there any more, and Pye was changing. I just felt at that time that we were getting a bit stale at Pye. We needed to break off somewhere else and we went to Morgan. I liked Morgan because the control room was high up and it enhanced the bass rumble. It was probably a wooden frame platform, so it always compensated what I did. A lot of it might sound cheesy now, but I did a copy of every mix we did and put extra top on it and put bass cut on it to compromise, so I did a little bit of pre‑mastering but lost a generation in those days tape‑to‑tape… but they seemed to work. 'Lola' worked out all right. And then it'd go to the mastering room and they'd do it even more excessively, but that's what gives those records that kind of presence. But Morgan also had a nice drum sound in it and I liked that. It was good for Mick [Avory]'s drums, because it was a very dead room, and Mick's got a subtle touch and it kind of complemented his style of drumming to a certain degree."
The Kinks used Morgan to record Lola Versus Powerman And The Moneygoround Part One, Muswell Hillbillies and Everybody's In Showbiz, plus part of Preservation: Act I, before Konk, an ex‑biscuit factory, was set up and ready to roll tape. Ray Davies explains the reasoning behind the band wanting to secure their own recording space.
"Budgets were being slashed, but things had been creeping at Pye," explains Davies, "Pye was expensive to record in and we paid our own recording costs. We had a lousy deal, so once the recording costs had come off the top, then you'd get your royalty, which was really low — there's not much left for you! Also, we wanted somewhere to do demos and somewhere we could record more freely… I think we wanted to spend more time playing as well, rather than just writing songs. It was a period of 16‑track recordings becoming more the thing to do. Sixteen‑track was a big deal then, and then later it was 24‑track. We wanted to rehearse more, and people were maybe thinking about arrangements differently by then, and were making slightly different music. Anyway, Dave and I were driving around here one day and we saw this place for sale, so we bought it, then we bought an Ampex 16‑track, put the control room high up so we could look down on the musicians and started working here. Where this room is now used to be a loading bay, and we played ping‑pong in here and there was a snooker table in the back room. It was a place to hang out as well — it was great! A couple of musicians lived here as well, the road manager lived upstairs with a dog, so it became a bit like a commune!"
The original Konk control room was raised above the live room because it reminded Ray Davies of IBC Studios, where the band had recorded the definitive version of 'You Really Got Me'. Various refurbishments and changes have taken place over the years at Konk, where both the Kinks and Ray Davies have recorded almost every one of their albums since 1973.
"We moved the original control room from what is now the piano room," enthuses Ray, "and we had a Neve… Rupert came down and he was great to us. He designed a desk for that room but we later sold that desk and bought another Neve [the current 8048 console]. We moved the control room and had the purpose‑built room that exists now. It was built for quad, because RCA wanted me to develop quad for them, but it never took off. People have said if we decided to move the desk and change it, it would be a great 5:1 room. It's a perfect size and is one of the great control rooms in London, I think, and you've got so much space. In the '80s we decided to go for the SSL and people are coming here mixing today. You can really trust this room. This room is built for these speakers. It's a bit retro now, but people are coming back to use the old SSL technique a lot. I was never a major fan of SSL, but it still works and people like this environment."
Before we let Ray Davies return to his busy day's schedule, there's just one more little question — fuelled by recent rumours — we have to ask. Are the Kinks, who split up in 1996, going to reform any time soon?
"I'd do it if we had new music and new stuff to achieve," says Ray. "I wouldn't do it just to do a remix of the past. As long as there's new music to do, and maybe with the new technology, there's more opportunity to do it because then maybe I can go and get Dave at his place and get him to do his stuff… but only if there's new music. If we had two new songs to play, then yeah!"  
One of the biggest influences on the Kinks' early sound productions was the stereo the two Davies brothers used to spin records on at home each and every day.
"The radiogram at home was so knackered!" explains Ray Davies. "We were playing so much music so loud that one of the speakers had bust, and I thought that's the way all records should sound — with a little bit of fuzz on it. That's how Dave and I got that Kinks sound, that distortion. It was before you had any plug‑ins or anything, so we had to get it sort of organically. I seem to recall us sticking knitting needles in the speakers, but Dave seems to think it was razor blades — he may have done that to another speaker. I remember sticking the knitting needles in and getting that great farty sound, and then plugging that preamp into a main amp. It was lucky that that radiogram was so buggered, basically, because we would never have gone on to make the records the way we did!"
As well as all the classic Kinks albums and solo Ray Davies records that have been laid down and mixed at Konk Studios, hundreds of other bands have wondered through its unassuming doors to make hit records since the '70s. Artists from the Bay City Rollers, Elvis Costello, Boy George and Paul Weller through to the Arctic Monkeys, Razorlight, Adele and the Kooks have been happy Konk clients over the years.
The studio now boasts an SSL mix room with a 6000 G‑series desk, the Neve room with the classic 8048 console, and the live room with its original wooden treatment. Konk's plethora of modern and vintage outboard gear, microphones and other gear is too numerous to list here. Check the equipment section on the Konk Studios web site for further information.
"It's always been an artist‑driven place rather than being a studio that makes money," explains Ray Davies. "You never make money in studios like this and it's a pleasure when you break even, because for us the music was always the thing coming out. Just getting the records made was a delight!"
Published May 2010