Richard Gottehrer & Seymour Stein
Richard Gottehrer.
Fifty years after their first hit, the duo who discovered Blondie, the Ramones, Talking Heads and Madonna are still producing great new acts.
Reading Richard Gottehrer's CV, you could believe that everything he touches turns to gold. Richard first made his name as a producer and songwriter in the mid-'60s, crafting a string of big US hits while based at Manhattan's famed publishing and record label hotbed, the Brill Building. In 1967, he started up Sire Productions, which soon morphed into Sire Records, with fellow young industry-savvy New Yorker Seymour Stein. By the mid-'70s, after playing a pivotal role in the burgeoning label's early successes, Gottehrer felt the urge to concentrate more on his studio work and duly left Sire to carve out a career as an independent producer. His many credits since then include Blondie, Richard Hell & the Voidoids, Joan Armatrading, Dr Feelgood, the Go-Gos, Robert Gordon, Dion, Link Wray, the Fleshtones, Dum Dum Girls and the Raveonettes.
In 1997, Richard's entrepreneurial spirit once again came to the fore when he co-founded independent music (and now video) distribution company The Orchard, now the biggest digital music distributor on the planet. Furthermore, Gottehrer's dabblings with record labels have now come full circle as, back in 2010, he and old pal Seymour Stein successfully negotiated a deal to reactivate the legendary Blue Horizon imprint that they helped brothers Mike and Richard Vernon launch back in the late 1960s. While the label's roster originally showcased British blues boom bands such as Fleetwood Mac and Chicken Shack, new blues-fuelled acts signed to the label include Texan psych-rockers The Black Angels and vibrant UK four-piece Scoundrels, who Richard has been producing himself.
Inspired by the rock & roll and rhythm & blues records that groundbreaking DJ Alan Freed was introducing to a new generation of American white teenagers in the 1950s, the young Richard Gottehrer developed early ambitions as a songwriter. "You had this whole group of post-war kids, born from the late '30s through to the early '50s, that had some disposable income, and the world really was opening up. Alan Freed brought all this music, which was being made for the black community, to this new generation of white teenagers by playing it all on the radio. These were things we'd never heard before and it all had a tremendous influence on me. I was a piano player and I would play boogie-woogie and traditional swing like Benny Goodman, Glenn Miller and Louis Jordan, but also some of the music Alan Freed was playing. It made me think, 'Maybe I'll try to write some songs,' so I did, trying to copy my heroes, and I had this little band called Sultans Of Swing, which of course predates Dire Straits, but we were both referencing Benny Goodman, who was called the Sultan of Swing. We'd play standards at weddings, school dances and bar mitzvahs, but we'd also drop in a rock song every now and again. I went to university and I continued writing songs but didn't get very far. After university, I started going down to midtown Manhattan in the area that used to be Tin Pan Alley: the Brill Building and 1650 Broadway. There were all these small offices where people could go and knock on doors. You'd have a song, a publisher or record company would listen to it and, with any sort of luck, someone would say, 'I think I can get someone to record that!'"
It wasn't long before Richard joined forces with two other similarly ambitious young songwriters, Jerry Goldstein and Bob Feldman, who had also been frequenting the Brill Building with their own material. They called their new venture FGG (Feldman-Goldstein-Gottehrer) Productions. "We wrote some songs that were successful and a lot of songs that weren't," explains Gottehrer. "And we were also learning how to make demos and make our songs stand out. Making demos was very different from what it is today, because there were only a limited number of studios and there were no real multitrack recordings, so you had to learn your craft from the bottom up. We morphed from being relatively successful songwriters with some minor hits to actually becoming successful and producing our own stuff. We wrote songs for Bobby Vee and Dion and artists like that, but our first enormous hit as producers and songwriters was a song called 'My Boyfriend's Back' by the Angels. That was a number one record in 1963."
As Richard proudly points out, 'My Boyfriend's Back' makes more money 50 years on than it ever did in the '60s, thanks largely to the number of films, adverts and television programmes that still use versions of the song. He remembers the meticulous work the FGG team put into the song's original ear-catching production. "When it was written, we put in the call and response, which would help it stand out on the radio. The lyric was really good and the girls were good singers, but we knew it needed a distinctive beat. We decided to add the handclap because we thought it would help draw some more attention. The song actually had an arranger who wrote the different parts, and we would discuss with him what we wanted to achieve and how we wanted to do it, then he would translate that into something that would communicate to the musicians. We would also make changes as we went along in the studio, to make sure that it had all the ingredients we wanted to make it a hit: a beat that was danceable; a good melodic structure; and a distinct sound in the recording. We used to go from studio to studio in order to get the different ingredients for the sound on our records back then. ['My Boyfriend's Back'] was mixed at a separate place. The original mix had a 20-second instrumental horn section in the middle but, when we got to the final stage of mastering, we listened to it and decided to rip it out so the song fitted more to radio timings. I think that was something that made a difference, because the song may not have worked so well at that final point where things lift at the end."
The approach to production that Richard cultivated during those years still applies when he works with new artists today. "We learned that sound is important but not the only element. The most important ingredient still — whether it's an urban song, an R&B song or a rock song — is the song. It's all about the song and the singer, but the song comes first, then the performance and then the rhythm, with the sound built around all those things. What we learned, by virtue of making all these demos of our songs, was that we had to use a little bit of imagination to demonstrate to people that the song was worth doing and to make it stand out. We would create certain moods and that was what made a difference, that ability to understand how you can surround the song with information that helps connect the quality of the song with the listener. A good song still needs to draw your attention, and the same is true today."
Other hit records shaped by the production team of Feldman, Goldstein and Gottehrer included 'Hang On Sloopy' by the McCoys, which reached number one on the Billboard Hot 100, and 'I Want Candy' by the Strangeloves, which peaked at number 11. (Although the Strangeloves were, somewhat bizarrely, marketed as a trio of ex-sheep farming brothers from Australia, the studio band actually consisted of the three FGG guys, augmented by session players.)
The Sire Records imprint is now best known for launching the careers of punk and new wave acts like the Ramones and Talking Heads in the late '70s, not to mention that of a young lady named Madonna in the early '80s. However, its formative years were characterised by extensive licensing deals, particularly with British major labels. "Richard Gottehrer and his two partners at FGG Productions were on the 10th floor of the Brill Building and I was working for Red Bird Records on the ninth floor," Seymour Stein tells us. "We would meet in the elevator. I got to know him and we became very good friends. Then, at around the same time that the relationship between George Goldner [manager and partner of Red Bird] and Leiber & Stoller [legendary songwriting and production team and Red Bird co-founders] was wearing very thin, the partners in FGG productions decided that they wanted to go their own ways too. So Richard asked me, 'Why don't we start a record company?' We started as a production company first but, very soon, we became a record company. I just felt that with Richard's production skills and my ears, we could build something if we really worked at it. I had the ears of a fan, and there's no better ears than that. We had no money, but I remembered from my days working at Billboard how many great English records came out but never saw the light of day in the United States. Even the Beatles were turned down by Capitol Records, not once but twice!
"We had some contacts overseas and so we went to England and we developed relationships with the export divisions of the various major record companies. And through those relationships, our label was able to acquire United States and Canadian distribution rights for a series of albums that their American counterparts didn't want to release. We got down to it and released the Climax Blues Band and Barclay James Harvest and many other artists. One way that we would endear ourselves to these people was by bringing over dozens of New York City Jewish cheesecakes, because you just couldn't get decent ones in London! It seemed to work and we built some very good relationships with some very good people at labels like EMI, Decca and with Nat Joseph at Transatlantic. We were able to begin Sire that way."
In addition to the British blues, rock and psych-folk bands and artists Sire acquired distribution rights to, they also signed their own acts such as Dutch rockers Focus — who went top 10 in the US, UK and in their native Holland — and a bevvy of US folk artists like Paul Geramiah and Rosalie Sorrells. The ambitious indie label also enjoyed considerable success through their relationship with UK independent blues label Blue Horizon (see box). By the mid-'70s, however, Richard Gottehrer decided he was not spending enough time in the studio, so he opted to leave Sire on amicable terms to follow his own fortunes as an independent record producer. Soon afterwards, Seymour Stein would hook up with Warner Brothers for distribution, ultimately selling the major record company a 50 percent share of Sire in 1978.
In 1976, both Seymour Stein and Richard Gottehrer, who were still very close friends, began frequenting New York City's legendary CBGBs punk music club, situated on the Bowery in Manhattan. The heads of both were immediately turned by the energy and creativity of the many unsigned punk and new wave bands who were gigging there and at another Manhattan underground club, Max's Kansas City.
"When I went down there, from my perspective, I really saw something fresh happening," enthuses Richard. "We'd been bombarded by disco and progressive bands but, to me, this almost felt like a rebirth and a return to the beginnings of rock & roll. And, while these bands had learned from Bowie and the Velvet Underground, they also loved rockabilly and the kind of '60s music that had been written and recorded at the Brill Building, like the girl groups. Of course, I had some pedigree because of 'My Boyfriend's Back'!"
Seymour Stein famously signed CBGBs regulars the Ramones and Talking Heads to Sire, as well as Dead Boys. Richard Gottehrer, meanwhile, began working with two other CBGBs acts: Blondie, for whom he would produce two albums, and Richard Hell & the Voidoids, for whom he produced the cult classic 1977 long player, Blank Generation. He secured a Sire deal for the latter with Stein.
"There wasn't a big audience for it at that moment, and it took a year or two for that audience to develop and for it to sink into the mainstream," says Gottehrer. "But the initial interest was never in the United States. It was always Europe first and the UK in particular. Just as the UK was responsible for feeding back our American music with the Beatles and the Stones and the Kinks and the Who, they accepted this American hybrid, which we called punk. It wasn't called new wave yet. It was amazing that this small dumpy club CBGBs, along with its counterpart Max's Kansas City, basically triggered the punk explosion. When each one of these bands started off, they were good artists but not yet able to play as well as they evidently were able to later on, but they added ingredients along the way and they were just primed for success. I realised that many of the bands were not entirely at a professional level yet but that could be built in the studio and through rehearsal and experience."
Blondie were a case in point when Gottehrer came to cut their debut self-titled album during the late summer of 1976 at New York's Plaza Sound Studios. "With Blondie, their ideas at the time and their songs far exceeded their ability to execute them," explains Richard. "But it was obvious that the substance was there because the songs were great, their arrangements were interesting, and Debbie's voice and her personality were just absolutely right. [My production approach for Blondie] was pretty much the same as my approach to production has always been. Again, it started with the singer and the songs. Also, the ingredients that made it interesting in the first place were their style, their arrangements and their approach. I just knew we had to put enough of an edge on it, but also to make it palatable for radio at the time ­— although it turned out that the radio stations, in the US at least, weren't interested at all. It didn't happen. There was one song that I worked on and worked on and worked on to make it a hit, and that song was called 'In The Flesh' and it actually went on strongly to become a big hit [number two] in Australia of all places. That was the first sign that there was something in the voice and the band that connected and could have some lasting quality and could grow, and of course it proved to be true. The second album and its singles did very well in the UK and in Europe and, with their third album, Blondie were able to make it big across the world, including America. But the thing about that first album was that it was a punk album with a punk attitude and it's a record that has a transitional quality of recording, where it's not polished and the synthesizers weren't polished. You couldn't play chords so we had to record a piano part and then a Farfisa part and then the synthesizer parts, and then do the harmonies singly to build the chorded parts of the synthesizer. It took some effort and you had to think about it and you had to figure out what you wanted to accomplish, but they understood what needed to be done for the songs because they knew exactly the genre they were trying to create."
Seymour Stein (right) with Atlantic Records founder Ahmet Ertegun.
Over the course of the next two decades, Richard Gottehrer remained in hot demand as a producer, working with acts like Dr Feelgood (including 'Milk And Alcohol', the band's biggest hit), Joan Armatrading, the Go-Gos, Mental As Anything and many more. In the mid-1990s, Gottehrer formed a new independent record label, Sol 3 Records with Scott Cohen, with whom he would go on to co-found The Orchard in 1997. Cohen is still Richard's business partner at The Orchard today. The music and video sales, marketing and distribution company — which also has its own record label, licensing division and a small recording studio at its New York offices — is now the world's biggest distributor of digital music, with over eight million titles in its catalogue. While the majority of Richard's time is understandably spent on his role as The Orchard's Chief Creative Officer, he still produces and mixes records whenever he gets the opportunity. Over the past decade, the two groups he has been most involved with in the studio are Danish noise-rock duo the Raveonettes and lo-fi noise-pop act Dum Dum Girls, who are signed to Sub Pop.
Sire Records is perhaps best known today for launching the careers of New York punk and new wave acts, including the Ramones (with Seymour Stein third from right)."The Raveonettes has been a long relationship, because I first met them 10 or 11 years ago when they'd only played maybe five gigs or something," says Gottehrer. "We were a good few years into The Orchard and we were able to help them get signed by Colombia Records in a global deal, and I produced the first couple of records with them when they were on Colombia and I've also co-produced their latest stuff. We mixed the first record in the UK at Eden with Alan Moulder, who's a great mixer and engineer. Again, it's all about the singers and the songs with that band. They have great voices and the songs are really great. I helped them with the arrangements early on and I wrote one of the songs, 'That Great Love Sound' with Sune [Rose Wagner, guitarist, vocalist and multi-instrumentalist] on the first album. In Sune's case, he's always been very guitar-driven and loves the sound of overdriven guitars, so my approach is to try to take that and hone it and enhance it so that it makes sense in a contemporary world. You can express yourself as an artist but, at the same time, you want to do it in a way that hopefully helps you to attract a larger audience. I worked together with him on that. In general, my approach to their productions has been to get them done in as original a way as possible while still maintaining the integrity of the songs and the singers. The Raveonettes' sound is unique and most of that uniqueness comes from Sune's playing and programming and the combination of their voices. Sune also co-produces Dum Dum Girls with me."
Another Sire punk act were the Dead Boys, here with Stein and CBGBs owner Hilly Kristal (front).
Gottehrer's work with Dum Dum Girls, which has included two EPs and two albums since 2010, has combined long-term artist development with modern production methods. "I originally got an email asking me if I'd be interested in mixing this group called Dum Dum Girls. I knew it was on Sub Pop, and I knew there wasn't any money in it necessarily, but I decided to do it, because I liked what I heard and also some of the people here at The Orchard told me there was a buzz about them. There is a band that goes out and tours all over the world and they work really together well, but Dee Dee [Penny] writes all the music and is in charge of all the musical direction. For the first record, I asked for the files to be sent over to me so I could see how to approach it because I have a small studio here. The files, which were done in GarageBand, were what they like to call lo-fi, but the songs were great. The fidelity was not great, but with a little bit of tweaking and some changes and a few technology upgrades, Alonzo [Vargas, in-house engineer at The Orchard] and I were able to take that and enhance it. We made the voice a little louder, made the bottom a little stronger and turned it into something that sounded like a commercial record, although still in that lo-fi genre.
Even in these days where everyone can record at home, Richard Gottehrer stresses the importance of maintaining a professional studio at The Orchard."Well, it did really, really well, and we continued working with Dee Dee. With each release, we've developed a bit more of a voice and she's grown as a songwriter. What we like to do with her is — instead of just releasing albums — we'll do an album and, within the cycle, we'll put out an EP, and the idea is that each EP has to bring her a step further forward. So the process with Dee Dee is to do something interesting each time. With the first EP, we did a cover of 'There Is A Light That Never Goes Out' by the Smiths and it's absolutely great. We did it a bit more punk rock and it got a lot of attention. The next album [Only In Dreams, 2011] had a couple of real definitive songs on it, and one of them, 'Coming Down', demonstrated what a great singer Dee Dee was. It was a really rich, deep ballad. But that whole album was written from a very personal experience amid tragic circumstances because sadly Dee Dee's mother had been diagnosed with cancer and, during the time the band was touring, she passed away. The songs on that record were all written during that time and they had real honesty to them, and I think they connected with a lot of people. At the moment, we're working on the next album and it's going to reveal a bit more about Dee Dee and it's perhaps going to be a little more focused towards the mainstream without losing their core audience. You have to develop and grow an artist in this way. The Raveonettes have been able to maintain success for 11 years and are still vital, significant artists."
Richard Gottehrer believes that the small recording studio at The Orchard's New York offices is an essential tool.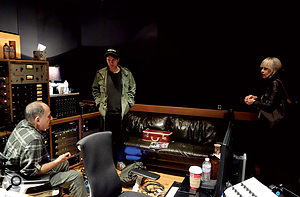 Richard Gottehrer (left) at East West Studios in LA, producing a Dum Dum Girls session. "A lot of work is done in the studio here. We do mixing work here for artists that are affiliated with us like Dum Dum Girls, we do radio show blogs and we'll charge other labels for the use of the facility. Alonzo is the one engineer here, and he grew up in the digital music period so he's overwhelmingly familiar with everything to do with Pro Tools. I'll educate him about how we used to do things and he'll educate me about how things are done now. That combination is good but, in the end, nothing really changes. If you have a lousy song, it'll be a lousy record and if the singer can't sing, it'll be a lousy record. You still need those two ingredients. Although technology plays a greater role due to musical standards these days, you still need a great song. But this studio is a vital tool because it keeps us engaged in making music. Some businesses doing what The Orchard does are only engaged in making money from music. There's nothing wrong with that but, if you want to keep yourself ahead of the game and if you want to understand what people really need and you really want to make a difference in their lives, then you have to make a little music yourself. A lot of the bigger record companies forgot that over the years, I think. You have to remember that when I started, every serious record company had its own studio — Columbia, RCA, EMI, British Decca — and they all had wonderful rooms. They recorded in these places and that was part of what you did as a record company. I think things are turning back around again now and the independent world has grown and is going to grow a lot more."  
In 2010, Richard Gottehrer and Seymour Stein announced that they were reactivating the legendary Blue Horizon blues label started by brothers Mike and Richard Vernon back in the late 1960s. Although Gottehrer and Stein don't currently have the rights to reissue the original label's illustrious back catalogue, they have been releasing several new Blue Horizon records by various blues-related acts including Dion, the Black Angels and Scoundrels.
As Seymour Stein explains, he and Richard played a significant role when the label was originally founded. "I originally met Mike Vernon at a Champion Jack Dupree session at Decca's studios in West Hampstead and I took an immediate liking to him. Later, he said, 'Do you think you could help me and my brother set up a record company'? I said, 'We're barely in fucking business ourselves here, Mike!' but I was happy to help him set things up. Then all of a sudden, while Richard and I are almost starving — boom! Fleetwood Mac goes in at number one on the English chart! And then, five weeks later, boom! Chicken Shack go into the chart at number eight! I'd always send him a telegram to congratulate him… but then I called him up this one time and he said, 'My brother and I hate being in the record business. I love being in the studio but I don't like the rest of it. Do you want to buy half of the company? Don't worry, I'll make it very easy for you because we don't want to run it!' So that's how we got involved with Blue Horizon."
One new Blue Horizon act produced by Richard is young British blues-rock four-piece, Scoundrels, who released their Sexy Weekend EP last year. "It was great working with Richard," says Scoundrels lead singer and rhythm guitarist Ned Wyndham. "He's got incredible energy and his CV speaks for itself. With Richard and Alonzo Vargas, our engineer, we'd set up a sound first and foremost, get the right amps together and play the song through a couple of times. Once we were firing on all cylinders, we'd go for a live take and then pop in overdubs afterwards where needed, while also taking out extraneous notes. With Richard, we were under a time constraint and produced five tracks in three days, which we were really pleased with. It was a kind of 'all systems go' vibe with great energy and a relentless drive towards getting the tracks done. We've been lucky enough to have had the chance to work with quite a few awesome producers and Richard was yet another string to that bow."