Large-diaphragm Microphones
These mics are intended to offer the sound of the classic U87, while costing a fraction of the price. Do they live up to their inspiration?
ADK Microphones was founded in 1997 by recording engineer and vintage mic enthusiast Larry Villella, with the aim of replicating the sonic qualities of vintage European mics. He started by using spectrum analysis and computer modelling to see what made his favourite mics sound the way they did, then he got a team together to try to build their own, while keeping the cost within reach of the project studio owner. The A51 model was his first success story, and updated versions of that mic are still available.
A couple of notable newcomers to the line are the Odin and Thor. Both of these mics were first announced under their original names, S7A and T7, respectively, before being renamed after their development code-words. The final models were unveiled at the Winter NAMM show earlier this year.
The Thor is a large-diaphragm (25mm) capacitor mic with a 32mm capsule, designed to accommodate high SPLs (up to almost 150dB) and to be as versatile as possible. It is also claimed to be tough enough to withstand live use, although it does require a pop filter for close-up vocal miking. Standard 48V phantom power is required for operation. The mic comes in a sturdy, velvet-lined and adequately padded case, with a stand clip.
Described as being well suited to pop and rock vocals, drums, guitar amps, and wind and string instruments, the Thor features a novel three-position Character switch with settings called Mellow, Neutral and Brilliant, which, in theory should make the mic match a wide range of sound sources and voice types. These settings were apparently designed to emulate the characters of the existing ADK S7, S7B and S7C models, respectively. The three settings essentially introduce different high-shelf attenuations, with Brilliant leaving the response unchanged, Mellow operating at 12kHz, and Neutral operating at 15kHz. The mic features transformerless electronics with a balanced output, a three-way pad switch (0dB, -8dB or -18dB) and a three-way high-pass filter switch, with settings for Off, 100Hz and 150Hz
The capsule can be switched to omnidirectional, cardioid or figure-of-eight patterns and the mic's sensitivity is quoted as 14mv/Pa, while the Equivalent Input Noise (EIN) figure given is 14dB (A-Weighted). To achieve the maximum SPL-handling capability of 148dB, the pad switch must be set to -18dB. With no pad, the maximum SPL is 130dB, and in the -8dB position it is 138dB.
Looking similar to the Thor, other than being significantly shorter in the body, the Odin offers exactly the same features, other than being a fixed cardioid-pattern mic, and has the same switching options. It has 1dB more self noise and 1dB less sensitivity than the Thor, but otherwise the spec sheet reads much the same.
Internally, both mics seem to be built in the style typical of the better-quality Chinese microphones I've examined, with all the circuitry housed on glass-fibre circuit boards and using good-quality but non-esoteric components.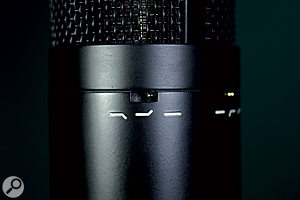 Common to both microphones is this three-position Character switch, which has settings for Mellow, Brilliant and Neutral.
With the Thor set to cardioid mode, both mics sound very similar. When all the controls are set flat, what you get is very typical large-diaphragm mic performance, delivering a confident and full tonality with a very slightly compressed, larger-than-life character. It certainly bolsters up that sense of lower-mid 'fullness' in the voice. We're told that ADK used the Neumann U87 as the benchmark when developing these mics, which explains their general tonal character. With the Character switch set to Mellow, there's a gentle rounding off of the highs, but the designers have kept the effect sensibly subtle. This is less mellow than a typical ribbon mic, but may be similarly useful for sweetening string recordings, taming harsh-sounding guitar cabinets, and so on. Switching to the Bright position adds sparkle and helps articulation, but without making the sound seem harsh or aggressive — useful for acoustic guitar, vocals that might otherwise lack clarity, and drum overheads. As far as I can tell, this is done electronically via filter circuitry, so doing the same thing with a good EQ should produce similar results.
In the Neutral setting, the mic suits a wide range of vocal styles, but it can also be used on just about any instrument, including kick drums, where the mic's high SPL handling is a distinct advantage. Having all the additional filtering switches is useful, as it is often desirable to tame excessive lows before the signal hits the mic preamp. The Mellow setting is more of a luxury than an essential, but it's better to have it than not. Importantly, the cardioid mode of the Thor and the Odin's fixed cardioid pattern manage to avoid the slightly nasal 'honkiness' that can afflict some cardioid-pattern mics.
In omni and figure-of-eight mode, the tonality of the Thor appears to change perhaps more than is really the case, due to the lack of proximity bass boost in the omni position and the inevitable strong proximity boost in the figure-of-eight position. Room reflections also have more of an impact when you're out of cardioid mode, but there's a reassuringly natural and open feel to the sound in both omni and figure-of-eight modes.
Perhaps the performance of these mics doesn't quite match that of the U87 benchmark, but they certainly lean heavily in that direction, in terms of character. These are both very capable mics, given their price, and they stand up well in comparison with other high-quality mics of Chinese provenance. There's a lot of competition in this price range from the likes of SE, MXL, Audio-Technica and countless others, but the additional filtering options and good basic performance make these mics well worth considering, especially as they can tackle anything from vocals to kick drums.  
This list could end up longer than the review, but look at the available SE and MXL models in the same price range, as well as the Audio-Technica AT4050.
Pros
Affordable.
Very versatile.
Good basic sound quality.
Summary
Two very capable mics that compare favourably with other similarly priced models. ADK have tried to offer something new, too, by providing the three Character settings in addition to the filtering and pad options.
information
Odin £199; Thor £259. Prices include VAT.
Golden Age Music +46 322 665 050.
Odin $299, Thor $399.
Dana B Goods +1 805 644 6621.