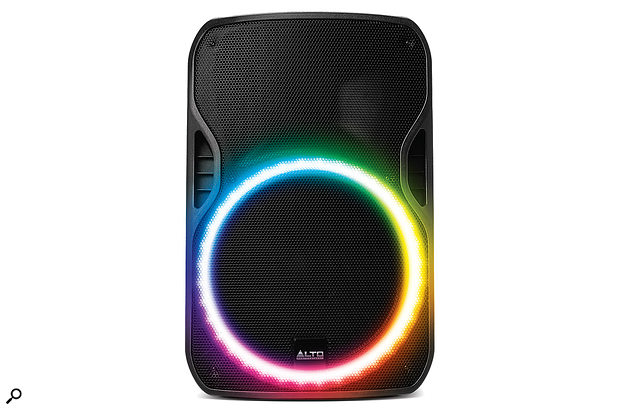 Alto's latest PA speakers have a few unexpected tricks up their sleeves...
Alto's newly released active, portable PA speakers — the TSL115 and TX15USB — both look completely 'normal' at first glance, but they each have a bit of an unusual twist...
The first unit to be unpacked was the TSL115, which is a special variant of the established and popular TS115A. It's a pretty standard-looking two-way design with a 15-inch LF driver and a compression driver for the high end, and it comes in a moulded polypropylene enclosure with the active amp and control unit housed in the back. I have to admit that I took it out of its shipping carton and plugged it in without looking at the user guide, or even what was written on the box, so I was surprised when my workshop was bathed in a sudden wash of colour when I powered it on. The TSL115 has a ring of LEDs right around the 15-inch driver, and these can be set to do various party-ish things that give a strong clue to this product's target market. My guess would be that potential purchasers will be interested in the feature set rather than the SPL figures and so on, so let's take a look at the rear panel where all the connectivity and control happens.
In audio terms, the TSL115 incorporates a two-channel mixer, both channels being identical as far as I can tell; I like the fact that they are provided with 'combi' connectors so that anything ending in a jack or male XLR plug can be connected, although condenser mics won't work as phantom power isn't present. Each input has a simple rotary level control which takes care of the expected range of input levels (from mic- to line-level sources), and therefore there's no need for a separate mic/line sensitivity switch — which is probably a good thing as it's one less thing to worry about for an inexperienced user.
There is no overall master volume control, but there is a useful XLR output which presents the input mix for feeding on to another speaker. There are no rotary EQ controls, but there is a 'contour' button which acts like the familiar 'loudness' option on some domestic amps in that it boosts the low and high frequencies at low volumes to produce a fatter sound — generally most useful with background programme. The simplicity of this feature set will make this an attractive product for some potential users, but I'd have liked to see a set of RCA phono inputs on one of the channels so that a small media player (iPhone, and so on) could be connected, thus making the TSL115 a real one-box solution for just about anything.
Switching on brings a (quiet, but not silent) fan into operation, and powering on and off produces no unpleasant clicks or pops. I fed a mono line source into channel one and turned it up for a brief listen, and the TSL115 provided easily enough level for a party or small gig. These are not intended to be super-powerful high-end speakers and the maximum SPL figure (at one metre) is given as 122dB 'continuous', which should be plenty provided you're not trying to cover a football field. It is of course more than enough to cause hearing damage if you get too close — party DJs please take note! Running music into the TSL115 so that the limit LED was lighting up regularly produced a fat, thumpy sound with plenty of woof and plenty of HF output. The crossover point is stated to be 2kHz, which sounds about right — for pre-recorded music there would be no need to hype the top end any further before the signal gets to the TSL115's input.
The main reason anyone would look at buying the TSL115 — as opposed to the TS115A — is the built-in light show. At the top of the rear panel are three small controls which select the light mode, colour and brightness of the overall effect. There's also a preview LED so that you know which colour the front-facing light is showing. The modes available range from solid 'mood' displays to pulsing, level-following, spectrum-driven or pre-programmed party style; it's all a lot of fun, and if you're not in a party kind of mood then turning the brightness control all the way down is the way to go. The ring of LEDs goes right around the woofer so it's large, bright and effective — certainly difficult not to notice when it's in full swing — and the obvious selling point here is that for modest party set ups there's no need for a separate set of lights at all, which means reduced gear, less space taken up and a shorter setup time.
Physically speaking, the TSL115 is lightweight, easy to handle and is about as simple to set up as you can get without paying someone else to do it for you. The cabinet appears to be sturdy and well put together, and the back panel controls are recessed enough to avoid what I call 'swipe damage'.
Moving on to the TX15USB, it's another self-powered two-way 15-inch speaker, similar in external styling to the TSL115 but with a different feature set and specification. Compared to the TSL115 it's lighter and more compact, and doesn't have the instant light show, but it does have a neat little USB playback section on board, and is going to be of interest to anyone wanting to operate a simple plug-and-play system which requires virtually no additional sound equipment other than the programme sources.
Usefully, the rear panel of the TSL115 has an LED among its lighting controls, to show you what colour is being displayed around the front.In terms of basic features, the TX15USB also has a two-channel input mixer, but one channel is dedicated to the USB media player and the other is used to accommodate an external input. There is a single level control for each channel, with a mic/line sensitivity selector for the non-playback input, and an overall 'contour' switch as described for the TSL115. A mono-sum mix output appears on an XLR connector for connecting to another speaker. And here's an unusual thing for a live sound speaker: since presumably, if you're running a stereo pair, you wouldn't want a media player in each speaker, Alto make a 'sister' model, the TX15, which is identical in spec but without the media player facility, and accordingly more affordable.
The TX15USB's player is contained within a neat little section at the top of the back panel, and has a display screen for track and status information, plus a set of playback controls. A standard USB memory stick is plugged into the USB port, and then the unit has to be powered on (separately from the main amp module). The playback module can play MP3, WAV and WMA files, so I put one of each on a stick and plugged it in. The player powered up and immediately started playing track one, and the pause, stop and next/previous track buttons all worked and are obvious in operation.
It's possible to skip from the first track to the last by pressing the previous track button, but if you want to start the current track again from the start you have to quickly press a 'previous-next' combination. Pausing and re-starting tracks went without a glitch, and the player behaved perfectly — the only thing I couldn't make it do was select any track when in 'stop' mode; it seemed much happier skipping between tracks when actually playing so I just turned the volume down until I had cued up the track I wanted. The LCD screen displays elapsed time, not remaining time, although I can't imagine anyone would spend a great deal of time watching this. I did try playing an M4A track from my iTunes library but it wasn't having any of that... There are three playback modes, which allow the whole stick content to be played in order then repeated, a random play mode, or a single track repeat mode.
The TX15USB's playback module features an LCD display and controls for playing, pausing and skipping between tracks.
The TX15USB isn't as powerful as the TSL115, and I found that the output level I could achieve without lighting up the limit LED was noticeably less than the other unit and, to my ears, it didn't have the same punch about the lower end. Having said that, the TX15USB is certainly loud enough for small gigs and would definitely be worth considering for solo performers — either as a single stand-alone unit or paired with a TX15 for more coverage and overall level. The on-board USB media player is an interesting and useful feature, and I'd imagine that a pre-prepared playlist would be the way to go as it saves pressing buttons to find the track you want. The random play option would of course be ideal for background music.
Both the TSL115 and the TX15USB are interesting and innovative products in their own right, and as ever it all depends on what potential users are looking for in terms of their live sound and performance requirements. Both of these products are affordable and particularly easy to carry around and set up; if a lightweight portable powered PA speaker which can play your media files, or light itself up for parties, is what you're after then these would certainly be worth checking out.
The 'PA with lights' concept is relatively new, but there are other examples, including the Studiomaster Starlight. Many PAs also provide some means of playing back audio from a phone or iPod, either via a USB port or wirelessly, via Bluetooth.
Pros
Affordable.
Easy to operate.
Interesting and useful music playback and lighting features.
Cons
Not for large spaces, but used sensibly they will deliver.
Summary
Two affordable, portable and easy to use speakers that each have their own unusual extras — built-in lighting in the TSL model, and convenient USB media playback in the TX.
information
TSL115 £359.99; TX15USB £209.99. Prices are per speaker, including VAT.
InMusic Brands +44 (0)1252 896040
TSL115 $449; TX15USB $299. Prices are per speaker.
InMusic Brands +1 401 658 3131