500-series Equaliser & Enhancer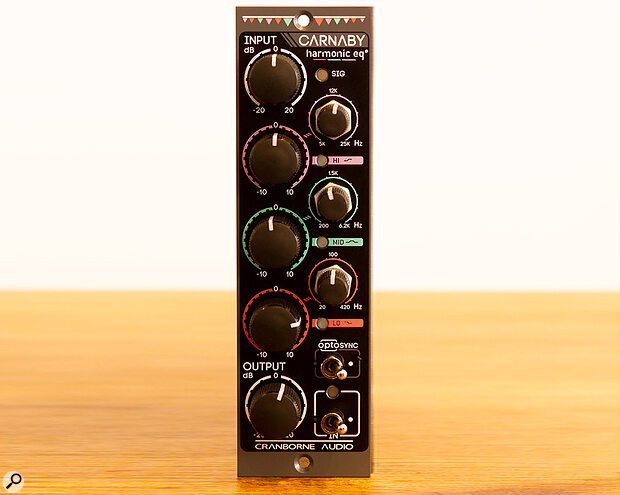 It's equalisation, Jim... but not as we know it!
Back in the heyday of music recording, in the 1950s and '60s, pretty much every new piece of equipment was innovative in some way. Lots of compressors and limiters appeared that employed new technologies or provided new facilities, and it was the same for equalisers, preamps, consoles and... well, everything! Moving through the '70s, '80s and '90s, we saw more real innovation with the introduction of digital effects and processors, recording and sampling, and then DAW software that could run on home computers and, subsequently, all the amazing software plug‑ins and processors that we enjoy today.
Genuine innovation is much less common these days, and for audio hardware it's arguably very rare: the steady stream of loudspeakers, mics, mic preamps, EQs, dynamics processors and all the rest might deliver better technical performance or greater functionality for a lower price, but there really isn't very much that catches the eye as being distinctively innovative.
So, when Cranborne Audio messaged me to say they had invented "the first new analogue audio circuit in 40 years" I was very interested — and having since had my hands, eyes and ears on it, I think they're right. Their new Carnaby 500 Harmonic EQ is something genuinely different. Just as importantly, though, it's a useful, creative, musical tool.
The Carnaby 500 is a single‑width 500‑series module and it's described as the world's first Harmonic EQ, a moniker that has been trademarked around the world. It uses an entirely new analogue circuit design that integrates conventional multiband EQ with tuned saturation effects to make a device which can introduce radical, musical, tonally rich changes to the sound of individual instruments or whole mixes. The technology builds on the company's experience of designing the wonderful Mojo facility that's built into their Camden 500 and EC‑series preamps, but it's a completely unique approach that can't be found anywhere else.
I'm told that the journey to the finished Carnaby product took in four prototypes, many design iterations and hundreds of hours of critical listening and, understandably, Cranborne aren't keen to share the full technical details of their design. But they have told me that it's one of the most advanced and technologically complex circuits they've ever designed, and that it employs a combination of passive and active EQ stages, some involving gyrator circuits (which emulate inductors), all working with an integral saturation core. These EQ and saturation stages aren't separate serial or parallel processes but fully integrated and interdependent — that's the main innovative and clever bit!
The combination generates musically related harmonics for each band, and these are combined with the input signal to create an EQ‑like effect. It can, for example, make signals sound brighter and fuller without obviously boosting their level, for example. In essence, adding harmonics to the fundamentals within a band creates a boosting effect, while the cutting mode keeps the harmonics but reduces the fundamentals. From this crude description, it's probably obvious that this isn't a tool for precise surgical corrective EQ. Rather, it's a broad‑brush‑strokes kind of tool, intended for creative overall tonal shaping.
Cranborne's previous products have all been designed to be as technologically perfect as possible. For example, the Camden 500 and EC preamps were designed to be as close to the perfect preamp as modern technology would allow, to provide the totally neutral and accurate digital world with the most accurate possible source material. They feature completely linear frequency and phase responses at all gain settings, with vanishingly little distortion and noise. Okay, the Mojo facility can introduce musical colour when it's wanted, but when that's turned off the Camden preamp is as clean, neutral and good as it gets. The headphone amps in their EC preamps and 500‑series racks are equally impressive, both technically and practically.
In stark contrast, there's nothing accurate and pure about the Carnaby! While the electronics themselves are wonderfully quiet, this device has been designed to introduce colour, character and emotion, taking the idea of their Mojo circuit and blowing it up into a whole new mindset. There's a sound logic behind this decision, though: as Cranborne point out, accurate EQ already exists in the digital audio world: any frequency and/or phase response can be created with relative ease, while enjoying the benefits of near‑infinite headroom and zero self‑noise, and most DAWs include incredibly sophisticated EQs that, from a technical perspective, easily outperform anything in the analogue world. Analogue circuitry, though, remains popular and still has a role to play, since its inherent flaws can bring something really useful to the party; unique musical characters and tonal colours that are musically desirable and enhancing, and that remain quite hard to fully recreate in a DAW.
As with the Camden 500, the Carnaby's initial form is that of a 500‑series module, but I feel sure rackmount or other models will appear in time if the Harmonic EQ idea catches on. The user interface has been designed specifically to resemble a familiar three‑band parametric analogue EQ, and it is used in pretty much the same way. As I mentioned above, each of the EQ bands is enhanced with harmonic saturation specifically matched to that band, but the nature of the saturation core means that the EQ also introduces dynamic properties. At higher signal levels, a compression‑like effect builds as well, which further enhances the harmonic equalisation in a musical and natural‑sounding way.
As with most 500‑series EQs, the single‑width front panel is fairly busy, with five large knobs arranged in a column on the left and three smaller knobs and two toggle switches on the right. All eight rotary controls have a softly detented action. The control layout is simple and logical, and will be perfectly familiar to anyone who has used a parametric equaliser before.
Knobs at the top and bottom of the left column control the input and output levels, both with ±20dB ranges in 1dB increments. Slightly confusingly, a dual‑colour LED opposite the input level knob indicates the output level. This illuminates green when the output rises above ‑12dBu and red at +27dBu (the onset of clipping). The three large knobs between these adjust the high, mid and low bands' gains, each covering a ±10dB range scaled in 0.5dB steps; the greater the boost or cut, the more harmonic saturation occurs in that band.
Each of the three smaller knobs adjusts the corner/centre frequencies of one EQ band, and this essentially defines the starting frequency at which saturation harmonics are blended with the original signal. The high‑band tuning spans 5‑25 kHz, while the low covers 20‑420 Hz, and the mid 200Hz to 6.2kHz, so there are generous overlaps between adjacent bands. Positioned just below each band's frequency control is a saturation LED, the brightness of which indicates how hard that saturation stage is being driven (and thus the amount of harmonics being added to the original signal). These LEDs start illuminating at 3% THD, a number which sounds frighteningly large when compared with, say, the Camden preamp, which generates less than 0.0004%! But the maximum signal level that was recorded onto analogue tape was defined as the point where 3% of third‑harmonic distortion was produced... and that was the very definition of analogue sound!
Optosync... allows one module's settings to be controlled from another installed directly to its left without any wiring between the two.
The lower of the two toggle switches at the bottom of the panel provides a full bypass of the entire module, with a blue LED confirming active operation. The toggle above engages another unique and clever feature introduced with the Carnaby, called Optosync. I've gone into more detail about this in the box but, to summarise, this allows one module's settings to be controlled from another installed directly to its left, without any wiring between the two (whether directly or via a 500‑series frame's back‑plane connectors). In Optosync mode, the blue LED changes to white, and it pulses whenever new control setting data is being received.
At the bottom left of this picture, you can see the block of six DIP switches that allows the user to configure the Carnaby module to suit their own preferences.
A block of six DIP switches mounted on the module's circuit board allows various configuration changes. For example, there's a wired alternative to Optosync, using a 3.5mm TRS socket mounted near the rear of the upper circuit board, and a DIP switch activates this link. Other options include changing the full bypass mode so that it still includes the output level control. Another option turns the band harmonic saturation LEDs off, and another activates an auto‑calibration mode on each power‑up.
The Carnaby is an EQ… but it's certainly not EQ as we have come to know it! This genuinely new, innovative design delivers something musically effective that's truly different from conventional EQs or, for that matter, harmonic enhancers such as Aphex's Aural Exciter. The controls look reassuringly familiar, but they don't deliver results in quite the way you might expect, and I noticed in particular that the frequency controls seem to have at least as much (sometimes much more) of an effect on the result as the gain controls. There's undoubtedly a shift in each band's amplitude as its gain control is adjusted, as with conventional EQ, but the gain range is smaller than most. So, for example, tuning the mid band down to 200Hz and turning the gain control fully anti‑clockwise still removes muddiness, just as a conventional EQ does.
Trying to illustrate exactly what the Carnaby does is difficult with conventional audio tests sets! This Audio Precision plot attempts to show how the THD varies dramatically with frequency as the three band controls are maxed. The bottom blue line is with all controls flat.
However, most of what you hear isn't the conventional amplitude change at all, but the harmonic additions that work to make the sound richer, fuller or brighter, depending which band you're tweaking. The overall effect is probably best described as the audio equivalent of turning up the colour saturation in photo‑editing software: it generally makes the sound more vibrant, musically exciting, and aurally more interesting.
In trying the Carnaby on a wide variety of single‑instrument recordings and full mixes, I ended up mostly setting band gain controls at their extreme boost or cut positions. The subtlety of settings was usually obtained through a combination of the frequency control positions and the input gain, to determine the overall level of drive. (When increasing the input level I generally also dialled in a compensating output level cut, to maintain a consistent unity gain overall.) Perhaps not surprisingly, almost everything sounded bigger, 'phatter', and with more airy sheen when both the low and high bands were turned up, and with stereo material this setting also enhanced the depth and width of mixes.
A standard frequency response plot taken with an Audio Precision test set showing the traditional three‑band boosts and cuts in signal amplitude.
Inevitably, given its groundbreaking technology, the Carnaby takes some getting used to. It's certainly not an EQ I'd want to use on everything, but when you want to 'beef up' a tonally weak source or introduce some distinct character and energy into an instrument, or enhance the analogue feel of a whole mix, a pair of Carnaby Harmonic EQs offer a unique and gratifying means of doing just that.  
The two bright red LEDs near the front panel are used for optical control sync'ing of a unit placed in the next slot to the right — and the signal can be daisy‑chained to allow sync'ing of multiple modules for surround and immersive formats.Most single‑module 500‑series EQs operate in a mono, single‑channel mode and can't be used as part of a true stereo equaliser, for which one set of controls determines the parameters for both modules. However, the Carnaby 500 features a brilliantly clever new technology called Optosync. It's a digital data‑sharing scheme that ensures that every switch and rotary control setting from one unit is wirelessly coupled to another placed in the adjacent right‑hand slot, thus allowing true stereo‑pair operation. What's more, this optical link can be extended to further units to allow true multi‑channel (eg. 5.1) operation.
The physical implementation is ingenious and very elegant. The control data is transmitted by two red LEDs mounted on the right‑hand side of the circuit board behind the front‑panel controls. These LEDs, mounted near the top and bottom of the control board, shine sideways to the right across the 500‑series rack and onto the back of whatever module is placed alongside. The left‑hand side of the Carnaby module has a metal screening plate with various cutouts for logos and decoration, and two of those cutouts align with the locations of the LEDs, allowing their modulated light to reach a pair of optical light sensors placed on the back of the main circuit board.
Optosync works perfectly, and although the way the control data is gathered and encoded, transmitted and decoded is complex and sophisticated (several data‑processing chips are evident on the circuit boards), the concept is, like all the best ideas, both simple and brilliant.
Other processors can add harmonic interest, but there are none that work in the way that the Carnaby does nor any that offer the same range of controls.
Pros
A genuinely innovative new technology.
Offers a brand‑new way of adding tonal colour and aural interest.
Optosync is a brilliantly effective means of linking controls across multiple units.
Familiar control layout and broad functionality.
Summary
A radically different and musically effective approach to analogue EQ.
Information
£499 including VAT.
KMR Audio +44 (0)20 8445 2446
$599.
Cranborne Audio +44 (0)1707 656500.