Digital Recording & Editing Environment (Preview)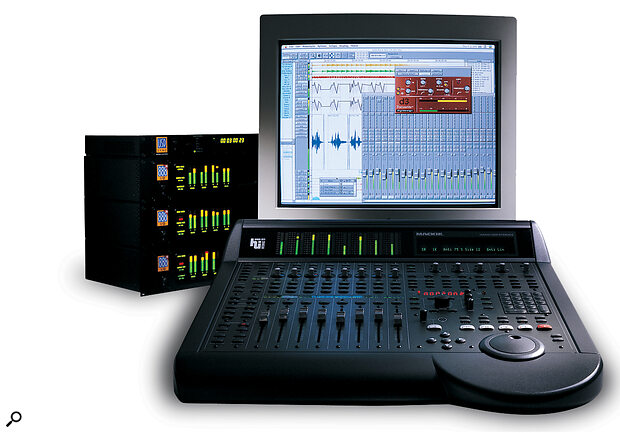 PT24 hardware and software, with Mackie's HUI in the foreground.
Pro Tools moves up a bit (or eight) and Mackie's dedicated hardware controller for the system finally arrives. Mike Collins gets an advance viewing.
I bought my Pro Tools PCI system just about 12 months ago, at the same time as a Yamaha 02R. These were paid for with a 3‑year loan from my bank, and now, just a year later, it looks as though it's time to go back to the bank manager, as the latest version of Pro Tools (called PT24), plus Mackie's HUI (Human User Interface) for Pro Tools, are on the verge of being released.
To find out more, I recently went along to Digidesign's offices at Pinewood Film Studios to spend an afternoon looking around the new PT24, followed by a visit to London‑based audio suppliers Syco the same evening, for a demonstration of the Mackie HUI rigged up with a PT24 system.
The Pro Tools software has been updated to version 4.1, and a new 24‑bit interface, the 888/24, has been developed, along with a new 24‑bit processor card, the d24. This last item is a half‑length PCI card based on the Motorola 56301 processor, and currently it can handle 24 tracks of 24‑bit audio, although a software update will enable it to handle 32 tracks by the end of 1997. A Mac serial port is provided on the d24 card to connect a SMPTE Slave Driver or Universal Slave Driver synchroniser for quicker lock‑up, or to act as a third serial port for the Mac. Currently this port is non‑functional, but it is expected to be in use by the end of the first quarter of 1998.
The DSP Farm in PT24 systems is the same card as the one supplied with PTIII systems, although there have been some recent tweaks to make it work with the latest expansion chassis. As far as expansion chassis are concerned, you can use the [third‑party manufactured] Bit 3 7‑slot and 13‑slot models with the d24 card, although the 13‑slot model only lets you use 10 of its slots. (With PTIII systems you can use both the Magma and Bit 3 7‑slot units, but not the 13‑slot model).
Although the Pro Tools software has been updated to version 4.1, it looks just about identical to the previous release. So what's different? Well, there's support for the Bit 3 13‑slot chassis, as mentioned above, and for the Mackie HUI on PowerPC systems, and you get bundled EQ in both AudioSuite and TDM versions. The 4.1 software update also fixes a problem with destructive record, where it would fill the drive or corrupt the file if you stopped recording in the middle of a song. You can use the 4.1 software with PTIII PCI systems if you like — to allow you to use a HUI, for instance.
The new software now features full MIDI Machine Control support, so you can lock a sequencer such as Logic Audio to Pro Tools, making the sequencer the master if desired. There's full support for the Universal Slave Driver (USD) synchroniser (also reviewed on page 81 of this issue), and the 4.1 software can now send MIDI Time Code back to Pro Tools with positional info. Digidesign's Video Slave Driver (VSD) and SMPTE Slave Driver (SSD) synchroniser units will lock via MTC, but only to quarter‑frame accuracy, whereas the USD talks directly to the card, to bit accuracy (1/80th of a frame).
There are a number of changes to the standard plug‑ins — the 4‑band and 1‑band EQ and the dynamics processors — whose algorithms have been improved to sound more like those on high‑end analogue consoles. D‑Verb, DPP1, DINR and the Focusrite D2 have all been updated with a new graphic look, and TC Works' TC Tools 2.0 now has a 5‑band real‑time EQ module, as well as the chorus and reverb modules. The 4.1 CD‑ROM also contains updates for all Digidesign‑distributed plug‑ins, if they need updating for 4.1 (which some don't).
So do I need to go back to the bank manager for this 24‑bit upgrade? It certainly would give me a better signal‑to‑noise ratio, with increased dynamic range and headroom, on my recordings, and would let me prepare better audio for DVD and other future formats. Yet more cash would have to be found if I wanted to be able to record analogue sounds at 24‑bit: I would need appropriate A/D converters for this job, and the new Digidesign 888/24 interface has eight of these. It will only let me monitor at 20‑bit resolution, but this is an improvement on the 16 bits available previously. As far as the digital inputs and outputs are concerned, both AES/EBU and S/PDIF interfaces can handle 24‑bit digital audio signals anyway, so you can use the digital inputs and outputs on the older 888 and 882 interfaces to bring 24‑bit signals in and out of PT24. Interestingly, the 888/24 will also work in stand‑alone mode so I could, conceivably, use it with other digital equipment on occasion. Currently you need to use jumpers inside to set the sample rate and digital format for stand‑alone use, but a software utility will be available soon. The 888/24 can also be used for 16‑bit recording with PCI‑based PTIII systems, although it requires Pro Tools 4.1 software and won't work with the ADAT interface or with NuBus‑based Pro Tools systems.
The 888/24 uses Crystal 5394 A/D converters and Crystal 4329 D/A converters, and Digidesign claim a dynamic range of 110dB for the A/D and 102dB for the D/A. At the A/D converter the analogue signal is encoded while referenced to an extremely low‑jitter clocking mechanism, to ensure the highest quality conversion. Indeed, Digidesign claim that their unit surpasses the performance of both the Apogee AD1000 and AD8000 converters. On the other hand, the new Apogee AD8000 box also looks pretty tempting, with eight channels of 24‑bit A/D and two or eight channels of D‑A featuring Apogee's proprietary SoftLimit circuitry, plus UV22 encoding for 20‑bit or 16‑bit audio. The Apogee interface will connect directly to Pro Tools, and various format‑conversion cards are also available for expansion with ADAT or TASCAM interfaces. Tough choices!
One very significant change is that the d24 card no longer uses the Digidesign SCSI buss. Today's Macs are more powerful, hard drives are cheaper and faster, and SCSI accelerator cards are widely available and increasingly affordable. So now you can play back audio off any drive connected to your Mac, using DAE's new host‑based disk engine. This uses system RAM in the computer to buffer the audio data coming off the hard drives. It is a claimed advantage that the card uses the computer's RAM rather than its own on‑board RAM for this purpose, but bear in mind that 64Mb is required! Fortunately, RAM prices are at an all‑time low.
Using an appropriate drive on the external Mac SCSI buss, you can be sure of getting 16 16‑bit tracks from the drives you used for Pro Tools III systems. However, to get 24 tracks of 24‑bit audio you will very likely need to use a SCSI accelerator card with the latest, fastest drives. The data rate required for 24 tracks of 24‑bit audio is around 150K/sec per track, which adds up to about 3.6Mb/sec of sustained throughput. This can only be achieved using very high‑performance drives. Your hard disk space requirements are also likely to increase fairly substantially compared with PTIII systems.
This is a professional hardware control surface jointly designed by Digidesign and Mackie, which provides tactile control over the recording, editing and mixing features of Pro Tools. Physically it resembles a small digital mixing console, with mix buss and hardware I/O assignment switches at the far left, eight assignable channel strips more or less in the centre, and various other controls to the right. At the top there are controls for plug‑ins, with a switching matrix for the automation functions below this. In the middle of this section there are control room monitoring controls, a built‑in talkback mic, and a keypad to let you enter data. Below is a set of transport controls and a jog wheel with associated navigational switches. In the upper right‑hand corner there's an alphanumeric display for controlling the parameters of DAE‑compatible plug‑ins, with eight stereo meters to the left of this.
On the back you get a pair of MIDI ports to connect to the digital audio workstation, and two pairs of general‑purpose input/output jacks for triggering Stop/Play/Punch, On‑Air, external console solo, and suchlike. There are three pairs of jacks for control room audio input and output, along with a headphone jack which shares the Output 3 signal. The HUI's talkback mic preamp can be used to hook up a remote talkback mic, rather than using the built‑in mic, and two balanced high‑quality mic preamp inputs with switchable phantom power are also provided. These have stereo jack inserts to let you strap a compressor or EQ across the inputs, along with balanced/unbalanced line‑level jack outputs.
I'll come clean right away: if you're using Pro Tools as your recording and mixing environment rather than just for editing, I feel the HUI has features to die for. I particularly liked its electronic scribble strips and the way in which various plug‑in parameters come up on the screen. Then there's the analogue control room section, with switches for three sets of monitors which can be configured as six discrete signal paths for surround sound. Actually, there's so much stuff on the HUI that it could take you quite some time to become totally familiar with it.
The question on many people's lips is going to be "Do I need an external mixer if I buy a HUI?" This depends very much on what you're going to use your system for, and how many audio signals you need to be able to plug into it at any one time. You might need a second, or even a third interface. You can connect a Y‑cable to the d24 card to go to two 888 interfaces, but you can only connect one 888 or 882 to the DSP Farm. And don't forget that you only have line‑level inputs on the Pro Tools interface, so you may well need one or more microphone preamps. Of course, by the time you've bought extra 888 or 882 interfaces and enough microphone preamps, you might just as well have bought a fully‑fledged mixer. Watch this space for more as soon as review systems are available.