Digital Recording & Editing Environment (Preview)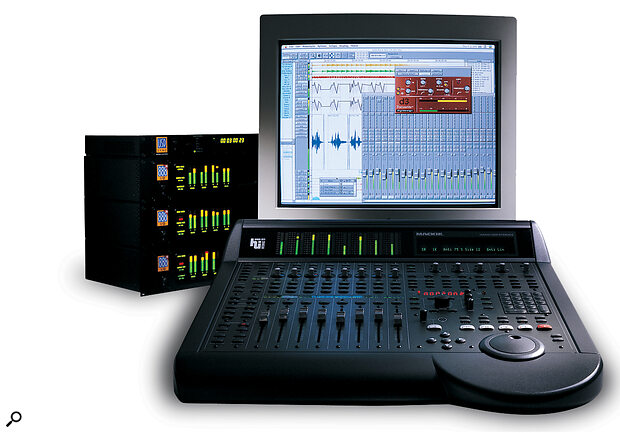 PT24 hardware and software, with Mackie's HUI in the foreground.
Pro Tools moves up a bit (or eight) and Mackie's dedicated hardware controller for the system finally arrives. Mike Collins gets an advance viewing.
I bought my Pro Tools PCI system just about 12 months ago, at the same time as a Yamaha 02R. These were paid for with a 3‑year loan from my bank, and now, just a year later, it looks as though it's time to go back to the bank manager, as the latest version of Pro Tools (called PT24), plus Mackie's HUI (Human User Interface) for Pro Tools, are on the verge of being released.
To find out more, I recently went along to Digidesign's offices at Pinewood Film Studios to spend an afternoon looking around the new PT24, followed by a visit to London‑based audio suppliers Syco the same evening, for a demonstration of the Mackie HUI rigged up with a PT24 system.
The Pro Tools software has been updated to version 4.1, and a new 24‑bit interface, the 888/24, has been developed, along with a new 24‑bit processor card, the d24. This last item is a half‑length PCI card based on the Motorola 56301 processor, and currently it can handle 24 tracks of 24‑bit audio, although a software update will enable it to handle 32 tracks by the end of 1997. A Mac serial port is provided on the d24 card to connect a SMPTE Slave Driver or Universal Slave Driver synchroniser for quicker lock‑up, or to act as a third serial port for the Mac. Currently this port is non‑functional, but it is expected to be in use by the end of the first quarter of 1998.
The DSP Farm in PT24 systems is the same card as the one supplied with PTIII systems, although there have been some recent tweaks to make it work with the latest expansion chassis. As far as expansion chassis are concerned, you can use the [third‑party manufactured] Bit 3 7‑slot and 13‑slot models with the d24 card, although the 13‑slot model only lets you use 10 of its slots. (With PTIII systems you can use both the Magma and Bit 3 7‑slot units, but not the...
You are reading one of the locked Subscriber-only articles from our latest 5 issues.
You've read 20% of this article for free, so to continue reading...
Buy & Download this Single Article in PDF format

£1.00 GBP

$1.49 USD


For less than the price of a coffee, buy now and immediately download to your computer or smartphone.

Buy & Download the Full Issue PDF
Our 'full SOS magazine' for smartphone/tablet/computer. More info...