Few compact wedges can boast the same quality, versatility and robustness as this uncompromising speaker from Dynacord.
One thing you can be sure of when you buy anything with the Dynacord name on it is that the thing will be built like a tank. The AXM 12A stage monitor is no exception, but even though it weighs in at 15kg and measures 414 x 339 x 484 mm, it is still very manageable. Packing more power than many small front-of-house powered PA speakers, the AXM 12A is designed to work as a floor monitor or as a pole-mounted side fill, but can also double as a main PA speaker.
Bi-amplified with a total of 335W RMS of power (split one third to the tweeter and two thirds to the woofer), the AXM 12A can deliver a maximum SPL of 128dB at one metre — and that's loud for a monitor. It is based around a DCX 12300 12-inch woofer with an integral 1.75-inch coaxial HF unit, crossing over at 1.6kHz. The spec sheet claims a 50Hz to 20kHz frequency response between the -10dB points. The coverage angle is a symmetrical 90 degrees horizontal by 90 degrees vertical.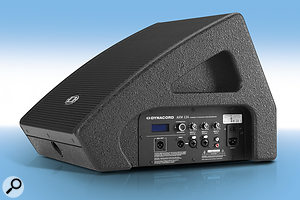 The AXM 12A's side panel houses its three-input mixer section, as well as the LCD screen and push encoder that allow access to the speaker's extensive DSP features.The shallow wedge casework is built from 15mm birch ply and coated with anti-scuff textured paint. A gently curved, powder-coated grille protects the driver. Carry handles are formed into the woodwork, so there are no loose handle parts to rattle around, and there's a safely recessed control panel on one side that includes a three-channel mixer and all the necessary connections, including the IEC mains inlet and power switch.
There are two mic/line channels on 'combi' connectors, plus a third line-only channel on a pair of RCA phono inputs — and each input has its own level control. Input 1 also features an XLR thru connector, and there's a ground-compensated balanced output for linking to a second powered speaker or other destination.
This mixer also includes a DSP section, where a combined encoder/push switch allows you to access and adjust parameters, with a tiny but very clear back-lit LCD window above it. There's an overall EQ section, with high and low shelving sections augmented by a sweepable 70Hz to 12kHz mid band. Each band has a ±10dB range. An adjustable low-cut filter can be set between 50 and 200 Hz, and a tunable narrow notch filter (70Hz to 10kHz) helps address feedback issues. There are also five 'voicing' presets designated for monitor, electric guitar and PA use, and five memory slots for storing your own DSP settings.
If the speaker is used as part of a distributed system, where time-alignment delays are required, it can also provide those to compensate for up to 100 metres of spacing, in 100mm increments. A further menu option adds a suitable high-pass filter for use with a subwoofer, and it is also possible to apply phantom power to mic inputs 1 and 2 via the DSP menu.
Dynacord's designers have also put some thought into how best to link the speakers for use in a stereo system, where the menu allows the user to determine how the phono aux inputs should be routed. By default, the left and right aux signals are summed to mono, but there's also the option of having only the left channel sent to the monitor, with the right channel going to the mix-out XLR. Essentially this allows stereo material input via the RCA phonos in one speaker to be played in stereo through a pair of linked AXM 12As, while the mic/line channels remain in mono.
Playing back some full-range material from an iPod reveals immediately that the AXM 12A is a serious piece of kit. Everything comes over cleanly with a punchy but flab-free bass end, sizzling highs and, most importantly, a very solid and well-balanced mid-range. And perhaps that shouldn't be surprising given the price. Two of the three monitor presets have some low-end roll-off, as well as varying degrees of mid-range shaping, while the electric guitar preset models the response of a typical 4x12 cabinet. In PA mode there's noticeably more low end and a generally flatter response, and the bass sounds rather more impressive than what might be expected from such a small cabinet. Plugging in a good microphone shows off the exceptional mid-range clarity of the design.
Dialling in some EQ tweaks makes it easy to voice the speaker according to the venue, and if you need to use the speaker as a main PA component rather than as a monitor, it again performs extremely well in terms of available level and overall clarity. Indeed, the maximum SPL of 128dB at one metre means you have to be careful not to overdose yourself with sound when using the AXM 12A as a wedge monitor or nearby side fill. Its flat frequency response and even dispersion also means you'll get a decent amount of level before feedback when using it as a monitor.
It may be hard to justify this price for a monitor speaker unless you are playing very large venues, though it would make a great drum monitor. For the smaller band it actually outperforms a lot of main PAs of a similar price, both on volume and sound quality, and it is also nicely compact. Add a sub and you have a really serious full-range PA system that will still fit into a hatchback. That being the case, the AXM 12A could be a good choice both as a small venue's main PA and as a monitor in a large venue — and for those bands that play a large venue one day and a small pub the next, it is ideal.
The Mackie DLM12s are similar in concept, though they cost a little less and have plastic cases rather than wooden ones. The Line 6 StageSource speakers also offer sophisticated DSP processing and mixing.
Pros
Truly professional performance.
Versatile mixer section.
Equally at home as a monitor or main PA speaker.
Cons
Only the price — though even that is justified by the quality.
Summary
The AXM 12A must come close to being a no-compromise stage wedge, while still being highly capable of acting as a side-fill monitor or main PA speaker, thanks to its pole-mount socket. Yes, it is expensive if you regard it simply as a monitor, but it is really a very serious PA speaker in a monitor-shaped box.
information
£952.98 per speaker including VAT.
Bosch Security Systems +44 (0)800 1695739