It's not the cheapest mixer in its class, but with its built-in effects, graphic EQ and quality engineering, the PowerMate offers real value.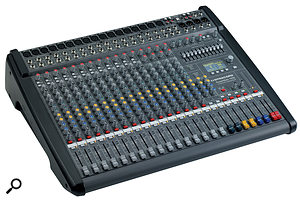 In an era where everything seems to be going digital, coming across a traditional analogue powered mixer is rather like slipping on a pair of comfortable shoes. The PowerMate 1600-3 may have a pair of 24-bit digital effects processors, a USB output for computer recording and a few configurable functions accessed via a small display and data knob, but the main features and layout remain resolutely old-school analogue.
As befits a mixer destined for life on the road, the PM1600-3 is built into a ruggedly engineered metal case fitted with moulded side cheeks with recessed handles. Unusually, though, this is the first mixer I've come across that has an integral moulded cover, so you don't even need to put it in a heavy flight case, as long as you treat it with a modicum of respect. When fitted, the cover protects the entire control surface.
All of the mixer's connectors (other than the IEC power socket, two Speakon amplifier outlets and a pair of MIDI In/Out sockets, which live on the back) are arranged along the top edge of the mixer, where they can be readily accessed. The PM1600-3 comprises 12 mono mic/line channels, with XLR inputs for mics and jack sockets for line-level signals, and a further four stereo line channels that may also be used as mono mic channels. The mono channels additionally have TRS jack insert points, and phantom power for the mic inputs is switched in three groups, for mic inputs 1-6, 7-12 and 13-16.
Phono connectors are used for the two-track inputs and outputs, with two further sets of phonos provided to allow CD players or other music players to be fed through the mixer. XLRs provide the main mix outputs, and also the two monitor sends (though these are duplicated on jacks), while jack sockets are used for the two effects sends, the two aux sends, the Master B outputs which duplicate the main mix, the headphone socket, effects-bypass footswitch and the L/R power-amp inputs. These last two break the connection between the main mix output and the power amp input, allowing for some interesting routing options (of which more later).
All the jack sockets are robust metal-chassis types and, with the exception of the insert points and headphone out, are either balanced or ground-compensated as necessary. Finally, a four-pin XLR socket provides 12V power for gooseneck lights.
Class-D design, coupled with universal-voltage switching-mode power supplies, allows the built-in amplifiers to be lighter and cooler-running than traditional analogue designs, though two very quiet, variable-speed fans on the rear panel are needed to help cooling. The amplifier power has also been increased compared to previous generations of PowerMate mixers, from 700W to 1000W per channel into 4Ω (minimum load is 2.7Ω). These amplifiers incorporate limiters as well as heat/short-circuit/fault protection, with corresponding status LEDs on the mixer panel. Furthermore, the amps incorporate Dynacord's proprietary 'LPN' (Low-pass Notch) filters, plus 80Hz, 12dB/octave high-pass filters, the combination of which is claimed to optimise the low-end transient response of typical sound-reinforcement speakers. Using the display and data knob, these filters can be switched off, or set to one of two preset values. The low-cut filter attenuates unnecessary subsonic frequencies, while the LPN filter applies a little boost further up in the bass region.
Not much going on here! The rear panel houses only the IEC power socket, MIDI I/O (for choosing effects), and the two amplifier Speakon outputs.
All of the channels have a three-band EQ, with the mono channels benefiting from a sweepable mid band (100Hz to 8kHz) and a switchable 80Hz, third-order high-pass filter. The stereo channels have a fixed 2.4kHz mid-range control, and no low-cut switches, and the high and low shelving filters on all channels operate at 12kHz and 60Hz respectively. To conserve space, the faders are 70mm types rather than full-throw 100mm ones. Dedicated faders are provided for the aux, monitor and FX returns in the master section.
One feature that may not be familiar is Dynacord's Voicing Filter, which is provided in addition to the EQ on the mono channels. This is a switchable, preset EQ that enhances the harmonic and treble content of the human voice in some undisclosed way, while pulling back the mids at around 500Hz slightly to improve intelligibility and to help the vocal cut through a mix.
All the channels have two effects sends routed to the two internal effects engines, plus two aux sends which are switchable in the master section to pre- or post-fader, and two pre-fader monitor sends. Each channel has a mute button with adjacent status LED, which also mutes the effect, aux and monitor sends from that channel. Pre-fade listen switches (also with indicator LEDs) are present too, but these don't affect channel sends. A pair of faders controls the main output. These also have mute and PFL buttons; in this case, PFL sends the mono master signal to the headphone bus independently of the master fader setting, making it possible to check the entire mix without feeding it to the front of house speakers. There's no additional bussing here for creating subgroups, though: all channels route directly to the stereo mix bus.
Overall, the master-section controls have been kept simple, with output controls arranged along the top right of the control panel for the two effects sends, two-track in and out, the Master B output (which can be switched pre- or post the master fader, and which can be collapsed to mono), and the headphone output. By patching the various master or monitor outputs to the power-amp inputs, it is possible to reconfigure the mixer so that its internal amplifiers drive, for example, monitor speakers rather than the FOH system, while its main mix outputs feed an external amp or active front-of-house speakers. It is also possible, via the same strategy, to wire in an external crossover and use a powered sub.
Dynacord have included a four-channel USB audio output that can be used to record the stereo mix or the two monitor mixes, as selected via the display menu, plus the two aux sends, at up to 96kHz, to a USB2-equipped computer. Mac OS and Windows drivers are provided on an included disc, along with a copy of Cubase LE. This is clearly very useful, though a system for recording directly to a memory stick would have made life a little easier for the engineer.
Above the faders for the two effects return levels are 'on' buttons (with green LEDs showing when the effects are engaged), providing a fast way to kill the effects between songs or to switch between effects. Effects may also be selected via MIDI, using the rear-panel MIDI sockets. There are also four rotary controls to send the effects to any of the aux or monitor mixes. Pre/post switches are placed above the two aux-send faders, to reconfigure them as either monitor sends or effects sends as necessary, while the two dedicated pre-fader monitor sends have feedback filter switches above them. These work in much the same way as those fitted to acoustic guitar amplifiers, with a narrow-band notch filter that can be swept in frequency (between 70Hz and 7kHz) using two rotary controls. While not as effective as an active feedback-seeking system, it's still far better to have this facility than not.
A pair of 12-section LED meters monitors the mix-output or PFL level, and there's a standby button that mutes the mixer (other than the aux and monitor outs, and two-track playback), to avoid having to change fader positions during a break.
An 11-band stereo graphic equaliser using 40mm faders also resides in the master section. This can be switched to operate on the main mix or either of the two monitor sends, again via the display and data knob.
Anyone with a passing familiarity with analogue desks will have no problem finding their way around this mixer, and even the digital display menu presents few challenges: pressing the data knob brings up the main menu, while turning it scrolls through the various things you may wish to configure or adjust, such as the effects, the USB recording settings, the graphic EQ assignment, the LPN filter settings and various user options. Pressing it again opens the relevant edit window. Functions include display brightness and protection settings for different loudspeakers, where you can set the maximum power the connected speakers are designed to handle, if it's less than the maximum the PM1600-3 can deliver.
Powering up is silent due to a 'soft-start' design, and takes only a few seconds. There's bags of clean amplifier power available here, yet the circuitry runs very quietly.
The editing process for any of the 99 effects is comparable with that of stompboxes, in terms of complexity, with only four parameters per effect; you can name and save any of your own edited effects. There are both 'normal' and reverse reverbs and delays on offer, plus modulation effects, and the reverbs in particular are both plentiful in style and musically very satisfying. I felt the reverse effects were rather too short to be really useful, but pretty much everything else was spot-on. Being able to tap in tempos via the button below the data wheel was also very useful.
On a more general note, the channel EQ does its job well, especially the wide-ranging mid on the mono channels, which allows you to seek out and kill those irritating, boxy, lower-mid frequencies. The high is nice and airy, while the low plumps up the bass without allowing it to become flabby (as long as you don't use it to excess). And then there's that voicing filter: it isn't hugely dramatic, but it lends a subtle sense of transparency to the sound of a dynamic mic, almost as though you'd switched to a capacitor mic.
While there's no escaping the fact that the PM1600-3 is quite expensive for a 16-mic-input mixer, you do have to factor in the 2000W of amplifier power, the solid German engineering, the two very capable and great-sounding effects processors and the adjustable safety limiting to protect your speakers — and you also save money on a flight case! Any quibbles I do have are minor: I'd have preferred a couple of subgroups, and some users will inevitably bemoan the lack of four-band EQ. I also feel the recording option could have been designed to work with a USB stick, as those devices are far more gig-friendly than hauling around a laptop computer. Those observations aside though, the PM1600-3 is a thoroughly professional mixer, and as long as its features are a good fit for your present and foreseeable future needs, it should give many years of reliable service.  
Powered mixers come at all price points, from very affordable Behringer models to familiar names like Studiomaster, Allen & Heath, Yamaha and so on. Most have built-in effects these days, while lightweight, Class-D amplifiers are fast becoming the rule rather than the exception.
Pros
Lightweight and easy to use.
Solid German engineering.
Removable cover included.
Excellent on-board effects.
Good general sound quality with plenty of clean amplifier power.
Cons
No subgroup bussing.
Recording to computer only, not USB stick.
Quite expensive.
Summary
Though the PowerMate 1600-3 is one of the more costly powered mixers in its category, Dynacord's high-quality engineering should stand it in good stead. This mixer bears comparison with anything in its price range, both on sound and build quality.
information
£2093 including VAT.
Bosch Security Systems +44 (0)800 169 5739.
£2093.
Bosch Security Systems +44 (0)800 1695739.