Could this modern tape delay prove to be even better than the real thing?
I remember a producer friend of mine complaining many years ago about how the secondhand cost of a Roland RE‑201 had risen to upwards of £250$300! Today, a specimen that's been freshly serviced by a reputable tech could easily cost you 10 times that. Desirable as they may be, owning one isn't all plain sailing. These are vintage devices, and there can be issues with reliability and stability. They need maintaining, then, and a proper service from one of the handful of reputable companies that offer them can be pretty expensive.
We have an original RE‑201 in my studio and it gets used a lot, for obvious reasons: try one, and you'll certainly appreciate the sense of magic and fun these unique devices can bring to a recording, writing or mixing session. Admittedly, I should probably make the effort to clean the heads more often than I do, and it often doesn't sound quite the same from one day to the next. That's all part of the charm, I suppose. But it can be frustrating too, and while I've seen people using them in a live setting, there's no way I'd take mine on tour if it was an integral part of a particular sound — at least, not unless I had a backup unit and serious flightcases! If only there were a newer, more reliable Space Echo available...
Step forward Australian company Echo Fix who, after more than a decade as one of the world's most respected service companies and suppliers of new parts for vintage Space Echo and Echoplex machines, have decided that the world is ready for their own brand‑new tape echo machine, the EF‑X2. Their aim with this device is to combine all of the best aspects of the vintage Roland units with some useful extras. Crucially, they've also focused on the build quality, hoping to ensure that it will remain reliable for years to come. Bringing this product to market took three full years of development work, and it's no mean feat for a small company. Indeed, I imagine it has only really become a viable proposition commercially because of the ever‑inflating prices commanded by original Space Echoes.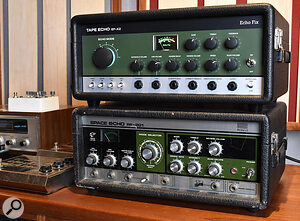 A brand‑new EF‑X2 sits on top of a vintage Roland RE‑201.Physically, the EF‑X2 is about the same size as its older Japanese relatives and the sides are covered in the familiar‑looking black Tolex. There are good handles — you'd probably be too scared to use the ones on a vintage unit you'd just paid a couple of grand for but they inspire sufficient confidence here. The top lid is removable, allowing you to access and view the tape loop, which snakes around beneath a protective 'window' on its journey to/from the various read and write heads.
The front panel, on the other hand, makes no attempt to mimic yesteryear. In fact, it is unapologetically modern‑looking. You have the choice of a green, gold, blue or black front panel, and all of them look very tasteful to this reviewer. It still features all the controls you'd expect to find on a vintage device of this sort, but as a regular user of a vintage RE‑201 it often took me a moment to find the desired control. The most obvious visual difference control‑wise is the backlit Echo Mode selector, which...
You are reading one of the locked Subscriber-only articles from our latest 5 issues.
You've read some of this article for free, so to continue reading...
Log in - if you have a Subscription you bought from SOS.

Buy & Download this Single Article in PDF format

£1.00 GBP

$1.49 USD


For less than the price of a coffee, buy now and immediately download to your computer or smartphone.

Buy & Download the Full Issue PDF
Our 'full SOS magazine' for smartphone/tablet/computer. More info...

RECORDING TECHNOLOGY: Basics & Beyond
Claim your FREE 170-page digital publication
from the makers of Sound On Sound — CLICK HERE